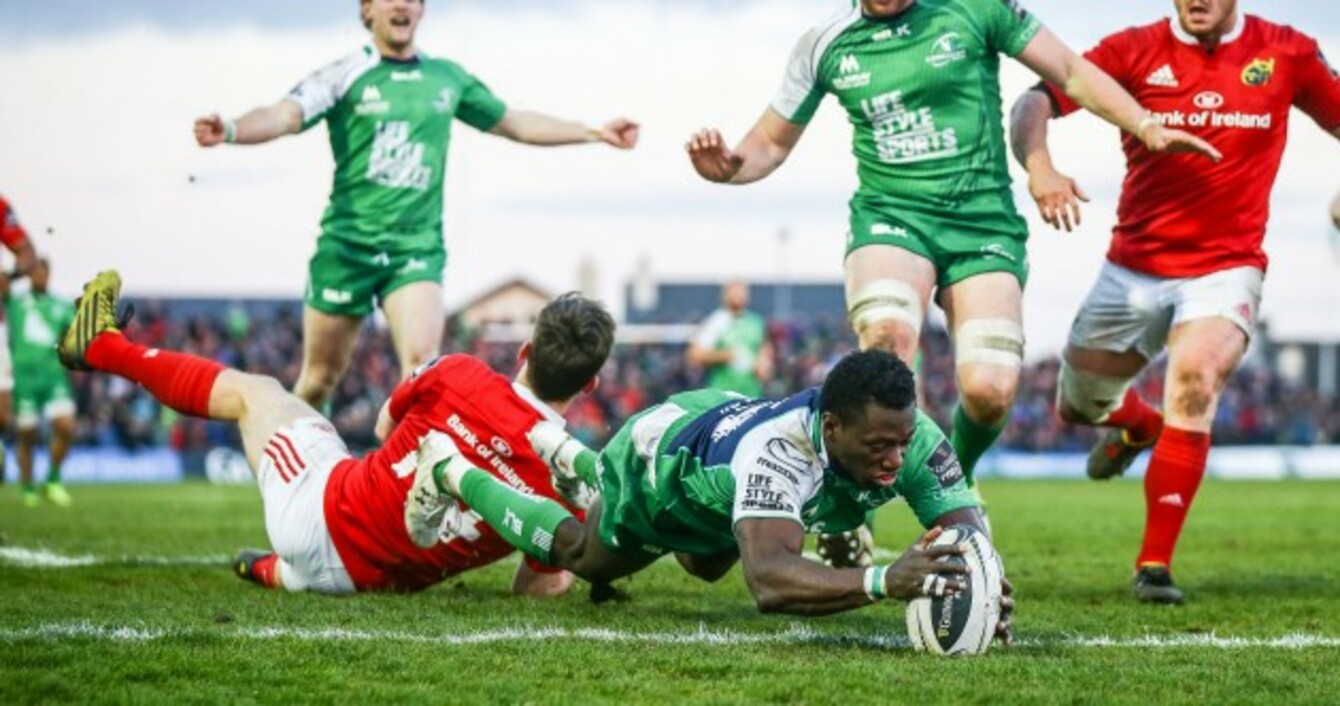 Kieran Marmion celebrates as Niyi Adeolokun scores against Munster.
Image: James Crombie/INPHO
Kieran Marmion celebrates as Niyi Adeolokun scores against Munster.
Image: James Crombie/INPHO
IT HAS BEEN a truly outstanding season for Connacht and Pat Lam. The Westerners came into the campaign with a sour taste in their mouths having come so close to hitting their goal of Champions Cup qualification last season.
Thanks to these 12 days, they go in to next season reaching for nothing less than more and more  success.
1. Backing their skills from the very start
Early signs of Connacht's refusal to be shackled by fear of defeat came in the very first game of the season. The Dragons had clawed their way back to within two points late on, but the hosts continued trying to run the ball from their 22 (watch it from the one minute mark below) .
It didn't matter that they were hit behind the gainline, they still looked to run. Once Bundee Aki made his line break, he backed Fionn Carr's speed to finish in the corner and the first league win of 17 was secure.
Source: PRO12 Rugby/YouTube
2. Giving Glasgow a serious fright
30 – 6 down, Connacht showed that they don't believe in impossible. Away to the reigning champions, they dominated the second half and scored four tries to claim two bonus and ensure Glasgow would never underestimate them as they scrapped to a narrow 33 – 32 defeat.
Source: PRO12 Rugby/YouTube
3. Shooting down Ospreys
This year was all about setting new trends for Connacht. Having failed to win away to the Ospreys since 2004, they went and broke the wheel with a 16 – 21 October win in Swansea.
Source: PRO12 Rugby/YouTube
4. Shoring up the defence
Pat Lam sent his team into the new season with his demands of an improved defence ringing in their ears. So after conceding 118 points in the opening five games, the whole group would have taken a big Samoan slap on the back when they kept an impressive Edinburgh outfit try-less in a tight game at the Sportsground.
Source: PRO12 Rugby/YouTube
5. Bundee's jump into Thomond Park history
Having ended an 11-year winless run in Swansea, Connacht were in the mood for ripping up historical records. And they made sure the rest of Ireland could feel something special brewing with a magnificent win over Munster at Thomond Park, a victory that bridged a 29-year wait.
6. Soothing Scars
That victory came on the cusp of winter and some cold hard inter-provincial contests which threatened to unravel Connacht's campaign.
Instead though, they ended a four-match losing streak against the team we all thought were their rivals for a top six place. But Scarlets were no match for the eventual champions who claimed a bonus point win while showing they have power to be reckoned with in the tight as well as in wide open space.
Source: PRO12 Rugby/YouTube
7. Laying a marker down on Leinster
The win over Scarlets kick-started a six-game winning run which culminated in this edge-of-the-seat clash against Leinster at the Sportsground.
Source: PRO12 Rugby/YouTube
Again, Connacht showed their defensive mettle, digging deep to ensure Kieran Marmion's try was the only one in an intense tight game.
8. Joie de vivre rugby in the Alps
We feared for Connacht going into this European Challenge Cup quarter-final. The squad was beginning to look stretched, the season was nearing the business end and the sensible thing seemed to let Bernard Jackman's boys have this one.
That's just not the Connacht way.
Source: FC Grenoble Rugby/YouTube
It ended in heartbreaking defeat, but not before Adeolokun stormed in for two brilliant tries. The winger and the team supplying him demonstrated the handy knack of rising to the big occasion.
9. Smacking Munster down
Munster caught their neighbours to the north napping a touch at the Sportsground last month, but Connacht demonstrated how capable they are in any circumstance. From 6 – 14 down, they set about dismantling Munster from the set-piece out and finished up with 29 unanswered points in a bonus point 35 – 14 victory.
Source: PRO12 Rugby/YouTube
10. Robbie Henshaw's laptop retrieval
It wasn't big*, it wasn't clever and it's definitely not what Coach The42 would be telling his players to do in the lead-up to a season-defining semi-final, but it's hard to argue with results.
When Bundee Aki heard the call for back-up from his centre partner Robbie Henshaw, his only question he needed the answer was: 'have you got that Find My Laptop thing on it?'
Aki led a party seeking out Henshaw's stolen tech and the squad unity was strengthened even further.
(*OK, it was pretty big, but don't try it at home, kids. Try offloads instead.)
11. Dethroning the champions
Glasgow landed in Galway late last season for a pivotal game in the run-in to the business end. Connacht went toe-to-toe with the free-flowing, in-form Scots, but were picked off and soundly beaten.
This time around, they were neck-and -neck with Gregor Townsend's brilliant team. And over two games either side of the end of the regular season, in torrid conditions and then dry, they combined brilliant defence with inventive attacks to send the reigning champions tumbling.
Source: Sports Vds/YouTube
12. The icing on the cake
Lam sent his players into the final with a directive to treat it like a celebration, and they promptly ripped into the party poppers once they got the ball.
Source: PRO12 Rugby/YouTube
The42 is on Snapchat! Tap the button below on your phone to add!