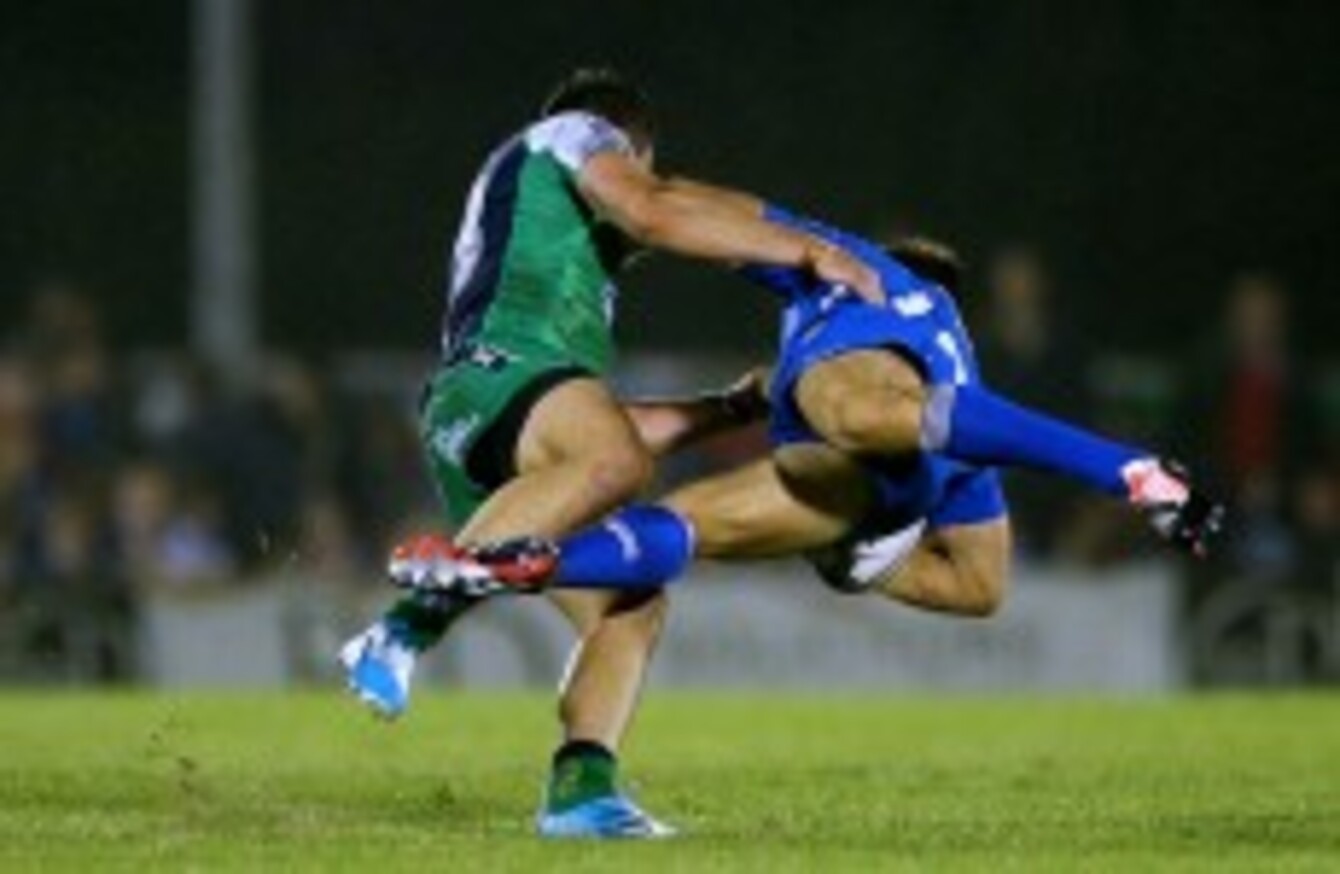 Robbie Henshaw makes a smashing tackle on Jimmy Gopperth last weekend.
Image: James Crombie/INPHO
Robbie Henshaw makes a smashing tackle on Jimmy Gopperth last weekend.
Image: James Crombie/INPHO
CONNACHT HAVE RACKED up three wins from three in the Guinness Pro12 so far this season, with their defensive strength having played a major role in that positive start.
While it remains extremely early in the campaign, there have been many encouraging signs that head coach Pat Lam – formerly of the Blues – and his coaching staff have their side heading in the right direction.
Connacht have conceded just two tries in those three opening fixtures [only the table-topping Ospreys have let in as few], while their 'points against' total of 33 is bettered only by Munster [29], who have played weak Italian opposition in two of their own three fixtures so far.
Those figures may be impressive at this burgeoning stage of the campaign, but they don't really give us any idea as to where Lam's men have improved. For that evidence, we look to last weekend's win over Leinster, a morale-boosting and deserved 10-9 success.
Wanting to defend
Connacht have been carrying out a high amount of focused work on their defence in recent weeks, following a pre-season where basic skills and attacking elements were prioritised.
"We've put a lot of work into it in the last few weeks, probably more than we had done earlier in the pre-season," says captain John Muldoon. "We're probably seeing the rewards for that."
Whatever about the work Connacht have carried out, the initially important element for any team is a desire to defend, something the western province have always possessed.
"Defence is something that you've got to want to do," explains Muldoon."It's different in attack where you can have individuals with flair. Defence is about hard work, people buying into it and working extremely hard.
"Penny to man here [in Connacht], everyone will work hard for you, you know you'll get that."
Kick chase
One of the areas where that hard work has been most obvious for Connacht defensively is on their kick chase. We get an example in the very first minute of the win over Leinster below, with Quinn Roux and Jack Carty making the contact with Rob Kearney.
The kick itself from Kieran Marmion is not a particularly strong one, long and without too much hang time. However, Connacht's appetite to follow up turns a potential negative into a positive outcome.
We also see above the first signs of their desire to remain as organised as possible, with prop Denis Buckley signalling and communicating to either side as he forms part of the kick chase.
Minutes later, we have a similar example after a miscued kick from Darragh Leader, one that provides Kearney with plenty of time on the ball and space to run into.
This time Willie Faloon and John Muldoon combine to produce a really dominant early hit, the kind of contact moment that provides the defensive team with an adrenaline boost.
It also gives us a snapshot of some of the technical strength Connacht have brought early in this campaign, with Faloon going in low to tackle around the legs and Muldoon following up with a firm shot to Kearney's body [below].
Connacht's efforts on kick chase, that desire to work hard, were not simply on account of a start-of-the-game buzz; it very much lasted the course of the 80 minutes as they were cut open only once on Leinster's counter-attack.
Kearney did go very close to scoring on that occasion after some wonderful play from himself, Jimmy Gopperth and Eoin Reddan, but largely Connacht's kick chase was solid, as in the example below where Dave McSharry produces a thunderous hit.
Lam, like many coaches, runs a coding system with his players, whereby each of their defensive actions is awarded points. Every tackle win, dominant tackle assist, strong defensive read, etc. is awarded points; every player wants to have the highest total post-match.
Understanding
One of the intriguing challenges for Lam and his coaching staff this season is that their squad is populated by many young players who are relatively inexperienced.
While that youth is of great benefit in terms of the appetite and energy we have alluded to above, it does mean that several of the players are still learning the game at this level, still rounding out their game appreciation.
"The coaches are working with them around understanding," says Lam. "I've got guys that work really hard; the problem was that on defence, they were doing a lot of running all over the place. It's just an understanding of where you've got to be.
They need to channel what they've been bringing all the time and be more efficient."
Lam has pushed the IRFU for greater finance for Connacht's video analysis department, with the governing body thankfully replying in a positive manner and allowing the former Samoa international to add staff and resources in this area.
As a result, he, the coaching staff and the analysis department, led by Conor McPhillips, have been working with the squad to increase their level of defensive knowledge, positioning and decision-making.
"You have to teach guys, you have to educate guys on the game," outlines Lam. "The more knowledge that we can get into our guys around our systems, the more they enjoy the game."
Making reads
A deeper appreciation for the game, a stronger understanding of why things happen and what might unfold next, allows players to make better reads in defence. That is, they react to cues in the opposition attack more decisively and earlier.
We get a fine example in the GIF below, as Robbie Henshaw shoots up from the defensive line in a classic out-to-in fashion to shut down a standard screen pass from Jimmy Gopperth to Ian Madigan, behind Jamie Heaslip.
The mini-play itself is not run particularly accurately by Leinster, in that Heaslip doesn't look like a major threat to carry, but the focus here is on the excellence of Henshaw's read from a wide position.
He notes Leinster's shape in front of him, instantly processes it and makes a good decision to burst out of the line. Any indecision here and he could have been sorely punished by a Leinster linebreak.
Instead, his timing is perfect and he forces Madigan into an error, coming away with possession for Connacht.
We get another illustration of a strong Connacht read below, as wing Niyi Adeolokun bursts from a deep covering position to intervene.
While it is the duty of the winger to join the front-line defence as soon as Leinster shift the ball wide in this zone of the pitch, he is very proactive. Adeolokun is not happy just to connect up with his teammates; he has spotted a potential overlap and takes action to shut it down.
On this occasion, the defensive pressure from former Trinity man Adeolokun leads to Sean Cronin forcing an offload that travels forward into touch.
In terms of the technical quality of the hit, there is still a way to go – Adeolokun stayed down injured after taking an awkward knock to the head while making this tackle and was eventually substituted.
Perhaps the most memorable read of the game involved Henshaw smashing Gopperth off a scrum, a moment we see in the GIF below.
It was a stunning play live in the stadium, and again shows Henshaw's ever-improving ability to read what's happening in front of him. This move – where it appears Leinster will attacking right off the scrum, but then shift back left through a long pass from Reddan – is something the Pro12 champions have used on occasion in recent times.
Henshaw has done his homework and completed his analysis. The temptation for most defenders on the left side of the scrum [as Leinster attack] would be to switch off briefly as the play apparently moves away to the right.
Instead, the 21-year-old reads the cues in the attack and acts with utter decisiveness.
When we talk about momentum in games, we so often refer to attack but defence is an equally valuable tool for gaining momentum. Oddly enough, Connacht conceded a big linebreak to Brendan Macken only a few phases after Henshaw's hit won them a turnover, but the mental effect of the tackle was longer-lasting.
Another point to note is that the three examples of good reads we have seen above came when Connacht were reduced to 14 men after Muldoon's yellow card. The understanding and clear-headed decision-making in those circumstances will have pleased Lam.
Adding in line speed
Despite the positives we have touched upon, Connacht will have been unhappy with much of their defence in the first half, particularly in the opening 20 minutes or so as Leinster built up a 9-0 lead.
Matt O'Connor's side were bossing the breakdown at that stage and creating quick ruck ball, in turn making it difficult for Connacht's defence to get into a good shape and come up off the line to tackle.
However, the situation greatly improved after the interval as Connacht found greater cohesion, spacing and speed in their defensive line.
Above, we can see those traits as Connacht advance with nice, uniform spacing between defenders and a couple of quick initial steps to get off the line. Over two phases, they come up with positive yardage in terms of gainline.
This was a far more regular occurrence in the second half, partly because Connacht managed to get a greater return at the breakdown, competing with Leinster there and even managing to pilfer a few balls.
Above, we get one such example as Buckley wins a turnover penalty for Lam's side. Note again the low tackle focus [below] from Dave McSharry, who remains an important defensive leader for the province.
Just to hammer home the point, we get another example in the GIF below, this time with replacement lock Mick Kearney being the man who wins the turnover.
Again, we note the low tackle from tighthead prop Nathan White [below], allowing the second man in to compete for the ball.
While these steals obviously bring Leinster's phase attack to an end, the point is that Connacht began to compete for the ball on the deck in the second half, following an opening 40 minutes where they made no pilfers and rarely got in position to do so.
The line speed and breakdown competition really go hand in hand, and Connacht will look to bring both when possible against Glasgow tomorrow evening.
Greater tests to come
It has been a strong start to the season for Connacht's defence, but there are tougher tasks ahead for them, beginning with that fixture against Gregor Townsend's impressive Warriors.
The variety of the Scottish side's attacking game makes them extremely difficult to defend against, and allows them to threaten in multiple ways. Muldoon, Lam and the rest of the Connacht squad will relish the challenge.
The working hard part is there," says Muldoon. "The main thing for us – with lots of young lads – is working smart. They're starting to figure it out now, we can only get better. There will be mistakes, there are always mistakes."
There most certainly were defensive errors in the Connacht performance against Leinster, but their desire to make tackles and prevent tries made up for many of those slip-ups.
Clearly, progress remains to be made but the early signs for Connacht's defence this season point to progress.
Thanks to TG4 for the match footage used in this article. TG4 will screen Leinster v Cardiff Blues tomorrow evening, with coverage starting at 19.10.