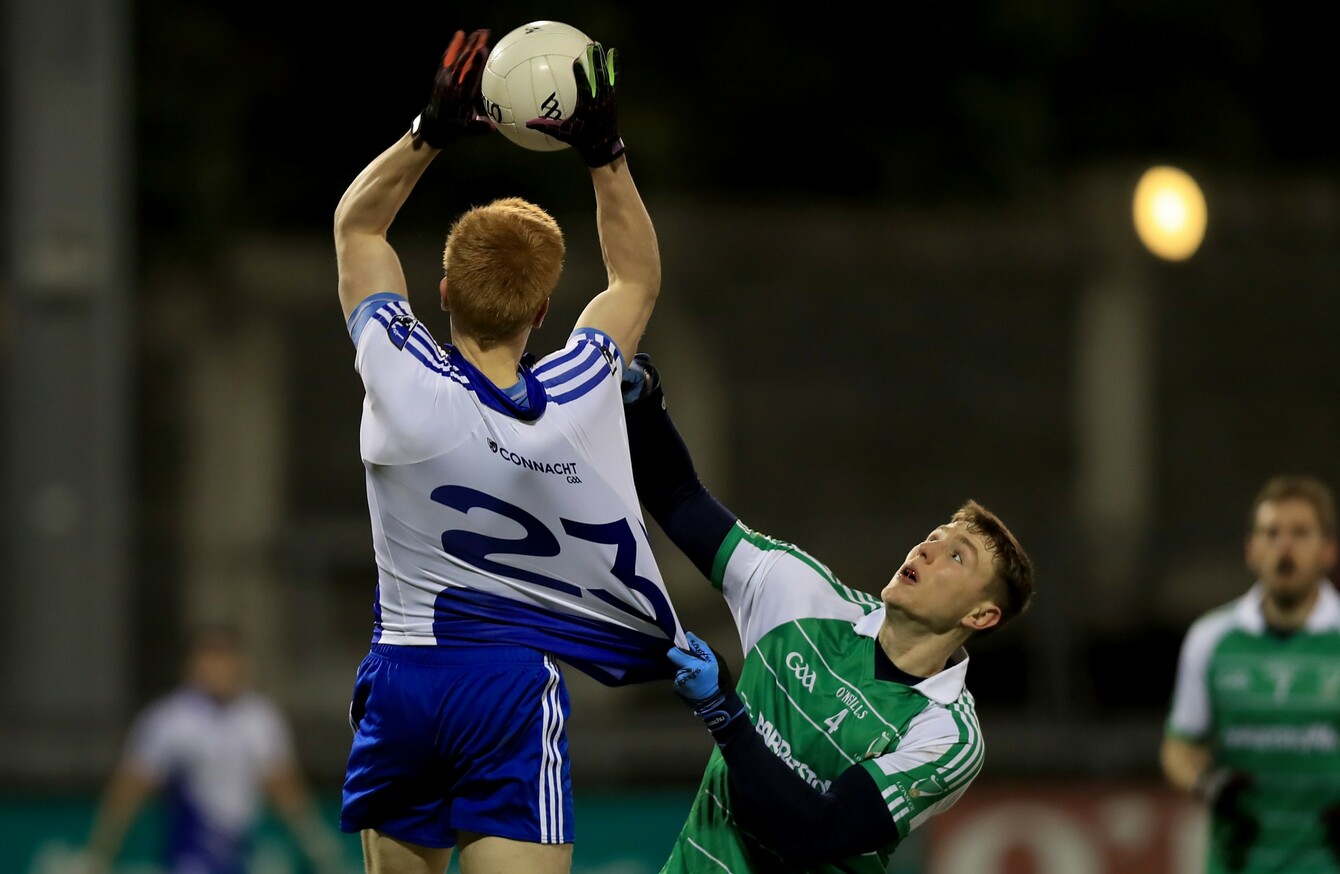 Image: Donall Farmer; ©INPHO/Donall Farmer/INPHO
Image: Donall Farmer; ©INPHO/Donall Farmer/INPHO
Connacht 2-17
Leinster 1-18
A LATE GOAL from Niall Murphy proved crucial as Connacht edged Leinster in their Inter-Pro semi-final clash at Parnell Park tonight.
The Sligo man found the net on 59 minutes and put the game out of reach for the hosts, though they did conjure some late scores to narrow the margin.
Connacht bossed the opening exchanges but John Heslin's expert free-taking ensured the home side remained in touch despite the early onslaught.
Still, a goal from Roscommon's Ciaran Murtagh on 21 minutes gave them a commanding lead and they went to the break 1-10 to 0-7 in front.
Leinster, rather inevitably, were improved after the restart and Kieran Martin's goal as well as a flurry of points soon had them in the lead for the first time in the game.
But Connacht remained composed and when Murphy blasted to the roof of the net, it was the boost they needed to push on and get the job done.
Scorers for Connacht: N Murphy 1-3, J Doherty 0-6 (4fs), C Murtagh 1-1,  D Cummins 0-3, F Cregg 0-1, D Comer 0-1, E Smith 0-1, N Daly 0-1.
Scorers for Leinster: J Heslin 0-10 (8fs), K Martin 1-1, D Foley 0-1, J McGrath 0-1, J Byrne 0-1, D Byrne 0-1, P Sharry 0-1 S O'Rourke 0-1, J O'Loughlin 0-1.
Connacht: D Clarke (Mayo); K McDonnell (Sligo), N McInerney (Roscommon), D Wynne (Galway); N Daly (Roscommon), G O'Donnell (Galway), J Heaney (Galway); E Smith (Roscommon), K Higgins (Roscommon); F Cregg (Roscommon), C Murtagh (Roscommon), J Doherty (Mayo); N Murphy (Sligo), D Comer (Galway), D Cummins (Galway).
Subs: C O'Shea (Mayo) for E Smith (22′), Sean Mullohy (Roscommon) for J Heaney (22′), D Murtagh (Roscommon) for N Murphy (26′), E Mulligan (Leitrim) for C Murtagh (HT), A Varley (Galway) for D Comer (36′), E Smith for C O'Shea (41′), N Murphy for D Murtagh (43′), J Heaney for N McInerney (50′), D Wrynn (Leitrim) for K Higgins (53′), J McManus (Roscommon) for D Wynne (53′) C Murtagh for E Mulligan (55′).
Leinster: A Mulhall (Offaly); D Daly (Dublin), K Meeney (Laois), P Ruth (Louth); J Dolan (Westmeath), J Small (Dublin), D Healy (Wicklow); J O'Loughlin (Laois), D Foley (Carlow); J McGrath (Wicklow), K Martin (Westmeath); N Dunne (Offaly), J Heslin (Westmeath), N Flynn (Kildare).
Subs: D Kingston (Laois) for N Dunne (HT), G Guilfoyle (Offaly) for J McGrath (HT), J Byrne (Kildare) for D Foley (HT), B Malone (Wexford) for P Ruth (HT), D Byrne (Louth) for D Healy (HT), D St Ledger (Carlow) for K Meeney (HT), S O'Rourke (Meath) for N Flynn (43′), P Cunningham (Offaly') for K Martin (46′), P Collum (Longford) for A Mulhall (52′), P Ruth for J Dolan (58′).
Referee: N Mooney (Cavan)