THE MOST IMPRESSIVE element of Connacht's historic 18-12 win over Munster at Thomond Park last weekend was the quality of handling from their entire matchday squad.
This was no one-off, and those who have been watching Pat Lam's side over recent seasons will have seen a gradual improvement to this point. There is still much progress to be made in all aspects of the game, but good habits are paying off for Connacht.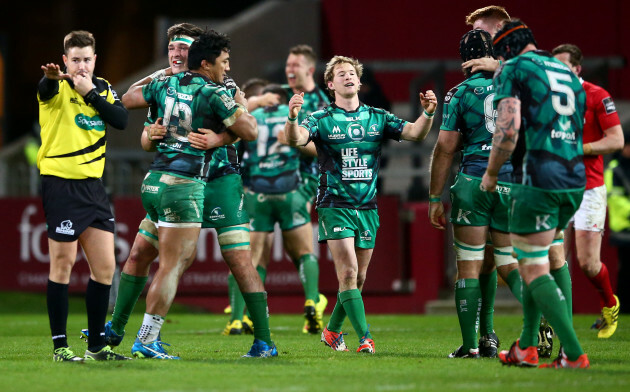 James Crombie / INPHO Connacht celebrate last weekend's 18-12 win. James Crombie / INPHO / INPHO
Part of Lam's vision when joining Connacht in 2013 and declaring that he wanted them to be the number one province in Ireland within five years was a sharp up-skilling of the individual players.
It's very easy to become obsessed with game plans, strategy and 'bigger picture' factors in rugby, but they are redundant if your players aren't skillful enough to execute them with accuracy. The core skills are at the 'core' of the game for a reason.
Tactics are meaningless without the ability to catch and pass, fix defenders, field high ball, tackle effectively one-on-one, jackal, kick accurately, scrummage, lift, jump, and so on.
Upon arriving at Connacht, Lam immediately encouraged a culture where players began to spend 10 minutes working on their skills after every weights session. Groups of players would arrive early for field sessions to do the same, with the majority doing a short burst afterwards too.
Soon those extra hits of skill work became the norm, and though results have perhaps taken time to show themselves, the benefits are now obvious.
The appointment of skills specialist Dave Ellis by Lam soon after his own arrival was intelligent too, the New Zealander becoming an important resource within days. Lam encourages players to constantly identify skills they need to work on specifically, whereafter short blocks of time with Ellis or one of the other coaches are arranged to address that requirement.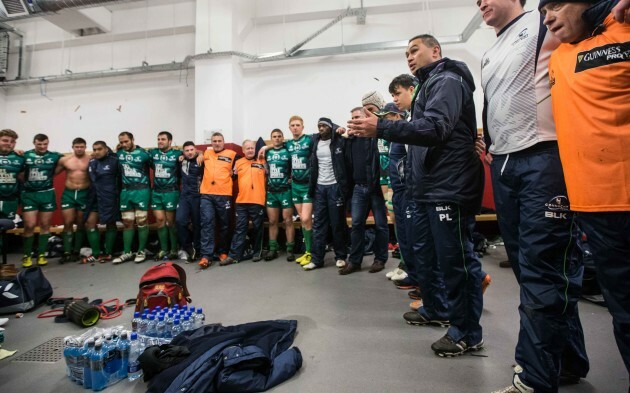 James Crombie / INPHO Lam speaks to his players after their win in Limerick. James Crombie / INPHO / INPHO
Connacht's mindset around injured players sums up their thirst for skill acquisition and improvement.
The province's injured players operate under a 'return-to-perform' protocol, during which they work far more intensively with Ellis on skills than a normal training schedule would allow them to do.
An injured fullback? Work on his jackaling. A lock sidelined? Why not improve his passing off his bad hand? Even players who are on crutches work with Ellis, doing stationary passing work and detailed video analysis of specific skills and decision-making scenarios.
Lam has even pushed each of his players to buy their own rugby ball and have it in their hands as often as humanly possible throughout the day, throwing the ball up and down to themselves, bouncing it off walls to test their reactions, really feeling the ball in their hands. It's an old school coaching tip, but an incredibly effective one.
The results of all of these extras, as well as more collective work during field sessions and pre-season camps, is that Connacht can produce a handling performance like the one they did in Limerick on Saturday.
Forwards who can pass
A strong passing game should be the minimum expectation for any professional back, although some might argue that it's not truly the case. Connacht's backs are certainly showing confidence in their passing game, but it was the forwards who stood out against Munster.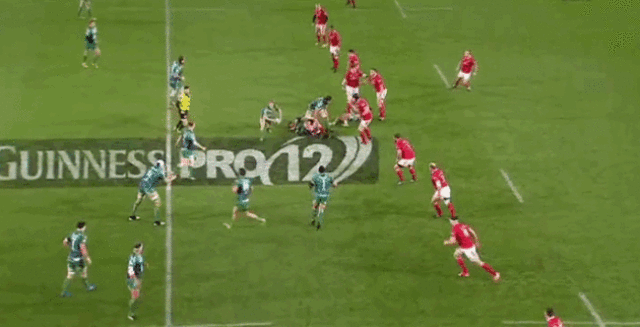 Above, we see 22-year-old second row Ultan Dillane release an accurate five-metre pass to allow impressive debutant back row James Connolly beat Ian Keatley's tackle attempt and get well beyond the gainline.
The first and only option for many second rows in this instance would be to tuck the ball and carry (as indicated with the red line below). Indeed, many teams' instructions might prompt the lock to do so.
Dillane, in contrast, has been encouraged to look up and make a decision based on what he sees in front of him. With a bank of three Munster forwards in front of him (highlighted in blue), the Tralee man recognises that his chance of making yards is slim.
The opportunity is outside Robin Copeland (yellow), with the spacing between Copeland and Keatley not ideal from Munster's point of view. The southern province are numbers down on the outside, forcing Keatley to shoot up, and Connolly's excellent footwork allows him to break through.
Two phases later, we see another strong pass from a Connacht forward.
This time it's loosehead prop Denis Buckley and the fact that the pass is off the ground in scrum-half fashion makes it even more impressive.
Buckley actually skips the ball to out-half Aj MacGinty, with the prop's body shape providing evidence that he has worked on this skill.
The finishing shape from Buckley is the biggest giveaway here, as he focuses on having his hands firmly pointing at the target after his release. He's very balanced even after having to scoop the ball off the ground, although his wide base on arrival aids that.
Buckley's pass allows Connacht to maintain their attacking momentum despite scrum-half Kieran Marmion having had to commit to the ruck in front of the loosehead.
Perhaps the most impressive passer in the entire Connacht pack was Aly Muldowney, who has been in superb form over the last two seasons. The 32-year-old was sensational against Munster, acting as a Brodie Retallick-esque playmaker for Connacht in attack.
He made a total of 14 passes in Thomond Park – behind only halfback pair MacGinty and Marmion – as well as a remarkable 20 carries.
As enjoyable as the actual accuracy of Muldowney's passing was his decision-making in when to release the ball and to which teammate. Often with tip-on passes and tactics that involve forwards passing the ball, we see players going through the motions because that's the call.
Connacht – while not always making the right decision – have been pushed to look and then make their decision.
What's on? Where is the space? Can I pass? Do I need to carry? What is the best option in this situation?
Lam has fought for increased IRFU funding in the area of analysis since 2013, in terms of personnel, software and hardware. That has allowed Connacht to spend increased time in recent seasons helping their players to understand the game at a deeper level.
"Good players play the game, great players know the game," Lam told The42 last season. "Players can run and do certain things, but they've got to understand. You've got to understand why things happen.
"If you look at the All Blacks, they do the basics well. What are the basics done well? It's choosing the right option. Everyone thinks its a 'wow' moment, but it's simple – although not always simple to do."
Muldowney's performance against Munster exemplified Connacht's ability to choose the right option.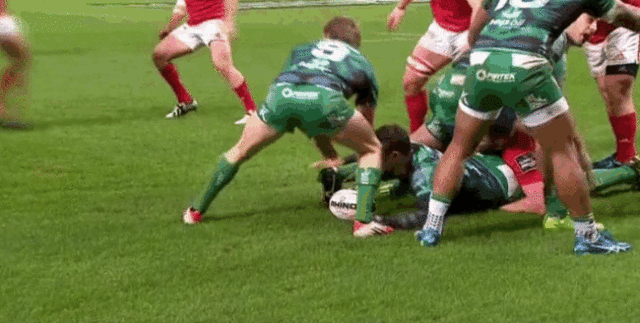 Connacht are a side that have no issue with playing the ball out of their own defensive territory, and while it can get them in trouble (and did at times against Munster), it's an illustration of their confidence in their handling ability.
Above, we see Muldowney making a good decision to pass the ball into space and allow his team to make a gain.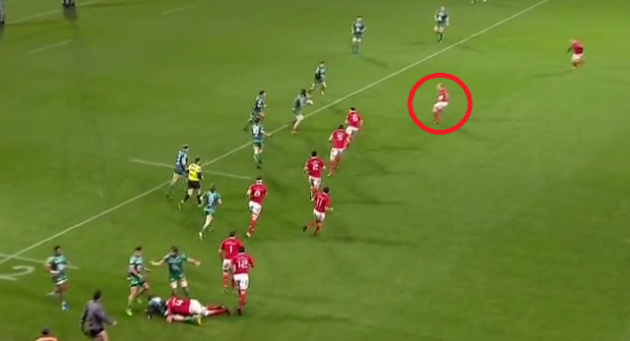 What Muldowney has identified in this instance is Munster tighthead BJ Botha completely stranded in midfield with space on either side of him. As with Dillane earlier, the first instinct in Muldowney's mind might previously have been to tuck the ball and carry hard, but he gets his head up, spots the weakness in the defence and moves the ball.
There's certainly scope for another pass from hooker Shane Delahunt after Craig Ronaldson transfers the ball on, but he makes a decision not to release the ball. It's a missed opportunity, and shows that Connacht still have progress to make.
Nonetheless, their percentage of good decisions and strong execution of passes continues to rise, and while it's not a guarantee of success it does make them a more dangerous team.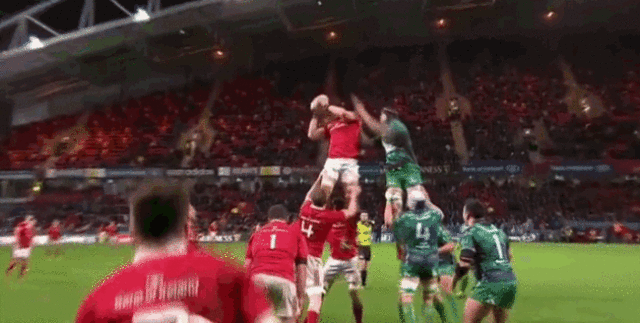 Another impressive effort from Dillane above allows Connacht to immediately attack Munster's midfield after a turnover at lineout time, the promising second row firing a peach of a left-hander with excellent technique.
There was even a spectacular behind-the-back flick pass from Buckley at one stage against Munster, another clear indicator of confidence in handling skill.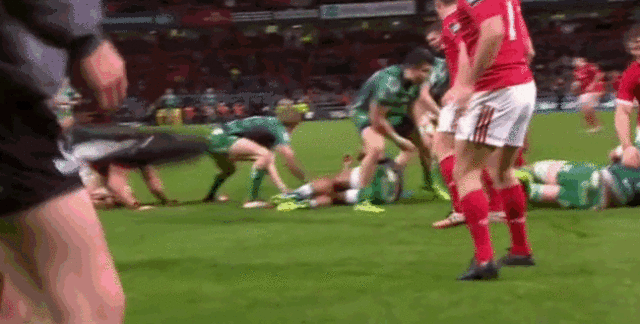 The chain of passes here doesn't make Connacht much ground, but it shows their ability to catch and release under pressure. MacGinty gets the ball away as Francis Saili hammers up on him, before Muldowney gathers it in and calmly moves it on again.
Buckley's instinctive flash of skill is well executed and also demonstrates that Connacht's players have little fear of expressing themselves.
Not to be outdone, the backs show superb skill on the very next phase to create an opening for Dillane down the left-hand touchline.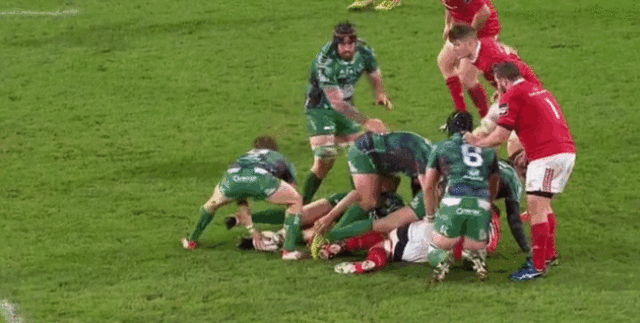 MacGinty's miss pass is flat and firm, ideal for Ronaldson, whose own relatively flat starting position means Gerhard van den Heever has no chance of drifting off the Connacht inside centre.
Ronaldson – who had a brilliant game again for Connacht – keeps his body straight up the pitch, then fluidly moves the ball across his body in two steps and without dropping his hands down. Straight across under pressure – clear signs of a man who has worked hard on the skill.
Shape
As well as pushing Connacht's players hard in their skill work, Lam has introduced lots of shape to their attacking play since 2013. The nature of rugby – injuries, transfers, periods where time on the training pitch is limited – has meant the progress in this department has been slow and steady.
This season, however, has allowed us to see a clearer picture of some of the things Lam wants his side to do in phase-play attack.
The above shape was fairly typical from Connacht in this win over Munster, although it's worth pointing out that this is something that many, many teams around the world (including Munster themselves) use.
The set-up sees Connacht play off out-half MacGinty (circled in red below), who has a pod of three forward outside him (blue), the middle man in that trio most often being the target of the pass.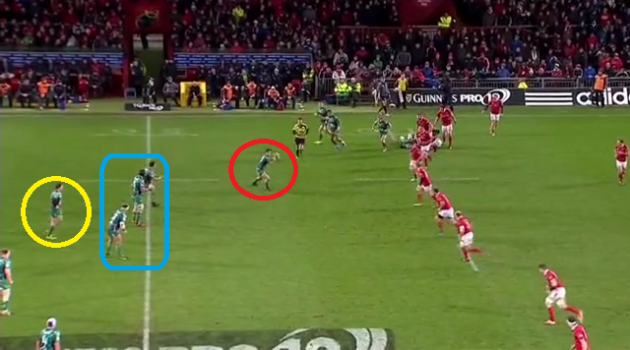 The basic idea is that Connacht aren't just sending ball carriers crashing into a defence that is going to be able to generate linespeed after a ruck close to the touchline, and we see how effective this structure in their play can be.
Muldowney can carry himself here, or drop a short pass to Nathan White on his right shoulder. Instead, the option here is to send the ball out the back door to Ronaldson (circled in yellow above), who now has a hint of time on the ball.
Connacht's play is even more effective here because it's picking out a glaring weakness in the Munster defence – namely two props in the midfield, as highlighted below.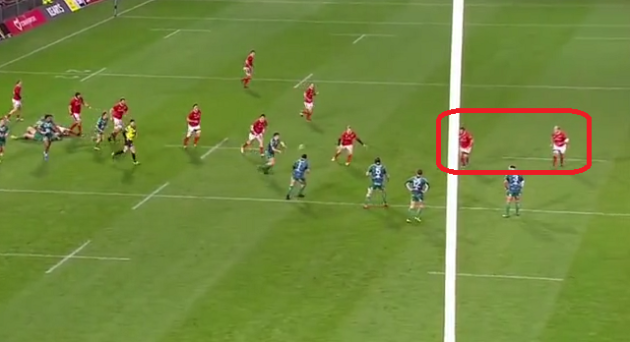 They are relatively immobile defenders and Connacht ruthlessly exploit Munster's failure to get their props in closer to the ruck – they had time in this case – by getting the ball into Ronaldson's hands and providing him with a one-on-one against Botha.
It's no contest and the break follows, but we should also point to the line Delahunt runs outside Ronaldson, attracting Jack O'Donoghue and ensuring that Botha is indeed left to fend for himself.
Also worth noting is the ease with which Muldowney – so often the playmaker – catches and releases the ball.
We get another glimpse of the same shape in the image below, with Muldowney again having lined himself up as the arrowhead in the forward pod.
This time Buckley inside him is actually in a better position, providing the possibility of an inside pass from Muldowney. Delahunt is again in place to run a hard, short line off Ronaldson if Connacht go out the back door from Muldowney, while Tiernan O'Halloran, Bundee Aki and Matt Healy (out of shot) are providing width beyond Delahunt.
Getting players into the right positions in these cases is no easy task, given the pace at which the game moves and the number of parts in these shapes. It takes practice, practice, practice to get to the point where players can swiftly switch into shape.
Connacht are starting to show that ability more often this season, as we see in the example below.
The first thing that stands out here is Dillane's hunger to get to the ball as it spills onto the ground. It's not just the second row who is showing this attribute on a consistent basis for the western province. Connacht are a hungry, hungry team.
The youth in their squad is a major part of that, with young players constantly coming in to fill holes created by injury and delivering passionate performances. Academy manager Nigel Carolan deserves major credit in shaping these youngsters, sending them into the senior squad ready to compete ferociously. Their skill level is also a testament to his work.
But it's not just the younger squad members who are desperate to play for each other. Lam has invested lots of time in the camaraderie of the group, arranging karaoke nights, team challenges, visits to wide-ranging areas of the province, and a host of other activities.
His goal – as with Eric Elwood and others before him – has been to provide the Connacht squad with a deeper motivation. It goes without saying that when a person truly cares about what they're representing, they will put in a far greater effort.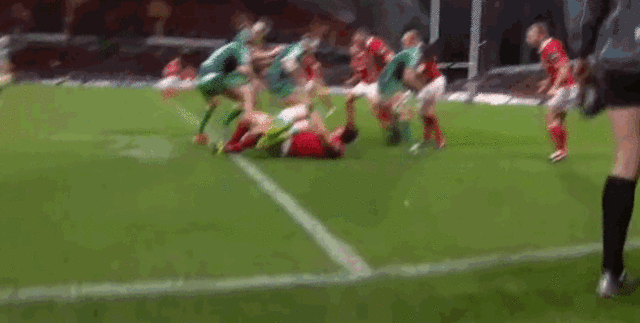 Returning to the focus on this incident, Dillane's hunger allows Connacht to keep the ball, whereafter they recover their composure with a simple short carry around the fringes, and then show they have regathered shape very quickly.
Muldowney doesn't have a forward inside him on this occasion, but Ronaldson is there out the back door of Buckley and that leaves the Munster defence with a decision to make.
Saili shoots up outside the loosehead covering the back-door option, but Muldowney again makes a good decision and hits Buckley. Not linebreak, but it's another question asked of a Munster defence that struggled throughout.
Jackal
It's obviously not just handling skills that Connacht have been working hard on over the last number of seasons, with the 'extras' stretching to cover a wide range of activities. One area that has seen a collective improvement is their ability to poach the ball at the breakdown.
Lam's men caused Munster great trouble in this area on Saturday, and it wasn't only the back row forwards who were pilfering.
Exclusive Six
Nations Analysis
Get Murray Kinsella's exclusive analysis of Ireland's Six Nations campaign this spring
Become a Member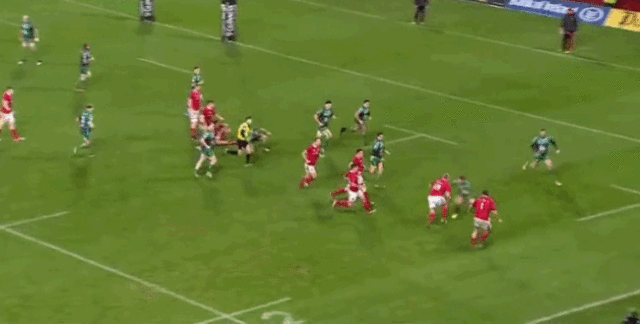 Ronaldson is the man to steal possession in the instance above, hunting from inside the ball and clamping down over it after Matt Healy makes the tackle on John Ryan. Connacht's inside centre actually made two other steals in this game, as he and other backs competed aggressively on the deck.
Below, it's captain John Muldoon with an inspirational turnover penalty, one that directly brought about three points for Connacht.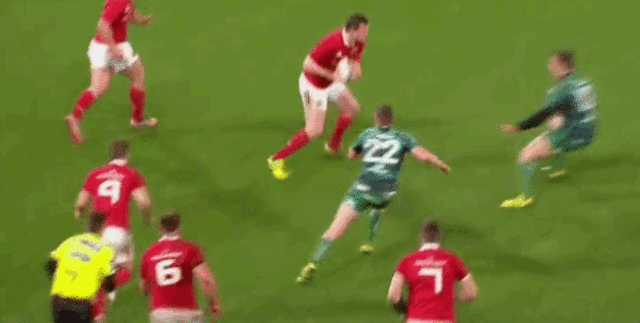 It's a good decision from Muldoon here, as he identifies that he's won the race to the ball ahead of Munster's supporting players, then pounces over the tackled Denis Hurley (Ronaldson having taken him low), anchoring himself into position to win the penalty.
In the instance below, it's also strong decision-making from replacements Sean O'Brien and Dave Heffernan, who recognise that Munster's ruck is extremely vulnerable and hammer in on the counter ruck.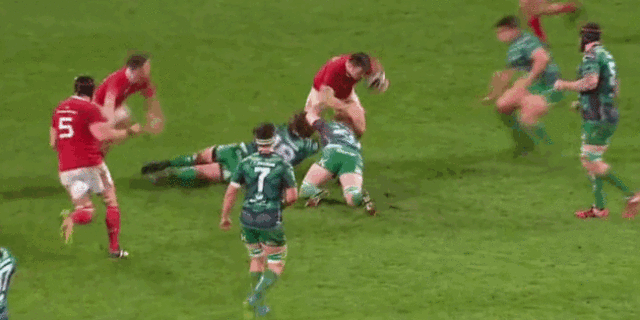 Munster hooker Niall Scannell is pinged for playing the ball off the ground, although Ronaldson makes an uncharacteristic miss on the subsequent penalty kick.
Something special
While Connacht have worked hard to improve the skill levels of their entire squad, there are always going to be players in any group who provide that little bit of extra ability with ball in hand.
Every player in the world can improve, but buying in top-quality talent is another way of ensuring that a team continues to grow. The addition of Bundee Aki last season was a master stroke from Connacht, who fought hard to secure him ahead of the other provinces.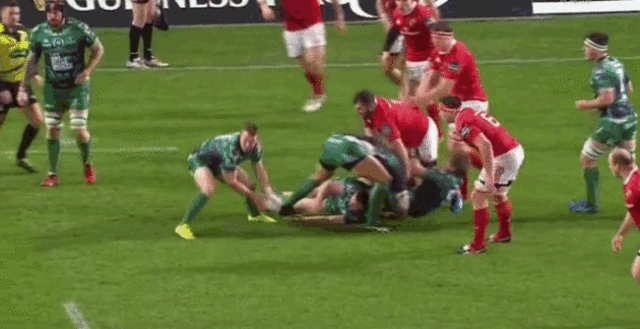 The 25-year-old had already won two Super Rugby titles before joining Connacht, so they knew they were getting an excellent centre. This season has seen the Kiwi midfielder push onto a new level of form, however, and his important to Connacht is huge.
His explosive power, intelligence, high skill level and passion for the game stand out for the province, while he also offers them a sharp offloading game.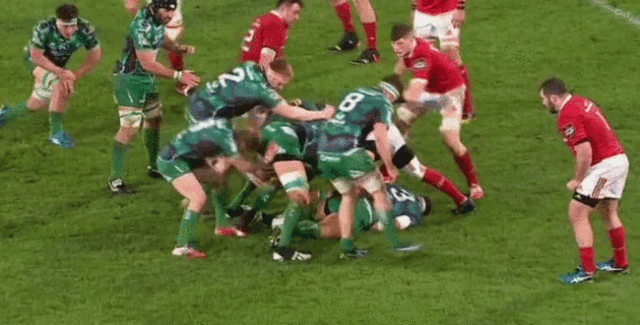 Their game plan may have been expansive at times against Munster last weekend, but Connacht didn't offload the ball very often, even in the first half. Lam's men had a total of six offloads to Munster's 17, as they instead looked to shift the ball pre-contact.
Aki is one player who will always look to offload, as he so often wins the initial collision, while the homegrown hero Robbie Henshaw is another with the ability to release the ball out of the tackle.
We saw a stunning example for Aki's late try, but it's worth jumping back nine phases in the attack to note where the opportunity stemmed from.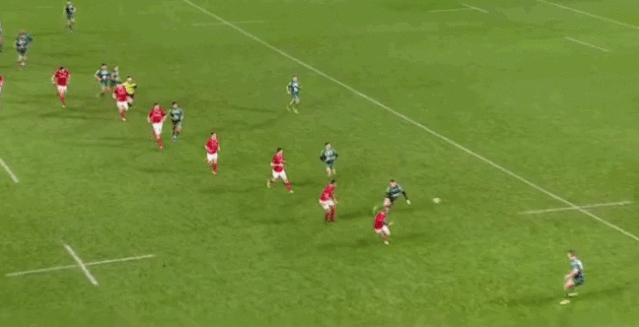 Matt Healy has been scintillating for Connacht over the last 18 months or so, and the above is the type of impactful moment he produces with regularity. Having worked diligently to improve his fielding, kick chasing, defensive reads and tackling, the 26-year-old looks very complete.
Aki came to Connacht from one of the best clubs in the world, while Healy was signed by the province from one of the best clubs in Ireland, Lansdowne. Both have added class to the province's backline, an ability to do something special.
The above grubber and regather from Healy lays the foundation for a nine-phase Connacht attack that features lots of passing from forwards, some clever pick and jams, and various other elements that encapsulated their performance.
The passage still needed something different to be finished, with Henshaw and Aki providing exactly that. That said, the preceding phases allow Henshaw into a one-on-one situation, a relative rarity in the modern game. The Ireland star takes his chance.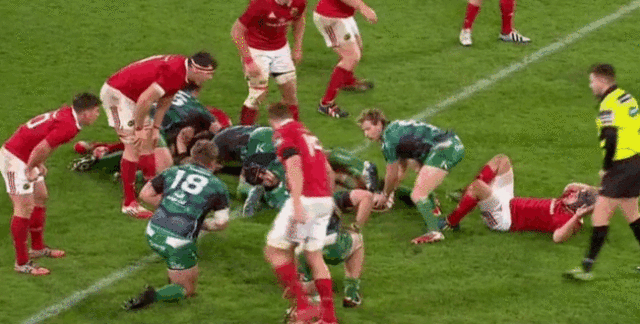 It's a stunning moment of skill from Henshaw – footwork is something the province have clearly worked hard on too, with men like Connolly showing lovely feet to get into favourable positions before taking the tackle.
As Henshaw receives the ball from MacGinty, he has already made his decision. Keith Earls is the man in front of him, but the Connacht fullback is also aware of Mark Chisholm – a second row – inside Earls.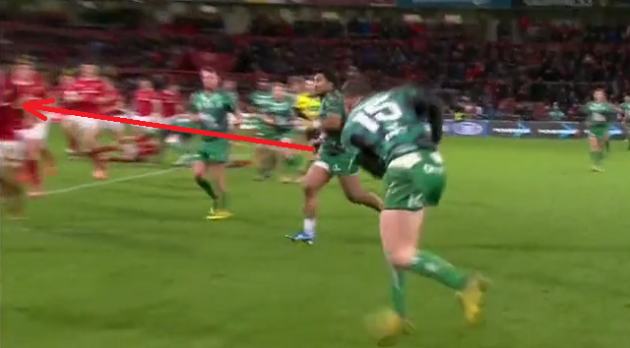 Henshaw's belief is that if he can beat Earls on the inside shoulder, Chisholm won't have the pace to cover across and slam a shoulder into him. With that opening in mind, Henshaw sets about beating Earls with a beautiful step.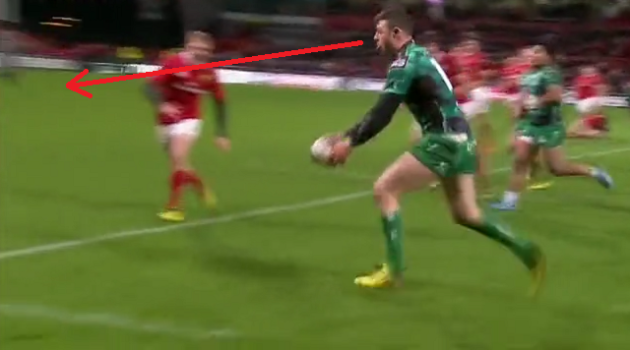 Henshaw fully sells the outside break or kick to Earls, staring into the space on Earls' right shoulder, pointing his body in that direction and dropping the ball in front of him as if to grubber (tongue out is optional).
Earls buys it and readies himself to tackle with his outside shoulder, but Henshaw bursts back inside off his left foot. He probably has Earls beaten at this point, but he makes certain by transferring the ball into his right hand in the blink of an eye and slamming down his left to fend Earls.
A further sign that Henshaw expects to break here is the manner in which he looks to fend Hurley with his left hand as Chisholm does manage to cover across and chop him to the ground.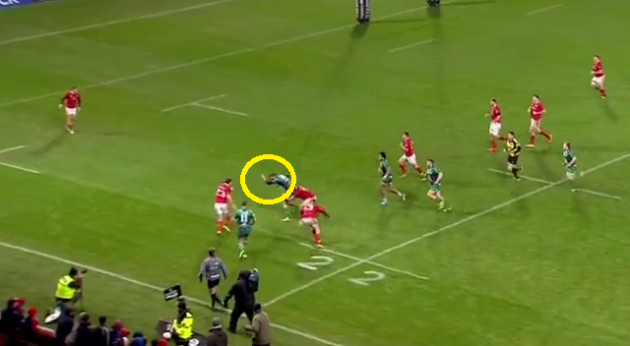 Hurley doesn't actually engage with Henshaw, but the Connacht man is ready to slap him away if it does happen. Instead, Chisholm drags him to deck and with the move in danger of fizzling out, Henshaw produces an incredible offload out of his right hand.
The physical strength and agility Henshaw shows to arc his upper body back up off the ground here is exceptional, with the danger being that he traps the ball under himself after the tackle.
It's an incredible release of the ball, and Aki does well not to overrun the offload in this instance. He slows right down to a jog in order to allow Henshaw to find him, then bursts on the accelerator as Munster fullback Andrew Conway stands off.
Conway appears not to have expected any offload (who did apart form Henshaw and Aki?), meaning he hasn't closed the space in front of him. That allows Aki time to swerve to his outside shoulder, diving for the line and lifting his legs behind him to avoid any possibility of a foot in touch before he's dotted down.
A stunning conclusion to a game full of Connacht skill.
Losing Henshaw for six weeks is a major blow to the province, of course, while Denis Buckley is arguably as damaging a loss ahead of Friday's clash with Cardiff. Nepia Fox-Matamua and Eoghan Masterson are further injury casualties, meaning others will need to step up.
Encouragingly for Connacht, they have dealt with injuries repeatedly in the last two seasons, with their emerging players showing hunger and skill when called upon. The hard work is paying off for Connacht, but much more of it lies ahead.