AFTER THE EXCITEMENT and positivity of the New Year's Day win over Munster, here was a sharp reminder of the hard work that lies ahead for Pat Lam's ambitious Connacht.
On a downcast, wet evening at the Sportsground, Edinburgh – themselves targeting a top-six finish in the Pro12 – ground to a 16-13 win that was, in truth, deserved.
Connacht head coach Lam looked at his side's failure to amass more than a six-point half-time lead after 40 minutes with a powerful wind behind them as the losing of the game.
Weakness in too many collisions and difficulties around the set-piece added up too, as the western province slipped to their first home defeat of the current campaign.
We're disappointed to lose in our ground for the first time this year," said Lam post-match. "The coin toss we got last week [against Munster], we were after again and didn't get it this weekend.
"So when we had the wind [in the first-half] we needed to pile on some pressure and points. We gave away a soft try from one defensive error, they made a linebreak and then we were sloppy around that line.
"That was disappointing, you know, and they were powerful and direct, they don't struggle with the contact. They did very well in holding us up, it was very messy in there and our ball was slowed down."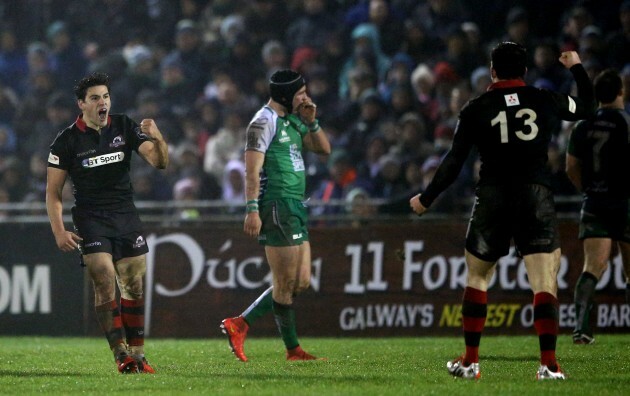 James Crombie / INPHO Sam Hidalgo-Clyne and Matt Scott celebrate their win. James Crombie / INPHO / INPHO
Stuttering starts are becoming something of a concerning pattern for Connacht this season, and again that was evident at the Sportsground last night. Dave Denton's try after 17 minutes saw Edinburgh into a 7-0 lead and ultimately proved hugely damaging.
"Again, it's something we've got to be better at, because we know we've got the legs to hang in there. Part of the disappointment was that the tackles were too high, we weren't getting off the line quick enough and we need to do that against a team like that before they get momentum."
Lam spoke of his pride in his players for "hanging in, hanging in," before reiterating that Connacht's half-time advantage simply hadn't been enough with such a strong wind to play into in the second period.
Finlay Bealham's yellow card as Connacht chased the game was unhelpful, although it was the result of repeated penalties by the collective, as referee Leighton Hodges' patience was tested to breaking point.
I also mentioned that discipline was going to be massive," said Lam, "and some of the penalties that we gave away, or didn't get, were frustrating.
"There's a few boys who are going to be disappointed, but ultimately we've got to go through the process of having a look at it. Our halfbacks had no clear passage to play in, but did very well in getting it away."
Among the positive notes was the man-of-the-match performance of centre Bundee Aki, who was explosive in contact and as abrasive as he has been since arriving from New Zealand.
James Crombie / INPHO Aki receives treatment on his ankle. James Crombie / INPHO / INPHO
The 24-year-old limped off with three minutes remaining, apparently in some pain – although he managed to square up to Tim Visser before departing.
"He rolled his ankle or twisted it in the contact," said Lam of the injury. "The way he runs into contact, he's pretty dynamic and it got twisted. We'll know a bit more in the next 24 hours.
It was straight away on ice and I think he'll be in the moon boot and on crutches to take weight off, with this next 24 hours being crucial."
Despite the disappointment in Galway last night, Connacht remain sixth in the Pro12 table and Lam took some consolation in his side's losing bonus point. Attention now turns to next Sunday's Challenge Cup clash at home to Exeter.
"The Scarlets lost tonight, so we finish this block of Pro12 games in sixth place and we'll pick it back up against the Scarlets [in February]," said Lam.
"Now it's a case of Exeter and a big game there to try and get into the next stages of the Challenge Cup."