EUROPE IS NOTHING new for Connacht.
Heck, they love European adventures so much they even brought the roadshow to Asia last year!
Obviously being back in the top tier of European competition is something special, but what makes it more important than usual is the reason for their presence.
Their previous appearances in the Heineken Cups of 2011-12, 2012-13 and 2013-14 were gratefully received. But Connacht undeniably had outside forces to thank for their presence there.
This time around, head coach Pat Lam wasn't going to miss the opportunity to point out the pecking order the captains had been seated in at Wednesday's Champions Cup launch in Dublin.
"My first year with Connacht we were in the Heineken Cup, but I could hear all the words: 'ah they only got in because of Leinster.'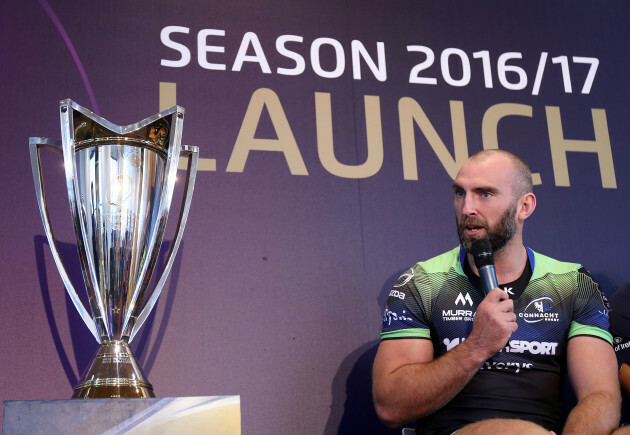 Dan Sheridan / INPHO Dan Sheridan / INPHO / INPHO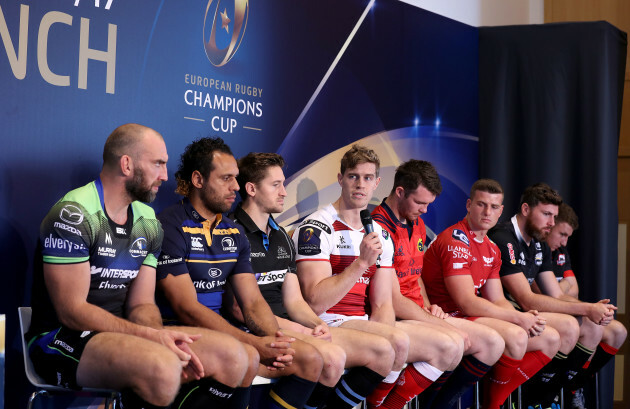 Dan Sheridan / INPHO Order of merit: Pro12-winning captain Muldoon was seated next to the trophy, everyone else had to get in line. Dan Sheridan / INPHO / INPHO
"To sit here three or four seasons later and see this guy (John Muldoon) sitting in the number one spot. No one can question that we're here."
The first hurdle is an opponent who occupy some important chapters in Connacht's European history, Toulouse.
That same first year in charge pitted Lam against the continent's most successful team and the shock winter win went a long, long way to, not only to proving Lam's value as a guiding-light coach, but it also strengthened his own resolve.
That was my first year, we had gone eight in a row (losses) That was the first game I knew what this club could do."
Muldoon says of the same game: "When you look back and think where we were at the time, the history of us it still ranks as one of the better days in my career."
No true Connacht tale is complete without remembering how far they have come, however. Muldoon sets that tone brilliantly in every discussion, making sure to remind those inside and outside the squad that his squad can't ease off the pedal now. No matter how great it felt to win in Toulouse or raise a trophy in Edinburgh, the dark days still cast a shadow of warning of what can happen when a team is not wholly committed to a single cause.
"I've been in a dressing room before when people said — I was quite young at the time, now: 'we're on TV this weekend, 'it's a great opportunity for us'.
"What do they mean by that? They meant: 'it's a great opportunity for teams to look at us, so we'd be picked up by another club'.
"I never thought about it that way. I always thought every day was a great opportunity for me to go out and play for Connacht."
Exclusive Six
Nations Analysis
Get Murray Kinsella's exclusive analysis of Ireland's Six Nations campaign this spring
Become a Member
The iconic Portumna man adds: "I'm proud of the fact I've been here through some very tough times.
"We have our history, it's a lot like where we're from and the landscape and the environment we're in; it's a tough place. But inside that tough place there's a beauty to it. Maybe I'm getting sentimental in my old age, but there's something special about it.
"If you come to Galway, there's a harshness to it. But there's a beauty to it."
On the rugby field these days, the hard western Atlantic edge is felt by opposition teams, while spectators are treated to the beautiful game. Friday night's spectacular win over Ulster means Connacht go into the European campaign with back-to-back wins to their name. So the Pro12 slump has been well and truly rectified, the next goal is to make all last season's hard work worth while.
"Our whole goal last year was top-six as a first goal," Lam reminds us, "but we're here now, we achieved it and now we have to perform. We know that.
"We're not here to make up the numbers, we have to perform. We saw the doom and gloom of no Irish province getting through (to the quarter-finals last season) and that's the big goal for us.
"To try and get ourselves right into form to give us the best chance when he host Toulouse."
The four-time European champions have been well-warned: they'll need to bring their A game to win in Galway next Saturday.