Murray Kinsella report from Stade Ernest Wallon
THIS 19-10 DEFEAT is going to be sickening for Connacht as they fly back to Ireland on their chartered airplane this evening.
Pat Lam and his players will be turning the events over and over in their heads en route to Dublin.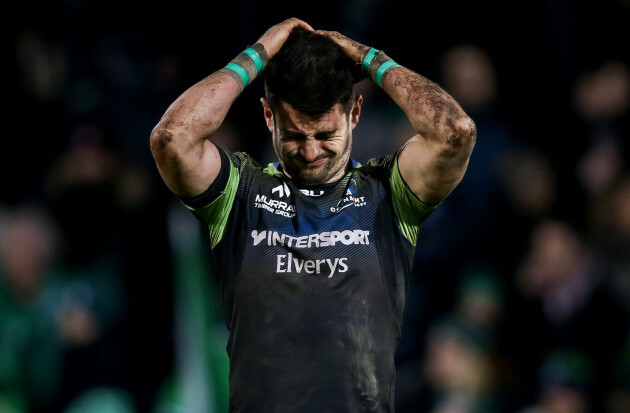 Tommy Dickson / INPHO Tiernan O'Halloran shows his disappointment. Tommy Dickson / INPHO / INPHO
Was that the right lineout call? Should we have built a drop goal at that point? Where was the support at the breakdown after that big carry? How did we let that opportunity for a Champions Cup quarter-final go?
"Frustrated," was Lam's first word after arriving into the gym area in one of the stands at Stade Ernest Wallon post-match. "You miss out by two points, it's a killer blow, particularly when we had enough chances to get over the line.
"The last thing you want to do when you come over here is give them a 14-point lead, particularly off a couple of system errors… 14 points, a lot of teams that come here could have easily folded.
"The boys came back really well and we all knew the situation. We just needed a penalty or a try to get it within seven. We were keeping track and had chances and unfortunately we didn't take them."
So, what message was going onto the pitch during that dramatic endgame?
Lam's players would have known before the fixture that a losing bonus point without Toulouse scoring four tries would do the job. What was the message from Lam and his coaching staff?
"The key was we knew if they scored four tries [we'd be out], and with 15 minutes to go we got the message out there: as long as we keep them out… If they score another try we then have to go for another three tries.
"If we hold them out, we have only got to get within seven. Everyone was well aware of what we needed and even if we got the drop goal it would have brought us closer but ultimately there are chances to score.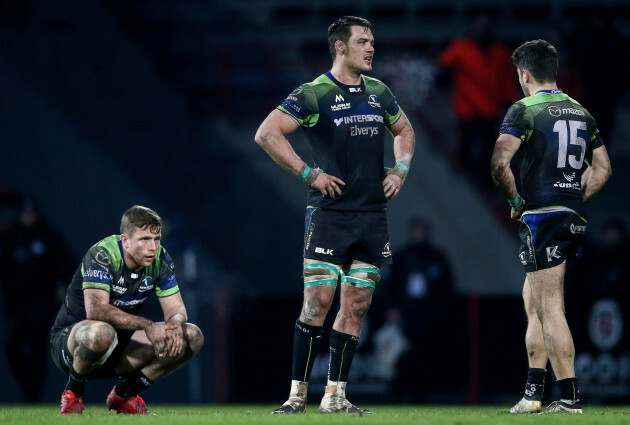 Tommy Dickson / INPHO Jack Carty and Quinn Roux at the final whistle. Tommy Dickson / INPHO / INPHO
"We'll look at that last bit of play, there was so many things we could have taken and we didn't. We've only got ourselves to blame for that and we have to put it away as a learning."
Connacht's final set-piece attacking platform came from a right-hand side lineout, from where they ran a somewhat complicated play down the blindside and saw John Muldoon's pass picked off for a turnover.
"It wasn't the right play," said Lam. "That is one of the learnings. When we mauled twice, they gave away penalties and they were liable for that too. That was probably the option we should have been taking at that stage.
"I can guarantee you now that will be a learning that will be locked away for key decision-makers for the rest of the season, if we find ourselves in that situation. And then even on that play it was wrong. Half the guys were thinking it was different. It's another one we will have to take away as a learning."
There was utter dejection in the Connacht dressing room in Toulouse, of course, and the regrets will live on but the always-optimistic Lam was keen to point out that this European season represents progress for the western province.
Even if they left a knockout opportunity untaken.
"In the heat of the moment everyone is frustrated and everyone knows we could have taken it, could have been part of history and had an opportunity to get Connacht there," said Lam.
"But then I'll reflect on it – three years ago we were here and it was great to win but realistically we had no chance of getting out of the pool.
Tommy Dickson / INPHO Lock James Cannon in Toulouse after Connacht's defeat. Tommy Dickson / INPHO / INPHO
"We were there by default [Leinster's trophy the previous year had seen Connacht qualify], but we have earned our right to be here and to go down to the last play against a team that we all know what they have and what they have got – the history and the record.
"There was no surprise factor, they knew they had to win and to take them right to the last play just shows how far we have come.
"But it still doesn't take away the disappointment. There is some great learnings there for a lot of the young guys in the team that will hold them in good stead. But it's frustrating."
The42 is on Instagram! Tap the button below on your phone to follow us!