Mayo v Donegal
The verdict on yesterday in Croke Park? It was one of those surreal days when everything Mayo touched turned to gold. I was not surprised Mayo won but I don't believe anyone predicted the hammering that was meted out to Donegal.
Mayo were just fantastic to watch and are now deservedly favourites for the All-Ireland, just ahead of Dublin. The only slight worry is will expectations now spiral out of control given that performance?
The two players that stood out were Cillian O'Connor and Aidan O'Shea. O'Connor is a beautiful ball player, who clearly has great confidence. To score a hat-trick against what was the meanest defence in the country was some achievement.
But O'Shea is the main man. He was a colossus and Donegal couldn't handle him. How Tyrone try to combat him will be interesting. I'm sure Mayo won't want O'Shea to be chasing Sean Cavanagh around the pitch. Donal Vaughan going on to Cavanagh could be a better ploy.
The hunger was with the team that has not won the All-Ireland title. This season Donegal weren't the team they were in 2012. That's totally understandable. It also proved that if any team ever retains the All-Ireland title again, they'll be an amazing team.
There have been issues with Donegal this year in terms of hunger and injuries. To win an All-Ireland medal, and I was fortunate to win a couple of them, you need luck. And luck comes in many guises. Having your marquee players fit and available is part of that.
Last year Donegal had everyone, this year they didn't. They were massively outplayed in every sector of the game. Their body language showed that Donegal just had no fight in them yesterday.
It's a tough one for Jim McGuinness now. A pot of people will argue that once you win an All-Ireland title, you should get out as life won't get better. Jim owes Donegal nothing, he's put pride back in the jersey.
But he has older players there and a couple of them may drift away. If Jim does go, it could be really difficult to lift this team off the floor. If I was Jim, I would look to move on and focus on the career with Celtic.
Mayo's Cillian O'Connor celebrates scoring his second goal.
Pic: INPHO/Morgan Treacy
Dublin v Cork
I rated Dublin highly from the start of the year and nothing has changed. I like the way Jim Gavin plays football and how he uses the amount of quality players in their squad. They have so many options. Players can be brought in that are as comfortable with the style and pace of the game as the ones they replaced.
Their sheer athleticism against Cork on Saturday night was a joy to watch. I haven't seen anybody to match Jack McCaffrey when he runs with the ball in hand. He has jets in his heels and leaves players floundering after him.
Dublin created huge chances but didn't take as many of they would have liked. That might be no bad thing. They have scope for improvement now rather than if they had battered their opponents. For example Bernard Brogan is not playing his best football but he is showing well for the ball and Dublin can get more out of him.
I thought Cork were better than they have been in the past. Ciaran Sheehan was immense in the air when they threw high balls into him. There'll be question marks about Dublin's inside defence though and they'll need to work on that.
Conor Counihan stepped down afterwards as Cork manager and he was hugely emotional. You'd feel for him. Conor is a guy who's given his heart and soul to Cork. It mattered to him which is a good thing and it really hurt him that he was leaving.
It was probably the right time though for Cork and a few players may go with him. You'll then have a lot of fresh young fellas around him who the team can be built around. It could be a good time for someone new as Cork have good raw materials. History will look kindly on Conor's reign as well I believe.
Dublin's Jack McCaffrey scores a goal past Cork goalkeeper Alan Quirke
Pic: INPHO/Cathal Noonan
Tyrone v Monaghan
Tyrone continue to churn out winning performances. They're not pretty performances but they're getting the right results. They're the ultimate street fighters. They know how to play football and get the game down to the level they want.
They can make opponents play poorly and struggle against them. The surprise factor was gone with Monaghan and Tyrone knew what was coming. Monaghan didn't hit the heights of the Ulster final but they have silverware from this year and that will stand them in huge stead for the future.
I think Sean Cavanagh really stood up and kicked massive points for them. He really hurt Monaghan as he drove straight at them and kicked some marvellous points. That's 0-13 from midfield now in two games and opponents have to start limiting his influence if they are to get over Tyrone.
Of course Cavanagh's other contribution to the game has been heavily debated. The reaction to his tackle on Conor McManus was, in my view, vitriolic and shocking in the personal nature of it.
This game was simply evidence of how Tyrone are street wise and know how to win. They're not the greatest Tyrone team that we've seen but they have good footballers in key areas, are defensively solid and a hard team to play against.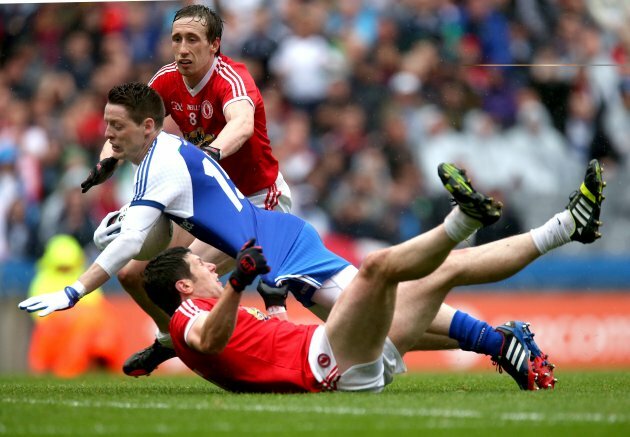 Monaghan's Conor McManus is dragged down by Sean Cavanagh of Tyrone
Pic: INPHO/Ryan Byrne
Kerry v Cavan
This was a desperately poor game in many ways. Most people felt it was over at the break and Kerry certainly played in the second-half as if they were thinking that way. I was commentating on the game for Newstalk and it struck me as interesting how they set themselves up defensively.
They dropped bodies back and defenders like Peter Crowley and Killian Young were holding firm in front of the full-back line. I wonder were they setting up like that with an eye on the next game. Are they toying with the idea of play a slightly different brand of football to combat what they will face in Dublin?
Some of Kerry's experienced figures don't have the legs any more. You can see that Paul Galvin and Tomas O Sé will give you plenty but they are flagging. Kieran Donaghy's not playing well also but that happens to players, it's not a major issue.
I think they need to put Declan O'Sullivan, the best full forward in the country, at the edge of the square. Colm Cooper needs to be with him inside to unlock Kerry's potential. If they bring Darran O'Sullivan further out, they can really start to ask questions of Ger Brennan at centre-back for Dublin by running aggressively down the middle.
Personally I was delighted to see Cavan come out in the second-half yesterday and show a bit more. It's been a great year for them in many ways. They've played seven championship games which is great for their young players who will have learned massively. They have a lot to carry forward into next year. The first step must be to try to get out of Division 3 and continue building from there.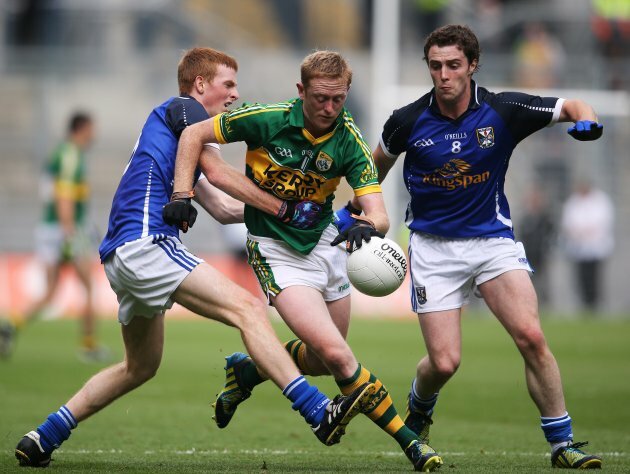 Kerry's Colm Cooper under pressure from Jason McLoughlin and Damien O'Reilly of Cavan
Pic: INPHO/Cathal Noonan