IT'S LATE INTO our conversation on Friday when it hits me. A bizarre coincidence.
I put it to Conor Henderson that it's seven years to the day since he stepped out at the Emirates for his one and only competitive start for Arsenal.
He laughs.
"Thanks for reminding me."
It was an FA Cup clash with Leyton Orient and Henderson, who played underage for the Republic of Ireland Under-17s, Under-19s and Under-21s, was part of a squad that included Gael Clichy, Tomas Rosicky, Samir Nasri, Bacary Sagna, Andrey Arshavin and Jack Wilshere. He played the full game and Arsene Wenger was full of praise. He'd been on the fringes for a while and finally got his reward.
But that summer he damaged his knee ligaments and momentum was lost. His next senior appearance came in September 2013 and it was for Hull, Henderson having finally had enough of north London and the club he'd been at since the age of eight.
He takes a second to reminisce.
"I wish I took it in a bit more," he says of his Arsenal debut.
"I think I was concentrating so much on the game and doing well that I didn't really soak up the atmosphere as much as I perhaps should've done or hoped to have done. Maybe if you told me back then that it would be my only game for the first-team then it would've been easier to do that. Obviously it was a great occasion. But the thing I remember most was after the game and being able to enjoy the moment with my family. That was nice."
Arsenal's current toxicity irritates him, like any fan. But he does admit the level of abuse being meted out to his former manager irritates him too.
"It does hurt a little bit because obviously I worked with him for a while and I know how good he is," he says.
"But things haven't been right there for a number of years. Whether that's down to the manager or the players, no-one knows, really. I had an amazing time there and I feel very fortunate that I was there and had the chance to work with the manager and the players that I did and it's obviously a shame to see them in the position they're in now. I certainly don't think it's all the manager's fault."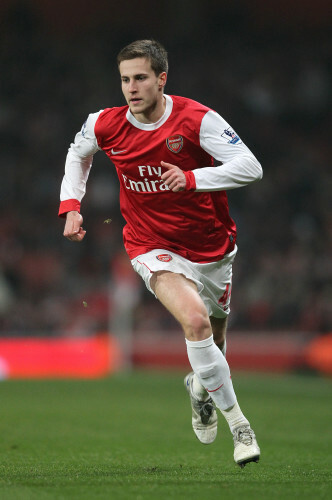 Stephen Pond Henderson in action for Arsenal in March 2011. Stephen Pond
There's a strange parallel. Arsenal have slipped into a dark place in recent years and Henderson can certainly relate.
After a short stint in Hull, he dropped down to League Two with Crawley Town in 2014. There were loans at Stevenage and Grimsby but a lack of any regular game time. It was patchy, inconsistent. And he was deeply unhappy. Feeling he needed a radical change to force himself out of a hole, he looked into a move abroad.
And since last August, Henderson has been with Bulgarian top-flight side OFK Pirin Blagoevgrad and revelling in the change.
"I've really enjoyed it," he admits.
"It's something I've been open to doing for a few years and it got to the point in the summer when it was just, 'I'm going abroad – that's it, my mind is made up' and this was the first option that came up. An agent got in contact with me and I explained my situation. I said to him, 'Look, I appreciate your help but you need to know that it doesn't matter if an opportunity comes up in the UK I'm not going to take it. I've made my mind up that I want to move abroad'. But he came back with this opportunity and after being here for a few days I signed. Some of my friends have been a bit like, 'Bulgaria?' It's not necessarily a place many people know too much about or is even a very popular place to travel but I'm in a nice little city, I've got everything I need."
Blagoevgrad is best-known as the birthplace of Dimitar Berbatov. He started his career with the local side before moving to CSKA Sofia but, in terms of success, Pirin pales in comparison to the more high-profile and well-known Bulgarian club sides, despite being just an hour outside the capital.
Still, Henderson doesn't mind. Plying his trade in a country's elite league and challenging himself against the best players around has ensured he's rediscovered his love for the game. He's hungry again and finding his form. It's been a while.
"To be quite honest, I just didn't enjoy football anymore," he says.
"When I was younger, and thankfully now too, you wake up in the morning and you're excited to go training and play. And over the last two or three years, that had disappeared a bit. There were a lot of factors and all pointing in the direction of a change.
After I left Arsenal and you get to have a taste of what it's like in League One and League Two, it only took a season for me to probably realise, 'This isn't for me – I'm not able to show my qualities and my strengths'. And there were two or three seasons of that, of just deteriorating even more. And then it came to last summer. And I wasn't going to stay there any longer and I just needed to see what else was about.
Certainly in the last two seasons, I wasn't getting a consistent run of games. Even if I was, the ball would be in the air the whole game. You're not getting many touches and it's not enjoyable. I've been taught to play a certain way and enjoyed that for so long. To then go and experience something completely different, it just wasn't enjoyable. So I'm starting to enjoy it again and that's why I'm not in any rush to go back."
As Henderson bounced from club to club, it became apparent that being part of an Arsenal setup between the ages of 8 and 21 didn't offer him much currency. Immersed in a culture for so long where possession and ball retention were key meant little in lower league football. His finely-crafted skill-set, which you'd have thought offered him quite the calling card, was rendered useless by clubs and managers alike. So, Henderson got to thinking. Had he just wasted the previous 13 years of his professional life?
"Certainly early on after leaving Arsenal I struggled to adapt," he says.
Henderson is in a much better place since signing for Bulgarian side Pirin.
"I tried to play the way I had been raised to play but managers and teams didn't want that. It was a constant struggle of not wanting to become that kind of player and still believing I could be the player I was and start progressing again in England. But the longer it went on, the clearer it became that it was too difficult and that with the clubs I was at, it wasn't going to be possible. So it was all those types of factors that led me to where I am now."
Henderson concluded that if he could find a place where his idea of the game was encouraged, it would help him remember why he fell in love with it to begin with. And in Bulgaria, that's exactly what's happened. On the pitch, he's enjoying himself.
That was the biggest thing. I knew that once I found that again that I'd start playing well and I'd be happier in myself."
The team is well run and he's a big fan of the manager Milen Radukanov. Incredibly, Henderson says the level of tactical coaching at Pirin is better than anything he's had since he left the Emirates. A damning indictment of the UK goldfish bowl.
"It's definitely a lot more tactical over here, especially compared to League One and League Two," he says.
"The coach puts a lot of emphasis on tactics and he's very good at that. It's the most in-depth that I've worked on that side of the game since I left Arsenal. That was surprising, I guess. But I feel it's helped me improve. It was a side of my game that needed improving. I didn't have a full pre-season and they wanted me to play straightaway so I picked up an injury two weeks after coming out here. It was probably a bit too much too soon. But I got over that and got into the team in October and have played every game since and I've felt I've been playing well. I managed to get a few goals too – one last week and another just before our Christmas break.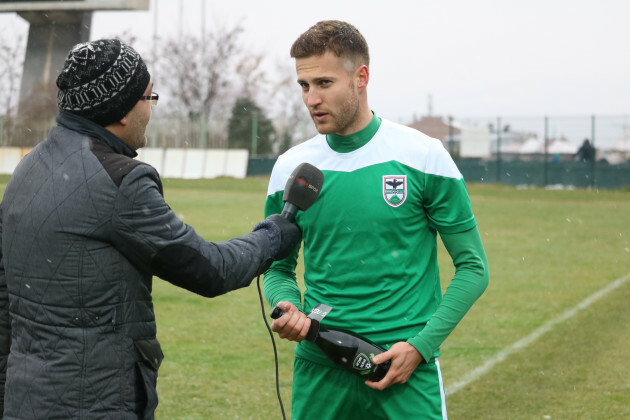 The standard of football…every team we play, nobody just lumps it. There's no route one. Every team tries to play from the back. They try to play in the right way. You can see during games that when you go a goal behind, it's hard to overcome it. That's down to how well the teams here are tactically drilled. It's been surprising but great for me to learn something new."
He's quick to mention a clash with league leaders Ludogorets, who were eliminated from the Europa League by AC Milan earlier this month, that took place just before Christmas.
"They're certainly the best team I ever faced," he says.
"It was only 2-0 but they kept the ball for fun. We couldn't get it off them. They were quick, strong, powerful. They had everything. Levski (Sofia) weren't on the same level but they still had players that could make a difference and who can change a game out of nothing. We've got CSKA next week. They're always tough games but they're the games I certainly enjoy. You want to be playing against these players and teams and testing yourself and using it as an experience to see where you're at and if you're improving.
Like, that game against Ludogorets…They play in the Champions League, Europa League and they beat us 2-0. I remember walking off the pitch and thinking they'd absolutely popped us, basically. So I was a bit down after it. But I started to think about how I could be back in England, playing Conference football and still being as unhappy as I had been over the last few years. And that's when it hit home that I'd made the right decision. I was enjoying myself and beginning to make progress in my career again.
I needed that. I needed to take myself out of my comfort zone and experience something new. And have a fresh challenge and almost start again."
Henderson is careful to acknowledge that not every footballer would enjoy the transition and the cultural differences and the distance from home. It's not for everybody. But it's working for him.
"Everybody's situation is different," he says.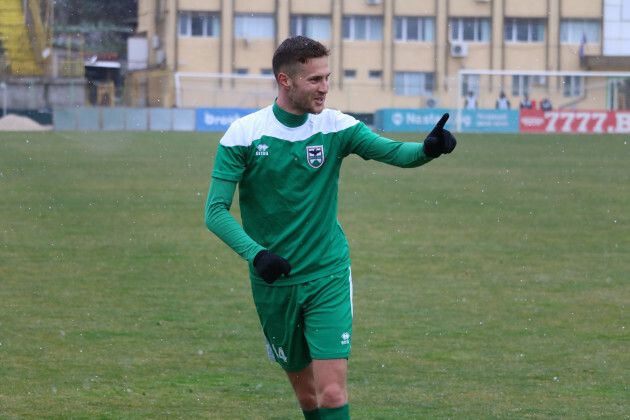 "A lot of footballers have families when they're young and if I had a family, it would've been a lot more difficult to make the decision and for it to have worked. But I know a lot of people who are finding it hard to enjoy playing back home. They'll ask me what it's like and I'll say I'm enjoying it and that I've made the right decision but at the same time it's not for everyone. People may struggle settling in or being away from friends, family, partners. I've been lucky – my girlfriend is very supportive, my family is very supportive so it's been quite an easy transition, really.
Sofia is only an hour away so if we have a few days off, it's easy to go there and have a look around. It's a big city, a nice city. But here is nice too. There's some lovely restaurants and bars – it's got everything you need. I get on well with all of the lads, but with a few in particular and that makes it a lot easier, I suppose.
I'll be honest: my Bulgarian isn't very good. My swearing is quite good. And my 'left' and 'right'. But they all make the effort to speak to me. And that's down to the manager, staff, the players. They've made the effort. Like, I'm in their country. I've come here. They don't necessarily have to communicate with me."
Pirin have had an inconsistent season. They hardly concede but they hardly score either. Still, Henderson is playing with a smile on his face again. He's developing as a player again. The experiment has worked and he won't be running back to England any time soon.
"Considering how well it's going at the moment, I've written off coming back to the UK for the next few years, definitely. Whether it's staying in Bulgaria or experiencing something new in Europe or somewhere else, I'm open to it."
The42 is on Instagram! Tap the button below on your phone to follow us!