IT WAS ONE of many surreal moments in an increasingly farcical situation.
The Bray crisis began with an ominous statement issued by then-chairman Denis O'Connor questioning the club's sustainability at half-time of their 3-0 home defeat to Dundalk.
A few days later, after Bray players had been told the club only had enough money to cover the following week's wages, Gary McCabe posted a photo of himself and team-mates Conor Kenna and Aaron Greene on Instagram, which read: "We're for sale."
In what was a depressing but less than surprising scenario in the eyes of most seasoned League of Ireland fans, this moment of light relief felt necessary to emphasise the ridiculousness of the situation.
It was far from the only strange moment amid a rollercoaster few weeks for the club. More recently, Bray sparked controversy when they released a bizarre statement calling Wicklow "the North Korea of Ireland".
Yet since that infamous meeting in which the prospect of unpaid wages was raised, the off-the-field developments in relation to the club have been largely positive.
After a turbulent few weeks, Bray say they are now financially stable for the foreseeable future, with their players no longer needing to worry about their immediate futures.
Unsurprisingly, however, the team's form suffered during this difficult period. They are without a win in their last seven matches. It's therefore hardly a coincidence that their last victory came on against Galway on 23 June — a week before that ominous statement from O'Connor followed by the club being plunged into temporary crisis.
Having been well positioned to challenge Dundalk for the runners-up spot before the mid-season break, their poor recent form since has left them in their current position of fifth in the table, eight points off a guaranteed European spot.
With seven games remaining, club captain Conor Kenna admits it's gotten to the point where every game is a 'must-win' if they are fulfill the early-season promise and improve substantially on last-year's sixth-place finish.
The last few weeks the chances [of getting to Europe] have obviously lessened. We still think we can get it," Kenna tells The42.
Last Tuesday's 0-0 draw away to Sligo was the latest frustrating outcome for the team. Kenna admits his side did not play well enough in the first half at the Showgrounds, before an improved display after the break left them unlucky not to come away with all three points.
Nevertheless, tomorrow seemingly represents the perfect opportunity for the Seagulls to secure a first win in nearly two months. Harry Kenny's men host Drogheda, another team low on confidence and desperate for a win, given that they are currently bottom of the table, 10 points from safety with eight games to play.
"(On Tuesday) night, we were unlucky not to get the three points. If we can play the way we did in the second half, we'll hopefully get them on Friday," adds the experienced centre-back.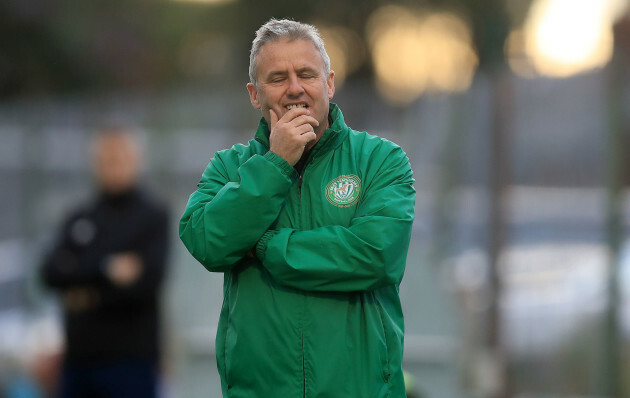 Donall Farmer / INPHO Bray manager Harry Kenny. Donall Farmer / INPHO / INPHO
A win would provide a much-needed boost for Kenna and co, given the demoralising effects of recent weeks. On reflection, he says the off-field issues have had an impact on players' performances.
"Overall, when you look back at when we dipped and the timing of it, yeah, it had an effect on us, but it's obviously not just that on its own."
As club captain, Kenna had to shoulder more responsibility than most amid the deep uncertainty over the club's immediate future. In over a decade spent in the League of Ireland, the 32-year-old has become renowned for his assured, reliable performances on the pitch, and he acted accordingly off it during this moment of crisis at the Carlisle Grounds.
To be honest, I was just trying to keep [the other players] away from all the information until when they needed to know.
"There was a lot of stuff going on that had to do with one or two of the other lads and I'd just relay information back. The Professional Footballers' Association of Ireland [PFAI[ helped us with that.
It was a busy time and not a time I'd like to go back to, I'm just looking forward to playing the rest of the season.
"The lads just want to play football at the end of the day. As soon as the guarantee [of financial stability] was in there… The lads were happy to move on.
Stephen McGuinness in the PFAI was looking after it and he was positive, and trying to keep the lads positive. He [said] just 'play your football' and he'd work on that end with the solicitor with Bray and that took a lot of pressure off the lads."
And is he optimistic that himself and other key players will be lining out for Bray next season, with the club having seemingly successfully ridden the recent storm?
I think the whole league's up in the air. I couldn't tell you who'll be there next year or what way the club are going to go.
"I wouldn't be able to answer that question. I think a lot of the clubs are in the same situation — they're taking it week by week and seeing where they go."
Kenna, who is currently doing his coaching badges, has certainly experienced his fair share of highs and lows over many years in football. He grew up in Tallaght, lining out for schoolboy clubs Kilnamanagh, Lourdes Celtic and Cherry Orchard at various points before joining the youth set-up at Coventry City.
There was a strong Irish contingent during his time with the Sky Blues, with notable names including Daire Doyle, Stephen Rice, Stephen Quigley, Roy O'Donovan and Barry Quinn.
However, with the club struggling in the Championship and finding their resources increasingly limited, Kenna was one of many players to be let go in 2003.
Yet not for the last time, the Dubliner showed admirable resilience to recover from a setback. After a short stint with Shelbourne's U21 side, he made the move to UCD and got his first taste of senior football there. Kenna thrived at Belfield, with his performances helping him earn a call-up to the Irish U21 squad in 2005.
"UCD was where I really enjoyed my football," he recalls. "I obviously learned a lot, I really enjoyed my time there and I'd promote that to any young lad that wants to get into the league if they can. UCD is a great club."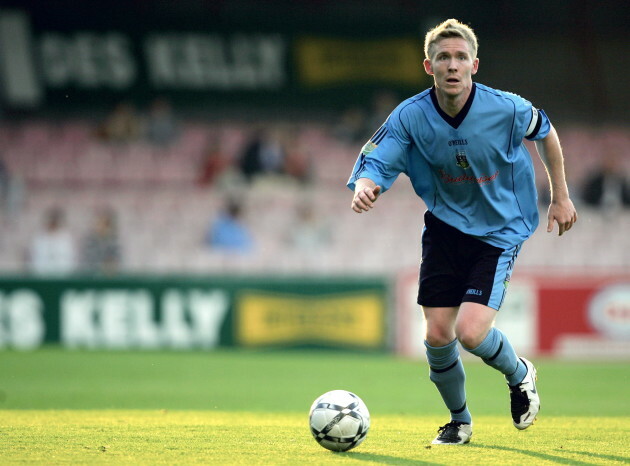 James Crombie / INPHO Kenna was made captain of UCD at the age of 23. James Crombie / INPHO / INPHO
He was made captain of the Students at the tender age of 23, but left for Drogheda after their relegation at the end of the 2008 campaign.
Following a season in Louth, in which he helped Drogs retain their Premier Division status, Kenna then sealed a big move to St Pat's, the club "most of my family support".
He hit the ground running at Richmond Park, quickly establishing himself as a key player and earning a spot in the 2010 PFAI Team of the Year after his first season there.
Exclusive Six
Nations Analysis
Get Murray Kinsella's exclusive analysis of Ireland's Six Nations campaign this spring
Become a Member
Three years later, Kenna achieved what is undoubtedly the pinnacle of his career thus far, as he captained the team to the league title in 2013.
Yet after more than 100 appearances with Pat's, he made the somewhat controversial move to join Dublin rivals Shamrock Rovers.
A lot of people think different opinions and there were different reasons why I left. Everyone has their own opinion, but I knew a lot of true Pat's fans while I was there and they had no real issue with my reasons [for leaving], so they were happy enough," he says.
Kenna said at the time he had joined Rovers "to win things," although unfortunately for the defender, trophies never materialised during his spell with the Hoops.
Expectations had been extremely high after a 2011 season that saw the side win the title and go on a memorable run in the Europa League, but the club failed to really build on this phenomenal success thereafter. And while Kenna helped get the team back into Europe after joining, there was a prevailing sense of underachievement during his time at Tallaght Stadium, with the club hardly faring much better since his departure.
"It was a tough time… changing managers [didn't help]. It's a great club with a lot of history and they expect to be winning things, so when I was there we didn't win (the league).
The main aim when I was there was to get into Europe and kick on from there, but they obviously haven't [progressed significantly] since."
He joined Harry Kenny's side after his release from Rovers in 2016 and has helped the club progress steadily from a team fighting relegation two seasons ago to a side that will now be disappointed if they miss out on Europe.
Despite the drama surrounding Bray in recent weeks and the uncertainty over his future, Kenna, as someone who has played regularly in the League of Ireland since 2004, is optimistic overall about its current state.
You've always got people that are going to knock the league, but you see the passion when you go to different grounds," he says.
"The quality is there, you saw it with Dundalk last year, getting through the qualifying phases in Europe.
It has come a long way when you look at the budgets we're dealing with. Our full-time football compared another country's full-time is a different concept.
"We've done well in Europe over the last few years, so it's positive.
You see the young talent in the league, you can see it more prominently now. If they can get the underage structure right you'll see it more and more, players improving and making the step up, not just across to England but different areas as well.
"At the moment, with [recently departed Cork City striker] Sean Maguire in the Ireland squad, it's a good time."
Subscribe to The42 podcasts here: