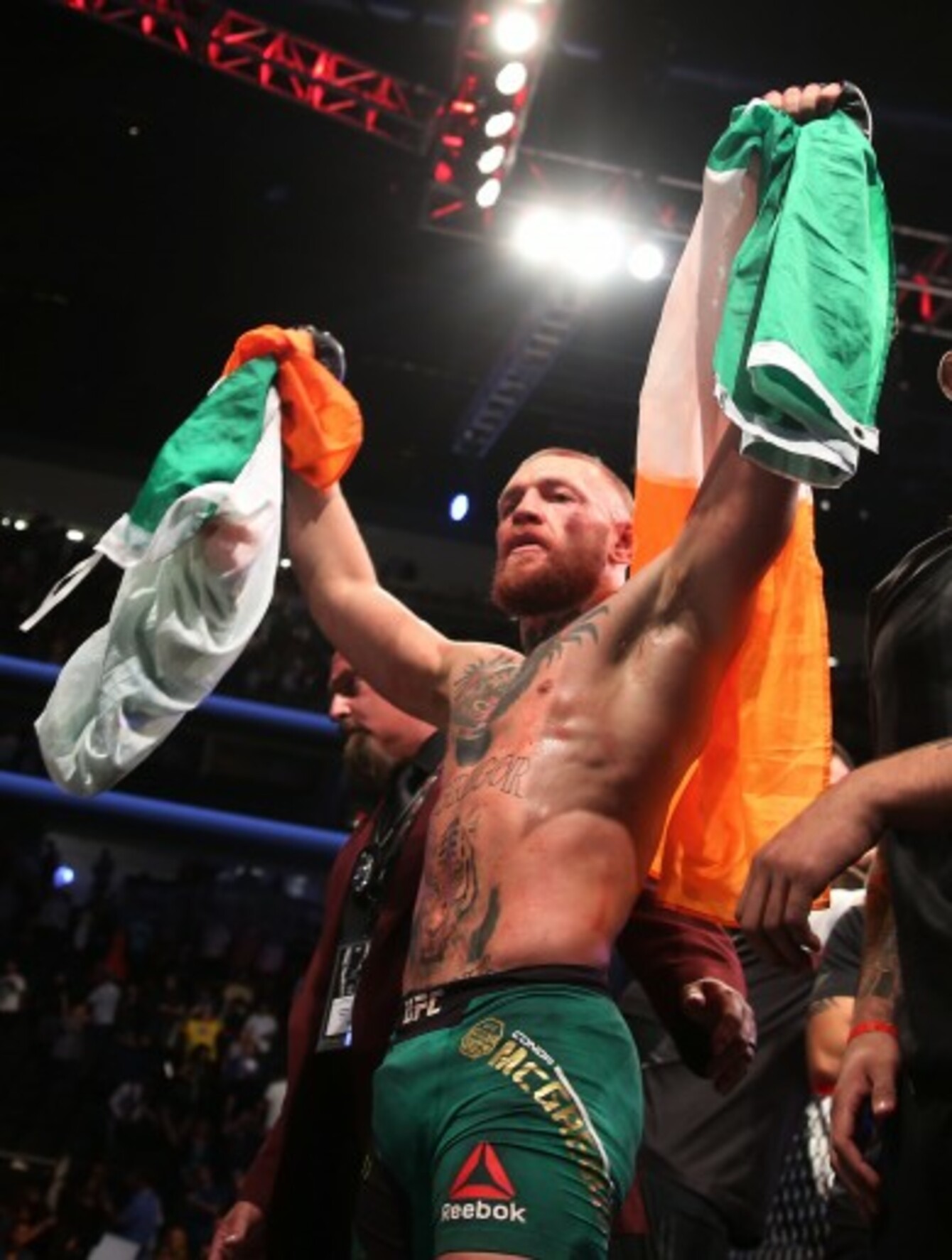 Image: AP/Press Association Images
Image: AP/Press Association Images
– Paul Dollery reports from Las Vegas
THE DIFFERENCES IN Conor McGregor were evident as soon as he appeared on screen to begin his walk from the changing rooms to the octagon.
Contrary to his claims in the build-up to last night's UFC 202 main event, McGregor was about to deploy a new strategy in his bid to exact revenge against Nate Diaz.
There were also adjustments to his demeanour. The grin McGregor wore prior to his defeat to Diaz at UFC 196 had been replaced by a steely stare. The look of focus on his face reflected the importance of the challenge he was about to undertake.
Even the soundtrack to McGregor's walk-out was amended. It had been a one-night-only stint for 'El Chapo' by The Game, with McGregor returning to The Notorious B.I.G.'s 'Hypnotize'. Every detail about the second part of his rivalry with Diaz was to be different to the first, and it was all geared towards revenge.
The biggest changes had already taken place — first at Straight Blast Gym on Dublin's Naas Road, then in McGregor's new custom-built gym in Las Vegas. His mantra of 'There is no opponent' had been discarded in favour of a meticulously-planned and tailored blueprint which sought to conquer the only man to get the better of him in the UFC.
As several Nevada State Athletic Commission officials formed a cordon across the centre of the octagon to prevent any pre-fight flashpoints, McGregor cockily strutted towards his corner to wait for Diaz to emerge. But as they sized each other up through the barrier of bodies in NSAC maroon, he was calmness personified once his opponent joined him in the ring.
There was no room for gamesmanship. McGregor had spent five months working towards this moment. Nothing was going to distract him from his objective now that it had finally arrived. And perhaps he had learned by now that Diaz was immune to those antics anyway.
Unlike McGregor's previous pay-per-view headline bouts in Las Vegas, the Irish presence in the arena on this occasion could probably be measured in hundreds instead of thousands. But assisted by the sizeable US and international following that he has accumulated, they made more than enough of a racket to let McGregor know that he wasn't going it alone against one of the very few fighters who could possibly compete with him on the scale of popularity.
As referee John McCarthy brought the pair together for their pre-fight instructions, McGregor resisted the urge to fire some last-minute insults at his opponent, which is normally how he handles such formalities. There was an almost eerie calm about McGregor that we haven't seen before, as he stared straight ahead, determined that his focus wouldn't be interrupted.
The snarling, irate, maniacal Dubliner who had spent the previous 72 hours yelling "Fuck the Diaz brothers!" into microphones at various media events was absent. If, as many suspected, Diaz had found his way into McGregor's head as a result of their beverage bombardment at Wednesday's press conference, the Irishman was doing a good job of disguising it.
The sense of palpable tension among the 15,539 spectators in the new T-Mobile Arena quickly eased once McCarthy let them off the leash. McGregor darted towards Diaz's corner and fired off the first of many, many leg-kicks. The tactic would ultimately result in him requiring the first post-fight hospital visit of his career, owing to severe bruising on his shin, but it was a small price to pay for targeting Diaz in an area where he has proven to be susceptible.
McGregor was pushing forward on the front foot, just as he had done in March, but this time he was measured and methodical. He settled quickly and looked impressive from the outset. His strikes were almost flawlessly accurate, while his evasive movement allowed him to avoid the majority of the return fire.
Before the end of that first of five rounds, McGregor provided a glimpse of the true extent of his newfound composure and restraint. After he felled Diaz with a straight left, the crowd rose to their feet in anticipation of a finish. Shaken and startled, Diaz was on his back and expecting a further onslaught from the man standing over him. But McGregor resisted the temptation to pounce.
Aware that Diaz would have the upper hand in any extended ground exchanges, he allowed him to return to his feet. That scenario repeated itself twice more in the second round. In doing so, McGregor had shown notable maturity. It also offered an insight into the amount of gameplanning that had taken place in McGregor's training camp. When you drop him, don't follow him to the ground — that was the message.
"I just didn't want to smother my work — whether that be on the feet if I dropped him or on the mat," McGregor said afterwards when asked about his reluctance to follow Diaz down. "One of the things I made a mistake of in the first fight [was] I smothered my work. I hit him and I over-rushed what I was doing. I hurt him badly a few times in that first fight and I over-exerted myself trying to get the finish, so this time I was a lot more calculated."
Although the second round was another one for McGregor on the scorecards, Diaz wasn't without his moments. In fact, he rallied towards the end of the frame and carried the momentum into the third round, which he dominated — as evidenced by one judge's decision to give him a 10-8.
As fatigue began to set in for both fighters in the third stanza, the precision and power of the output dissipated but their stubborn refusal to accept defeat never did. After McGregor's initial dominance, the pendulum began to swing back and forward. McGregor's gas tank seemed to be emptying slightly quicker, but the claret stream originating from above Diaz's right eye was flowing heavier and the reporters seated cageside began to wonder aloud if McCarthy was about to call for the advice of a doctor.
However, the official gave Diaz the benefit of the doubt and the fans in the arena, as well as a global audience which may have been larger than for any UFC bout that had gone before, were grateful. This was a thrilling tussle of captivating combat which served as a timely reminder to the WME-IMG group, the UFC's new owners, of exactly why they just parted with $4 billion.
McGregor's takedown defence had ensured that the fight stayed standing in spite of Diaz's best efforts to bring him to a place where he could put his Brazilian jiu-jitsu black belt to good use. Diaz eventually scored a takedown in the dying moments, but the finish line was too close for him to make it count.
An embrace between the rivals would have seemed unlikely beforehand, but having both invested everything in attempting to break their opponent down, they each knew exactly what kind of torture and trauma the other had endured for the last 25 minutes, so there could be nothing other than mutual respect.
While the general consensus was that McGregor had done enough to win three of the five rounds, the nervy wait for the verdict of the judges was new territory for him. He had gone the distance over three rounds once before, but that defeat of Max Holloway was undeniably comprehensive. The margins here were much tighter, but still just about wide enough to determine him a worthy victor.
As McGregor had his hand raised for the 20th time in his professional career, he learned that record-breaking knockouts aren't always the most satisfying wins. Five months of work might seem like a lot to invest for one moment of redemption, but not when you've been written off to the extent that McGregor was.
McGregor: "They said I was done and it certainly lit a fire under me. Every single person doubted me. Every single fighter doubted me. Doubt me now."
He's been labelled a quitter in the past, but no longer. There were several opportunities for McGregor to take the easy way out last night. He could have gone down with his head held high following a brave performance, but he endured substantial punishment to even the score with a man he's likely to meet again in a trilogy match.
The turning-point punch that turned McGregor's legs to jelly in the first fight with Diaz left many wondering if he had the chin to withstand the kind of power he's capable of inflicting on his own opponents. He disproved that theory on several occasions at UFC 202. McGregor paid tribute to Diaz's toughness and durability in the aftermath, but as it transpires, the UFC featherweight champion is capable of digging just as deep when it's required.
"That first fight, when he hit me with that left hand, I was covering up with the shots at some stages but I just panicked. I tried to shoot in, I tried to rush in. This time I just caught a few shots. I took a few thumps," said McGregor.
"Sometimes you've got to take a few thumps in this business, especially when you're dealing with that kind of volume, that range, that size. You're going to take a few smacks so I just anticipated that I would be in that position and I stayed calm. I stayed patient, didn't rush, took my smacks and reset for the fourth [round]."
His sometimes controversial conduct means McGregor will never be universally popular, but when it comes to the bread and butter of what happens in the sporting arena, the reasons to discredit him are gradually wearing thin. Whether it's swift and spectacular knockouts of iconic champions, or grafting his way out of the trenches with the help of valuable lessons learned, McGregor continues to prove that he's a special athlete.
There are many who hoped that last night would be a nail in the coffin of 'The McGregor Era'. Nate Diaz gave them a sneak preview of what that might be like in March. But, as Diaz has now discovered, Conor McGregor won't go down without a fight.
McGregor isn't a conventional Irish sportsperson. Arrogant, brash and outspoken, he bucks the trend of the plucky underdog competing against the odds on the global stage. But when push came to shove, McGregor showed that he too can tap into the spirit of the fighting Irish that drives athletes from this country to achieve success when skill and ability alone aren't enough.
As he limped off the stage at the end of his post-fight press conference, McGregor never looked so frail. But having defied the verdicts of the majority of those in the game to pick up his first UFC win outside the featherweight division, McGregor's position has never been so strong.