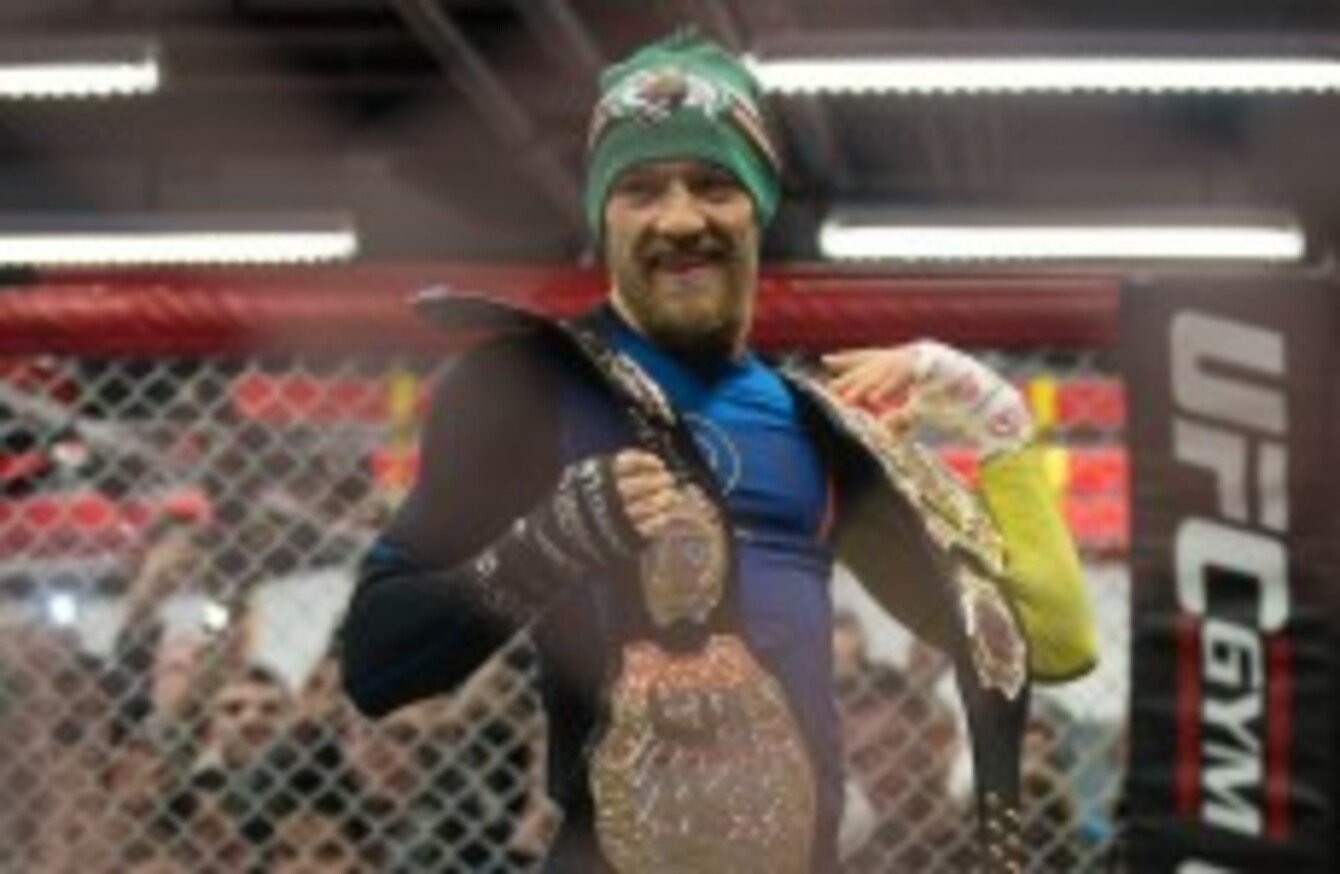 McGregor put on a show for locals in Boston yesterday.
Image: Ricardo Guglielminotti, Custom Captures
McGregor put on a show for locals in Boston yesterday.
Image: Ricardo Guglielminotti, Custom Captures
Updated at 08.30
— Niall Kelly reports from Boston
WHEN YOU LOOK beyond his sharp suits and sharper tongue, there has been a remarkable consistency in Conor McGregor's rise to UFC superstardom.
In less than two years the Dubliner has gone from collecting social welfare, to an entry-level contract with mixed martial arts' premier promotion, to becoming one of the organisation's most marketable and compelling athletes on the cusp of a world title shot.
You might love him, you might hate him — but either way, you're going to want to watch him. And in this game, that means money.
As promised, McGregor has kicked down the door and paved the way for an Irish invasion of the self-described "fastest growing sport in the world." By the time he takes on Dennis Siver in the main event at Boston's TD Garden on Sunday evening, two of his SBG Ireland team-mates — Cathal Pendred and Paddy Holohan — will have fought before him. A fourth Irishman, Antrim's Norman Parke, is on the card with four more Irish fighters also on the books.
Siver, an experienced German of Russian descent, is the fifth opponent of McGregor's undefeated UFC career and one whom he is expected to beat. Do that and his next fight will almost certainly be against the reigning featherweight champ, Jose Aldo, with Las Vegas and Croke Park both mooted as venues for a potential May date.
While his critics gripe that he has been handed an easy ride to the top, McGregor has rarely disappointed inside the Octagon. His remarkable knockout record has continued into the UFC with three of his four wins coming by TKO inside the first round. (The exception, against Max Holloway, saw him rupture his cruciate ligaments midway through the fight and still grind out a unanimous decision win.)
That trend of big hits and quick finishes is no surprise. Coming up through the ranks McGregor was always renowned as a striker, though take nothing away from the other weapons in his highly-evolved arsenal.
"When people get hit by Conor, it's different than being hit by anybody else," his coach John Kavanagh told The42 last week, not for the first time.
"He's got devastating power," agrees pro boxing trainer Paschal Collins, brother of former world champion Steve. McGregor is a regular visitor to Collins' Celtic Warrior gym where he spars with some of Ireland's top pros including Gary 'Spike' O'Sullivan, Stevie Collins Jr and Stephen Ormond.
"His biggest strength is his timing but my god, he's got serious power," Collins explains. "The guys who are sparring with him in the gym will tell you that.
"That's not something that was put in from strength and conditioning and weights — that's something that you're born with. It's not about being bigger and stronger. It's about timing, and he times the shot perfectly."
That power and precision was something that was evident when McGregor first set foot into his local boxing club in Crumlin and started to train under Phil Sutcliffe. He wasn't bullied as a youngster but he found himself in his fair share of scraps and often out of his depth when things kicked off; he turned away from schoolboy football and to boxing as a way of dealing with those situations.
"He just joined the club like any other child," Sutcliffe explains. "He was a couple of years here and he did very well. He was a tough young fella, not a bad mover, and he always packed a wallop. Even as a kid, he packed a bit of a dig.
"He trained hard. When he set his mind to something, he trained hard. Like anyone coming into a boxing club he was only learning.
"He had to learn his stance, his boxing stance, keep his hands up, his chin down. He learned that pretty quickly. He was always good on his feet and he was good at making people miss."
He adds: "He was always tough, a good listener, trained very hard, and he was never a problem in the club. He was kind of an ideal clubman."
McGregor had some minor success during his years in Crumlin before MMA turned his head and he began to diversify his training. Sutcliffe has no doubt that, had he focused on the sweet science alone, he was on the road to the top.
"If he stuck to the boxing, he could have been senior champion one day," he says without a moment's hesitation.
"With his dedication and his attitude towards training, he could have been senior champion."
Collins echoes that. "Watching Conor spar in the gym with Stevie Junior and one or two other lads, I actually said that if he was to go back boxing as a pro, I think he's capable of winning a world title. Absolutely.
"He does things in the ring with a punch … he throws a punch and at the last second, he can manouevre in such a way that a jab all of a sudden becomes a hook at the last second, something that looked impossible to do.
"I looked at him and I thought, 'Do you know what – I'm going to steal that on him.'"
McGregor now styles himself as 'an expert in human anatomy' and 'a master of movement.' He moves differently, thinks differently and acts differently to his opponent, he says, and can recognise their next move a split-second faster as a result.
"He thinks outside the box," Collins continues. "He goes off and he sees something and he'll practice, practice, practice and he'll pick it apart and make it better.
"He shows me certain moves that he does, or maybe a stance from kung fu or jiu-jitsu, and I'm looking at him and thinking that if you incorporate that into boxing, you might get more power into your right hand because you're working from your legs a lot more.
"I'm learning from him and hopefully he's picking up a few things from me too. He's a breath of fresh air to come to the gym."
Fighting Irish
Come Sunday evening somewhere in the region of 2,000 travelling Irish fans, plus McGregor's support from the local Irish-American community, are expected to turn TD Garden into a green cauldron. Rest assured, they will be looking for another trademark TKO and an indisputable statement that their man is ready for his shot at Aldo.
They'll get their wish if Kavanagh's prediction comes true; he can't see Siver lasting beyond the two-minute mark of the first round.
As always, the moment when that first punch connects will be telling.
Originally published at 00.16