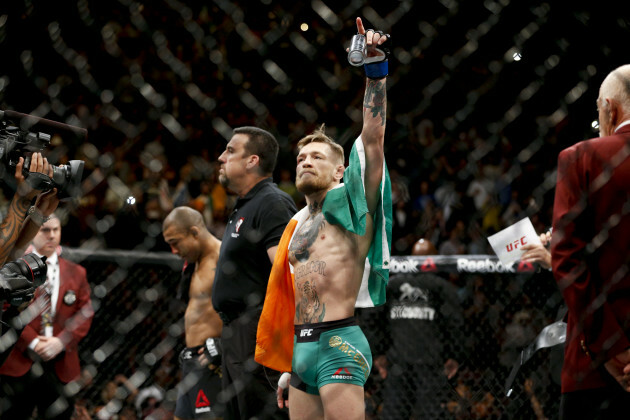 John Locher UFC featherweight champion Conor McGregor. John Locher
UFC FEATHERWEIGHT CHAMPION Conor McGregor has dismissed speculation claiming that he eventually plans to leave the Ultimate Fighting Championship in favour of promoting his own fights.
Reports emerged in the aftermath of McGregor's UFC 194 victory against Jose Aldo, with the Dubliner keen to increase his share of the revenue which is being generated by his enormous popularity.
However, speaking to Severe MMA's Andrew McGahon last night at Straight Blast Gym in Dublin as he continues his preparations for his lightweight title bout against Rafael dos Anjos on 5 March, McGregor poured cold water on those suggestions.
"It's all horseshit, that is," said McGregor, who insisted that he has no intention of cutting his ties with the UFC, although he still aims to increase his earnings while competing under their banner.
"I have a great relationship with Lorenzo [Fertitta, UFC CEO] and a great relationship with Dana [White, UFC president]. Don't get me wrong, I'm climbing that corporate ladder every damn day and we will be neck-and-neck.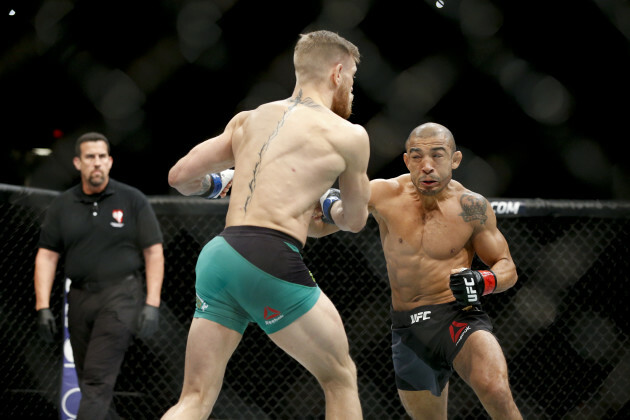 John Locher Conor McGregor en route to victory against Jose Aldo at UFC 194. John Locher
"Maybe somewhere along the line I will take that lion's share, but we will always be together. Loyalty is what I have. They gave me this. They're helping me with this and I am helping them. We are a team. Much respect to Dana. Much respect to Lorenzo. Much respect to everyone involved in the UFC.
"I'm not trying to break out. I'm just trying to grow, be eye-to-eye and get my share of the fucking pie — and that's it. And they know that. I said that straight off the bat. I will always be in association with Zuffa [the UFC's parent entity] and the great team at the UFC. It's an honour to grow with this company."
During the course of the interview, McGregor also discussed a range of other interesting topics, including the prospect of moving up to the welterweight division to challenge for a third different UFC title.
He said: "Why not go up? They get slower and they get less free up there, I feel. They're stiffer. They're even more stuck than the lightweight division. I'll keep going, keep eating, keep training and keep going until all the fucking belts are wrapped up."
SevereArt / YouTube
The42 is on Snapchat! Tap the button below on your phone to add!