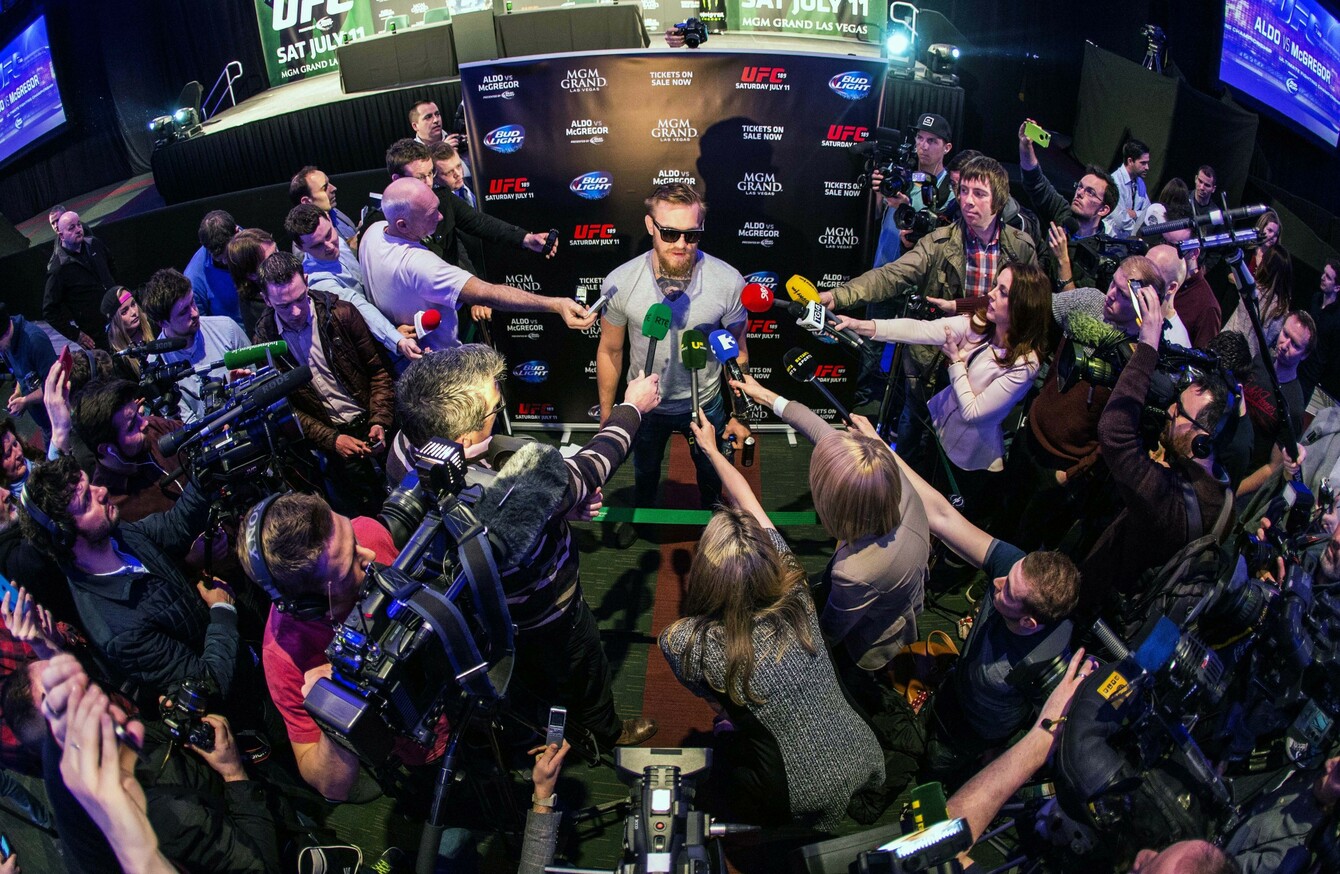 Image: Cathal Noonan/INPHO
Image: Cathal Noonan/INPHO
THE CLOCKS HAVE gone back. The sun is shining. The grass is being cut.
Gaggles of Italian and Spanish students looking like they just fell out of a Damart catalogue form clusters of confusion all over the city.
They are still far too suave for our Paddy shores. But it means that summer is just around the corner. It is business time for many people in many walks of life.
For tens thousands of teenagers the Leaving Cert is looming. It was a nightmare of a time for me… all that studying and stress does nobody any good. I tried to hack my way through it and cut as many corners as possible.
One shortcut I developed was to learn a few lines from poems I liked and use them as quotes no matter what questions came up. You can judge how well this went for me by the fact that I had to repeat my Leaving.
One of my favourite lines came from a poem by the great WB Yeats. The poem is called The Circus Animals' Desertion.
"Players and painted stage took all my loveAnd not those things they were emblems of"
Now, I've been watching the Conor McGregor story unfold all week. It has been difficult to ignore: The "will he, won't he?" fiasco playing out on social media. I have a sneaky suspicion we are all being brought along on one of the finer PR stunts the UFC has produced. For one who claims he is done with promoting, he is doing a hell of a lot of promoting.
Here we have a hurt and wounded warrior, claiming he has become lost in the abstraction which is promotion of the fights. These are the players and painted stage for McGregor. They are the emblems of his true love… which is allegedly fighting. That's what he would have you believe. He has gone away from the art of his fighting and in the cold of Iceland now, he is rekindling his heart.
I say "allegedly" because fighting alone is not what drives him. A simpler analysis for me is that he has a business. The business is to get paid money for fighting. His dream is a much larger affair. His dream has been to accumulate vast amounts of wealth while fighting. This is OK. This is good. If that's what you are into. You should be free to fight for a living if that is what you want. And you should be free to earn as much as you can when putting your life on the line.
But if that is what you want, then why spin all this waffle about not wanting to promote? This is his dream. He has dreamt big and surely he needs to keep his side of the bargain. And I doubt there has been more interest in a fight since he pretended to retire and got pulled from the bill of UFC 200. The promotion of this event is moving along nicely I would say.
It got me thinking about the Irish Dream. What the fuck is it? What does it mean any more? We all have some idea of the American Dream: No matter who you are, if you work hard you can make millions and be a player. I would say that Conor has been living this for the last few years.
But is that something that we aspire to in Ireland? Is our dream not more along the lines of "get an education, a job and a mortgage, a partner and kids and then play for the parish?" Are we seeing a change in the deeply limited and passively lunatic personalities we engender as a race of people? Is Conor McGregor the Promethean hero we have been waiting for to waken us from our slumber?
Be part
of the team
Access exclusive podcasts, interviews and analysis with a monthly or annual membership.
Become a Member
He brings a different level of confidence and audacity to life.
Now read on…
When I was with the Dublin squad for just over one year, I began to get slightly itchy feet. I had been playing well, training well and felt I was not getting a fair rub of the green. I thought I deserved a chance to show what I could do in a proper competitive game for Dublin. I wanted to play a National League game at least.
I was working for Diageo at the time and was in the Head Offices in James' Gate for a meeting with some of the big brains who pulled the strings. At the end of the meeting the biggest brain turned and asked me how it was going with the Dubs. I told him I was going well but not getting the opportunity to play in the big matches. He looked at me strangely and said:
"Do you think I got this job because I am the smartest? Do you think others working for me are the best people for the job? That is not how life works. In life you have to ask for things. You have to demand it. You have to want it and if you really want it, then go and get it. Don't take no for an answer. That's how I am here today. I think you need to let your manager know where you stand."
I was buoyed with fervour and enthusiasm after this pep talk. I made my way down to my car, took out my phone, scrolled through the numbers and pulled up Pillar Caffrey's number. He answered and I launched into a spiel telling him how I thought I should be given a game. I told him how I wanted to be given a game.
"I want to play Pillar and I want you to give me a game in the National League"
"Johnny", he answered, "Everyone wants to play and I can't make any guarantees for you. See you training tomorrow evening."
And that was the extent of it. I had let him know and he had, in turn, told me. I got back in line, trained harder than ever and thought my chance might come.
I never did play a National League game for the Dubs. I took my place back in the pack and hoped things would change. But they never did. I slugged it out like a good obedient boy, never getting my shot. That was what I thought I was meant to do.
I doubt Conor McGregor would have made the same decisions…
John Leonard's trials on and off the pitch are best chronicled in his book Dub Sub Confidential –Setanta Sports Book of the Year Winner. These days he writes, speaks, makes documentary films and is the founder of Sober Paddy, Five Point Five and Travel Kids Club.