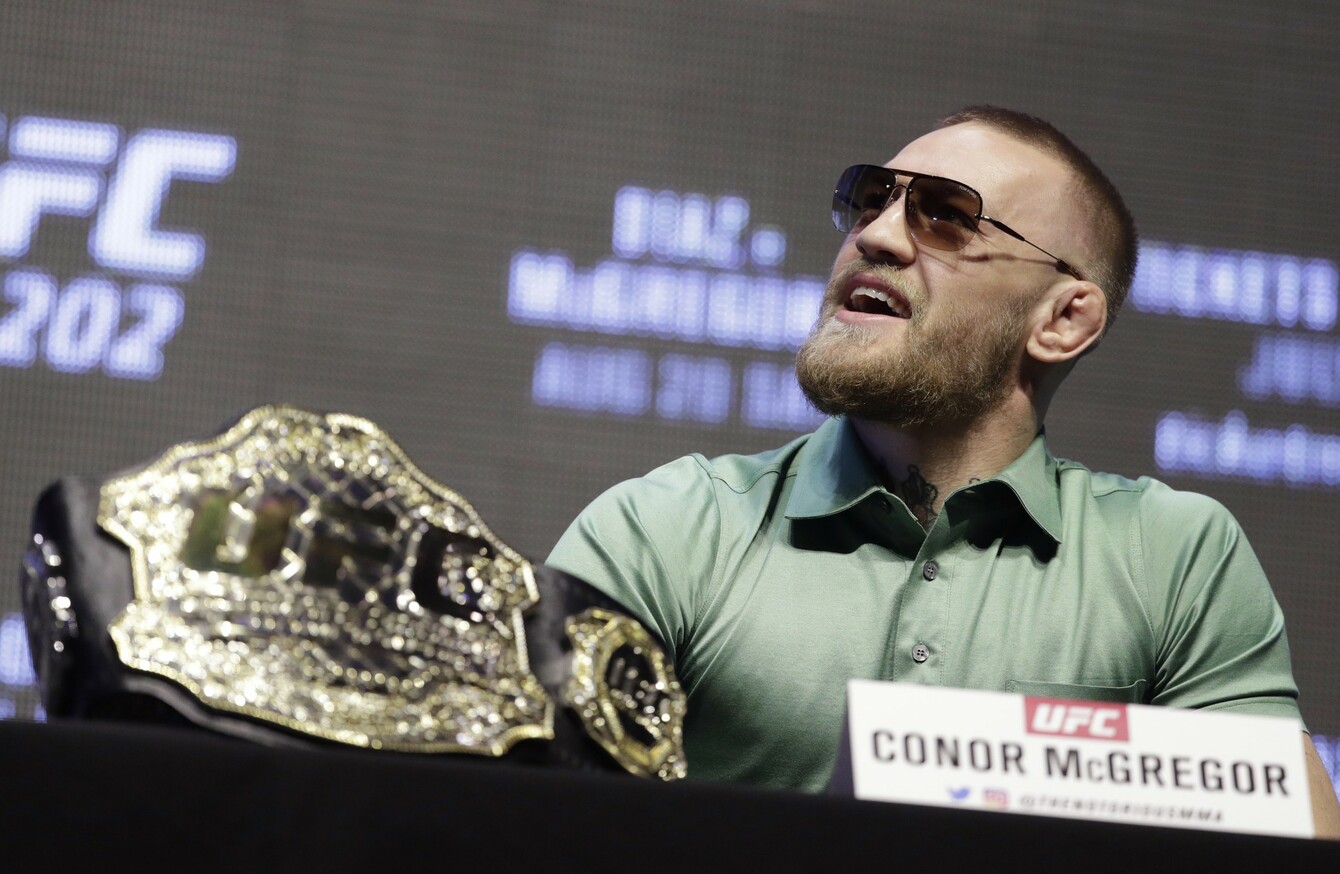 UFC featherweight champion Conor McGregor pictured at last month's UFC 202 press conference in Las Vegas.
Image: John Locher
UFC featherweight champion Conor McGregor pictured at last month's UFC 202 press conference in Las Vegas.
Image: John Locher
CONOR McGREGOR FIGHTS in Las Vegas this Saturday night, but he's not expected to be accompanied by huge numbers of Irish fans in the arena as he has grown accustomed to when competing in the fight capital of the world.
McGregor's outings in Vegas generally trigger a substantial influx of his fans from Ireland, but as this weekend's rematch with Nate Diaz approaches, the usual level of fanfare of a McGregor fight has been absent.
Diaz, a popular 31-year-old who hails from Stockton in California, submitted McGregor in the second round of their headline bout at UFC 196 last March. McGregor has spent the last eight weeks in Vegas as he prepares to seek revenge at UFC 202.
"I estimate that I'll be fighting in enemy territory this time," McGregor told Ariel Helwani on The MMA Hour. "Usually it's been home for me, this place, with the travelling fans. I'm estimating that I'm going into a war zone here. That's what I'm estimating, that's what I'm preparing for, that's what I'm looking forward to."
If the Irish presence in Las Vegas this weekend isn't quite as noticeable as it has been for previous McGregor fights, there are several factors which could explain it. Many were there six weeks earlier for UFC 200 when the Diaz rematch was originally scheduled to take place.
Fans had already paid for flights and accommodation by the time the fight was postponed as a result of a dispute between McGregor and the UFC, arising from the reigning featherweight champion's refusal to travel to Las Vegas for a press conference in April.
Ireland's relatively successful and heavily-supported recent showing at Euro 2016 should also be taken into account, as should the fact that UFC 202 clashes with the Olympics. This fight will also be McGregor's fourth in the space of 13 months in Vegas — an expensive place to get to and stay. And, of course, for the first time in his UFC career, McGregor enters a bout this weekend on the back of a loss.
"There's many [reasons] why the Irish fans can't make it. The [UFC] 200 debacle, where they took me off that card; I mean, people had already purchased tickets for that," said McGregor. "Then, of course, the European Championships, the Olympics, there's a lot of stuff going on. And of course, I'm an active fighter. I fight every God damn month. I fight all the fucking time."
McGregor has expressed his desire to fight at Croke Park on many occasions in the past, and while that objective has often seemed far-fetched due to numerous logistical obstacles, the UFC's decision to give Michael Bisping a defence of his middleweight title on a pay-per-view card in his hometown of Manchester in October may make the prospect of a McGregor bout at GAA headquarters seem more tangible.
The 28-year-old Dubliner hasn't fought on Irish soil since July 2014, when he defeated Diego Brandao via first-round TKO in the main event at UFC Fight Night 46 at the 3Arena. Since then, McGregor — who's been linked with a spot on the UFC's inaugural card at Madison Square Garden in New York in November — has fought five times — once in Boston and four times in Las Vegas.
"It's getting close for me now that I want to fight back home; that I want to give my fans back home a fight," he said. "I've been kept away from home for a while. Now, I understand that. It's big business out here and that's why we're here. I've got to handle myself too. As much as I want to perform for the fans back home, to have shows back home and do that, I've still got to handle my business out here.
"I know my countrymen will be supporting me wherever they are, I know there will be many in town and I know there will be even more back home and all over the world supporting me. I am content with that for now."
McGregor has previously generated record gate receipts with sell-out crowds of 16,000-plus at the MGM Grand Garden Arena. However, Saturday's clash with Diaz will be hosted by the new T-Mobile Arena across the Vegas strip.
By McGregor's lofty standards, ticket sales have been slow. Prices were reduced last week in order to fill the larger venue, but McGregor is adamant that UFC 202 will be another record-breaking event on many fronts — including pay-per-view purchases. The meeting of Diaz and McGregor earlier this year set a new UFC PPV record, edging past the previous tally of 1.6million from UFC 100, which was headlined by Brock Lesnar and Frank Mir.
"As far as ticket sales, ticket sales have been good. It's a 20,000-seater stadium. If it was the MGM it would already sold out. The ticket sales have been great for such a big arena at this time of year, the end of summer, with everything going on. I'm very happy with it.
"We're talking record-breaking again. You know that. You know the pay-per-view buys will be smashed. I've dominated the headlines. I have every game wrapped up. I have the boxing game, the wrestling game, I have this game wrapped up for years now," said McGregor, who has been the subject of speculation regarding a potential boxing match with Floyd Mayweather, while also taunting stars of the WWE via the media.
"What else can I do? I have the game wrapped up. This will break all records and I'm happy with it."