CONOR MCGREGOR HAS launched an explosive online defence tonight after a picture of him wearing a poppy at a UFC event two years ago surfaced online.
'The Notorious' posted a message to his Facebook page after some social media users began to circulate the image, alongside some inevitable criticism.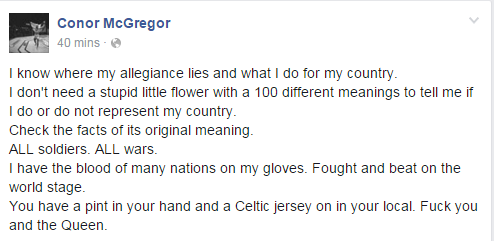 The picture was taken at UFC Manchester – an event that was held in October 2013.
It's not clear why the image has suddenly began to spread now given it was taken over two years ago but, nevertheless, there has been a largely expected response by certain nationalistic groups.
On their Facebook page, the Sean Heuston 1916 Society – which describe themselves as an affiliated member of Irish separatist movement 'The 1916 Societies' – posted the following.