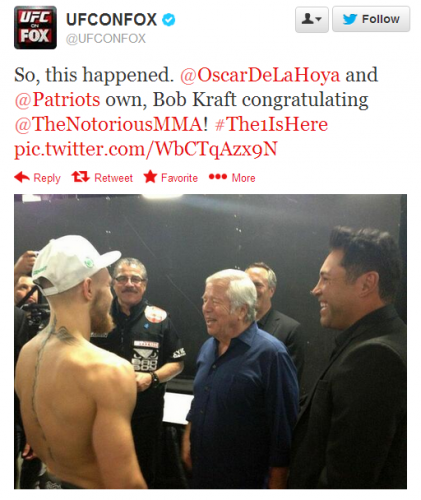 Image: UFConFox
AFTER CONOR MCGREGOR'S unanimous points victory over Max Holloway last night, the rising star of the UFC found himself in very auspicious company.
There to greet him as he left the octagon were UFC President Dana White, owner of the New England Patriots Robert Kraft and multi-time world champion boxer Oscar De La Hoya.
And what did they talk about? Well according to McGregor it was all a bit of a blur but he knows that Guinness and the K Club came up.
In his post match interview with MMA H.E.A.T.'s Karyn Bryant, McGregor talks about the meeting and about the knee injury he believes prevented him from finishing the fight before it got to the judges.
Watch the interview in full here:
YouTube: Karyn Bryant
Next up for McGregor was the full post-fight press conference where he went into further detail on the knee injury saying:
"I felt the finish was there for me and I injured my knee through the second. I just can't get it out of my head. Looking back I should have just pulled my knee from my leg and hit him with it!"
He also spoke about coming out to the Dropkick Murphy's 'Shipping up to Boston' saying:
"I stuck some Sinead O'Connor on there too – She Move Through The Fair. That's some real Irish shit right there. That's war shit. Dana wanted me to come out to U2 but I had that one picked and Dana okayed it. That Irish feel and then kick into that Boston feel, it just felt right.
"I wanted to blow the roof off the place, which I did."
However, his best line of the night was undoubtedly when he was asked about the fight going to the judges for decision:
"This promotion wants finishes. These custom-made suits aren't cheap. This solid gold pocket watch, three people died making this. I need to put people away."
Watch McGregor's full post-fight press conference here:
YouTube: UFC