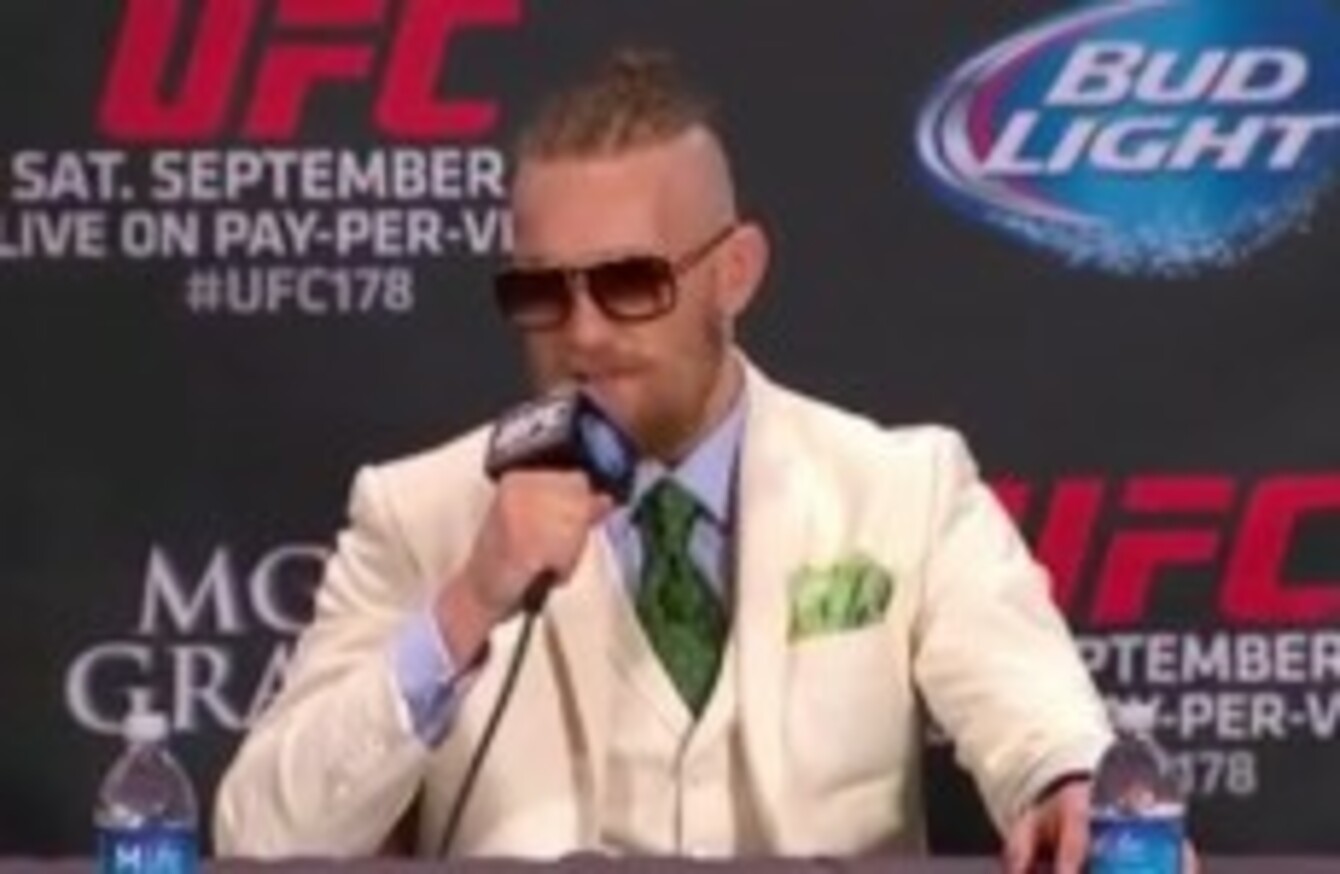 McGregor was the main focus of question in the press conference.
McGregor was the main focus of question in the press conference.
CONOR MCGREGOR INSISTS the punch that ended his fight with Dustin Poirier after a minute and 48 seconds last night in Vegas was within the rules of the UFC.
The 26-year-old Dubliner ended the much-hyped fight within — as he predicted — the first round at the MGM Grand.
"Look a little closer because it was a right hook that clipped above the ear," McGregor said when questioned at the official press conference afterwards. "It was to the back but as long as it's above the ear… if it's above the ear but behind the ear that's a clean blow.
"I had a discussion with [UFC official] Herb Dean before the fight. I would have liked to connect with the chin but there's so much soft, beautiful tissue there that if you crack that little soft area there's no coming back from that.
"So look a little closer, it was a legal shot and that was that."
He continued: "I fell into it a little bit. Looking back I didn't like it. I double-jabbed and I kind of fell into it. I threw one before that where I just left the left hook ping. I didn't move my body too much but I just cracked him. That was the one that hurt him.
"But the one that finished him I just fell into it a little bit but it hit him with the fist at the back of the head but above the ear which is a legal blow. At the end of the day it was a clean shot and that was that.
"For me, I don't like the way people look at the referee. He [Poirier] didn't get up and complain, he knew it was a clean shot. If I got knocked out that way, I wouldn't be up here saying it was an illegal blow, I would recognise I was knocked out and that was that."
The pre-fight build-up had plenty of heat with the American insisting he 'hated' McGregor. The SBG athlete, for his part, insisted this was just business.
"Dustin is a good kid," said McGregor, "I had no ill feeling towards Dustin. It was weird to me that he was like 'I've never hated anyone as much as him in my life' or whatever he said. To me that is weird. I can not hate the man that has the same dreams as me and I have no emotions for him at the end of the day. I'm on my journey so he's a humble guy, he came to fight and I have nothing but respect for these competitors.
"Because make no mistake: I am cocky in prediction, I am confident in preparation but I ma always humble in victory or defeat. So I am humble here and grateful for the opportunity the UFC have given me."
McGregor got his hands on the belt after the fight on the Fox TV studio and it's clear he has his sights set on a title fight. But he'll take what's put in front of him by UFC matchmakers.
"As long as we show up and my cheque is what it says it's going to be, then we show up and I will kill whoever they put in front of me. Of course I want that gold belt. Don't tell that golden belt wouldn't look great along side this ivory elephant trunk suit that I have got on my right now.
"It would look perfect. I know Dana wants to see it. I know Lorenzo wants to see it. Shout out to Uncle Frank, I know he wants to see it. It's what the fans want, it's what I want."
Watch the entire press conference here:
Source: UFC - Ultimate Fighting Championship/YouTube
What did you make of the fight?