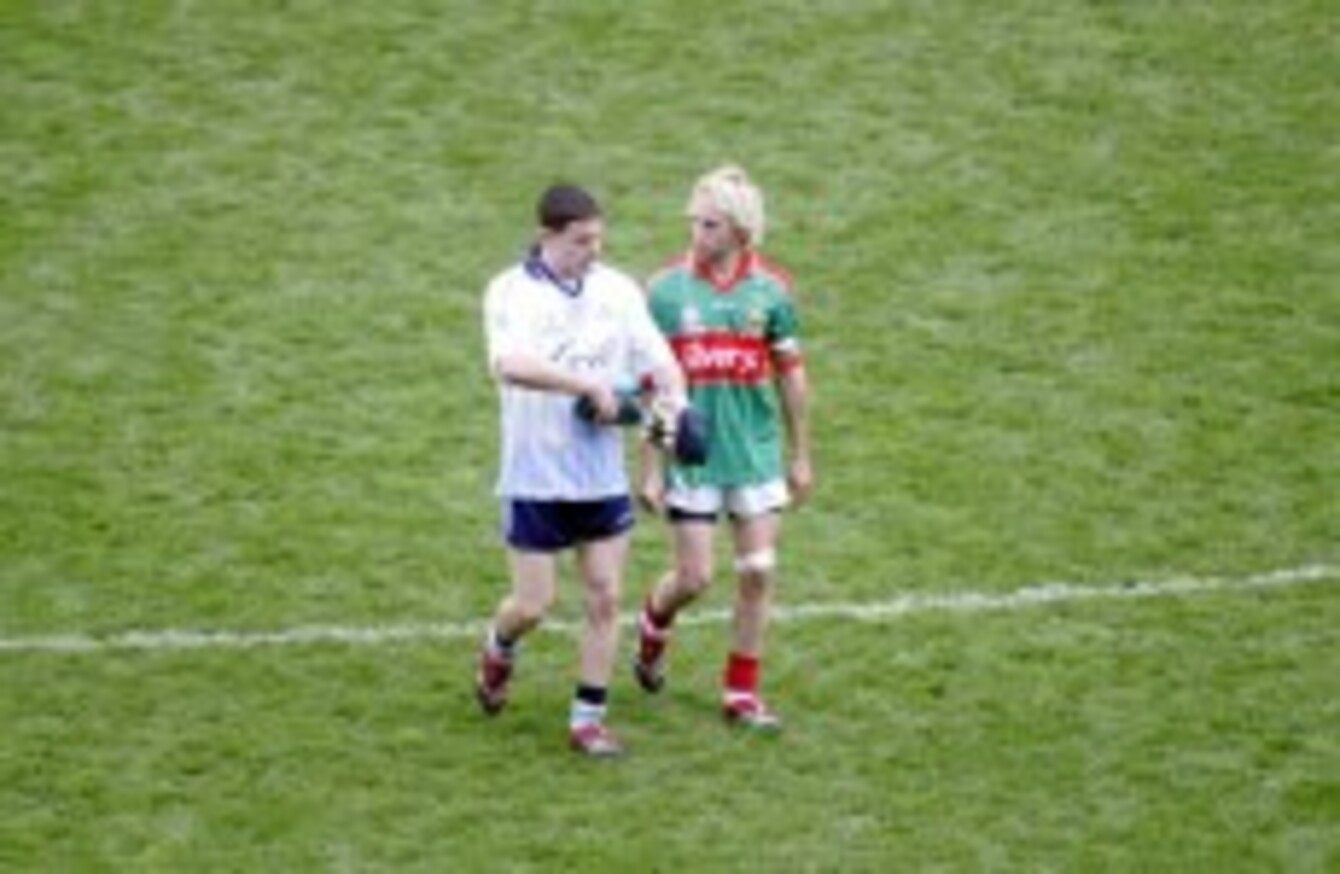 Stephen Cluxton and Conor Mortimer after the classic 2006 All-Ireland football semi-final.
Image: Donall Farmer/INPHO
Stephen Cluxton and Conor Mortimer after the classic 2006 All-Ireland football semi-final.
Image: Donall Farmer/INPHO
CONOR MORTIMER KNOWS all about Stephen Cluxton's ability to pick out his Dublin teammates with pinpoint kickouts.
Former Mayo ace Mortimer won a Sigerson Cup medal with Cluxton in the colours of Dublin City University and the pair are now clubmates at Parnells in the capital.
Mortimer has urged Mayo to push up on Cluxton's kickouts and force the two-time All-Ireland senior medallist to go long at Croke Park on Sunday.
With Barry Moran once again named in the team for Sunday's All-Ireland semi-final at GAA HQ, Mayo have the option of dropping the towering Castlebar man, named in the full-forward line, back into the middle third to provide an extra body.
Moran played an effective 'sweeper' role in the quarter-final victory over Donegal and Mortimer suspects that something similar might happen again.
But Cluxton's kickouts will dictate how Mayo set up, Mortimer believes, and he has warned that his home county cannot afford to let the Sky Blues gain primary possession from his deliveries.
"You can't let them play it short," Mortimer told The42. 
"If you let Dublin play, you know what they'll do to you because they're a good footballing side.
"Mayo need to be strong and push up, that makes more sense.
"The difference with Clucko is that he can play it long, short, across the field, he can do whatever he wants with the ball. We know that, we've seen it for years.
"The only way we struggle with his kickouts if when we don't work hard enough.
"He doesn't look to play a man over 30 or 40 metres, he hits it into space.
"So Mayo have to block off the space or track the runners, that's the most important thing.
"It takes a lot of hard work but the team that works harder at the weekend will win the game because they are two fairly evenly-matched teams."
Mortimer is impressed by Mayo's starting 15 but insists that Tom Cunniffe's injury loss may be felt in defence.
"Cunniffe will be a loss, no doubt about that. Are Mayo going to play Barry (Moran) at full-forward with Aidan or put him back as a defensive midfielder like in the Donegal game?
"This is the question that people will be asking but it's a strong side and the boys are playing well. They might put Barry out around the middle for the kickouts."
Mortimer, Mayo's all-time leading scorer, is confident that the side managed by Pat Holmes and Noel Connelly has what it takes to make a third All-Ireland final in four seasons.
"I think Mayo will win it, the reason being they're confident, but we don't know where Mayo or Dublin are at at this point in time.
"There's been a few changes to the team in the last couple of years, a bit of a fresh approach, trying different things.
"Aidan O'Shea at full-forward is a move that's working but I think he's a better midfielder, one of the best in the country.
"He's playing well at full-forward, doing a job, but there's going to be huge pressure on him at the weekend.
"But with Aido, the more pressure on him, the better he'll play.
"He's a confidence player. When things are going well, O'Shea will have a big game and he needs to for Mayo to win, which they're more than capable of doing."
Meanwhile, Mortimer and his business partner Dave Feeney have launched a new training centre, catering for male and female athletes from the age of 16 upwards.  
M&F Training Centre of Excellence will offer GAA skills and weights training running right through from September to December.
They can offer one hour pitch sessions and the option of a gym session comprising of spinning classes, TRX classes or your own preferred session.
Players can then finish with a jacuzzi, steam room or sauna if they so choose.
Email mandftrainingcentre@gmail.com for more details, follow them on Twitter or connect on Facebook.