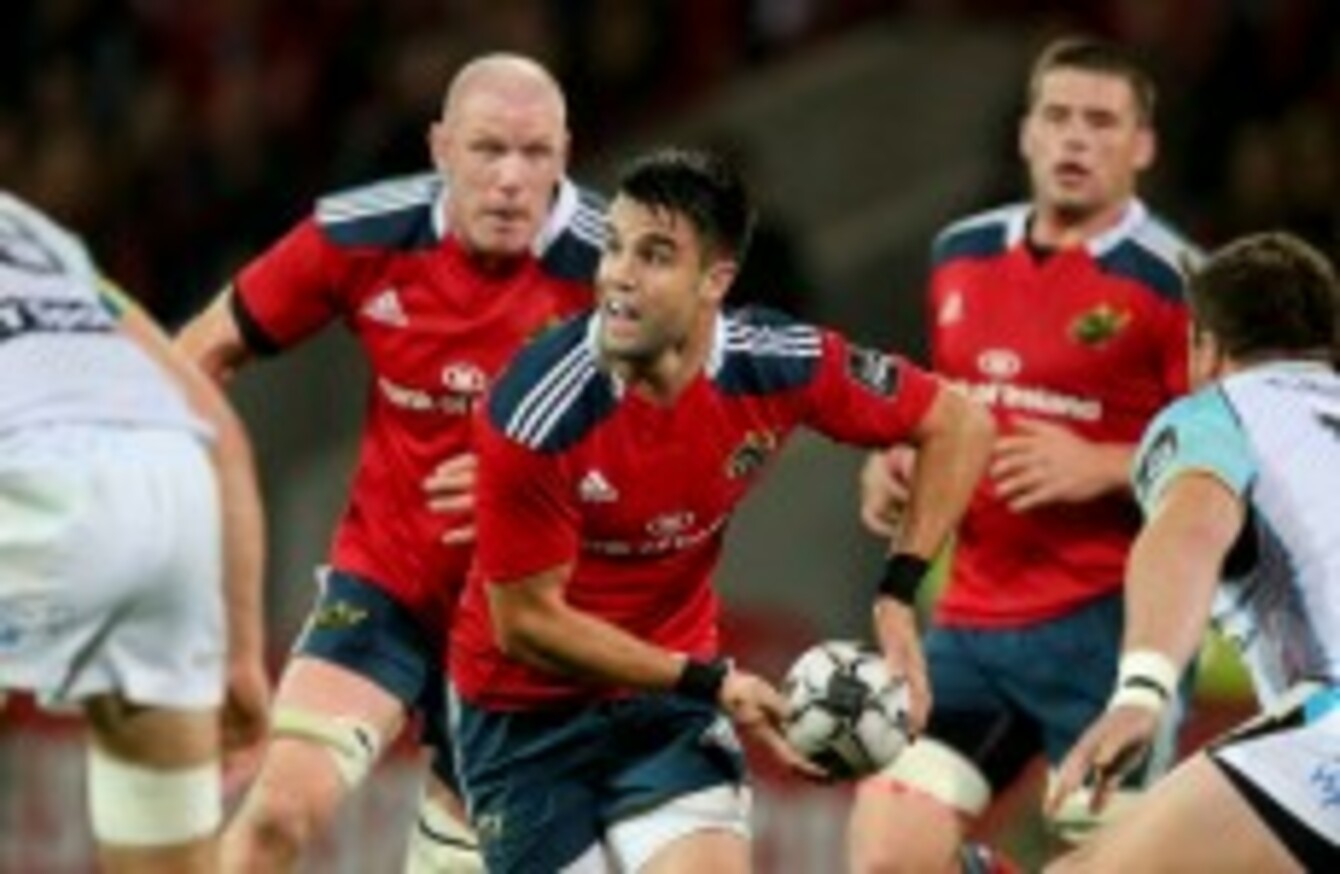 Murray has developed into one of the finest scrum-halves in the game.
Image: Dan Sheridan/INPHO
Murray has developed into one of the finest scrum-halves in the game.
Image: Dan Sheridan/INPHO
IT MAKES SENSE to build your game plan around your best players, with the early signs being that Munster head coach Anthony Foley is doing exactly that.
He and attack guru Brian Walsh have been true to their word in adding more directness to Munster's attack so far this season, challenging teams around the fringes to a far greater extent than the province did under Rob Penney.
Scrum-half Conor Murray appears to be the key man.
At the age of 25, the former St. Munchin's student has already won 28 Ireland caps, toured with the Lions and captained his province. Beyond those adornments to his CV, his effectiveness on the pitch has grown season-on-season.
He is strong in carrying the ball, possesses an excellent pass, kicks well, defends like an extra back row, hits rucks effectively, and, perhaps most crucially, has a mental coolness that allows him to make strong decisions on the pitch.
"Conor is world-class, there's no denying that," says Munster fullback Felix Jones. "So the more we can get him involved and get him running the show, along with our out-halves, the better."
Chief organiser
Murray's role as the chief organiser of Munster's attack in the recent wins over Leinster and the Scarlets in the Pro12 was key to the province's success. It seems obvious to point to a scrum-half as a key organisational figure, but many sides place greater emphasis on their out-half to call the shots in phase play.
Under Foley and Walsh, it appears that Munster will be slightly narrower in their attack, attempting to win the gainline closer in to rucks than they did under Penney over the last two seasons.
There's a big responsibility on Conor and I think it suits Munster because he's such a good player and he will get better," says former Ireland out-half Ronan O'Gara.
"There's an awful lot more off nine, and that suits Conor because he can run, kick and pass."
For the purposes of this article, we're going to look at some examples of Murray's influence and decision-making in the remarkable 27-phase passage that ended with centre Andrew Smith scoring against the Scarlets last weekend.
It's worth pointing at that all of the elements we point out in this article were also present in Munster's win against Leinster at the Aviva Stadium, when the southern province assaulted their rivals around the fringes.
Above, we see some simple play from Munster, with Murray first hitting out-half JJ Hanrahan to carry to the line, then passing to his forwards coming around the corner on the next two phases.
Murray is calm and composed, scanning the Scarlets defence and communicating with his own teammates. Below, we see him signalling to his forwards to get around the corner after Hanrahan carries to the line.
As that next phase breaks down, Murray is again scanning and communicating on the move, calm headed all the time and making good decisions, rather than bursting to get to the ruck and then deciding what to do once he arrives.
Below, we see him getting his head up on the move to scan the Scarlets' D.
In an instant, his head has swivelled back to his own teammates, checking on their shape and numbers, then making a swift communication as to where they should attack next.
"It suits my game a lot," says Murray of Munster's game plan. "I'm enjoying it, especially around the close quarters. The way our breakdown is working, there's a lot of opportunities to bring the forwards into the game and make those runs, so that's what I enjoy.
"I'm really enjoying the way we're playing and that makes it easy for me to lead this game plan, as well the out-halves. I've a bit more of a role within a team, so I'm really enjoying it."
Variety
Munster's fringe attack this season has not all been about simple runners off Murray, coming around the corner and winning collisions. As with any attacking game plan, variety is essential, the mixing and matching of mini-plays to constantly challenge the defence.
Talking about variety is one thing, but actually being able to implement what a team has practiced during matches is another thing. The best players are separated from the rest by the ability to think clearly under pressure, a skill which Murray appears to have in abundance.
Handing him a key decision-making role in attack is a sensible ploy.
There's more decisions to be made around the breakdown, because there's opportunities being created by the forwards and the good work they're doing," says Murray. "That automatically means I'm more involved in the game and making more decisions."
Walsh and Foley have been keen for their wings to play a part in the narrow areas of the field as part of their desire for variety, as demonstrated in the GIF below.
Again, it's nothing we haven't seen on a rugby pitch before, but it is carried out effectively and gets Munster right over the gainline. Using little inside passes like this one from Murray perfectly take advantage of the scrum-half's own running threat.
When the Limerick native picks the ball and looks like he's going to carry himself, the fringe defenders are obviously going to be keen to put him to deck swiftly, given Murray's power with ball in hand.
Similarly, we have seen Murray running some nice little arcs before providing passes to players outside him, as in the example below.
Again, this is about the running threat from Murray, challenging the Scarlets fringe defence and tying down one or even two defenders before releasing the pass.
As we see in the two examples above, Murray's own strengths as a player can allow Munster's forwards to be more of a threat. That he is bossing and prompting them over a 27-phase passage of attack in this game against the Scarlets demonstrates that he is carrying out exactly what Foley wants from him.
"He's captained the side, he's in the leadership group, he's an international, he's a Lion," says Foley of Murray. "He needs to carry that as well, he needs to bring that into the group, he can't sit back.
It's important that he shows those qualities and people look to him for leadership. We talk about forwards back in the good old days of Shannon, but certainly 'Sonny' Kiely ran the Shannon pack.
"They were tough men, but you listen to your nine, you trust your nine. I think Conor is getting that out of our pack at the moment."
Quick ball is good ball
The best scrum-halves in the world are swift in recognising when the ball needs to be moved to the backline, particularly when big gainline advances have been made by the forwards.
"I think the minute that ball becomes fast, it's got to go to 10," says O'Gara. "If it's fast ball, it's got to go to 10. What you want as a 10 is knowing that if that ball is to slow up, you don't want it.
"It's important that if you hit a brick wall, you don't go back to 10. You can do nothing with that."
This point is relevant to every team in the world of rugby, no matter the level they play at. That said, it's of particular importance to Munster, where attack coach Walsh is not a fan of highly patterned, pre-programmed rugby.
While we have seen that Munster do have mini-plays and shapes they use in attack, Walsh is keen for his players to have plenty of decision-making freedom, again feeding into a growing strength of Murray's game.
It also makes this  27-phase passage of attack a good one to analyse, as Munster appear to keep genuine 'shape' in how they attack, despite being far beyond where their coaches would have detailed an exact plan for them.
Within that decision-making freedom, men like Murray are going to be forced to make strong calls as to when the ball needs to be whipped away to the backs.
Murray gets it spot on in the clip above, releasing a gorgeous pass out the back door and allowing Hanrahan to feed Smith for the try. While Hanrahan is obviously shouting for the ball at this stage, demanding it from Murray, there is still an element of decision-making involved for the scrum-half.
We see in the screenshot below how Murray scans the Scarlets defence on the move as he picks from the base of the scrum. He has the option of again hitting that pod of forwards to his right, but makes an excellent decision and fires the pass to Hanrahan.
Growth
Munster will look to develop their attacking variety as the season continues and they remain a work in progress. However, the signs in attack in recent weeks have been encouraging for the province's coaching staff and Murray has been integral to the growth.
His influence is almost certain to be a key factor in any success Munster have this season, particularly as his kicking game and defence are also vital elements in the approach of Foley's side.