WHILE CONOR MURRAY is not part of the Ireland squad for the November Tests, he does expect to be back playing for Munster next month as he looks forward to putting a neck injury and the saga around it behind him.
The high-profile scrum-half has revealed that he has been suffering with a bulging disk in his neck and says that he had asked Munster not to comment on the nature of the injury simply because he wasn't sure exactly what it was at the start.
Murray says he is now "nearly back" and has been doing 90% of Munster's training for the last three weeks or so, as well as "modified contact on the sideline."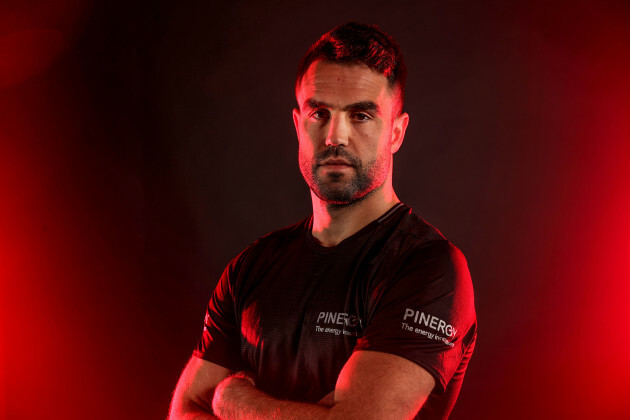 Dan Sheridan / INPHO PINERGY today announced that it has teamed up with Conor Murray. Dan Sheridan / INPHO / INPHO
The initial lack of clarity around Murray's injury led to what the Limerick man calls "crazy" rumours but he feels his approach was the right thing to do.
"The reason we kept it quiet at the start is because we didn't know what it was," said Murray this afternoon at a PINERGY event. "That was my whole thinking behind it, it wasn't ever the whole data protection or me keeping it secret.
"It was, 'Look, I don't know what this is yet fully, I don't know when I'm going to be back, so let's just say I'm managing an injury.'
"From my side, I said it to Johann [van Graan] and I said it to Fiona [Murphy, communications manager] down in Munster, 'Let's just keep it here and say I'm managing an injury until we find out how long it's going to take.'
"I think a week or two later, we said that we were managing my neck injury and by the time we said that, the rumour mill had started, everything had snowballed and it was just this big deal.
"I'm itching to play, I'm pretty much fully training and I feel good. It's just making sure it's right and the lines of communication with Munster, the IRFU, the national coaches, everyone has been clear and they're happy I just get it right and make sure I come back ready to go, rather than pushing it.
"This isn't an injury you can push, it's in my neck and you've just to make sure it's strong enough to come back and play professional rugby."
While Murray went about managing his injury, he was aware of the rumours that slowly built around why he was missing from action.
"The rumours were crazy," said Murray. "But I wouldn't change it. I wouldn't approach the injury any differently because my close group of friends and family, I'm letting them know all I know, all the physios know.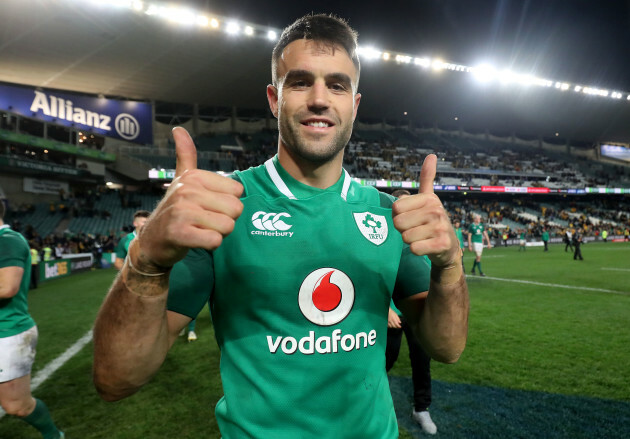 Dan Sheridan / INPHO Murray was suffering with the effects of the injury in Australia in June. Dan Sheridan / INPHO / INPHO
"We know exactly what the injury is and how we're progressing, what I've done this week. For a long period of time, we'd say, 'This is improving and hopefully it'll continue to improve.' Which is what we said soon enough after not saying anything.
"I'm not in data protection, unless it's a different medical issue that you need to keep private but that wasn't the intention.
"It was 'I don't know what this is, I don't want it out there yet' because you don't know what you're dealing with. Then you say it's a neck injury but by that stage, those people make up things, people are in a pub and they're diagnosing you.
"That's been there before. I remember Paulie [Paul O'Connell] was injured for over a year. He had bad rumours that people were saying about different health reasons, just bad rumours.
"That's the world we're living in, it will continue for the next fella that does it. If there's not much clarity around an injury, there'll be rumours and that's just the way it is. The way Ireland is, the way most countries are, I suppose. You can't do anything about it." 
Murray said his neck issue has been "a reoccurring thing" that resulted in him getting "repetitive stingers," essentially sharp or stinging pain that shoots down the player's arm after physical contact and is followed by weakness or a loss of feeling in the arm.
The 29-year-old suffered with a similar nerve issue against Wales during the 2017 Six Nations, putting his involvement on the Lions tour that summer into doubt for some time.
"It's just the same neck issue I've had pretty much," said Murray. "I got a couple of bangs in Australia [in June of this year] and a bit of wear and tear basically.
"I got a bang in each game [in Australia]. In the third game, I probably got my biggest bang and it just flared up over the summer when I was away.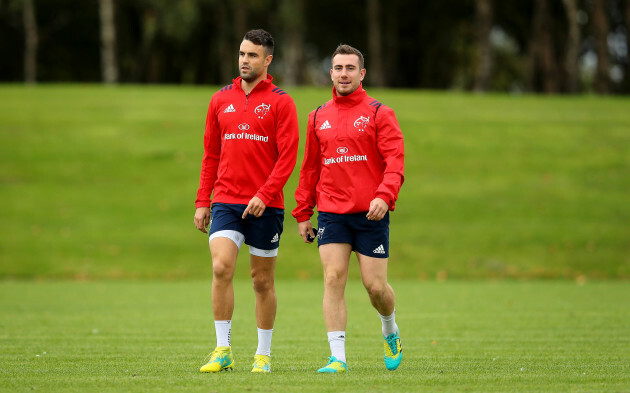 Ryan Byrne / INPHO Murray has been doing 90% of Munster's training. Ryan Byrne / INPHO / INPHO
"I had to let it settle, obviously the usual scans and things like that, and I had an MRI about four weeks ago. The disc is gone back in, it was just a bulging disk like I've had – nothing major.
"It's gone back to where it was, thankfully, and that's a pretty big step for us, a result that meant we could crack on and wait for the strength to come back. It's doing that, it's been a progression all the time, so nearly there."
Asked if there was any consideration about sitting out one of the Tests in Australia due to the bangs in each game, Murray said "they don't talk to the players about that stuff.
"You just present yourself on the Sunday morning for the medical after the game and hopefully, you are fit and available for selection," he continued.
"No, I don't think so, that was a summer tour down to Australia, a place where we haven't won in a long time, particularly a Test series. So we were down there to do a job and everyone went down there wanting to play. I'm no different, I went down there wanting to play as much as I could and thankfully I did."
With Munster set to play three times next month – against the Cheetahs on 4 November, Zebre on 25 November and Edinburgh on 30 November – Murray is eager to finally get back on the pitch after watching the early parts of the season.
But missing out on Ireland's November Tests, particularly the All Blacks clash, is tough to take.
"As a fan, it's really exciting, this November is going to be really, really cool," said Murray. "The last few weeks at Munster and being a fan, it's been enjoyable to watch because the lads have gone quite well, particularly in Europe, but then there's the other side of being a player.
"If you're fit, you have the potential of being involved in those games; Europe with Munster and November with Ireland. That's tough.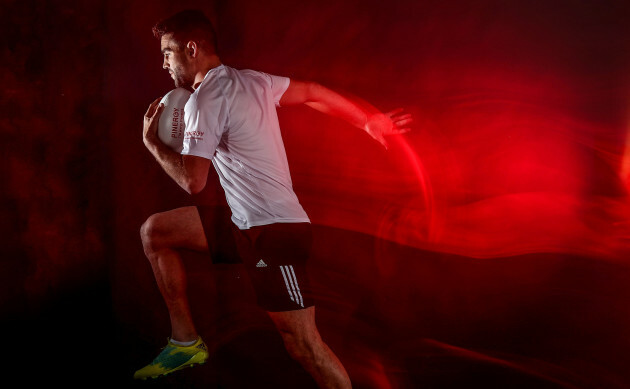 Dan Sheridan / INPHO Murray is excited about his Munster return. Dan Sheridan / INPHO / INPHO
"With Ireland, we've said it before, no matter what player it is – a player gets injured and another player comes in and the machine keeps going, it keeps on turning out performances and results. That's how I envisage November going.
"It will be a really exciting November, I can see it going really well for Ireland and it will be tough to miss but if I'm missing this and I'm getting myself properly fit, there's a lot of big things down the line that you can eye up.
"If you push this injury, get back early and take a bang again and not be fully ready it, you can derail that whole thing. So, I've got to be realistic and take the time.
"So I appreciate that and I respect the injury and, thankfully, the majority of it is gone. It's the next few weeks that I'll be back playing and we won't be talking about this."
PINERGY today announced that it has teamed up with Conor Murray, for the 2018/2019 season, as part of its innovative #WeAre16 campaign.
PINERGY, the official energy partner to Munster Rugby, will continue its Fan of the Match competition and introduce the new PINERGY POWER PLAYER for the second year of the #WeAre16 campaign.
The Fan of the Match will be presented with a match jersey at every home game along with two tickets to the game. Munster fans will have the chance to nominate themselves through PINERGY'S Facebook page before every home game this season.
Subscribe to our new podcast, Heineken Rugby Weekly on The42, here: