CONOR NESTOR DOESN'T have much time to take a breath. He's one week into pre-season, he's planning training sessions, he's hustling to bring in five new players and the new campaign kicks off in just a month's time.
"You couldn't have predicted any of this," he admits.
"It's been extremely random. Everything happened so quickly. I got here last October and earlier this week we had the press-conference that was carried on prime-time news and broadcast to about 750,000 people. Like, last week I was coaching kindergarten kids.
A bit surreal alright, to say the least".
Last Tuesday, the Limerick native walked into a room at the Sofitel Hotel in the Cambodian capital of Phnom Penh, took a seat at the top table and was officially unveiled as the new head coach of Premier Division side Preah Khan Reach Svay Rieng.
It's a very first professional management job for the 34-year-old but he can't dwell too much on the uniqueness of his story. There's work to do. Plenty of it.
"What a whirlwind it's been," he says.
"20-hour days, not much sleep. The transfer window closes the day before our first game so we've got a month to get players in. Recruitment is such a massive part so there's a lot of time gone into that. And something similar with the training sessions. We've got to plan them but also translate them. It's been very time-consuming and pre-season has been quite demanding already."
Nestor is used to the hard work, having grafted for eight years as an FAI Development Officer in his native county. Realising early on that his on-field ability was limited, coaching appealed to him as a teenager and he quickly immersed himself in studying the finer details of the game.
He picked up his Uefa A Licence. He took the reins of the Limerick FC Under-19 side in 2014. Coaching was all-consuming.
And then, in 2016, he felt he needed a change.
"The job was very personal to me," he says.
"I'd grown up in Limerick and I was passionate about the game. But I was doing between 60 and 80 hours per week and I just had to assess my life a bit, really. It was work-life balance. To their credit, the FAI tried really hard for a long time to give me that balance. But I'm from the area and you're given the opportunity to develop 70 local clubs, help them put structures in place, run the Elite Player programme and tutor the coaches to try and bring the game to the next level. I wanted to do the job until I felt I'd made a difference but in 2016 I thought, 'I could be doing this until I'm 70 and still not think I've made enough of a difference'.
And other things happened too where I felt progress was being made. Ruud Dokter brought in the player development plan that took away the win-at-all costs mentality that was sprouting up all over the place. There were new structures and I honestly didn't think I'd see stuff like that in my lifetime. I just felt it was as good a time as any to leave the job behind."
The plan was pretty simple for Nestor: combine some travel with continuing his football education.
He visited a variety of Major League Soccer teams in the US to gauge their strategies. He went to Australia and did likewise. And while he was there, a friend offered him a coaching job. As he waited for his sponsorship to come through, Nestor was encouraged by another pal to spend some time in Phnom Penh. It appealed to Nestor and he knew somebody there, which helped. Chris Grant, a Scottish football coach, ran a children's academy and brought Nestor on board without hesitation. Inevitably, Nestor flourished and Grant asked him what it would take to keep him in the country.
"I said that working with a professional team and maybe combining it with the day job would be ideal," Nestor says.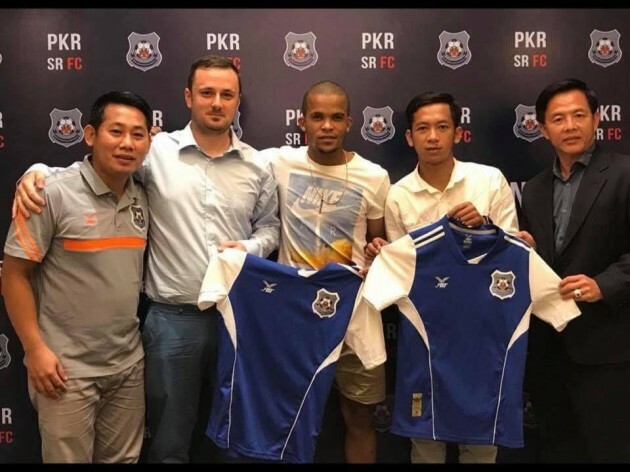 Conor Nestor pictured at his unveiling earlier this week.
"And I landed a job with a semi-pro side. But it was a rocky start and I nearly got sacked after about three weeks.
The technical quality is extremely high here but they haven't been exposed much to how the game is played tactically. Everyone watches the Premier League but the highlights more than full games, maybe. They're attracted more to flicks and tricks and not as engrained in the game as other countries. I was trying to get them to work hard, basically, and they couldn't see what I was doing. It was a case of, 'Why is this angry Westerner shouting at us?' But we sat down together and I explained what I was trying to do and we had a moment when they all seemed to get it.
Something I realised way back, when I was coaching a kids team in Limerick, was that players don't really care what you know about the game until they realise you care about them. It sounds like a bit of a Disney thing to say but it's 100% the case. With the semi-pro team, I neglected to think about the fact they might not take me at face value. No matter where you are, you need to take the time to get to know everyone. I have an assistant coach here and we were talking about one player in particular. 'What's up with this guy?' And I remember saying, 'We have no idea what kind of day he's had'. I'd say that sort of thing back in Ireland but here it means a lot more. The player may not have eaten. His family may have health problems and it's not like Ireland where you just go to the doctor. They may not be able to get medical treatment."
After his team conjured some eye-catching results, Nestor began to court some attention. It wasn't long before Svay Rieng came calling.
The club is successful.
Last season, they finished runners-up in the league and won their fourth domestic cup since 2011. At his unveiling, it was put to Nestor that he's effectively been brought in to win the double.
"If I can do something right then I can build something here and hopefully will have something to look back on in seven or eight years," he says.
If I'm to stay in the job, obviously there has to be silverware but there are lots of different targets to have at a club like this. It's a very hands-on role I have and I'm involved in the running of the club, generally. There aren't many places I could've gone where I would've got a blank canvass for my first coaching job. You don't want to be a one-hit wonder and you need a bit of luck but I think the club is the right fit for me and because of the energy I can bring to the role, I think I'm the right fit for the club too."
Football is big in the country. The national team – currently ranked 173rd – can usually bring in crowds of about 50,000 for home internationals. At the weekends, crowds gather and watch Premier League games beamed in from England. Depending on the opposition, Svay Rieng's attendance is somewhere between 3,000 and 5,000.
"You can see from the sponsorship on the front of Premier League shirts that the Asian market is absolutely huge," Nestor says.
"Driving around the streets, you'd see a Cambodian jersey all the time. On every second street corner it's a toss of a coin whether there's a Real Madrid or Dortmund or Juventus or Man United shirt. To be honest, it kind-of reminds me of Ireland in the early-90s and all of the street football culture you'd see. That's here too but the country is still a little devoid of success. It's a country close to a tipping point regarding football. There's talent here and a love for the game. They're just missing something. Physically and tactically the players need to develop and they probably need to change some lifestyle habits. But if two or three teams here get it right…there are opportunities. If you look at Thailand – a close neighbour – they've jumped up about 100 places in Fifa rankings over the last seven or eight years. Cambodia could be the next country to do that."
One of the biggest draws for Nestor taking the job was the time he'd get to spend with his players on the training ground, something he feels is still lacking in Ireland.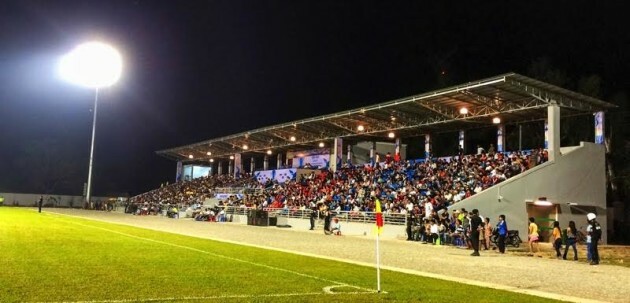 Nestor can look forward to seeing his team play in front of attendances between 3,000 and 5,000.
"I visited the US and Australia to see if they were doing anything differently to us but, to be honest, some of the best coaches I've ever met are still in Ireland," he says.
"But the structure just isn't quite there yet. Some of the coach educators with the FAI are absolutely top quality. They're doing better work than in many other places. But in Ireland, you can't get the players enough. When I was working with the Limerick FC Under-19s, I had the guys twice a week. Here, since I started, I've had the players every single day. And I've coached in the academy every single day. So Cambodia are ahead of us regarding contact hours with players. They're way behind us in other areas but in terms of getting to spend time on the pitch with players, they're ahead."
As much as Nestor has had to deal with taking on his first pro management job and everything that goes along with that, he's also had to wrap his head around the cultural differences of a new environment. Each place has its own idiosyncrasies and quirks and Cambodia is no different.
"When I got here, I was told that one of our star Cambodian international players was probably going to go to move to a team in Malaysia," he says.
They can offer him six or seven times more per month than the team here. On my first day, I wanted to meet each player individually and ask what their personal goals were. Every one of them said they wanted to play well enough for the team to be successful and for them to go abroad so they can earn money for their families. It's a whole other world. But it does make you stop and think about how lucky we are having grown up in the part of the world we did. We never really had to think about the things these boys have to.
It's my first time in Asia and I'm a bit old for first-time travel experiences – it's normally something for 25-year-olds! So it was a bit daunting at first. But there's a big ex-pat community here which made settling in all the easier. The locals are so warm and friendly. In the haze I walk around in thinking about tactics and training sessions, I've left my laptop in so many coffee shops but it's untouched when I frantically rush back 30 minutes later. There's a genuine warmth."
Nestor has also had to get used to the differences in how the game is played in a far-flung league. And that has been a challenge.
"I prided myself on not getting too upset or too involved with officials back home but it's different here," he admits.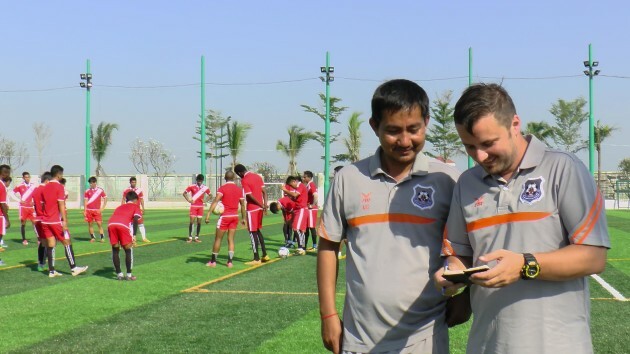 "There was a moment during one game when the ball was going about a yard over the head of an opposition player. But he just jumped up and caught it, like it was a GAA match. He was on a yellow card and it was a pretty big game and no booking. So I went to the fourth official and just asked what was going on. And he just turned to me and said, 'Sorry – I don't understand your English' in the most clear English you'll ever hear in your life. So referees apply what I call 'Cambodian logic here. Because they're such nice people, they don't like to cause offence. So the ref would've felt for this guy, having to send him off. And, after all, he was only catching the ball because it was going over his head. So there is an element of that behaviour that goes on."
Nestor's touchline frustrations have also led to some enlightening conversations with his various interpreters.
"The guy who translated for me at the semi-pro team – my Cambodian brother, as I call him – turned to me once and said, 'Fuck's sake' – what does this mean?'
Now, there are many reasons to say 'fuck's sake' on the touchline here but I couldn't properly explain the subtleties of what it really means. So, there's a Cambodian going around here – after a few beers, probably – saying 'fuck's sake' and always in the wrong parts of a conversation. Which is quite amusing."
As an Irishman in Cambodia, Nestor is something of an oddity. Locals don't know much about his home country. The older ones will stare blankly at him while the younger generation offer up Conor McGregor as a reference point. On quite a few occasions, others have confused Ireland with Iceland.
Still, although Nestor is certainly in the minority, he's far from unique.
"The first job I got here was through another Irishman, a guy from Blarney in Cork. He's been here for over a decade and he actually speaks Khmer – the Cambodian language – pretty fluently. I've brought him in to our club now as an interpreter and coach and he's doing a lot of video analysis for us too because he's actually a photographer by trade. So there's two Irish guys running around trying to make the second-best team in Cambodia the best team.
It's fairly random alright, isn't it?"
The42 is on Instagram! Tap the button below on your phone to follow us!