ON THE FACE of it Conor O'Malley should be taken aback by how quickly his life has changed in the space of a few short months, but the young Mayo native is relaxed and simply taking it all in his stride.
As a goalkeeper, he knows just how imperative keeping a cool and composed head above his shoulders is. It's the difference between winning and losing in football, where concentration between the posts cannot afford to slip for a moment's notice.
Unlike the last time we spoke, the pressure has risen because now his livelihood depends upon it. Unlike that conversation back in July, now the 23-year-old has graduated college and left his job and Dublin behind in search of pastures new.
The final destination is yet unknown for one of Ireland's most promising young shot stoppers who dreams of following in the footsteps of Shay Given to represent his country amid the clambering roar of Lansdowne Road. But the first stop is certainly Peterborough United, where he signed a two year contract 20 weeks ago from St Patrick's Athletic.
O'Malley's first big journey brought the young goalkeeper from Westport to Dublin for football and for education still in his teens. Now his life's second big upstart sees him travel across the Irish Sea and into eastern England to focus his career solely and entirely on the sport he loves; the one he chose over the prospect of lining out for Mayo in MacHale Park having played minor football for his county not so long ago.
Joe Dent, Peterborough United Joe Dent, Peterborough United
He studied mathematics in Maynooth University while plying his trade at Richmond Park in Inchicore, training as many young Irish footballers do these days in the morning and evenings in-between lectures.
Now he feels that, with that educational grounding in his back pocket, he can pursue his life's dream with the safety net of a third level degree. With it there isn't the harrowing risk of going abroad young and naïve with all his eggs in one basket, like so many have done before him.
O'Malley's performances for St Pat's justified the move to League One with displays throughout the summer firmly establishing him as the Premier Division's best goalkeeper by some distance, as he helped Liam Buckley's side avoid relegation at the wrong end of the table.
July saw O'Malley speak about the prospect of a move abroad as a pipe dream which, although achievable if he kept playing as he had done throughout the summer months, he admitted was firmly rooted in the future and not in the present.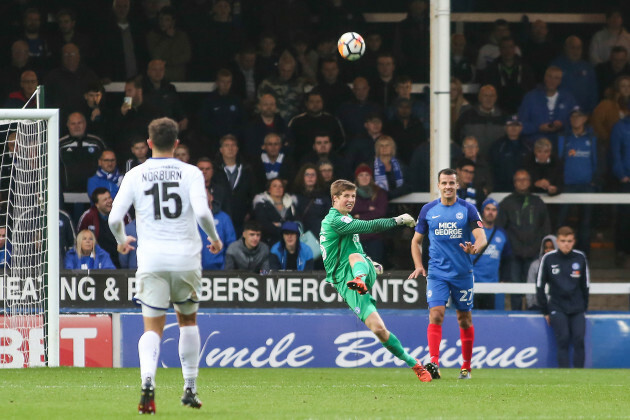 A few weeks later he was off the plane and appearing on the bench at the ABAX Stadium in the blink of an eye. He knew Peterborough scouts had been watching, but just how quickly the transfer materialised even took him by surprise.
"I think when we last spoke it had been three or four weeks since I'd heard any word from Peterborough," he says. "I knew there was interest but I wasn't sure if it was anything deeper than that. All a sudden the move came through very quickly — in the space of a week or two I was over here."
O'Malley spent his first few weeks staying in hotels organised swifty by the club but now speaks from his accomodation near Peterborough city centre where he is renting an apartment. "It's a lot cheaper than Dublin, anyway," he laughs.
It's a couple of weeks before Christmas and later that night he will pick up his girlfriend from the airport where she will, like O'Malley, now call Peterborough her home after taking a job in the city. "It makes it a lot easier," he says.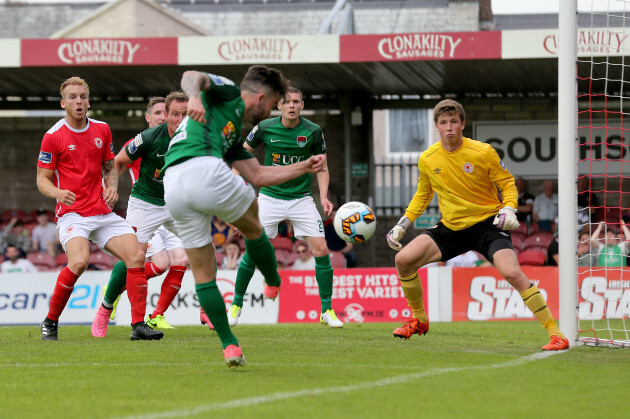 Oisin Keniry / INPHO O'Malley in action against Sean Maguire at Turner's Cross. Oisin Keniry / INPHO / INPHO
But he won't make it home over Christmas due to the hectic schedule of a League One club between league fixtures, FA Cup, EFL Cup and U23 games meaning matches every three to four days in-between training sessions.
"I was supposed to be home for a few days, but our match was changed to the Sunday because of the FA Cup replay, so I can't now and probably won't get home until after Christmas," he says.
"I've been home once already and my parents have been over and back a few times, so it's not too bad. You understand that it comes with the job when you move over. Christmas is a busy time of year football-wise with so many fixtures, so it's only natural that you're not going to get much time off."
It's all part-and-parcel of life as a professional, full-time footballer — something he is still adapting to. His schedule in Ireland would be split between work, training and college whereas now his life revolves entirely around football, which has become his full-time trade.
"I felt it was at the right stage of my career to go," he says.
"I had just finished all my exams in college and had my degree so I felt it was right to spend some years focussing solely on my football. It would have been a bit awkward if an offer had come a bit earlier while I was in college, because it would have been tough to say no to.
"I had to finish college and I did, so it's good in a way that I wasn't forced to make that decision."
He says that the standard in League One is not all too different from the League of Ireland, where players such as Patrick Hoban, Richie Towell, team-mate Chris Forrester, as well as Sean Maguire, Daryl Horgan and Kevin O'Connor have all made the leap into English football.
"The top players in League of Ireland would definitely fit in at League One," he says. "The intensity of games and the intensity of training is probably the only major step-up — every day, every single player is hard at it.
"There is no-one taking it easy any day, but then as well there are so many games and that takes its toll on the body. You need to be so fit and so strong to be able to cope with two games every week.
EMPICS Sport EMPICS Sport
"That's probably the major difference," he says on the suggestion that mistakes are punished more ruthlessly in League One football compared to back home in the Premier Division, where he could be facing players that train part-time in-between full-time jobs which pay the mortgage.
"Players are so clinical over here. It took me a while to get used to the power and accuracy that they're hitting the ball with. I struggled the first few weeks trying to gauge where the ball would go and trying to follow it.
"But yeah, mistakes are punished a lot quicker. The tactics would also be a lot more advanced. Players are pressing so high up the pitch that you know as soon as you get the ball they're going to be on top of you straight away, so when you try and play it out from the back you're more prone to making mistakes and passing a stray ball."
Taking that time to properly train and meticulously prepare physically, mentally and tactically three, four times a week for both the body and mind makes all the difference too, he points out.
"It's just more organised — teams over here would be focussing on something like shape and organisation two or three days a week. In League of Ireland you simply don't have the time to do that; you have to make the most of your time on the training pitch.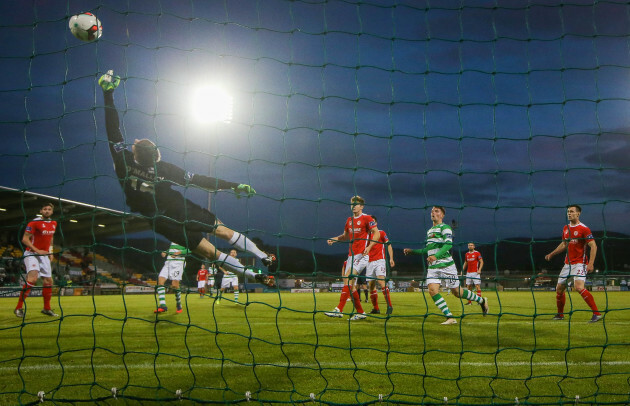 Ryan Byrne / INPHO Ryan Byrne / INPHO / INPHO
"Here players are here for the day from 9am-2pm, so we can take the time to do stuff like shape, video analysis and tactics which won't take up too much actual physical energy from players.
"You have your games, say on a Tuesday and Saturday or a Wednesday and Sunday. But those down days afterwards you can use too for developing tactics and shape."
He talks with calm reassurance of the move away from home and is at ease with the idea of moving to another country, which although less than 300 miles away, still presents a new home, a new culture and a new host of challenges in a new city for someone in their early twenties.
"Footballers don't really change no matter where they go," O'Malley says. "The team are a good group of lads and they're all really friendly. They were all very welcoming and helpful when I first moved over.
"I haven't found the move too difficult, it was very easy to settle in and the club helped me a lot with finding hotels and accomodation.
"The language is still a bit of an issue," he jokes. "Sure none of them understand me with my accent.
Thrilled to announce another country man signing for @theposhofficial best young GK in Ireland 23 year old Conor O'Malley from @stpatsfc 👍🏻

— Darragh MacAnthony (@DMAC102) August 7, 2017
"In a way I had this experience before when I moved away from Mayo for college. I was living away from home in Dublin for four years so I'm used to not having my family with me every day. It probably wasn't as big a change for me as it might be with other players — I'm also a good bit older than other lads that go to England as well.
"You definitely do need to be independent though. You have to find a way to be happy on your own for large periods of time and not be around other people all the time every day. Because the nature of it is that you will spend a good bit of time on your own when you move to a new country.
"You're spending a good bit of time on the road and in hotels with the lads, but you're still in your hotel room most nights with not a lot to do because you need that time to rest. You do need to have that mental resilience in that way, but also for the professional pressures of football over here to be able to cope with everything."
O'Malley has hit the ground running and went on a run of five consecutive starts during October and November which featured one perfect night in particular — a 5-0 away drubbing of Tranmere. There were a number of accolades ticked off that night — a win, a clean sheet and getting the chance to play in the FA Cup, following in the footsteps of so many of his heroes.
"No not really," he says when asked if he expected to earn a place in the side's starting XI so quickly. "There were a lot of cup games and the team were going through a bit of a run of form where we kept two or three clean sheets and were winning well."
He is sharing and competing for a starting position alongside 24-year-old team-mate Jonathan Bond, who is on loan from Reading — a former England U21 international who has years of Championship experience.
Having spent a chunk of time on the bench during his second season at St Pat's playing back-up to Brendan Clarke, O'Malley is aware of how the goalkeepers union of support and competitive drive operates between himself and Bond.
"We get on well together on and off the pitch. He's on loan at the moment and is a similar age to me as well. It's always competitive between two goalkeepers, but you need to maintain a good relationship — you need to always be supportive of the other goalkeeper when you're the one who's not playing, and vice versa."
His run of form saw O'Malley start games against Tranmere twice in the FA Cup, Blackpool, Portsmouth and Rochdale, with fine individual saves going hand-in-hand with level-headed performances.
"I think they're happy enough. I hope they are anyway," he laughs on how his manager and coaches have assessed his first few months.
"They say that I've been doing well and they know I've played a lot of games between coming over here mid-season from the League of Ireland. I've been playing U23 games most weeks as well, so they say they're trying to manage my play and stuff like that.
"I think they're happy that I've settled in well and shown that I can play at League One level without being out of my depth. Now it's just about working hard to keep on going and pushing on."
A big part of that settling in was with the help of former St Pat's team-mate Forrester, who made the move to Peterborough exactly two years before O'Malley did.
A familiar face succeeded in making the transition that bit easier, the goalkeeper says, not only because of the Irish connection but also because, like himself, Forrester knows what it feels like to move to England from a League of Ireland background.
"When I first went into the dressing room with all the lads there it was nice to see a friendly face. He was someone I could chat to and he's been very good to me.
"The move to Peterborough happened very quickly for Chris as well within the space of a week or two. We as players definitely didn't know he was leaving anyway back in 2015 — he just didn't show up for training one day," O'Malley laughs.
EMPICS Sport Chris Forrester also moved to Peterborough from St Pat's back in 2015. EMPICS Sport
"But yeah it is the same thing coming over here and settling in from a League of Ireland background — Chris was close to the exact same age as me going over, 22. He's pushed on since and is getting back into the team again now and doing very well."
Forrester has suffered a difficult start to the campaign this season having hit so many highs so early on in his opening two seasons — earning a highlights reel on Match of the Day, commanding play against Chelsea in the FA Cup, and being given the captain's armband at the age of 24, on top of being compared to Michael Carrick.
But as O'Malley is quick to point out, the midfielder is hitting his stride again with consistent appearances under his belt.
"He was probably Man of the Match on Tuesday against Southend," he says. "He was like we've all seen him back in Ireland, just embarrassing the other team."
When we spoke five months ago O'Malley talked about looking up to Shay Given and of dreaming of playing for Ireland one day in the future.
"It's every kids dream to play for Ireland," he had said earlier this year. "You're watching these incredible nights like when Ireland beat Italy in the Euros — that's why you play football. You'd love it if it did happen one day, but it's a long way off at the minute."
His rise has been swift from that day; one week lining out at the Showgrounds against Sligo and the next plying his trade away to Bristol in League One.
With opportunities presenting themselves at Peterborough for a starting position it doesn't seem like the dream will be quitting any time soon, especially considering team-mate Forrester received an Ireland call-up by Martin O'Neill a matter of months after his arrival.
"In terms of the long-term I do think you need to aim as high as you possibly can," O'Malley says. "Playing for Ireland is as high as you can go, it's the dream of every young footballer.
"If I can keep working hard and getting games week on week in League One maybe within a year or two it could be within reach. You never know."
For now though he is focussed primarily on making his way to the airport where he will pick up his girlfriend and continue building a new life following that dream wherever it takes him.
The42 has just published its first book, Behind The Lines, a collection of some of the year's best sports stories. Pick up your copy in Eason's, or order it here today (€10):