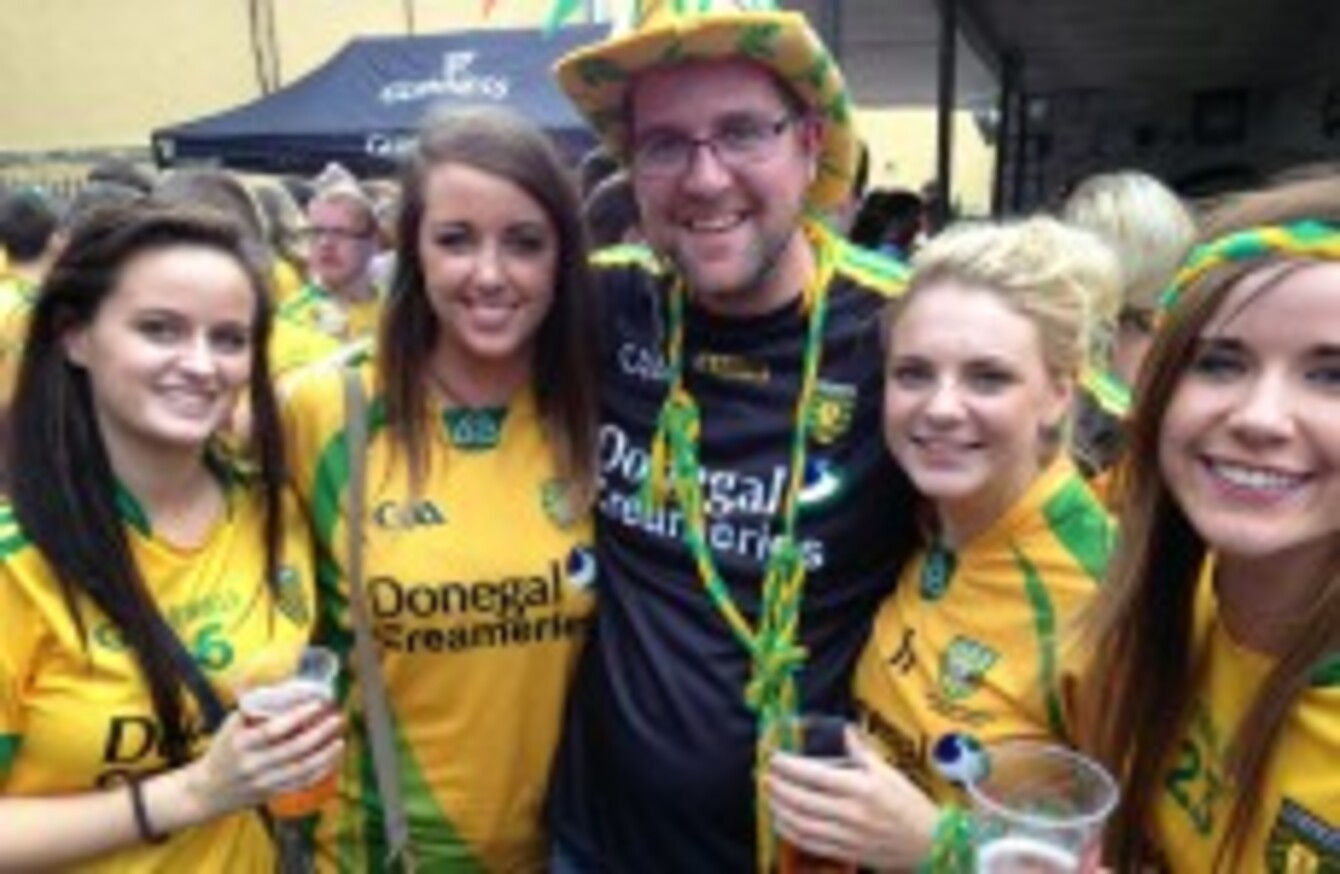 DURING HIS FIRST Christmas in Australia, back in 2010, Conor Quinn received a card that was sent by uncle Bernie from back home in Glenties.
The last line scribbled on the card read: "Donegal will probably win Sam now when you're away!"
Quinn decided to emigrate earlier that year having been laid off three times the previous one. When he finished up laying pipes at Terminal 2 at Dublin Airport in 2009, his employer finished with him.
From Kilkenny, near Maas outside of Glenties, Quinn had been an avid follower of the Donegal footballers since 1992. There's no need to dust off the old encyclopaedias to recall how that season ended.
"I never missed a game," he says. "But by 2009 things weren't going well and my brother Declan was in Australia. He used to call and tell me about the great lifestyle.
"And although I knew that I'd miss football, family and friends, I thought I would give it a go as there wasn't much at home."
Quinn left a month before Jim McGuinness showed his prowess on the inter-county stage as he guided the Donegal U21 side to an Ulster title. Quinn had come across McGuinness at their local club, Naomh Conaill.
"I think I played about 11 years and kicked two points," Quinn, now 29, laughs.
I played under Jim for the club's U21 side in 2005, alongside the likes of Anthony and Leon Thompson, as well as Marty Boyle. I didn't win too much but they won a heap afterwards!
McGuinness got his teeth into Donegal's seniors, as Quinn watched on from crowded Irish bars in Sydney in the early hours of Australian Monday mornings.
During August of 2012, a 1-12 to 1-10 victory over Kerry sealed an All-Ireland semi-final place for Donegal and they then defeated Cork 0-16 to 1-11 following a scintillating display.
"The day after the Cork game I just thought 'that's it'," Quinn adds. "I was laying pipes in Sydney and hadn't been home once since I went to Australia over two years beforehand.
"I just told the boss that something was on at home – a family thing maybe, I can't remember – and was off. To be honest, I didn't give a damn what his answer was going to be as there was no way I was missing the final."
Out in Maas, about five miles outside Glenties, the Quinn family had a new next door neighbour.
McGuinness, his wife Yvonne and three children – Toni-Marie, Mark Anthony and Jimmy – had just moved from Creeslough into their newly built house.
"I didn't want to be annoying Jim or anything," Quinn continues of his return. "But I wanted to go down and just wish him the best in the final.
"So I landed down with the intention of going no further than his doorstep, as it was only a week before the All-Ireland final against Mayo.
After meeting Jim, the next thing there I am in the house watching a re-run of the Cork semi-final and us both supping a can of Heineken in his living room!
Donegal defeated Mayo 2-11 to 0-13 to win the All-Ireland in 2012 and that Christmas card send by Quinn's uncle Bernie was almost correct, only his nephew was home to see it.
"Although I've an apartment in Randwick in Sydney, I'm based outside a place called Dalby, which is about five hours west of Brisbane," Quinn says.
"I live here in a camp with about 500 other fellas, working in the mines laying pipes for an Australian crowd called ADE Engineering from 6:30 each morning till five in the evening. It's three weeks on and one week off."
Be part
of the team
Access exclusive podcasts, interviews and analysis with a monthly or annual membership.
Become a Member
After Donegal squeezed past Armagh 1-12 to 1-11 in this year's All-Ireland quarter-final, Quinn dreamed of attending the semi-final against Dublin.
"Let's just say there are no travel agents in the mines," he adds. "In fact, the nearest shop is about 45 minutes away! Getting plans for home isn't so easy.
"A friend, Barry Hughes from Leixlip, Co Kildare, booked everything. I'll not say what I owed him – you can guess that yourself – but it's well into the four digits!"
So, on the Wednesday prior to the All-Ireland semi-final, Quinn awoke in Dalby at 4:30am local time, just 11 hours after finishing a four-week shift, one week extra than the norm to suit the semi-final.
From there, he undertook a bus journey to Brisbane, which took almost five hours, prior to an internal flight to Sydney before dashing into Randwick to gather a few bits and bobs.
That evening, he flew Sydney to Abu Dhabi and onto Dublin and was picked up and driven to Glenties by his brother Declan.
Had Quinn started a stop-watch as he rubbed the sleep from his eyes the morning the journey began, he would've stopped it at 48-and-a-half hours as he wiped his feet on the doormat in Glenties at 9:30pm Thursday night.
"In Sydney airport I picked up a $20 inflatable kangaroo," he says. "I was thinking 'he'll be coming to Croke Park with me' as the Australian rugby colours are the same as Donegal's.
"As we waited for the tickets before the Dublin game it then took three grown men every ounce of strength in their bodies to blow up the kangaroo in the Big Tree. It wasn't as easy as I'd assumed!"
As Dublin bossed the first 25 minutes and the likes of Paul Flynn and Diarmuid Connolly lashed over a succession of points from distance, Quinn and his brother Declan's confidence was eroding.
"Declan looked at me and I looked at him," Quinn says. "We didn't say it but we both knew we were in serious trouble.
"But Christy Toye steadied the ship before Paul Durcan's save and Ryan McHugh's goal swung it our way."
As wild dreams go, Donegal beating Dublin 3-14 to 0-17 probably wasn't one of Quinn's.
The following evening, Monday, he was bound for Australia again and was back in the mines at 6:30am Thursday.
"Every pipe I lay now I'm day-dreaming about Donegal and about Kerry," he says.
The kangaroo, currently tied to a lamppost outside the family home, will be at Sunday's final with the Glenties brigade but will someone be missing?
Of course not. With another trip hastily arranged during his week off, so too will Quinn. Another marathon journey has just been undertaken and he's back in Glenties.
As one man living in Maas, Kilkenny, has taken Donegal on a magical journey, his next door neighbour has once again taken a journey to see that magic.