THE JOURNEY STARTED last year when Corduff reached the Monaghan Division 1 shield final.
"A dirty night in October against Truagh," captain Laura McEnaney recalls, as she stands in Croke Park for the launch of the Ladies football club All-Ireland finals.
They're preparing for the junior All-Ireland final against Cork outfit Aghada on Saturday, but that's where it all began, she smiles.
"We only lost by one point to a senior team and I think both management and the girls saw that there was something special in this team," McEnaney, a key player in the Monaghan inter-county set-up continues.
"We all really believed that we could go a couple of steps further this year and win Monaghan, and please God win Ulster. Thank God we've done that and we're just so happy to be in an All-Ireland final."
Looking back through the years, it's been a long journey back to the top.
The glory days of 2009 saw them reach the All-Ireland junior semi-final but they were beaten on the day by Cork side Clonakilty.
Here they are, eight years later and a step further. There's something different about this year for Corduff.
"You always think, 'Ah, I'd just love to get to an All-Ireland final' and whatever happens after that is grand. But it's not.
"When you get there, you want to go the whole way.
She adds: "I've played with DCU, I've played with Monaghan in All-Ireland finals but I don't know.
"There's something very special about playing on a team with a group of girls you've grown up with your whole life in a parish that you go to mass in, do everything in. It's a lot different and it really makes it more special."
Morgan Treacy / INPHO Corduff captain Laura McEnaney and Aghada captain Emma Farmer. Morgan Treacy / INPHO / INPHO
There's a real sense of community and family around the club, and in the team.
McEnaney's sister Sarah, and two of her cousins play, and she notes that she's played with the core group from U10s right up, which creates a 'special bond'.
In terms of the year as a whole, it's been crazy.
After beating Scotstown in the county final back in August, a testing Ulster championship ensued before they beat Cavan opponents Cornafaen in the decider.
From there, they travelled to London and edged past Kingdom Kerry Gaels to book a home All-Ireland semi-final date with Dublin champions Cuala.
"It's just been a rollercoaster of a year," she says. "It's taken every girl on the pitch to stand up and be counted. We're not a team that's relying on one or two players, it really is a whole team effort.
McEnaney continues: "The whole club was there for the semi-final.
"I think there was 900 people at the game and I'd definitely say 600 of those were Corduff people. It's unbelievable.
"As a Ladies team in the club we've made history (a first All-Ireland final) so it's absolutely fantastic and we're so happy that the whole club and the whole community are getting behind us."
With two supporters full to the brim and bound for Crettyard in Laois on Saturday, it'll be the same again.
"We hope to bring the whole parish with us, every man woman, and child please God. It's a big occasion for the club and everyone's really looking forward to it."
Aghada hosts a range of names from the Cork set-up through the years from Emma Farmer and Roisin Phelan to dual star Hannah Looney.
And McEnaney is wary of what's oncoming.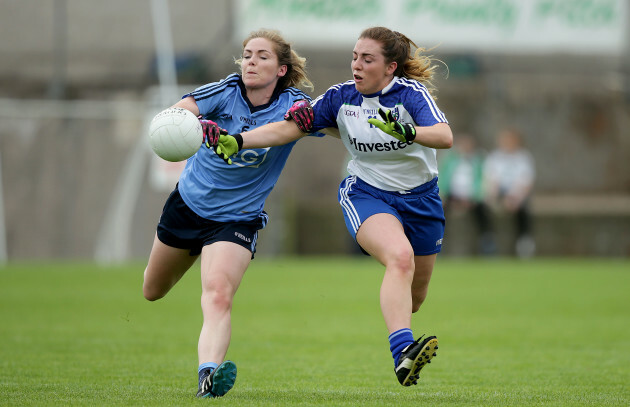 Morgan Treacy / INPHO McEnaney in action for Monaghan. Morgan Treacy / INPHO / INPHO
"We're well aware of the challenge ahead of us. We're well aware that they have a couple of county seniors, a couple of county minors and listen, any Cork team that gets to a final are going to be extremely hard bet.
"But it's a massive opportunity for a little, small club like Corduff in Monaghan and we're really going to do our best to try and get over the line."
It's well to the back of her mind at the minute but the Monaghan seniors have a new manager in place for 2018.
Five-time All-Ireland winner with Donaghmoyne Annmarie Burns has taken over from Paula Cunningham, and it's an appointment which McEnaney welcomes.
"It's good. Paula has done fantastic work with us. It'll be interesting now to hear a new voice and see what happens."
McEnaney herself though plans to take a year out, and step away from the set-up to go travelling.
"That's been my plan now for the whole of last year," she adds. "I said I'd give last year a good lash and this year I plan to go travelling."
She has no real plans but is planning to spend the summer somewhere warmer.
But that's way off where her mind is set right now. There's a job to be done for the club first.
The42 has just published its first book, Behind The Lines, a collection of some of the year's best sports stories. Pick up your copy in Eason's, or order it here today (€10):