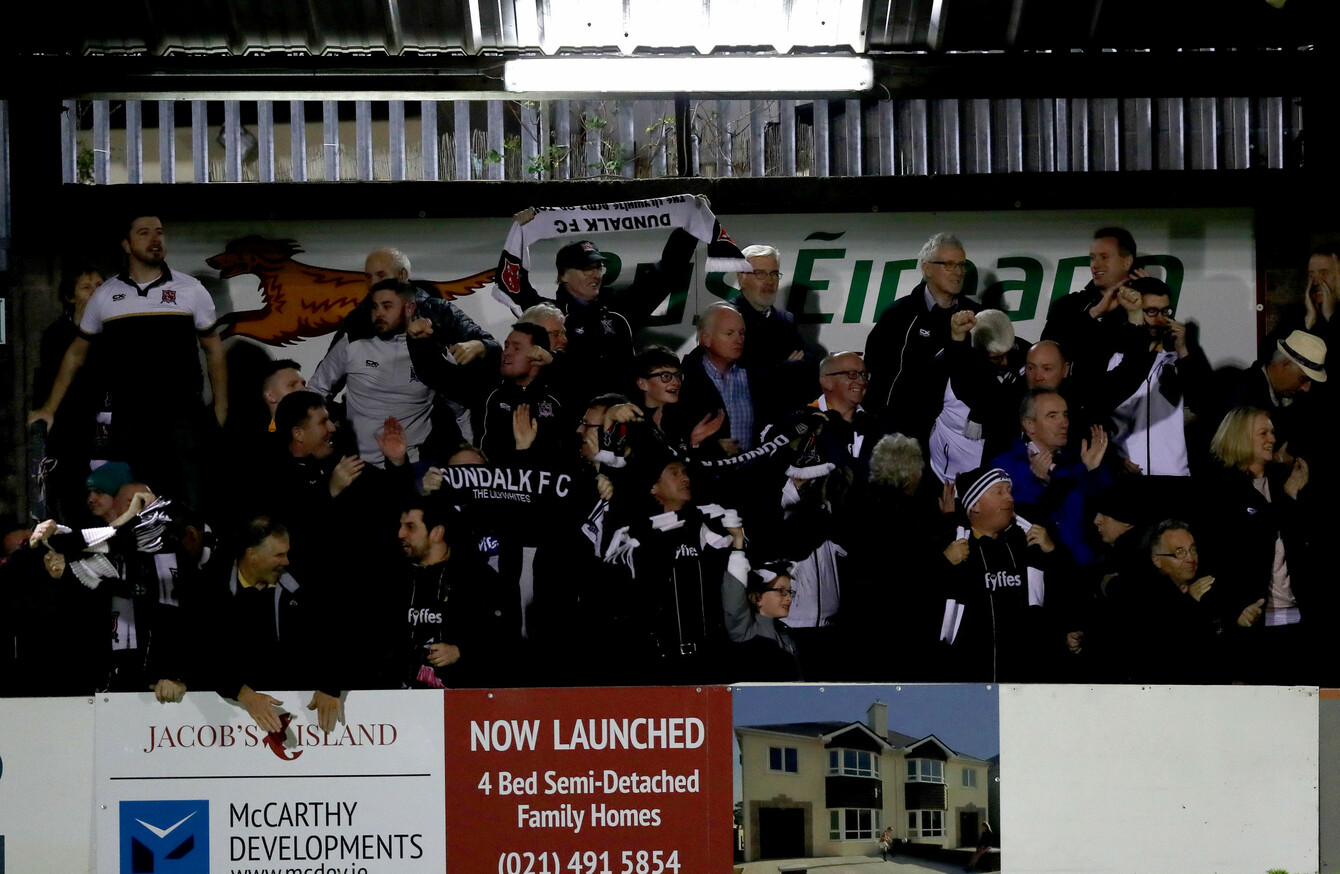 Visiting Dundalk supporters at Turner's Cross last season.
Image: Ryan Byrne/INPHO
Visiting Dundalk supporters at Turner's Cross last season.
Image: Ryan Byrne/INPHO
IT'S LATE AT night, you're walking barefoot through your kitchen and you stub your toe on a chair.
The pain shoots up your foot. As you hop on one foot you do what comes naturally — you blame the chair.
The desire to point the finger of blame is a natural reaction, even when it's meaningless.
Members of Dundalk's senior management expressing Twitter outrage over the allocation of tickets for the game in Turner's Cross were blaming the chair; and all while there were questions to answer on how Dundalk's allocation was distributed.
Tonight's Cork City v Dundalk match is – let's be honest – a dead rubber.
Dundalk are six points clear, have a game in hand, and are playing a brand of football that suggests that even if Cork City win tonight, Dundalk are unlikely to drop the points City need them to in three of their final five games.
While there will be posturing about 'pushing them all the way', really, the game's up.
The back and forth over the past week around ticket availability provided a bit of a distraction and entertainment in the lead-up to the match.
Typically, on social media it was toxic but more measured commentators – such as Dundalk's Ciarán Callan on the 'Between the Stripes' podcast – faced the reality that you just can't keep everyone happy.
I can understand the frustration and anger of being a season ticket holder in Dundalk being unable to secure a ticket for the game. It's natural to want to see your team put Cork City to the sword at Turner's Cross; City being current champions and what you perceive as pretenders to your throne.
I get that, but that's emotional. The flip side is the facts, and these are important.
The maximum capacity for a Category A game in Turner's Cross – when you factor in the enforced segregation and closing of sections – is 6,950. League rules state that the allocation clubs are required to give to an away team is 5% of capacity, so 345 for the Dundalk game. Cork City gave 350.
Now, considering the capacity of the stadium block the away fans occupy is nearly 500 for a Category A game, it does seem a bit miserly – but you need to understand how football works.
I'll pause here.
Tonight's game will not sell out, not even close. The last few Dundalk home games haven't either – in home or away sections. If there's 5,000 people there I'd be amazed. So, the argument will be open up an adjacent section to Dundalk fans and just take their money.
That would be to give Dundalk fans 1,000 tickets, but would also displace regular Cork City fans from their usual sections. City are never going to do that. This is a one-off game and the favour of regular Cork City fans is worth multiples of whatever benefit you might recoup from a once-off visit from supporters who will only ever, at best, visit Turner's Cross twice a year.
While the Dundalk fans with tickets have to be well treated to ensure they'll want to return – and every club should do this — you can't start encroaching on regular home fans' areas.
That said, it's reasonable to suggest that 500 tickets should have been made available to Dundalk. Fill that section and move on.
500 tickets? Yeah, we're good? Dundalk have gotten more than 500 tickets and tonight will bear that out.
Here's how football works. Cork City give an allocation of 350 tickets to Dundalk. They might sell out, they might not. If they don't, then Cork City can set a lower number of Gardai and stewards and keep the costs appropriate to the away numbers. If the tickets sell out, they send on more to fill the section.
This is what usually happens.
This time, matters were complicated by people around Dundalk jumping the gun and taking to Twitter instead of informing fans of the additional allocation that would always come.
This drove Dundalk fans to Ticketmaster where they bought home tickets. In the interim, City have had to work with Ticketmaster and have arranged coding so that the 100-plus tickets that were bought from Dundalk addresses can be accommodated into the away section tonight.
These 100 tickets that will be accommodated probably haven't gone to Dundalk season ticket holders as they might have been if the additional allocation was waited for.
Now, add in the 50 VIP tickets – yeah, 50 — and further wheelchair tickets that Dundalk have been given, many of which will be used by people who would
prefer to watch the game from the away end, and you go past the 500 mark.
It will be obvious to anyone watching the game tonight that — when they see the away section full – this is the case.
So, comment or abuse me on Twitter — it's a natural reaction — but I'm just the chair
you stubbed your toe on.
The42 is on Instagram! Tap the button below on your phone to follow us!