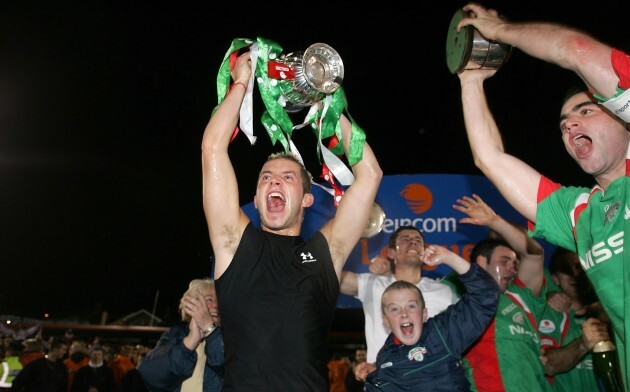 Andrew Paton / INPHO John O'Flynn lifts the Premier Division trophy after Cork City's title win in 2005. Andrew Paton / INPHO / INPHO
"IT WAS A mistake in hindsight," admitted current Cork City skipper Alan Bennett recently when he recalled how they approached their last opportunity to win a double. "But at the time I was quite young and I didn't know any different."
Given the manner in which they won the club's first league title in 12 years, the celebrations that followed Cork City's 2-0 win over Derry City at Turner's Cross on 18 November, 2005 were never likely to be restrained. On the final day of the season, Cork needed a win to be crowned Premier Division champions. A draw would suffice for Derry.
After making amends for the club's several near misses since their inaugural title in 1993, Damien Richardson's young team instantly became heroes on Leeside. The Celtic Tiger was still purring and there was scarcely a pub nor punter in Cork who didn't want to show their appreciation.
With the league conquered, there was a 16-day gap until City headed to Lansdowne Road for the FAI Cup final against Drogheda United. Ample time to recover and prepare — or too much time to celebrate, depending on your outlook.
"We celebrated so much after winning the league that I wasn't too concerned about it [the FAI Cup final]," Joe Gamble, who marshalled City's midfield at the time, admitted to The42 in a recent interview.
"I just thought we'd beat Drogheda. That's not being smart or complacent, I'm just being honest. We were young boys and we nearly drank Cork dry for over a week.
"I remember going down through the lobby of the hotel in Dublin on the day of the cup final and there were thousands of people there, which kind of shocked me. 'Fucking hell, is this for us?' I definitely didn't realise the magnitude of winning the cup. I didn't think it would be as big a deal as it was."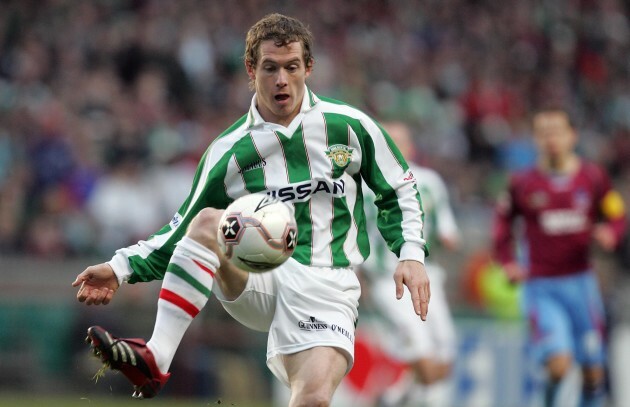 ©INPHO Joe Gamble in possession during the 2005 FAI Cup final. ©INPHO
On a miserable afternoon in Dublin, striker John O'Flynn almost give City the lead in the first half but his effort struck Drogheda's post.
"We got a guard of honour from all the fans as we were getting on the bus to go to the stadium from the hotel," O'Flynn recalls. "They were screaming and roaring for us. In our minds we had won it before we even got there.
"Everyone in Cork was delighted after winning the league and the celebrations went on and on. We were out nearly every night and didn't pay for a drink anywhere."
Roy O'Donovan, who was ruled out of the 2005 FAI Cup final due to suspension, says: "The night we won the league, no team would have beaten us. Turner's Cross was bouncing. It still gives me goosebumps now just thinking about it. It was an incredible occasion.
"But when you win a trophy, especially in such a big sporting city like Cork, you're kind of whisked around from event to event — schools, bars, city hall — to do different bits and pieces. The attention was taken off the cup final as a result."
Drogheda capitalised on a subsequently lacklustre Cork City performance and thoroughly deserved their 2-0 victory, with second-half goals from Gavin Whelan and Declan 'Fabio' O'Brien sealing the first FAI Cup triumph in the club's history.
"The celebrations were excessive. Mistakes were made," Billy Woods, who played on the left wing that afternoon for City, told The42 last April. "We were the better side. But we left it behind us against Drogheda. That's what galls me about that year. It was great to win the league but not winning the double really galls me.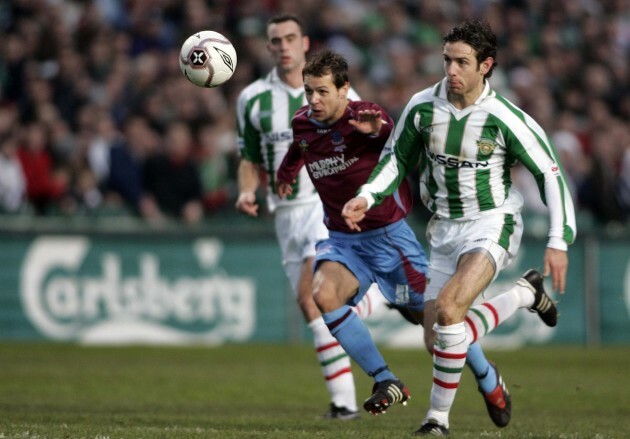 INPHO Alan Bennett tussles with Drogheda United's Declan 'Fabio' O'Brien. INPHO
"If you ask the majority of players, hand-on-heart, they'd agree with me. I don't think we were mentally focused on it. The celebrations dragged on too far. We had a week and then a week back in. And we left it behind us.
Exclusive Six
Nations Analysis
Get Murray Kinsella's exclusive analysis of Ireland's Six Nations campaign this spring
Become a Member
"You think 'we'll get another chance' but how often do you get the opportunity to do a double? Personally I was devastated. We got so close. You could've done something special in Cork, really. And we didn't do it. When's the next time we'll get that close? It's so difficult and we had an ideal opportunity and just didn't take it."
This Sunday, Cork City will face Louth opposition again in their bid to become the first team from Leeside to win a double since Cork Athletic in 1951. However, the circumstances are significantly different now in comparison to the situation they encountered in 2005.
Back then, Paul Doolin's Drogheda side had yet to establish themselves as a force, having finished 26 points behind Cork City in the Premier Division. League and Setanta Sports Cup silverware followed over the next two years, and while the dynamic between the teams would soon change, City had no axe to grind with Drogheda at that stage.
There's unlikely to be any complacency involved this weekend when City renew their intense rivalry with Dundalk. With the exception of St Patrick's Athletic's FAI Cup victory in 2014, the Lilywhites and Leesiders have now shared the two biggest prizes in Irish football between them for the last four years.
Cork City manager John Caulfield is also sure to have preached the importance of appropriate preparation to his players, a message which will have been echoed by the two surviving members of the 2005 squad, Alan Bennett and Mark McNulty.
City bridged another 12-year gap when they got their hands on the Premier Division trophy following last Friday's final league game of the season against Bray Wanderers, after which the players were afforded the opportunity to join supporters in a city centre bar.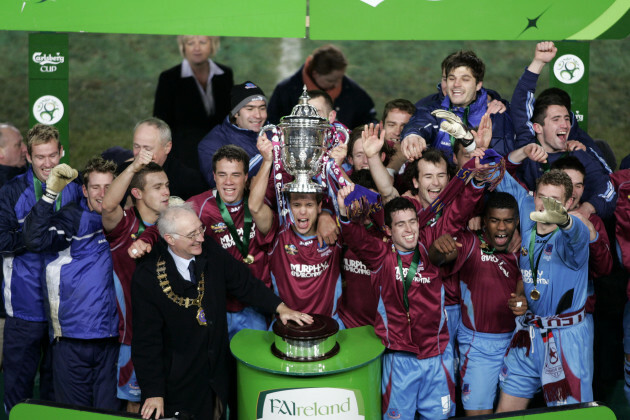 ©INPHO Drogheda United celebrating after their 2005 FAI Cup triumph. ©INPHO
But any exuberant expressions of euphoria were parked 10 days earlier, when the achievement was celebrated into the early hours of the morning after a draw with Derry City at Turner's Cross was enough to confirm Caulfield's side as champions.
"When the lads won the league, they went out with the fans, they enjoyed the night, and it was back to basics then after that on the Thursday," Caulfield said this week when asked about the importance of learning from the mistakes of 2005.
"If there was any lesson, it was total focus for the cup final because while the league win was massive, we have a cup final coming up and it's up to everyone to make sure they prepare properly. To be fair to the lads they had their heads down straight away and they're all geared.
"Have Mark [McNulty] and Alan [Bennett] been talking to them? They probably have. But from what I've seen at training, the attitude, even after getting the league trophy on Friday night, they went in and got all their photographs taken with the supporters but they were back out fairly quickly and they were all in again on Saturday morning. I think there's no doubt that there's no distractions this time."
Admitting that missing out on a double remains a major regret, John O'Flynn — who's now searching for a new club after two years at Limerick — says: "The lads on this team seemed like they enjoyed themselves after winning the league, but having worked under John [Caulfield] for a couple of seasons, I know he'll have them right.
"Hopefully they won't make the same mistake we did. We probably thought we'd keep coming back to cup finals but it's never as easy as that, despite what you might think as a young player. When the opportunity is there in front of you, take it."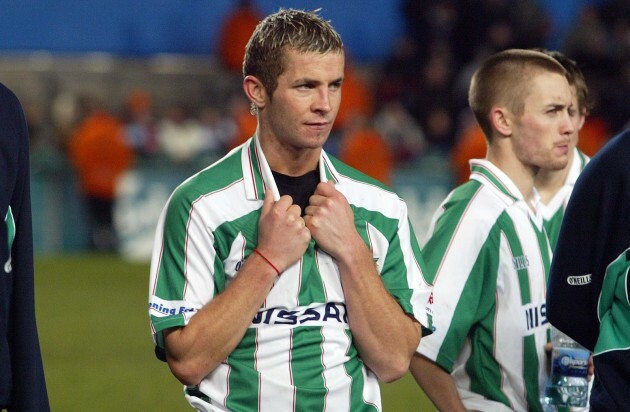 ©INPHO A dejected John O'Flynn in the aftermath of the 2005 FAI Cup final. ©INPHO
Even though he wasn't involved on the day due to a yellow card he picked up in a league game against Waterford, Roy O'Donovan offers a similar assessment.
"There are definitely regrets about it because we had an unbelievable team in 2005. I'd hope lessons are learned from our time," says the attacker, who's now plying his trade with Newcastle Jets in Australia's A-League.
"I'm extremely proud to have played for Cork City and I was delighted to see them winning the league, but I'll be even happier now if they go and win the double. That would be an absolutely unbelievable achievement from John and the boys."