I DON'T BUY into hatred of opposing teams, though I admit there are clubs against whom victories feel sweeter and away grounds where defeats hurt that little bit more.
You need rivals to accentuate the highs and lows of any sport. Cork City did the double last year and I was ecstatic, but was a portion of that ecstasy rooted in beating Dundalk in the final – and in Mark McNulty saving the penalty that delivered it?
Of course.
Through years of working around the league, I got to know people at every club, and became friends of many. I matured from a halfwit on a terrace to someone who channeled Barack Obama and looked for what we all had in common. Influences outside the league became the enemy and the rivalry at each game lasted only to the full-time whistle.
It was probably less fun to be a fan in those years, though I'm undoubtedly a better role model for my kids as a result – they wouldn't recognise the fan I used to be.
I'm a Cork City fan, and while Dundalk are the main rivals at the moment, I've been around long enough that St Pat's and then Shelbourne were the main rivals at another time; rivalries come and go depending on respective strengths and targets.
Proximity has an impact in Dublin, I guess, but Cobh Ramblers would be the 'second club' of a lot of Cork City fans and they'd wander down to catch a game in St Colman's Park if City happened to be playing away. The rivalry in Limerick was affected by decades of playing in different divisions, but it's simmering nicely.
But there's potential for rivalry with Waterford. I don't hate any club, but there's a few Cork City fans who hate Waterford United, mostly younger lads, and much of it because of a single incident – a banner unfurled by Blues supporters stating "Game Over" in giant letters.
It was unfurled during a match when City were at an all-time low, in and out of the High Court, when it almost was game over for the club. It was just another banner, not as witty as St Pat's "If you can read this, you're not from Cork" banner. Over sensitive at the time, it stuck in the minds of many City fans.
Those lads are delighted to have Waterford back, even if it's FC and not United. We've never been stronger; they're newly promoted. It's time to teach them a lesson, maybe even send them back down.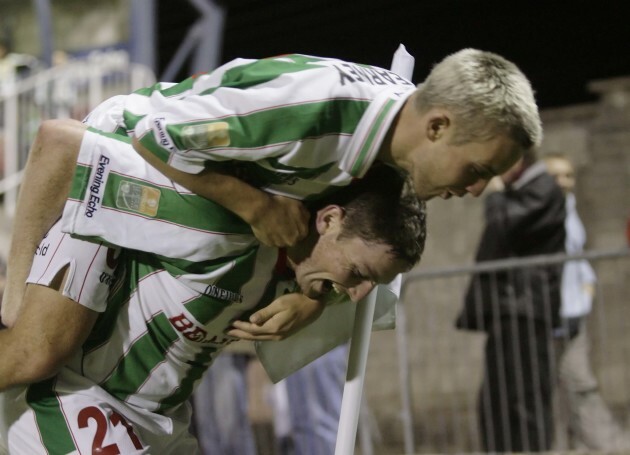 ©INPHO / Neil Danton Denis Behan and Liam Kearney celebrate against Waterford in 2007. ©INPHO / Neil Danton / Neil Danton
I'm delighted to see the Blues back. Rivals are important but there are other factors – it's a handy away trip and should see a lot of City fans travel. Waterford should bring a sizable contingent to Turner's Cross too, giving two more games with a better atmosphere.
Exclusive Six
Nations Analysis
Get Murray Kinsella's exclusive analysis of Ireland's Six Nations campaign this spring
Become a Member
Like Limerick, proximity and the inevitable swapping of local players add a bit of spice. The RSC always looks decent on television which helps the image of the league. It's a comfortable ground and while you're never on top of the action, both stands hold and amplify the noise generated by supporters.
It's good to have Waterford back, though we had a year to prepare for it – their promotion to the Premier Division was not a surprise. The arrival of Lee Power at the club allowed Waterford to flex financial muscles that they hadn't had for a long time. Once Pat Fenlon and Alan Reynolds were confirmed in football roles, and they started to add players like Paul Keegan, Mark O'Sullivan and Kenny Browne, the latter pair from Cork City, they were quickly installed as First Division favourites.
With only one team promoted and no play-off, Waterford didn't have it easy. It was only very late in the season that Cobh Ramblers' challenge to them fell away.
Facing into the new season they've signed quality players such as Bastien Hery from Limerick, Izzy Akinade from Bohs, David Webster from Shamrock Rovers, Rory Feely from St Pat's and Gavan Hoolahan from Galway United, all players who did well and started regularly for their previous clubs. They've brought in the talented John Kavanagh on loan from Cork City. Alongside an already strong core that had seen them promoted, Waterford are a club that have to be taken seriously.
Off the field, they've become a stronger proposition. The crowds in Waterford were always going to come back once the team was winning again. But this time it feels different. I was in Waterford last Friday and noted, for the first time ever on a visit there, that there was a noticeable amount of people and particularly kids walking around in Waterford's new Umbro gear.
Tonight, they host Derry, their first game at home under the new structure in the Premier Division.
But next week is the big one for them, their chance to go toe-to-toe with the champions at Turner's Cross. A Munster derby.
Game over? Not a chance. Game on!
The42 is on Instagram! Tap the button below on your phone to follow us!