DAVY FITZGERALD SAYS he faces a battle to get Clare back to the same level for their All-Ireland hurling final replay against Cork.
The Banner led for more than an hour in Croke Park yesterday but seemed to have been cruelly denied when Pa Horgan pointed in stoppage time to put Cork ahead for the first time.
But with the penultimate puck of the ball, corner-back Domhnall O'Donovan scored his first Championship point and forced a replay.
"I think we were the better team today," Fitzgerald said afterwards. "It would have been a travesty if we lost it.
"I think ye seen that yourself outside there but are we happy to get the draw in the end, being a point down a minute and a bit into injury time? Yeah, I was happy, yes I was.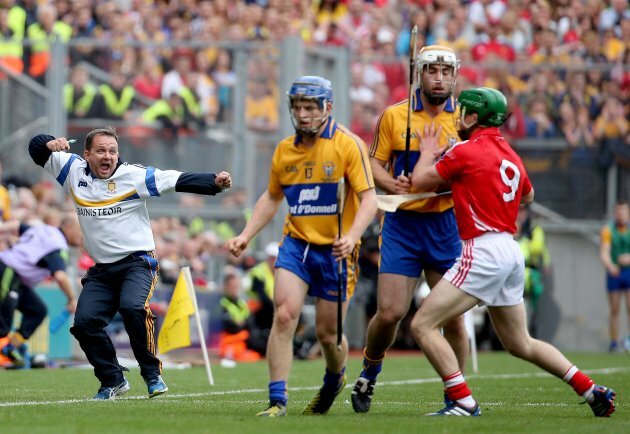 Fitzgerald celebrates as Clare win a free (INPHO/James Crombie)
"It just showed what character, it showed what steel is about and I am so proud of my guys. Whether they win, lose or draw the next day, I don't give a damn. And that's being honest.
Anyone watching outside there saw an example of boys giving their heart. There was a lot of tough things going against them. I won't say unfair, I could, but a lot of tough things went against them and they still came back for more.
The GAA confirmed that the replay will take place on Saturday 28 September but before that, a handful of Clare's young warriors have to turn their attention back to the U21 Championship.
David McInerney, Colm Galvin, Tony Kelly and Podge Collins are all expected to start in Semple Stadium on Saturday as the Banner defend their title against underdogs Antrim.
That gives Cork a slight advantage in their preparations, Fitzgerald said.
"Will they get up to that height the next day? It will be extremely hard to be honest with you because the U21s will knock a lot out of them next week and then you've got to bring them back up again. There are only so many matches.
"In saying that, it wouldn't surprise me. These guys don't know when to quit. But it will be a big ask. If you ask me straight now Cork probably have the initiative going into it. No matter what, it's an occasion.
"After an All-Ireland it is unreal how you feel. Win, lose or draw.  This is going to take them days and then they have to try to get up for next Saturday. And then they have to come back down again.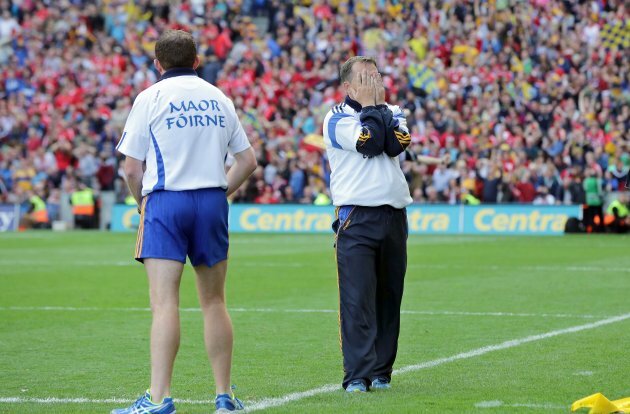 His reaction to Domhnall O'Donovan's late equaliser (INPHO/Morgan Treacy)
Cork are going to be laughing at the fact we are still in the U21 and we have to go again. But, you know, things have been pushed against us all year, as they were out there today, and we are still there. We are not gone any place yet.
He added: "You just be hoping it isn't all spent. That's the big worry. They gave every single thing they had.
"Cork would feel themselves they will play a lot better the next day. It's hard to know what will happen."