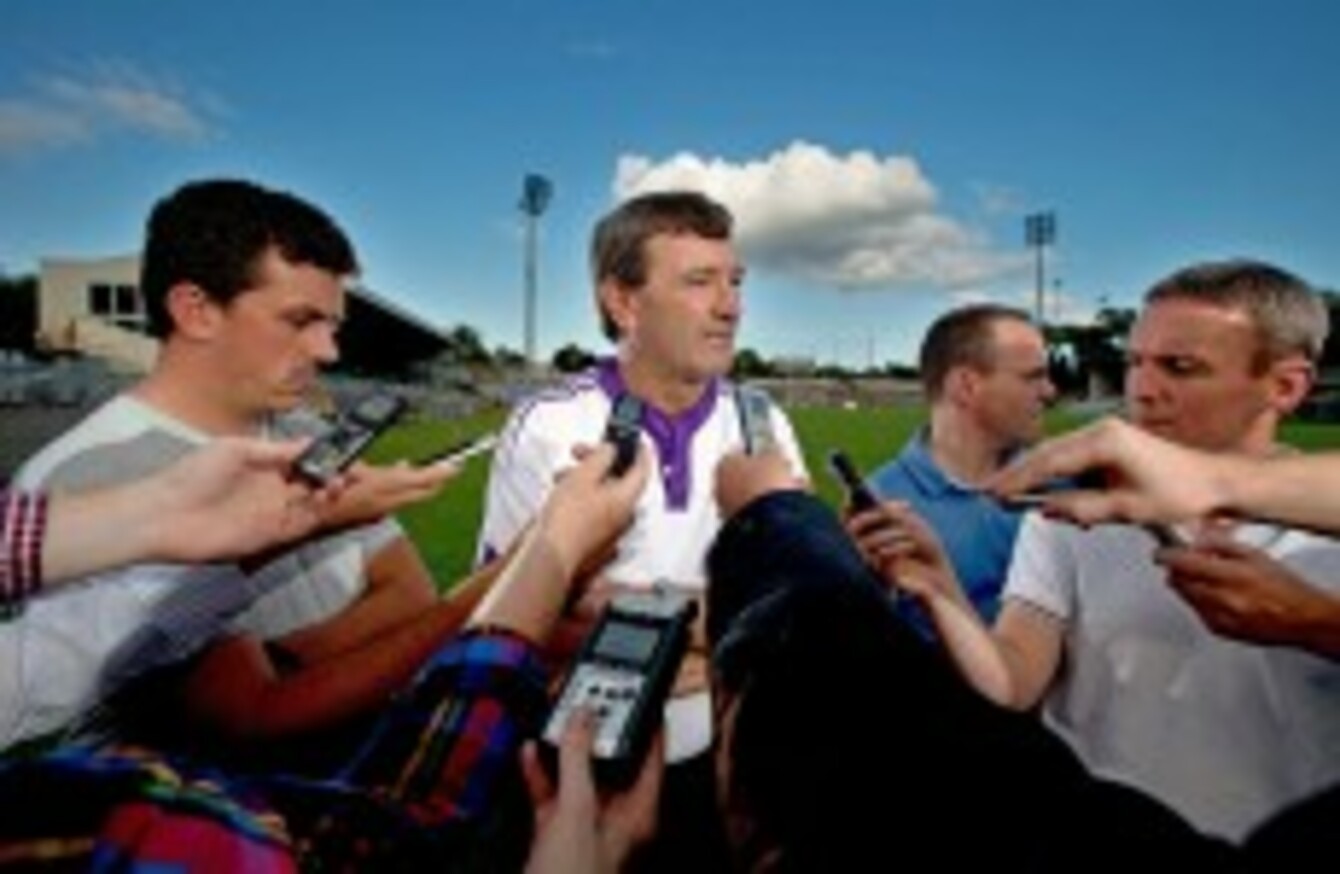 Barry-Murphy at the Cork press night last week.
Image: Ryan Byrne/INPHO
Barry-Murphy at the Cork press night last week.
Image: Ryan Byrne/INPHO
JIMMY BARRY-MURPHY is confident that Cork will be ready for Tipperary this Sunday despite the five-week gap from their Munster final win. Limerick never caught fire in their semi-final against Clare last year after an identical layoff but JBM says his side will have no excuse if they fail to show up against Tipperary.
"Sometimes you feel the break is good, other times you don't. Limerick had a similar break to what we did last year and talking to some Limerick people, they feel that they started very badly against Clare," Murphy said.
"It's something we're conscious of, we're trying to work on. We've been training very hard, training has gone well. There'll be no excuses from our point of view. We wanted to win the Munster final badly and we feel the break has done us good."
The Munster win against Limerick was Cork's first provincial crown since 2006 and Murphy says that he can already notice a difference in the players mentality. But despite getting the Munster monkey off his team's back, Murphy isn't 100% sure how much of an impact its made in training.
"Training has been fantastic anyway so I'm not so sure it's tangible, can you put your hands on it and say that was due to the Munster final? Training was good all along, and it was great before the first Waterford game as well and I didn't see that display coming."
"But I can see in training that they're very hungry for success, the win over limerick was huge psychologically and we got the breaks, the goals went our way. We didn't start well, could have been further behind, and when I reflect on it after the euphoria died down, we could and should have been six or seven points down and it might have been harder to chase down."
Over the last number of years, underage hurling has belonged to Clare  and in particular the U21 championship. But despite Cork's lack of underage medals in recent times, Murphy says he never lost faith in Cork's ability to compete. His comment that "there's always hurlers in Cork" was one that got particular attention.
"Sometimes I say things and I don't be thinking too much about them! But I did feel that. The lack of underage success has been bandied about but we've got some very good hurlers out of the underage like Christopher Joyce, Alan Cadogan."
"I firmly believe that you needn't be winning minor All-Ireland's or U21s to be a really good county. Clare in my opinion right now have one of the best U21 teams I've ever seen in my life. But again, I don't think for a second we wouldn't be able to compete with them at senior next year."
As many Cork fans hoped it would, the return of Barry-Murphy has heralded somewhat of a renaissance within Cork hurling. Before he took over, the side was an aging one without much backup, something JBM knew would need to change if they were to be successful.
"It looked like the back-up resources weren't as strong as you'd like. The nucleus of the team were giving great service but were probably coming to the end of the best of their days. You'd be afraid the gap would be too big to bridge to keep us competitive, but it's our third semi-final in a row and that's a great achievement in itself."