ON 9 JULY last year, Cork's season was brought to a shuddering halt as they lost to Wexford in the championship for the first time in six decades.
Move forward twelve months and yesterday Stephen McDonnell was hoisting the trophy into the air after Cork had completed a deeply satisfying Munster hurling campaign as they were crowned champions.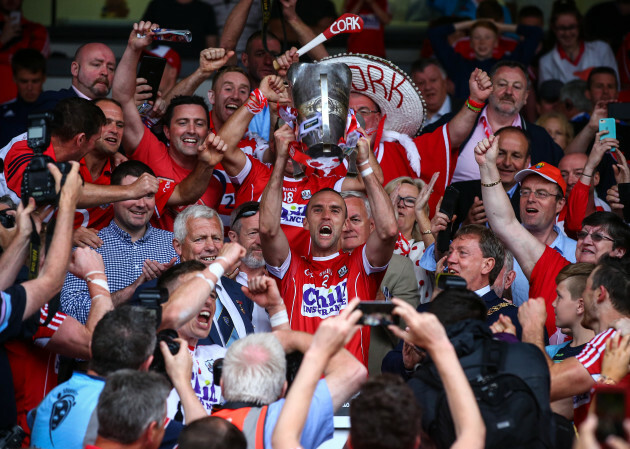 Cathal Noonan / INPHO Cork captain Stephen McDonnell lifts the trophy. Cathal Noonan / INPHO / INPHO
It's been a remarkable turnaround in their fortunes but what have been the key factors in Cork's rapid improvement?
1. The injection of youthful talent
When Cork lost that game against Wexford last summer, their only links to the county U21 team were when Shane Kingston and Mark Coleman came on in the last 10 minutes. Yesterday that pair of 19-year-olds were starting on a Munster senior winning team, joined by Darragh Fitzgibbon (20) and Luke Meade (20) in the starting side.
Michael Cahalane (22) was sprung from the bench while Patrick Collins (20), Chris O'Leary (20) and Robbie O'Flynn (19) also made the match-day squad. Colm Spillane (24) is older but this has been a breakthrough campaign for him after a few years wrecked by injury.
Coleman has been the standout figure with a series of wonderful displays of class from his half-back position. The contributions from the other newcomers have still been extremely valuable and lifted Cork's entire squad as a result.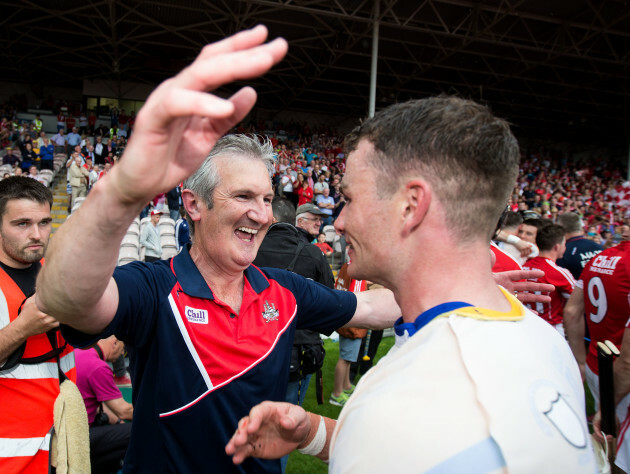 Cathal Noonan / INPHO Kieran Kingston and Colm Spillane Cathal Noonan / INPHO / INPHO
2. Plugging the holes in defence
Scan back over Cork's last few seasons and the scoring totals conceded jump out. In 2014 they shipped 2-18 against Tipperary, in 2015 they leaked 3-19 to Waterford and 2-28 to Galway, and in 2016 they were taken for 0-22 by Tipperary and 0-23 by Wexford.
On average this season in Munster, Cork have conceded 1-20. But look closer and the improvements can be detected. Cork have succeeded in shutting down opponents lethal inside men in open play.
Tipperary's Seamus Callanan and John McGrath were held to a combined haul of 1-3, Waterford's Maurice Shanahan and Shane Bennett were restricted to 1-1, while yesterday Conor McGrath posted 1-1 and Shane O'Donnell was held scoreless.
Damien Cahalane has been a towering presence, Colm Spillane has provided a specialist man-marker and Mark Ellis has offered protection to that rearguard. Cork were simply conceding too many scores but the evidence suggests that the holes at the back have been plugged this summer.
Cathal Noonan / INPHO Damian Cahalane celebrates Cork's victory with Anthony Nash Cathal Noonan / INPHO / INPHO
3. Getting their experienced forwards firing
Derek McGrath spent plenty time beating the drum this season that despite the struggles Cork were mired in, they possessed a forward line capable of wreaking havoc. It's only four years since Patrick Horgan and Seamus Harnedy were All-Stars, Conor Lehane was close to occupying that status, while Alan Cadogan had exploded onto the scene in 2014.
Three years ago in the Munster final win over Limerick, that quartet posted 1-18. In yesterday's triumph they contributed 1-20. Horgan and Cadogan were the undisputed stars but Lehane was exceptional in the previous two games, man-of-the-match against Tipperary, while Harnedy has been scaling the heights.
Cork needed to tap into the best that quartet had to offer. They've delivered so far in 2017.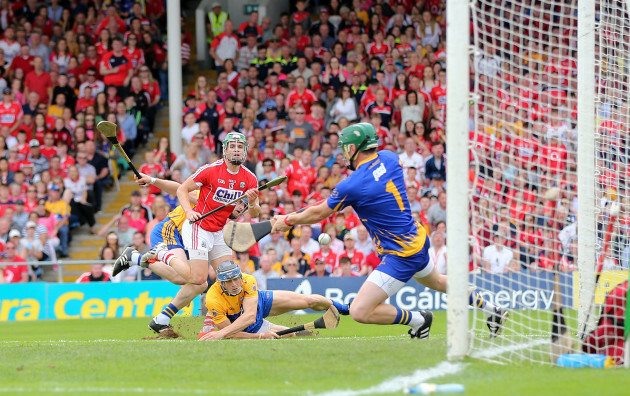 Cathal Noonan / INPHO Alan Cadogan scores the opening goal of the game for Cork Cathal Noonan / INPHO / INPHO
4. Capable of handling in game setbacks
It was striking in recent campaigns how deflated Cork were by the concession of goals. Callanan's goals either side of the break in August 2014 sunk that Cork team, Maurice Shanahan and Jake Dillon hit the net to wound Cork in June 2015, and that July they never recovered after Johnny Glynn smashed his way through for an early Galway goal.
This season there has been a sense of a more mature Cork side. When John McGrath rifled home that marvellous goal in the quarter-final, it looked to be a springboard for Tipperary but Cork responded to outscore them by 1-4 to 0-3 before the final whistle.
Maurice Shanahan's 46th minute goal looked set to energise Waterford in the Munster semi-final as it brought them level but they lost the remainder of the match by 0-8 to 0-3.
Yesterday Clare's spirits were sent soaring with a clinical Conor McGrath goal and a huge point from Tony Kelly to cut the deficit to two with 15 minutes left. But Cork weathered that storm again with an instant retort of stylish Cadogan and Horgan points. They have been much improved this summer in coping with setbacks.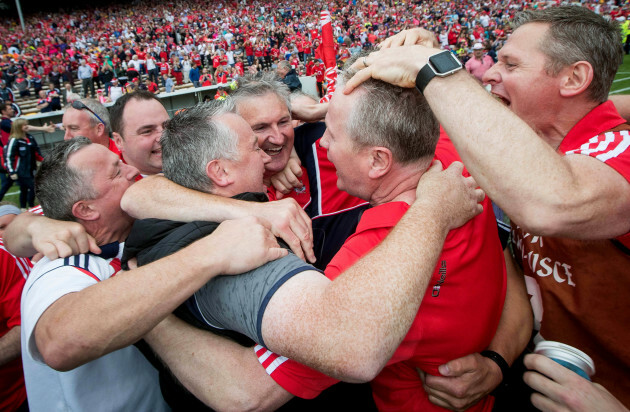 Ryan Byrne / INPHO The Cork management celebrate their victory Ryan Byrne / INPHO / INPHO
5. The mix of their management team
Kieran Kingston has rightly gained plenty credit for steering Cork back to success but the team he has assembled around him on the sidelined look to have had a key input as well. Diarmuid O'Sullivan and Pat Hartnett have plenty defensive experience behind them as players, skills which must have been utilised in making Cork's rearguard more formidable.
John Meyler has provided an important link as U21 manager and senior selector in managing the workload of the youngsters with a Munster semi-final in the underage grade ahead on Thursday night.
And Pat Ryan, installed as coach to the side last September, has overseen a team whose style of play has been similar to that of the Sarsfields side that he was at the helm with during their Cork club dominance.
The42 is on Instagram! Tap the button below on your phone to follow us!