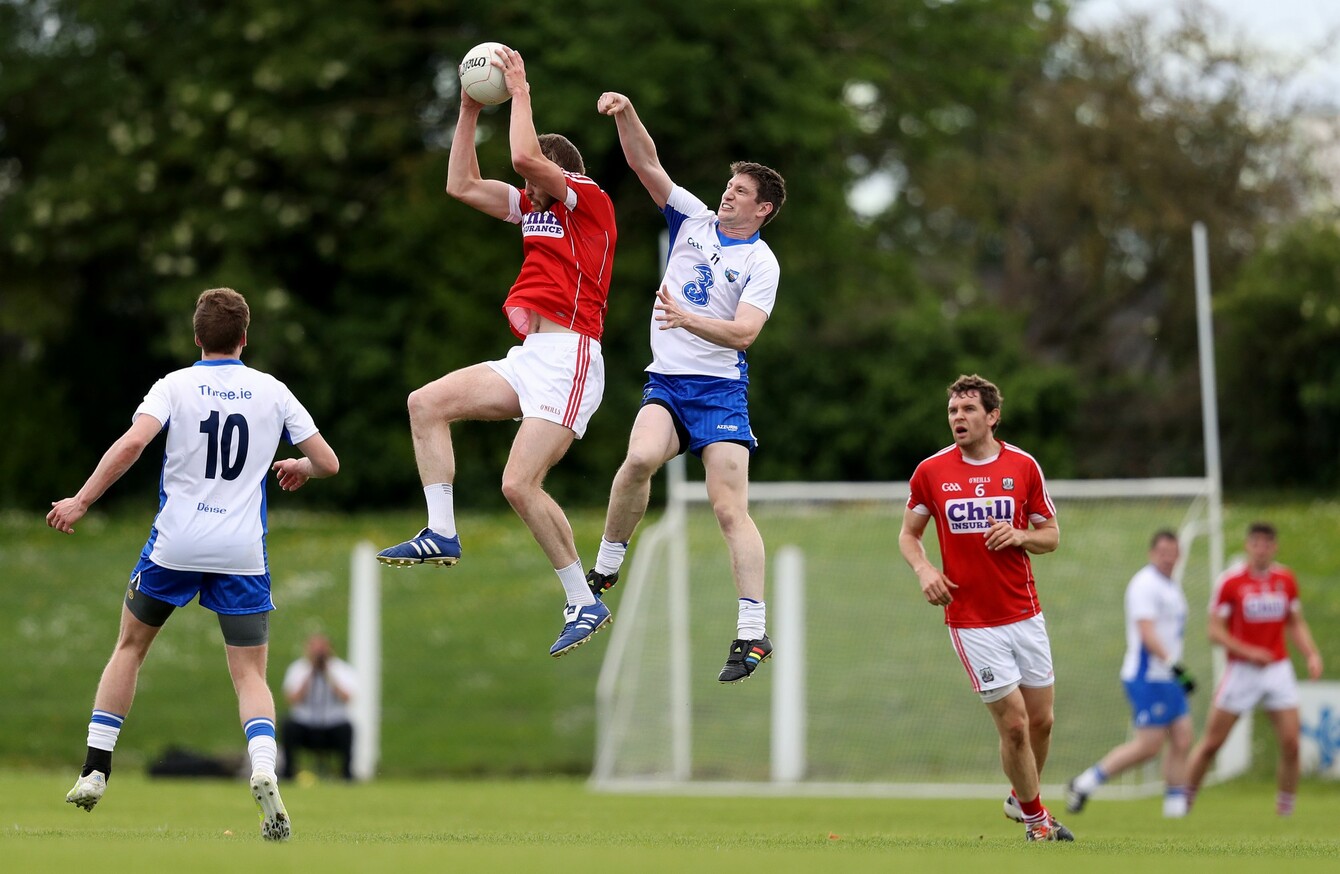 Mícheál Ó Laoire rises to catch a kickout in Saturday's match.
Image: Tommy Dickson/INPHO
Mícheál Ó Laoire rises to catch a kickout in Saturday's match.
Image: Tommy Dickson/INPHO
THE FRAHER FIELD was sparsely populated for last Saturday's Munster football curtain-raiser.
Yet the low-key atmosphere for the junior game between Cork and Waterford did not detract from the significance of the match for one player.
When Cork midfielder Mícheál Ó Laoire lined up for the throw-in, it was the culmination of a remarkable comeback.
Rewind twelve months and the Naomh Abán player was recovering from donating a kidney to his older sister Niamh.
His club manager Eoghan Hyde was present at the Dungarvan venue to witness Ó Laoire in action.
"It was unbelievable to see. I remember last year we were shocked first to hear that Niamh was so ill.
"In Ballyvourney football is like a religion but when that happened you were just thinking of her and the family.
"For Mícheál to have the courage to have the operation and be so selfless was amazing.
"We didn't know whether he was going to come back at all but he was always adamant he would."
The operation was a success and after recuperating Ó Laoire was determined to return to playing.
The Ballyvourney native had previously demonstrated his football prowess on the inter-county stage.
In 2011 he stood at midfield alongside Aidan Walsh as part of a Cork team that ripped Kerry apart in Páirc Uí Rinn as they lifted the Munster U21 football title.
In August 2013 he won an All-Ireland junior football medal, again lining out at midfield and chipping in with a point as Cork defeated Kildare at the Gaelic Grounds.
In 2014 he was drafted in by Brian Cuthbert to the Cork senior panel for the start of the season, sprung from the bench in league games against Derry and Kerry.
Paul McCarthy was Cork junior football boss for that victorious campaign in 2013.
After observing Ó Laoire's role in that triumph, the Kinsale man was planning on pencilling him in to his junior team-sheet last summer.
"Last year he was due to play with us for Cork but he got the call the week of the game that he was a match for his sister.
"That's more important than any game of football. I remember going down to speak to him in Bantry, his club were playing against Castletownbere that night, and he had to withdraw from that game on doctor's advice before the operation.
"Most people thought he might only get back playing club football but he was clearly determined to go back."
A few months after the operation, Ó Laoire was back lining out in a championship battle.
"He was our captain last year and is as well this year," says Hyde.
"He came back a few weeks after the operation to training, watching on.
"We didn't put him under any pressure but then he started training again and came on against Fermoy last August in a county quarter-final.
"This year he's really taken off again. He's a very unassuming and nice guy. His family are steeped in GAA, his dad Mick played for us for years and his mother Joan is our club treasurer.
"We're all just thrilled to see him back playing for Cork again. It's a great story."
The youngest of seven children, Ó Laoire's brother James plays club football with him while his older sisters are his most vocal supporters.
"Back in 2013, we played the All-Ireland junior semi-final against Lancashire in Manchester," recalls McCarthy.
"Some of his sisters flew over to the match. I reckon there were five Cork supporters at the game and three of them were his sisters. We used to call them the Mícheál fan club.
"They've tremendous loyalty to each other, you can see that. It was a very unselfish thing that he did and you'd have to admire that. It was a big decision to make.
"There was no hesitation this year when I picked up the phone, Mícheál was in. He was delighted to get on board.
"He's a quiet unassuming fella. Just to see him playing again on Saturday was tremendous and he was really dominating in the second half."
Ó Laoire marked his return on a winning note. Cork stormed past Waterford with 21 points to spare.
A Munster final beckons in late June. It'll be a decider for him to savour.
The42 is on Instagram! Tap the button below on your phone to follow us!