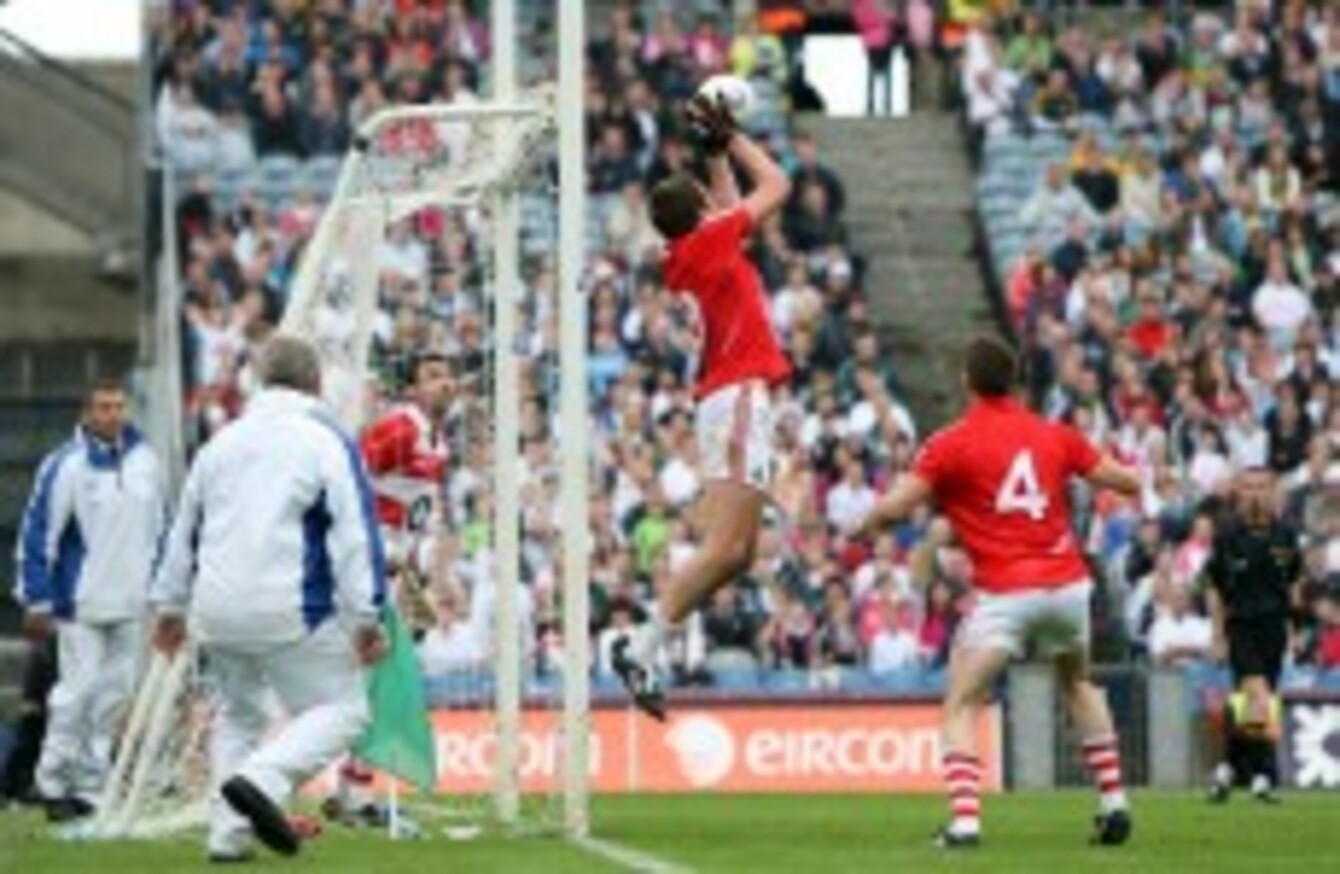 Cork's Aidan Walsh gathers a free that drops short of the crossbar in Sunday's clash with Kildare.
Image: INPHO/Colm O'Neill
Cork's Aidan Walsh gathers a free that drops short of the crossbar in Sunday's clash with Kildare.
Image: INPHO/Colm O'Neill
I WAS IN the tunnel in Croke Park last year after Kildare lost in heart-breaking circumstances to Donegal at the All-Ireland quarter-final stage.  I was there again this weekend, after their crushing defeat to Cork, and it was strange to see the difference in their manager Kieran McGeeney's demeanour this time around.
Last year, he was barely capable of putting a sentence together, so devastated was he by the manner of their extra-time, last-minute defeat.  Last weekend, he was tired, he was upset, but he was magnanimous, gracious and composed.
It just goes to show that losing when you're definitively second best – while hard – is infinitely better than coming out on the wrong end of a 50-50 game.  And after a series of hard-luck stories in the closing stages of the championship, the manner of last Sunday's defeat to Cork brooked no argument.  Cork were just a far better side.
I don't think anyone saw it coming.  Having seen so much of Kildare in recent weeks with Newstalk, we had form and fitness to go on.  On the flip side, having seen so little of Cork, it was hard to judge exactly where they would be.  For the first half, Cork were feeling their way back into this championship – after the break, they steamrollered their way over Kildare, into the semi-finals and up to the top of pretty much everyone's list of favourites for the All-Ireland title.
That second half change of gear had a bit to do with blowing the cobwebs off, and also quite a bit to do with the return of Patrick Kelly to the starting lineup.  He's the guy who makes Cork tick – a confident runner with the ball, an accomplished foot-passer, and a metronomic passer.  He's the guy who elevates this team into something even more than the sum of its admittedly impressive parts.
Alan O'Connor is not having a particularly great summer, and Pearse O'Neill may yet have a major say in how Cork go this year, but beside him Aidan Walsh is a phenomenon.  Quite a few people have been talking about how the GAA has effectively scuppered our chances of ever punching above our weight (boxers aside, obviously) on the medals table at the Olympics, and Aidan Walsh would be Exhibit A for the prosecution.
Imagine him at the rowing last week, or anywhere else in the Olympic Park for that matter.  As it is, he has difficult decisions to make about choosing hurling over football, and the Cork football family is justifiably losing enough sleep over that one. They are playing with the kind of confidence and the swagger that we haven't really seen, not even in 2010 when they won their All-Ireland, and that makes them very formidable opponents.
The consensus leaving Croker on Sunday was that the winners would definitely come from that Cork-Donegal semi-final, a game people are already counting down to.  That is symptomatic of two things really – how poorly Dublin are playing, and how important Andy Moran is to this Mayo team.
Certainly if it wasn't for Moran's devastating injury in the second half of a game that Mayo had already comfortably won, many people would be quietly confident of the Connacht champions dethroning the reigning title-holders for the second summer in a row.  Without Moran, Mayo look a little light in the forward line, and a little short of leadership.
On the other hand, they face a Dublin team that are currently playing like a side that are waiting to be put out of their misery.  Certainly speaking to Pat Gilroy after the game on Saturday night, he seemed like a man who was befuddled by the lack of spark in his team.  He's in an All-Ireland semi-final, and he has 4 weeks to turn it around, but a team with a smidgen more belief than Laois would have delivered the knock-out blow on Saturday evening.
There's no doubt though that Laois are finally going in the right direction, and they are a supremely fit, well-drilled team, thanks in no small part to the work of Barry Solan, who just two months ago was behind the physical preparation for the Polish national football team at their home European championships.
With Laois' defeat, and Andy Moran's injury blow, it wasn't a great day for Ballaghaderreen men in Croker on Saturday night.  But the opening game of the European championships, and Croke Park against the Dubs, inside two months isn't a bad sporting summer.
What are they
really like?
Rare insights on sport's biggest names from the writers who know them best. Listen to Behind the Lines podcast.
Become a Member
This Week Murph Was – watching the Olympics, like everyone else.  And in particular, I've been blown away by some of the post-race interviews that athletes have been doing.  The rowing was just sensational – pretty much every race had a compelling backstory, a dramatic finish, and a tearful post-race interview.  It's basically an episode of the X-Factor you can actually believe in.  (Here's my own personal highlight… keep it together Inverdale!
YouTube Credit: m3petem3