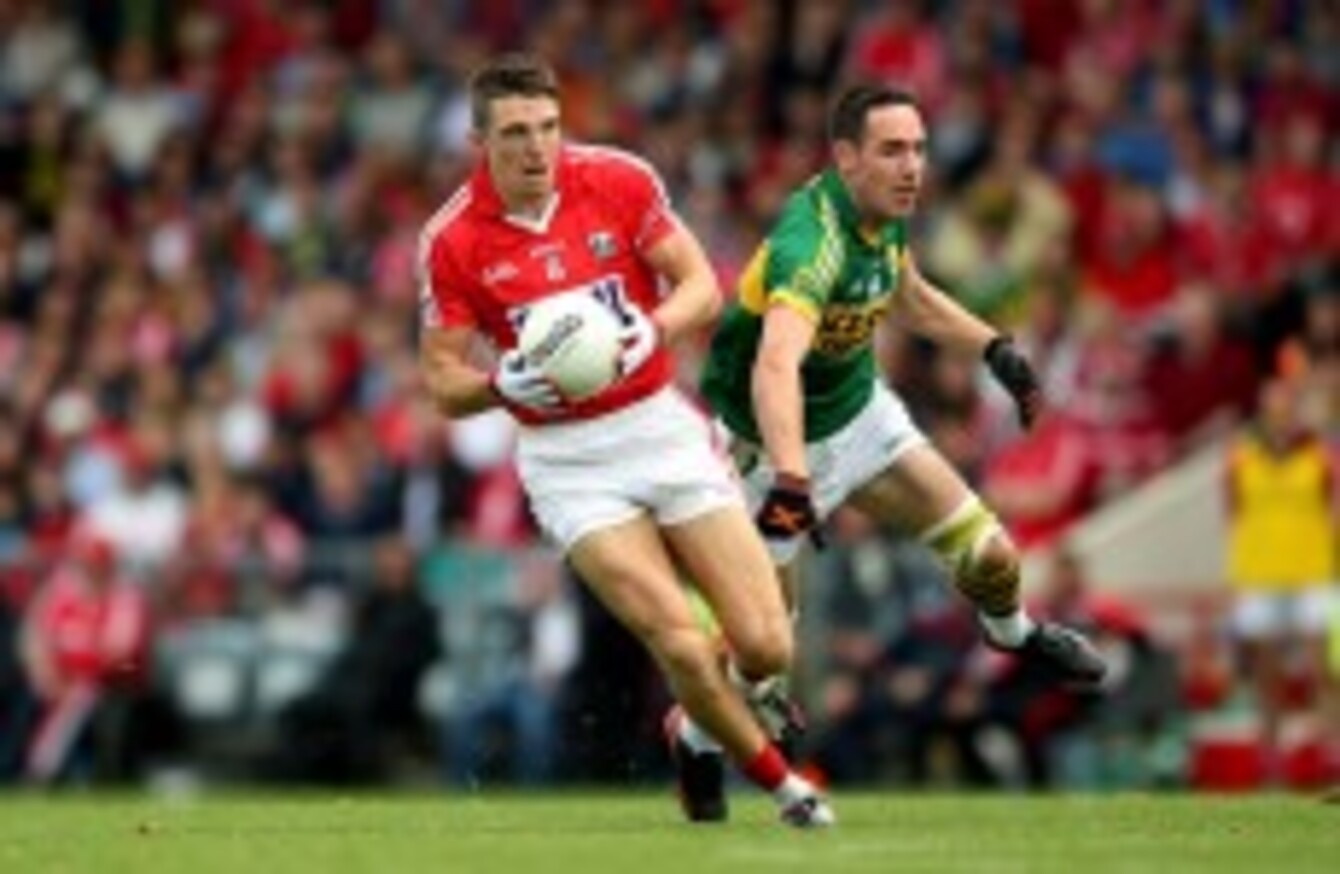 Image: James Crombie/INPHO
Image: James Crombie/INPHO
CORK MIDFIELDER AIDAN Walsh says that the county footballers are aiming to redeem themselves with a win over Sligo this evening.
The Rebel county take on the Connacht side in Tullamore in the first of an All-Ireland Senior Football Championship qualifier double header from 5pm. And, while Walsh and his fellow dual stars were able to move on quickly from their last inter-county football outing, the vast majority of the panel will still very much have the 0 – 12 to 0 – 24 Munster final defeat to Kerry on their minds.
"It was very disappointing for every footballer and football fan that we didn't finish on a high in Páirc Uí Chaoimh," Walsh told TheScore.ie as he sat talking down the phone in the comfort of his home.
"But we're going out now to try and redeem ourselves and get back on the road, back on the horse."
Moving on, however, is easier said than done. Walsh understands the frustration his teammates must feel, but hopes that the smell of silver about the dressing room might increase the determination to take that hurt out on their next opponent..
"With us winning the hurling the week after – being in that position [a footballer without dual status] I would be jealous. I'd be saying 'that could have been us, we should have won a Munster'.
"Winning the hurling will drive the lads on they want to see success coming to the footballers and, hopefully we can do that not far in advance."
The first step in that direction is blocked by Sligo. And though the Yeats County have not yet broken a dozen points or raised a green flag in this season's Championship, favourites is never an easy mantle to carry for a team beaten in a provincial final.
"They're tricky games, like against Tipperary we were very lucky to come out of that," says Walsh, before singling out David Kelly for special praise.
"He's an awesome player. He's one of the best players in the country. And they've a few around him who are fine players and if you don't watch them they'll do damage. They're a fine football team. They do play football so we know they'll put us under serous pressure."
Walsh won't allow himself to be could blowing his own trumpet, though last Saturday night he did tweet his admiration for a man with a full brass band at his disposal.One Conor McGregor.
"You have to have admiration for the guy really. For a fella who talks so much, it's great to see him back it up. He puts himself under a lot of pressure to perform.
"He has his begrudgers, he has people who'd like to see him do badly, but I admire him a lot. I think he's great for the country really. Because he's not above himself. He's about Ireland.
"As he says after the fight: 'we're not here to take part, we're here to take over' – it's very inspiring. He's a fella you'd look up to, the way he trains and his approach to things is crazy. He seems like a fella that you'd enjoy the company of."
Walsh jokes that his character would be the opposite of McGregor's – "more of a Gunnar Nelson type" – and that he won't exactly be threatening Sligo with decapitation before tonight's throw-in to echo the Dubliner.
That said, Walsh carries his own self-confidence comfortably. He is nothing if not meticulous in his personal preparation (as we outlined yesterday), and his voice as steady as he suggests that tonight's game will go well — as long as Cork fill their part of the bargain.
"We know ourselves that if we do what we're told and stick to the gameplan and do what we're capable of doing then -" Walsh checks himself, resisting the urge to utter the word 'win', adding instead – "we can be there or there abouts in the end."
"[Against Kerry] not to put in a performance was the worst of it. Things just didn't work out for us on the day. We're really looking Saturday to put in a performance and to show our potential.
"If that isn't enough on the day and we lose, then we'll hold our hands up, but everything will take care of itself as long as you put in the effort and stick to your gameplan."
Source: SuperValuIreland/YouTube
SuperValu, proud sponsor of the GAA Football All Ireland Championship, are calling on fans to guess who the Mystery GAA player is using #SVwinningtaste on Twitter or Facebook for a chance to win fantastic prizes, including a VIP Trip to the All-Ireland Football Final.