*******************
FEAR SEEMED TO be the overriding theme of Cork's first-half display on Saturday.
With the wind and playing a Tipperary team without many of the stars of last season, Cork set up with a permanent sweeper and allowed an inexperienced Tipperary goalkeeper chip kickouts short.
It took until the half-time break when they were staring a defeat in the face, before a change of tactics resulted in Cork asserting themselves on the game.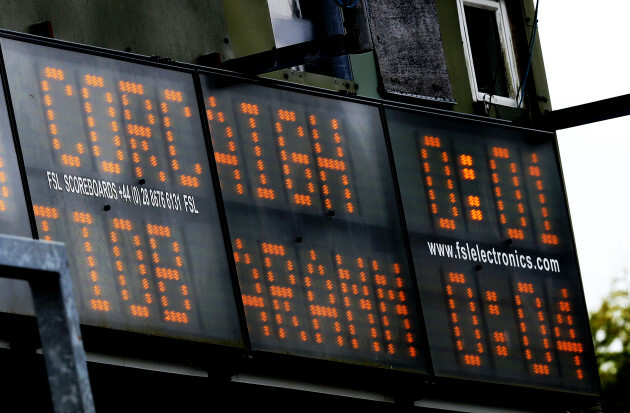 Tommy Dickson / INPHO Tommy Dickson / INPHO / INPHO
Colm O'Neill and Paul Kerrigan had two great goal chances that could have changed the game but you always felt that Cork were more afraid of losing this game then trying to win it.
A case in point of this was the free Cork won in the dying minutes of injury time. They are awarded a free inside Tipperary's 45 with just a couple of minutes of injury time remaining.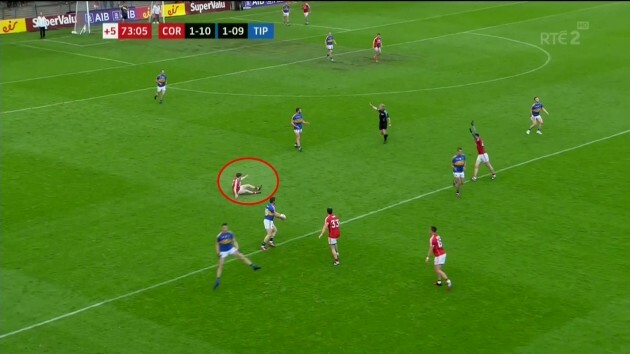 They are with the wind and you would hope that someone would be willing to put the ball down and have a go. Back yourself to put two points between the teams while also taking at least a minute off the clock.
Instead Cork play the ball backwards and come around the houses.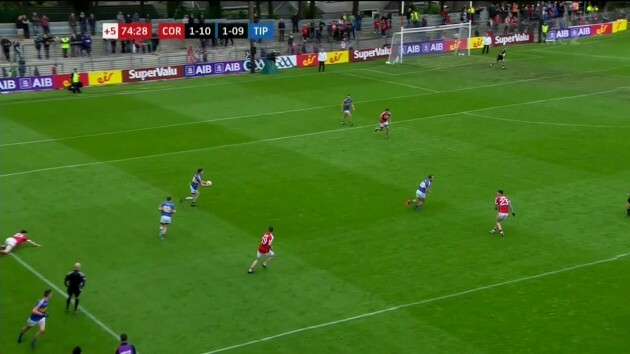 They do manage to eat into the time remaining but they end up getting turned over in a one point game. I don't see Kerry or Dublin taking this option and I guess that shows how low on confidence this Cork team is.
Tipperary Kickouts
Watching the game live it felt like Tipperary were able to go short a few too many times in the first half. This was generally due to a lack of concentration from the forwards than any tactical decision.
For Tipperary's first kickout of the game, Cork are six v six (one man is just out of shot).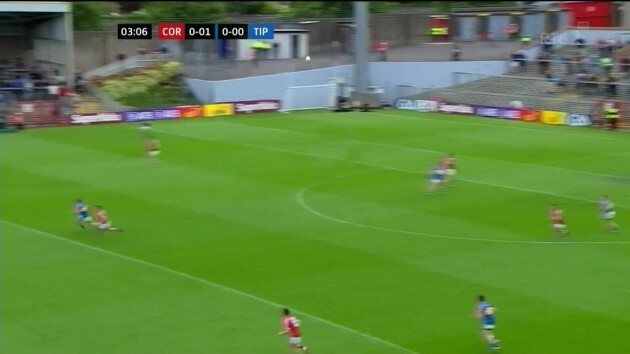 And they force a long ball and win the kickout.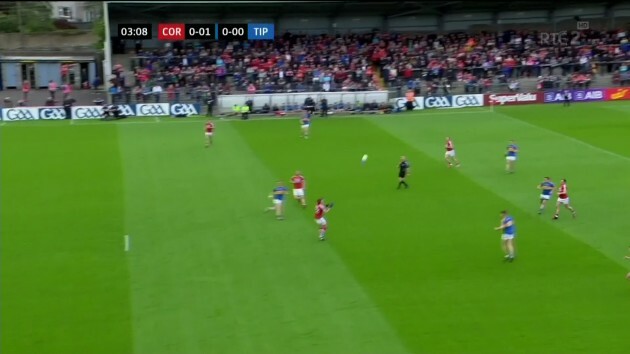 Cork certainly improved this aspect of their play in the second half but I don't think they went out with a plan to let Tipperary have the ball.
Of the first nine Tipperary kickouts in the 2nd half, they managed to win just one and managed to win just 4 out of 14 in the entire half.
This starved them of possession and meant they were relying on turnover ball for most of the half.
Tipperary were often just beaten to the drop zone on their own kickouts. In a contested ball if someone goes and plucks it from the air there is very little you can do and now with the mark, it's not a case of being able to strip the ball from the player.
What Cork did really well in the second half was get ahead of their markers to the drop zone around the break.
Here you can see the Cork forward John O'Rourke has pushed up on his man close to goal but as soon as the ball goes over his head he wants to make it to the break.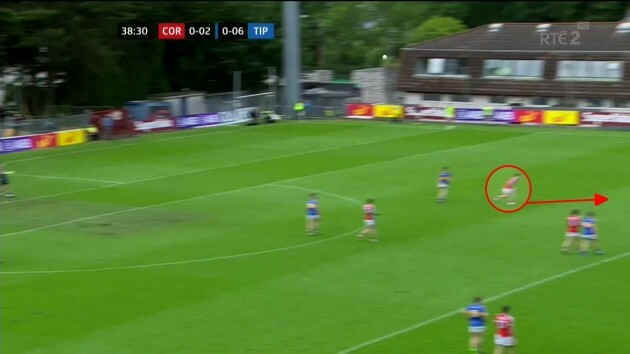 O'Rourke's marker stays more or less where he is.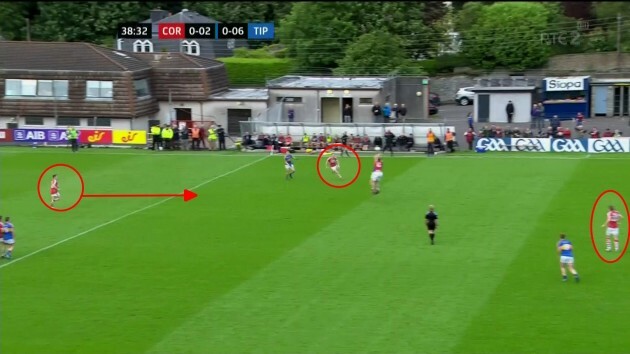 As the ball breaks you can see three Cork men inside the Tipperary men.
Granted they are not immediately under the ball but no matter which way this ball breaks Cork are a step ahead.
And again a few moments later we see Cork beating every one of their men to the break.
They are all inside their markers and that makes winning the break very difficult.
The danger of pushing up
Listening to most pundits you would be forgiven for thinking that there is no downside to pushing up on kickouts but Tipperary showed how dangerous it can be if you get it wrong and have no cover at home.
In this instance Cork have again pushed up and as the ball clears the half-forward line they do a good job of getting a lead on the break.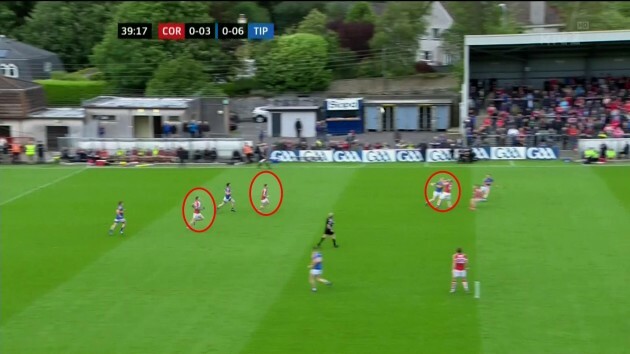 It's a momentary lapse in concentration as two Cork men – Ian Maguire and Sean Powter – jump for the same ball and it allows Tipp in around the back.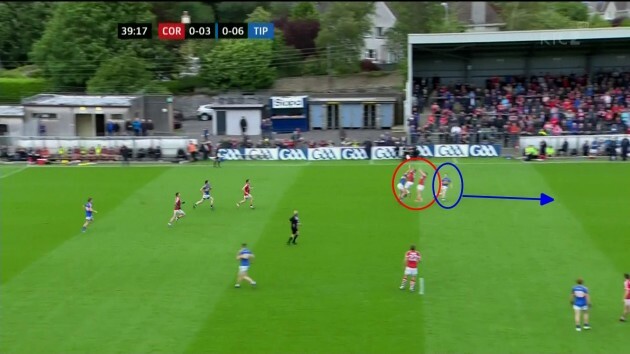 And suddenly you are left with a two v one in front of goal as Liam Boland gathers possession.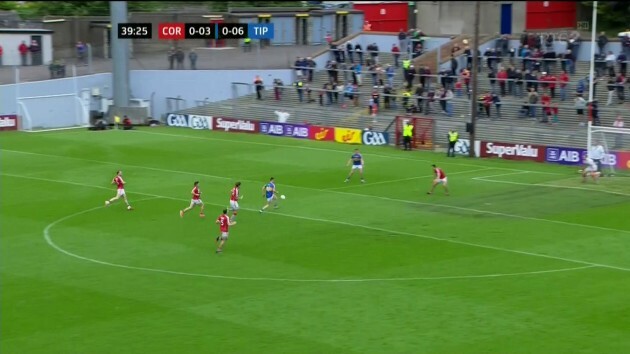 Tipperary don't make the best of the opportunity and you are left wondering how much a goal at that stage would have changed the game, but then both sides could have said that at various stages.
Despite this goal chance teams have to weigh up the amount of ball they can win and pressure they can put on teams by pushing up versus the vulnerability that results at the back.
Cork Goal
The Cork goal was textbook play of arriving off the shoulder and at pace.
Exclusive Six
Nations Analysis
Get Murray Kinsella's exclusive analysis of Ireland's Six Nations campaign this spring
Become a Member
Tipperary will no doubt be gutted to concede the goal but it was by far Cork's best move of the game.
Mark Collins is the main man throughout this move. We see him highlighted here on his own '45.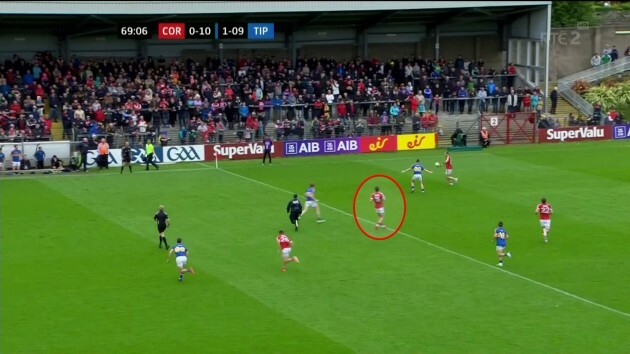 The ball makes its way to midfield when Mark Collins arrives at full pace.
Collins passes inside to Michael Hurley and continues his run, getting ahead of the ball.
You will also see James Loughrey start to make his run from behind his marker Kevin O'Halloran and running at full speed.
Loughrey punches a hole straight through the Tipp defence.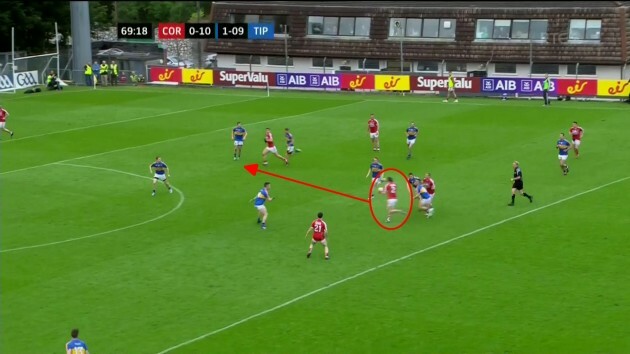 This forces the Tipp sweeper Brian Fox to come forward and Mark Collins runs in to exploits that space.
He's only a yard ahead of his man but this run from his own '45 to the Tipp '21 has caused all the problems.
It forces a three v one situation and leads to a very good score in the end. Luke Connolly will end up in the history books as the scorer but most of the credit should go to Collins for his run.
When it was needed Cork found enough to win the game but I'm not sure the fear of losing ever left them.
Credit has to be given for pulling themselves back from 0-6 to 0-1 down and then again finding themselves behind in injury time.
But bar a few glimpses of form this looked like a performance wracked in fear.
The42 is on Instagram! Tap the button below on your phone to follow us!