CONOR O'BRIEN WAS at the Gaelic Grounds last month to witness Tipperary's hurling league final outing.
His presence was not unusual, his role on the day was.
After being first drafted in by Babs Keating back in 2007, he called a halt to his Tipperary career in late October last year.
Retirement has changed his role to observer. Working as a Garda at the Mayorstone station in Limerick meant he was on duty that Sunday when Galway flattened the reigning All-Ireland champions.
"It was a bit of a different day alright," laughs O'Brien.
"I would have gone to the league final anyway but it just ended up I was working. It was actually my third time seeing Galway this year, I've seen more of them than Tipperary.
"They'd played Limerick down in the Gaelic Grounds twice before that, so I was working at those."
He'd liked to have taken in more of Tipperary's matches this spring but there's other commitments to be met now.
His 3-year-old son Cillian was with him to share in the Croke Park glory last September, since then Emma has arrived as the latest addition to the O'Brien family.
He's out pucking around or kicking a football with Éire Óg-Annacarty a few nights a week as well, he's enjoying being back at the coalface with his club.
"Both myself and my wife Claire do shift work. It's very busy from that point of view with two young kids. The club is a commitment as well but it's really good to be with them the whole time now.
"We built at home in Annacarty about 18 months ago, I'm trying to sow the lawn at the moment, it has my heart broken! I've found that I've more than enough to keep me going."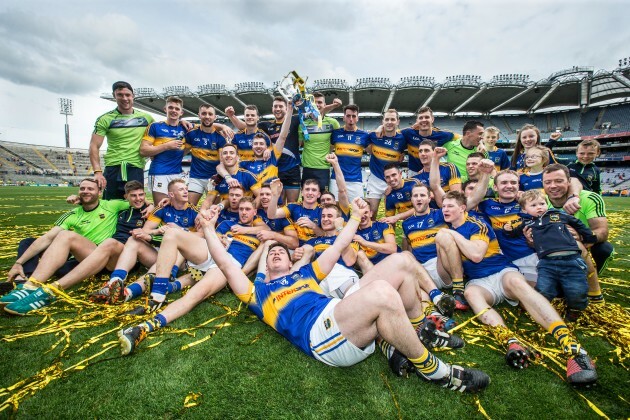 Cathal Noonan / INPHO Conor O'Brien (front right) with his son Cillian in Croke Park last September. Cathal Noonan / INPHO / INPHO
Tomorrow O'Brien will be looking on as Cork and Tipperary enter championship combat.
Shane O'Neill can relate to that sense of adjusting to being an onlooker.
He stepped up to the Cork senior hurling squad in 2005, fresh out of the minor ranks. Last April when the Cork championship squad was assembled for the coming summer, O'Neill didn't make the cut.
He wasn't alone – Patrick Cronin, Paudie O'Sullivan, Cian McCarthy and Stephen Moylan were other familiar figures no longer involved – but the decision ended a way of life he had grown accustomed to.
Yet turning his back on Cork GAA wasn't a road O'Neill was ever going to go down. He's been keen to cheer on former hurling team-mates as much as possible this spring.
Being good friends with Ken O'Halloran and Michael Shields enticed him to watch the Cork footballers as well.
James Crombie / INPHO Cork footballers Ken O'Halloran and Michael Shields. James Crombie / INPHO / INPHO
"I'm going to the game on Sunday, I'm a Cork supporter and it's my home county. I still think I could contribute, so of course it's difficult from that perspective.
"But I'm not part of the management team. It's out of your control, you accept it and move on.
"I was at the Clare, Dublin and Limerick games in the league. I didn't travel to Kilkenny or Waterford, and I went to at a lot of the football league games as well.
"I'm still friendly with a lot of those lads and I'm conscious that they would always have supported me down throughout the years.
"It's been such a massive part of not only my life but my girlfriend's life, my friends' lives and my family's life because it wasn't just me investing my time.
"It was people around me investing time and making sacrifices as well in order for me to perform, whether it was my parents driving me to Cork minor training or in more recent years with work being flexible and allowing me to leave early to make training.
"It all adds up. I think if I was to put a stop to going to Cork games, that would have been pretty massive and I was conscious of that."
Seasons playing with Cork naturally consumed a lot of O'Neill's time. When that involvement ended, he has poured his energies into other areas.
A few years back he switched careers from chemical engineering to study accounting, currently working for PWC in Cork.
"I was studying for my final exams this time last year, so that definitely would have kept me busier than I normally would have been during the summer. But I would have noticed it massively this winter.
"There were no pitch sessions, there were no field sessions, there was no conditioning programme. But you just get on with it.
"You'd be surprised, your calendar fills up pretty quickly. There's work commitments, I'm trying to play golf a bit more and you're obviously still training with the club. There's plenty of stuff to be doing."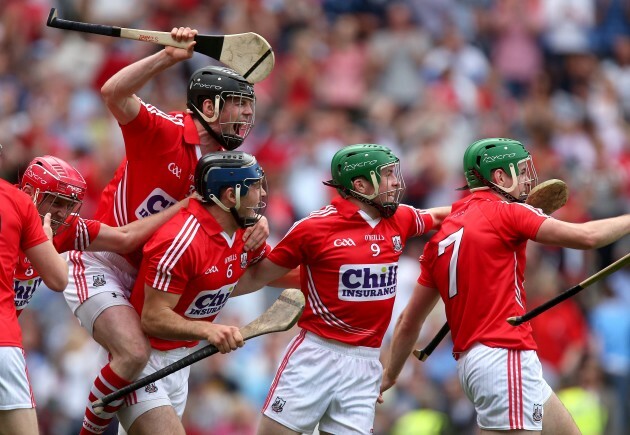 Ryan Byrne / INPHO Shane O'Neill celebrating Cork's All-Ireland semi-final win in 2013 with team-mates. Ryan Byrne / INPHO / INPHO
O'Brien's final season ended in a blaze of triumph for Tipperary but personally 2016 was a frustrating grind. A persistent Achilles injury never enabled him to have a clear run at breaking into the starting side.
When Tipperary beat Kilkenny back in 2010, O'Brien was immersed in that Liam MacCarthy Cup triumph as he was sprung from the bench. Six years on it was the same result but a different feeling.
"For all the time I'd been in there with Tipp, I wasn't always starting but I was always at least coming on and contributing. It was very hard last year sitting in the stands.
"You're working just as hard but you're not getting in there. It was difficult.
"I was very lucky that I'd an injury free run for most of my career. I picked that up last year and it held me back for seven or eight weeks and I just never got back in.
"But that was just the way it went. We got over the line for the All-Ireland and that was the main thing."
Cathal Noonan Conor O'Brien (right) and Eoin Kelly celebrate Tipperary's 2010 All-Ireland win. Cathal Noonan
For both O'Brien and O'Neill, the Cork-Tipperary rivalry conjures up plenty memories, starting out as young impressionable fans.
O'Brien remembers clearly the two-game Munster final saga in 1991 with local hero Pat Fox sparkling on the scoreboard and a pair of classic games that merited replayed viewing on video for years to come.
O'Neill recalls travelling up to Thurles for the 2000 Munster decider, standing on the terrace and sensing something special as he celebrated when Cork claimed a two-point victory.
Their county underage days were characterised by big provincial finals. O'Brien won both finals against Cork in minor in 2003 and U21 in 2006.
In between O'Neill captained a successful minor team in 2004 against Tipperary and played in a victorious U21 decider against the Premier in 2005.
"Cork came to play us in Thurles in 2006," remembers O'Brien.
"We wouldn't have been seen to have a fantastic U21 team, only two of the senior panel at the time in James Woodlock and Darragh Egan.
"But we managed to beat them. That was a big win for us.
"Cork were after beating Waterford in the senior semi-final the Sunday before, all the talk was about keeping an eye on Cathal Naughton after he'd scored that goal.
"Fr Tom (Fogarty) and Len Gaynor were over us, we nearly went on to win the All-Ireland after against Kilkenny. But Richie Hogan got a goal at the end of the drawn game, he's been a thorn in our side a few times since, and they won the replay."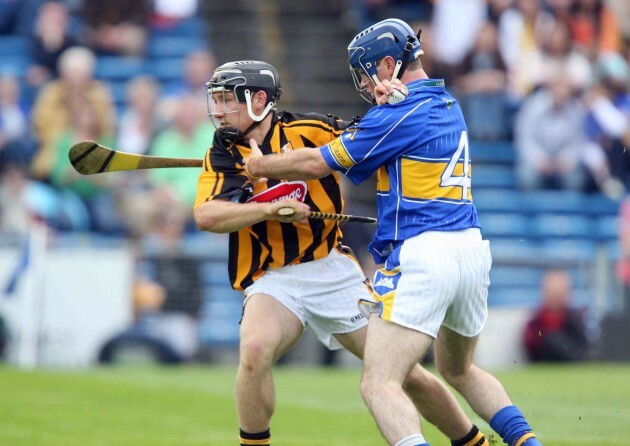 Andrew Paton / INPHO Conor O'Brien (right) in action against Richie Hogan in 2006. Andrew Paton / INPHO / INPHO
"It probably happened so quickly, there was such a rush afterwards because the seniors were coming out," says O'Neill, thinking back to that 2004 minor clash.
"You don't get to appreciate it at that moment but looking back a few weeks after winning and looking back now, it was incredible. It's one of my best memories playing to this day."
In time there would be landmark wins for both at senior level.
"My debut against Cork in 2008 was something I'd always remember," says O'Brien.
"I was marking Paudie O'Sullivan, I think he was making his debut as well. We'd targeted it all year, Tipp hadn't beaten Cork in 80 years.
"I remember the supporters ended up on top of us at the Blackrock End, they'd to go on the pitch. It was just a great day."
Two years later, Cork took a wrecking ball to a fancied Tipperary side early in the season.
"That was probably my first massive senior win in a Cork jersey," states O'Neill.
"You'd think of Munster championship games with warm weather but that day the weather wasn't great.
"We weren't favourites but we started unbelievably well with Aisake and Hoggy inside, and just kept going. I can remember nearly every play from that game."
Before the onset of this championship, O'Brien has found himself reflecting on the changed circumstances that sees him looking in from the outside as Sunday draws near.
"I was only thinking about it this week when I was home on Tuesday evening, that this time last year I was going into training and trying to fine-tune for Sunday.
"But I'm enjoying it too. These weeks were all about training matches and trying to push yourself up the ladder to start or come on.
"That pressure is off now, which is a nice thing too. I'd given it everything I could when I was in there."
For O'Neill there's been a shift in the interaction with players he spent over a decade sharing a dressing-room with.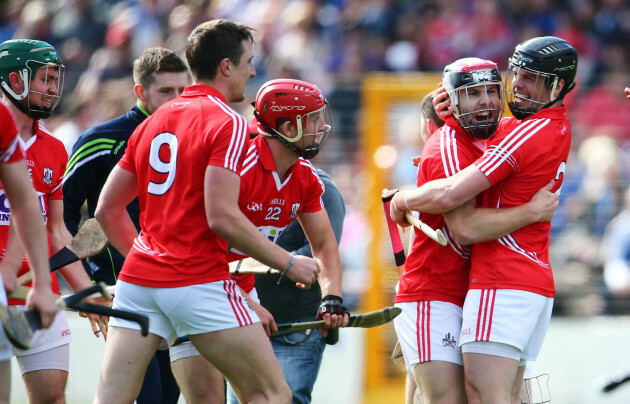 Cathal Noonan / INPHO Shane O'Neill (right) celebrating Cork's 2015 league semi-final victory. Cathal Noonan / INPHO / INPHO
"It's not just the friendship you've built up when you're involved in the senior team, it's more the friendship you've built up from playing through different underage groups.
"You're kind of institutionalised in a way because you're so set in your ways, meeting the same bunch of lads and it naturally becomes such a big part of your life.
"That's the thing you miss the most and I'm sure other former players would say the same. But Cork is such a small place, you'd see them in town or meet them playing club games.
"I've gone to a few Liverpool games with Paudie O'Sullivan over the last year and I'd still be in touch with a lot of them from time to time."
He's also been keen to focus his efforts on where his hurling all began for him.
"The thing I've realised is that there's team-mates of mine in Bishopstown that have been sacrificing over the last decade a holiday with their girlfriend or going on a J1, just to stay around and play with Bishopstown.
Patrick Cronin, Johnny Crowley and Shane O'Neill at a presentation from Bishopstown GAA earlier this year.
"They've had absolutely no guarantee when doing that, that there'd be a championship game in the next month or two. I definitely appreciate it more.
"That would be at the forefront of my mind going back playing with the club. They waited around most summers just because myself and Pa (Cronin) would have been involved with Cork.
"So at the very least I need to give something back from that perspective."
Tomorrow they'll both travel to Thurles, O'Neill pointing the car north on the motorway from Cork and O'Brien driving in from his home in West Tipperary.
Two defenders who spent plenty afternoons hurling in the spotlight on the pitch, now taking their seats as spectators.
And yet there's still a sense of anticipation. A different one but it's there nonetheless.
"It'll bring back massive memories," says O'Neill.
"There'll just be great memories of playing. Not only in Thurles but on a big championship day for Cork when the pressure is on.
"It's such a proud moment for any player going out wearing a Cork jersey representing his family and club, especially when it's against Tipp in Thurles. Cork fans and players have always enjoyed going up there."
"I'm really looking forward to it," says O'Brien.
"Myself, Clare and Cillian are all going in, we'll have the jerseys on and shouting on Tipp.
"It's going to be very hard to call it but I'm just hoping Tipp will get through and it'll click for them after the league final."
Playing days behind them both but a new Semple Stadium experience awaits.
The42 is on Instagram! Tap the button below on your phone to follow us!