OVERALL, WATERFORD ENDED up being convincing winners in yesterday's All-Ireland semi-final, even though the game was still very much in the balance with 15 minutes left to play.
The crucial turning point was Damien Cahalane's second yellow card, and the period of time thereafter when Waterford tacked on some crucial scores.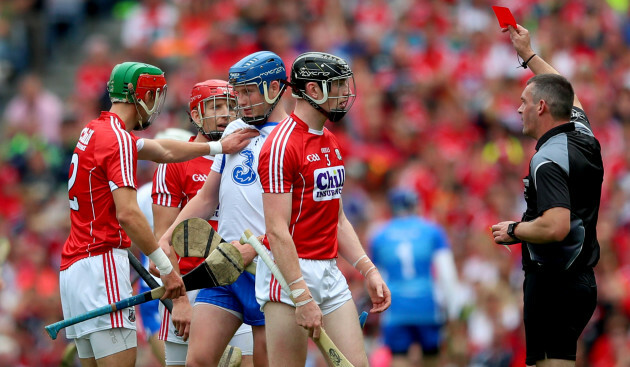 James Crombie / INPHO James Crombie / INPHO / INPHO
But the wider point is that Waterford showed experience and composure, despite not playing at full potential for a good part of the match.
When the opportunity presented itself however, they had the game smarts to finish off Cork, and make up for some of the disappointments of recent years.
You could also see that Waterford had a huge amount of homework done on Cork's style of play, and knew what to expect as the game wore on.
Waterford began to gain more control of it, even though Cork fought manfully to the end and had some significant performances, particularly from Patrick Horgan in the forward line.
But Waterford had the measure of Cork – and displayed some key qualities throughout.
Waterford quality and composure
We all know how Waterford play with a sweeper, and that they're very measured in their use of the ball.
But what was interesting yesterday was how they were far more formidable in attack than what we'd been used to seeing from them.
It's really worth pointing out how good they can be, when they implement their style of play how they want to.
3 minutes, 31 seconds: Waterford's first goal comes from a Stephen O'Keeffe puck-out, following a Horgan point.
O'Keeffe picks out Shane Fives, who goes up the Cusack Stand touchline with a lovely, accurate ball to Jake Dillon.
Damien Cahalane misjudges the flight of ball and allows it through to Dillon, who plays a smart ball inside to Shane Bennett.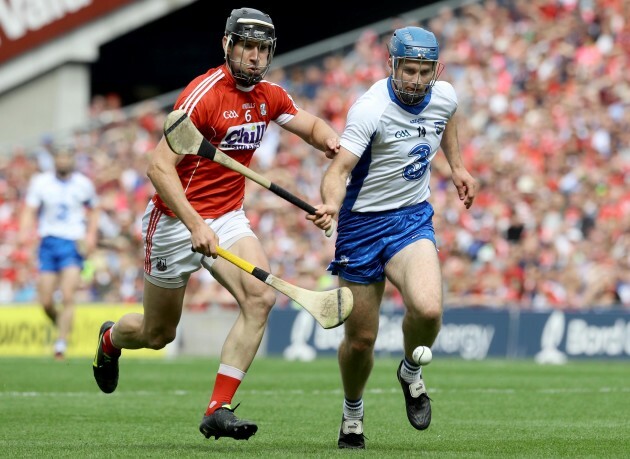 Lorraine O'Sullivan / INPHO Michael 'Brick' Walsh was hugely influential for Waterford. Lorraine O'Sullivan / INPHO / INPHO
He flicks the ball ahead of himself and ships a couple of tackles from Cahalane and Colm Spillane.
He keeps possession brilliantly and plays the ball across to Michael 'Brick' Walsh, who scores the goal.
It's just a really good example of Waterford playing the right ball, winning possession and then holding possession until the right option becomes available.
23:01 – Short puck-out to Noel Connors, who plays a ball down the Cusack Stand touchline to Kevin Moran.
He does well to evade two would-be challenges and flicks the ball back to Darragh Fives.
The ball into 'Brick' Walsh is high and diagonal, but he wins a 50-50 ball ahead of Mark Coleman.
Mahony already senses that there's a good chance Brick is going to win this contest clean, and is already on the move: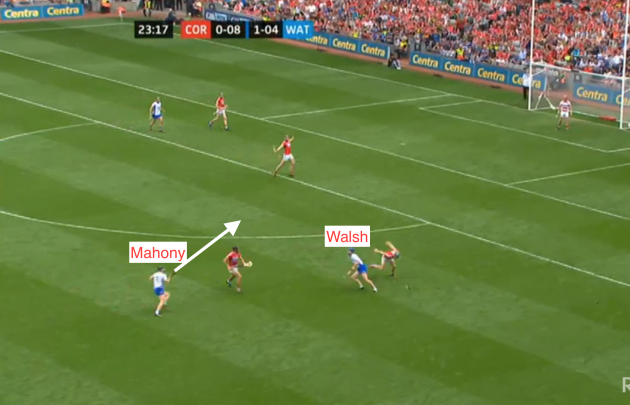 Brick lays it off and Mahony forces an outstanding save from Anthony Nash:
37:22 – A long Conor Lehane clearance is collected by Shane Fives, and he switches play to the far side of the field.
Kevin Moran catches it clean in the air, picks out the run of Jamie Barron and he eventually wins a free after attacking the Cork goal. It's a soft free, it must be said, but the passage of play is just another illustration of how Waterford are so composed in possession, and taking the right options.
43:10 – A Darragh Fives clearance comes to Shane Bennett, and Brick comes into the ruck to win possession. What's brilliant here is how composed he is, shipping a couple of tackles and wheeling around until he finds the right ball to lay off. The ball moves to Shane Bennett, who hand-passes to Jamie Barron.
He plays a lovely 30-yard pass to Kevin Moran, who puts it over the bar.
It's an unbelievable Waterford score, and evidence of how they have developed their game.
Contrast this passage of play to the likes of a Wexford or Clare, who at some stages play similar type games. But Waterford are miles ahead of them in how they use possession and in their ability to execute the game-plan.
Yesterday was the best I've seen from them in this regard.
Waterford have their homework done
Waterford were acutely aware of the Anthony Nash threat from Cork puck-outs, and the danger that could arise if the Rebels managed to get quality supply to their inside line.
They were also conscious of Cork's use of the diagonal ball, which has been one of their summer hallmarks.
As I discussed here back in June, the diagonal ball was a potent weapon for Cork, and hurt Waterford in that Munster semi-final.
But there were very early indications that Waterford would apply huge pressure on Cork, and that trend continued.
00:46 – Shane Kington's about to be fouled here in the first minute, but look at the three Waterford players tracking him down: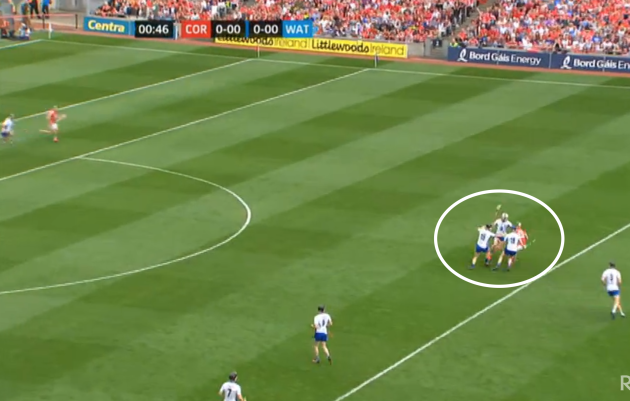 1:35 – Bill Cooper's won the resultant puck-out from Stephen O'Keeffe, but he's turned over and again, look at the amount of pressure being applied by Waterford opponents: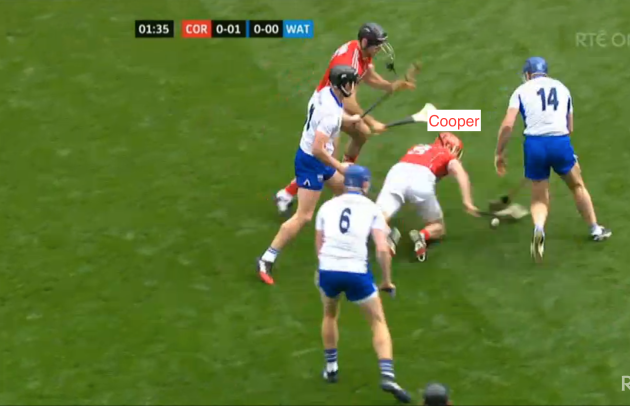 2:39 – Here, Mark Ellis takes a short puck-out from Nash, unchallenged. Note here how much ground Shane Bennett has to make up: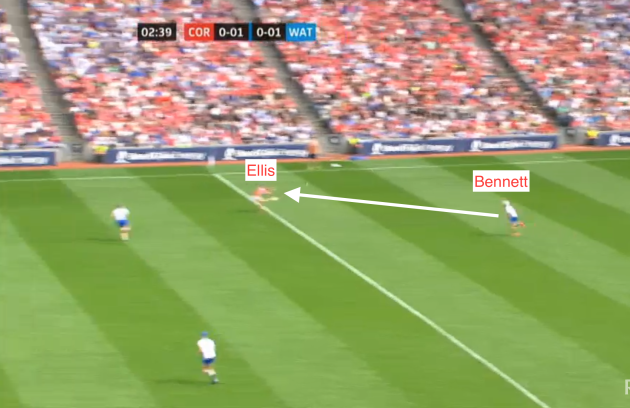 Five seconds later, Bennett's work-rate has allowed him to get in front of Ellis, and the ball goes out over the line for a Waterford ball:
5:01 – Stephen McDonnell has launched a ball into the right corner but Darragh Fives is on hand to mop up. There's a lot of space in the Cork channel, as indicated by the arrows, but Fives has it covered off with some clever positional play: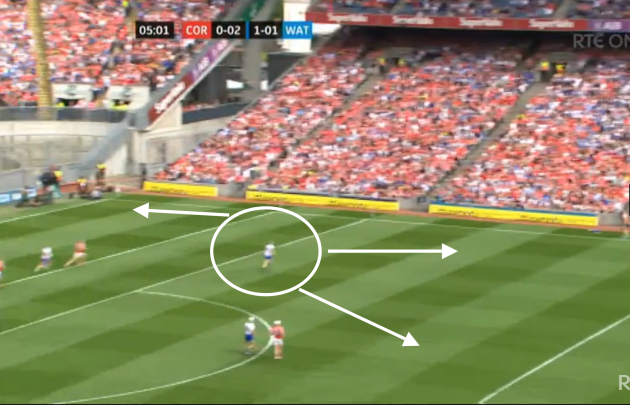 5:51 – Christopher Joyce, under pressure, is forced into a hurried and long clearance down the left touchline. Fives is on hand again, in acres of space, to pick up the ball. He's very effective for Waterford already, even at this early stage of the game.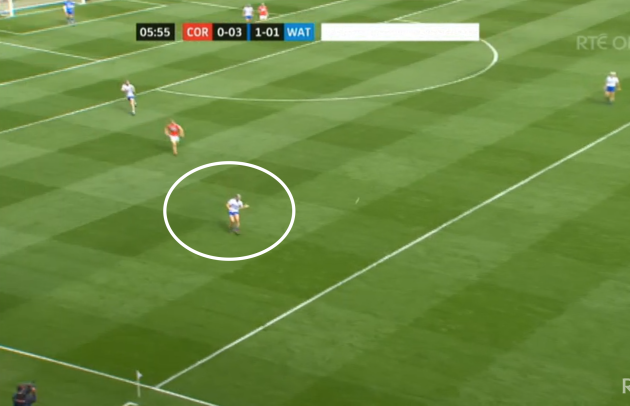 Cork are being put under huge pressure, and their distribution starts to break down.
9:28 – Colm Spillane's long clearance is collected brilliantly here by Shane Fives, ahead of Patrick Horgan:
Have a look at the picture above again for a moment. During the Munster championship, Cork's forwards were used to getting those balls out in front of their men. We didn't normally see them having to contest too many high ones – and that was a problem for them yesterday.
It's a combination of good play from the Waterford forwards, forcing under-pressure Cork backs into long and often hurried clearances, but the Waterford defenders are also tight and aggressive on their men.
16:45 - Poor distribution again, this time from Mark Ellis. It's the type of ball that Cork had been executing well all year, into the corners, but Darragh Fives sweeps back to collect: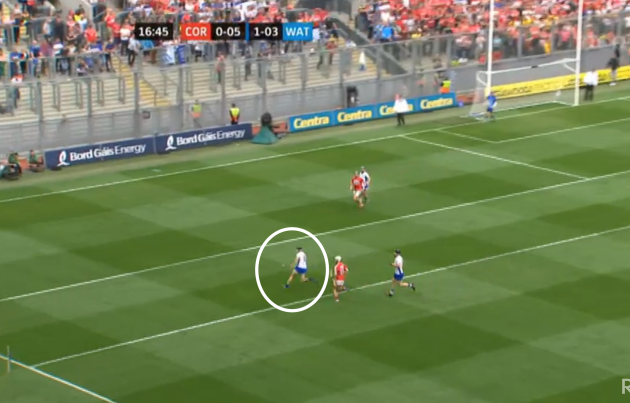 27:04 – Accurate Nash puck-out but this time, Seamus Harnedy is smashed under the high ball: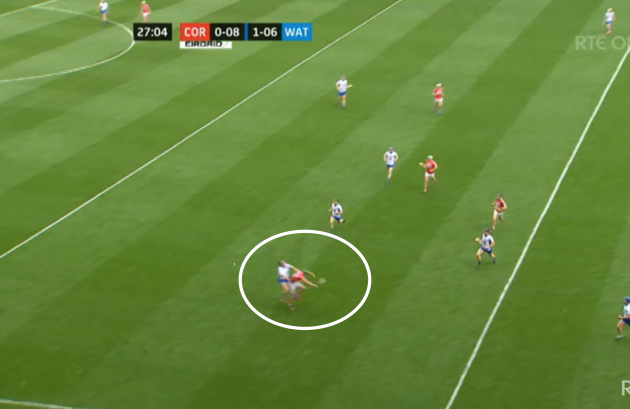 33:13 – Waterford are well set up to counteract another Nash puck-out. The goalkeeper initially looks to the Cusack Stand side, but hits it to Hogan Stand touchline towards Shane Kingston, but the ball drifts out of play:
Not all bad for Cork
Despite all of the above, it wasn't a case of Cork playing all that badly.
They had some really terrific pieces of play that should be highlighted and with 15 minutes to go, they were still very much in the hunt.
6th minute – This is what Cork wanted to do, and it stems from a lovely Mark Coleman clearance, that diagonal ball tactic which on this occasion is accurate and measured to Patrick Horgan: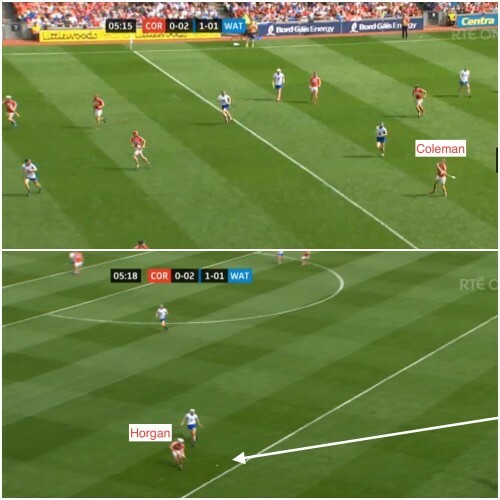 Shane Kingston comes around Horgan on the loop, takes a lovely little pop pass and prepares to shoot a fine point:
6:58 – Horgan scores a point of immense quality from a Nash puck-out. Under pressure, he took the ball to ground, before collecting it and scoring off his left. A brilliant individual point.
46:18 – Really good distribution from Mark Ellis, to set up Horgan for another super point:
55:35 – Sides level and the game in the melting pot. Darragh Fitzgibbon, just 19 years of age, gets on the ball around midfield and drives straight at Waterford. He's fouled – and Horgan scores the point to put Cork one up.
56:40: Horgan drills over a magnificent point from midfield and they now lead by 0-18 to 1-13. At this stage, you think that they might push on, but Waterford had the answers.
I admired Cork's guts, in fairness to them, and they really gave everything they had. But Waterford were about to build up an unstoppable head of steam.
Game swings Waterford's way
57:11 – A game changer – and coming less than a minute after Cork moved into that two-point lead.
Christopher Joyce wins possession and takes it out to Cusack Stand side, but Austin Gleeson dispossesses him. He picks out Jamie Barron for a goal and that's a crucial turning point.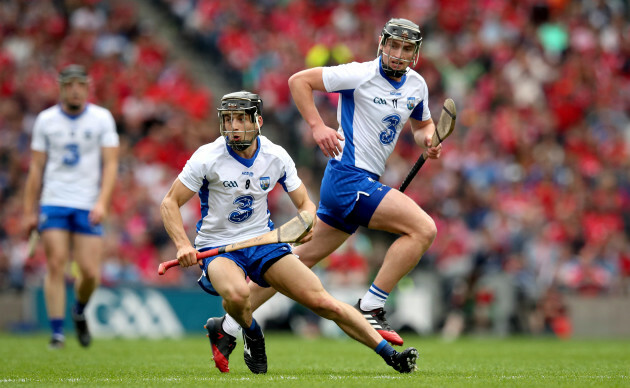 Ryan Byrne / INPHO Waterford's two-goal hero Jamie Barron. Ryan Byrne / INPHO / INPHO
57:47 – Conor Gleeson swings a point over the bar and Waterford have scored 1-1 in the blink of an eye. They're pushing up on Nash's puck-outs and Gleeson attacks Conor Lehane to win the ball. It's a serious statement at this stage. Waterford have been attacking one of Cork's main pillars all through the game – and now it's starting to crumble.
58:05 – Another long Nash puck-out and Waterford win it before recycling possession brilliantly with a series of excellent short passes. The ball is transferred long to Maurice Shanahan, who wins a brilliant high ball over Colm Spillane.
Shanahan stumbles but manages to get the ball out to Pauric Mahony, who moves in on to Austin Gleeson. From here, the rest is just brilliant as Gleeson breaks through for that superb individual goal.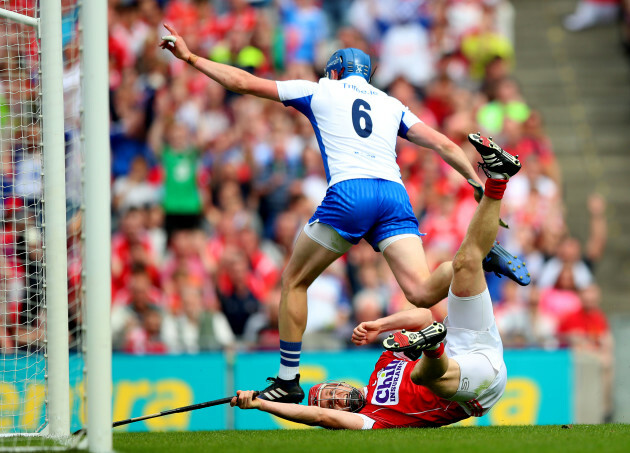 James Crombie / INPHO James Crombie / INPHO / INPHO
Gleeson is a player of immense quality, who was having quite a poor game by his standards, particularly in the first half.
He did a couple of good things but he really thundered into the game when the opportunity arose, in tandem with Waterford.
What we saw from Gleeson yesterday was a mixed bag – and the helmet incident is going to overshadow Waterford's final preparations, until the matter is resolved.
It's difficult to know what the outcome is going to be but if you're a member of the Waterford camp, you'd have serious concerns at this stage over his availability.
It's a shame if he can't play because Waterford looked to have gone up another level yesterday, in terms of their maturity and ability to finish off a game that was delicately poised.
Waterford wouldn't have been renowned as a team capable of really finishing teams off, even though they'd have opponents on the back foot.
The Kilkenny qualifier was evidence of that but yesterday, they were very convincing.
They were very impressive without Tadhg de Búrca but Kieran Bennett came in and did a decent job.
Some of their more understated players had fine games and they're becoming a much more rounded team, by the looks of it.
Darragh Fives is maturing into a fine player and they have their leaders performing at exceptionally high levels – the likes of Kevin Moran, 'Brick' Walsh and Jamie Barron, in particular.
Waterford now find themselves in a very healthy state – but the elephant in the room is the current suspension for Conor Gleeson, and the possibility of another one for Austin Gleeson.
Subscribe to The42 podcasts here: