Cork 0-27
Waterford 0-18
THEY WERE THE last team to step out into the 2023 hurling championship arena, but Cork made their mark on home soil this afternoon.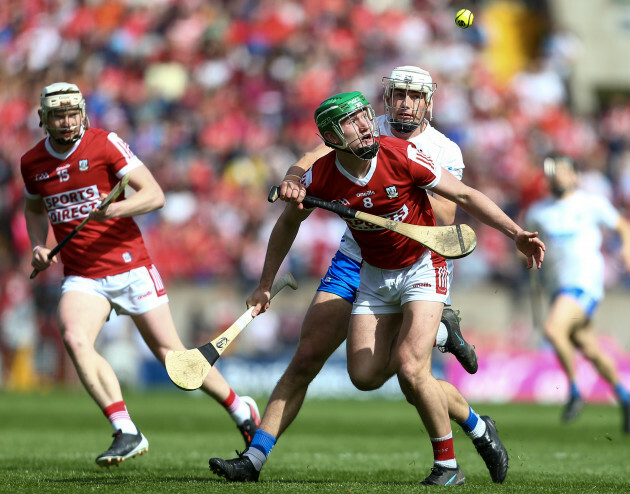 Ken Sutton / INPHO Brian Roche and Neil Montgomery. Ken Sutton / INPHO / INPHO
Pat Ryan could scarcely have planned for a better start to his championship reign with Cork. His team stormed clear from an early stage and looked assured as they protected their winning position to the end.
Cork amassed 0-27 with ten different players contributing, the result provided a springboard ahead of next Saturday's hosting of Tipperary. The game proved a grave disappointment for Waterford, they succumbed to a second successive group stage loss after last Sunday's reversal at the hands of Limerick and it leaves them with an uphill task for the remainder of the action in Munster.
The first half saw Cork achieve a pronounced level of dominance. They leaked the first point of the game, Stephen Bennett striking over a free, but Cork then accelerated clear as they strung together eight points in a row.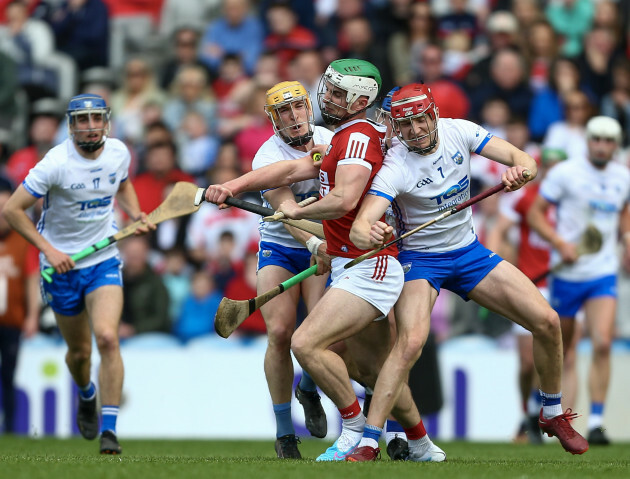 Ken Sutton / INPHO Cork's Shane Kingston is tackled by Waterford's Calum Lyons and Peter Hogan. Ken Sutton / INPHO / INPHO
They were ten clear by the 26th minute and had nine in hand at the break, all those margins capturing the comfort they enjoyed in the first half – on the scoreboard and on the pitch, space opening up in both sectors. 
Waterford managed a solitary point from play in the opening period, Dessie Hutchinson 28 minutes in. It required Bennett frees to bolster their scoring total elsewhere, whereas Cork had eight players who weighed in for them in front of posts.
Their clearest goalscoring opportunity came in the 26th minute, Patrick Horgan cutting clear to create the overlap, Brian Roche running off his shoulder to take the pass, and even when his close-range shot was smothered by the advancing Billy Nolan, Roche was able to recycle possession, emerge from the ruck and pop over a point.
Ken Sutton / INPHO Waterford's Michael Kiely in action against Cork's Tommy O'Connell. Ken Sutton / INPHO / INPHO
0-15 to 0-6 at the break was a fair reflection of Cork's control, yet it had the effect of quenching any championship fire in this contest. The encounter was lopsided and while the home team's authority pleased the majority of the 29,204 in attendance, it ended any doubt surrounding the conclusion. 
The energy that coursed through Waterford's performance against John Kiely's champions was absent here. They trailed by nine at the break and even if they matched Cork on the scoreboard in the second half, Waterford failed to make inroads in chipping away at that deficit.
The resumption saw them rattle over three quick points – Bennett with a brace and Jamie Barron with two – but if Waterford hopes briefly flared, they were then immediately doused by the five successive points Cork registered. The range of scoring sources from Cork overwhelmed Waterford with Patrick Horgan, Darragh Fitzgibbon and Seamus Harnedy contributing handsomely.
The match petered to an inevitable conclusion, the key source of interest being the Waterford attempts to find the net. Peter Hogan and Hutchinson were denied by brilliant reflex saves from Patrick Collins, while Damien Cahalane twice blocked stinging drives close to goal from Bennett and Patrick Fitzgerald. A consolation goal would not come for the Deise and they must regroup for a battle with Clare on 13 May.
Scorers for Cork: Patrick Horgan 0-8 (0-6f), Darragh Fitzgibbon 0-4, Seamus Harnedy 0-3, Declan Dalton 0-3 (0-2f), Robert Downey 0-2, Robbie O'Flynn 0-2, Seamus Harnedy 0-2, Brian Roche 0-1, Shane Barrett 0-1, Luke Meade 0-1.
Scorers for Waterford: Stephen Bennett 0-9 (0-7f, 0-1 '65), Calum Lyons 0-2, Padraig Fitzgerald 0-2, Jamie Barron 0-1, Neil Montgomery 0-1, Dessie Hutchinson 0-1, Austin Gleeson 0-1, Patrick Fitzgerald 0-1.
Cork
1. Patrick Collins (Ballinhassig)
2. Niall O'Leary (Castlelyons- captain), 3. Robert Downey (Glen Rovers), 4. Damien Cahalane (St Finbarrs)
5. Tommy O'Connell (Midleton), 6. Ciaran Joyce (Castlemartyr), 7. Ger Mellerick (Fr O'Neills)
8. Brian Roche (Bride Rovers), 13. Luke Meade (Newcestown)
12. Declan Dalton (Fr O'Neills), 9. Darragh Fitzgibbon (Charleville), 15. Shane Barrett (Blarney)
11. Conor Lehane (Midleton), 14. Patrick Horgan (Glen Rovers), 10. Seamus Harnedy (St Ita's),
Subs
24. Robbie O'Flynn (Erins Own) for Dalton (50)
25. Padraig Power (Blarney) for Harnedy (55)
26. Shane Kingston (Douglas) for Lehane (59) 
21. Conor Cahalane (St Finbarr's) for Meade (63)
18. Cormac O'Brien (Newtownshandrum) for Millerick (69)
Waterford
1. Billy Nolan (Roanmore)
2. Conor Gleeson (The Nire), 3. Conor Prunty (Abbeyside), 4. Mark Fitzgerald (Passage)
 7. Jack Fagan (De La Salle)
8. Darragh Lyons (Dungarvan), 6. Calum Lyons (Ballyduff Lower), 5. Tom Barron (Fourmilewater)
9. Jamie Barron (Fourmilewater – joint captain), 10. Neil Montgomery (Abbeyside)
13. Colin Dunford (Colligan), 14. Stephen Bennett (Ballysaggart – joint captain), 15. Jack Prendergast (Lismore)
11. Dessie Hutchinson (Ballygunner), 12. Michael Kiely (Abbeyside)
Subs
22. Austin Gleeson (Mount Sion) for Kiely (half-time)
24. Patrick Fitzgerald (Ballygunner) for Tom Barron (half-time)
20. Peter Hogan (Ballygunner) for Dunford (half-time)
17.  Conor Ryan (Roanmore) for Conor Gleeson (43)
18. Padraig Fitzgerald (Kilrossanty) for Montgomery (65)
Referee: James Owens (Wexford)