IT'S TIME FOR Round 2 in Cork against Waterford in the Munster senior hurling championship. We're live from Thurles with all the action.
As always, we'd love to hear your comments. Send them to fintan@thescore.ie, tweet them @TheScoreGAA, find us on Facebook, or leave a comment below.
Result: Cork 0-27 Waterford 0-14
***************
Afternoon and welcome to Thurles. It's the third successive Sunday that we've had Munster hurling championship action in Semple Stadium and it's round 2 between Cork and Waterford. Throw-in at 3.30pm.
Both sides out on the pitch here and getting ready for the start of this game.
Here's the Cork team that's named to start. One change as Bill Cooper comes into the attack for Cian McCarthy.
Cork
1. Anthony Nash (Kanturk)
2. Shane O'Neill (Bishopstown)
3. Damien Cahalane (St Finbarr's)
4. Stephen McDonnell (Glen Rovers)
5. Christopher Joyce (Na Piarsaigh)
6. Mark Ellis (Millstreet)
7. Lorcan McLoughlin (Kanturk)
8. Daniel Kearney (Sarsfields)
9. Aidan Walsh (Kanturk)
10. Conor Lehane (Midleton)
11. Bill Cooper (Youghal)
12. Patrick Cronin (Bishopstown - Captain)
13. Alan Cadogan (Douglas)
14. Seamus Harnedy (St Ita's)
15. Patrick Horgan (Glen Rovers)
Here's the Waterford team. Two changes as Shane O'Sullivan and Shane Fives come in for Eddie Barrett and Barry Coughlan.
WATERFORD
1. Stephen O Keeffe (Ballygunner)
2. Tadgh de Burca (Clashmore / Kinsalebeg)
3. Liam Lawlor (Fourmilewater)
4. Noel Connors (Passage)
5. Jamie Nagle (Dungarvan)
6. Michael Walsh (Stradbally, capt)
7. Shane Fives (Carrigtwohill)
8. Shane O'Sullivan (Ballygunner)
9. Kevin Moran (De La Salle)
10. Colin Dunford (Colligan)
11. Jake Dillon (De La Salle)
12. Pauric Mahony (Ballygunner)
13. Shane Walsh (Fourmilewater)
14. Brian O'Sullivan (Ballygunner)
15. Austin Gleeson (Mount Sion)
James Crombie / INPHO James Crombie / INPHO / INPHO
James Crombie / INPHO James Crombie / INPHO / INPHO
The substitute lists for both teams are as follows:
Cork
16. Darren McCarthy (Ballymartle)
17. Conor O'Sullivan (Sarsfields)
18. Killian Burke (Midleton)
19. Willian Egan (Kilbrin)
20. Eoin Cadogan (Douglas)
21. Brian Lawton (Castlemartyr)
22. Jamie Coughlan (Newtownshandrum)
23. Stephen Moylan (Douglas)
24. Cian McCarthy (Sarsfields)
25. Rob O'Shea (Carrigaline)
26. Paudie O'Sullivan (Cloyne)
Waterford
16. Ian O'Regan (Mount Sion)
17. Barry Coughlan (Ballygunner)
18. Padraig Prendergast (Lismore)
19. Richie Foley (Abbeyside)
20. Shane McNulty (De La Salle)
21. Gavin O'Brien (Roanmore)
22. Seamus Prendergast (Ardmore)
23. Maurice Shanahan (Lismore)
24. Stephen Molumphy (Ballyduff Upper)
25. Ray Barry (Lismore)
26. Donie Breathnach (An Rinn)
Teams lining up for the pre-match parade here in Thurles.
Tipperary's Johnny Ryan is the man in the middle for today's game.
We're good to go here. Who's going to prevail in round 2?
Interesting to see Noel Connors is marking Alan Cadogan today.
Waterford 0-1 Cork 0-0: 4 mins – Waterford open the scoring with Pauric Mahony slotting over a free after Shane Walsh was fouled.
Sub: Early blow for Waterford as Noel Connors gone off injured with Padraig Prendergast coming on.
Golfer and Waterford fan Kevin Phelan amongst those present here.
Waterford 0-1 Cork 0-1: 7 mins – Couple of early wides from Cork but on this occasion Seamus Harnedy, withdrawn to the half forward line today, gets them off the mark with a fine point.
Cork 0-2 Waterford 0-2: 9 mins – Patrick Horgan bangs over a free for Cork after Cadogan is fouled but Waterford hit back immediately through Colin Dunford.
Wides for Waterford from Mahony from a free and Dunford from play.
Waterford 0-3 Cork 0-2: 12 mins – Brian O'Sullivan points for Waterford but he had far too much time and space there after being fed by Michael Walsh.
Waterford 0-3 Cork 0-3: 14 mins – Horgan brings the teams level with a free after Cronin was fouled.
Cork 0-4 Waterford 0-3: 15 mins – Horgan points again, this time from play, but the latest score could easily have been a goal. His fierce shot after spinning on the left flew over the bar.
Cork 0-5 Waterford 0-3: 16 mins – Horgan edges Cork further ahead.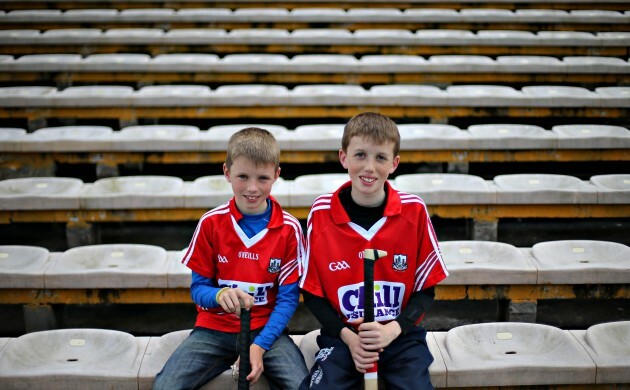 Cathal Noonan / INPHO Cathal Noonan / INPHO / INPHO
Cork 0-6 Waterford 0-3: 17 mins – Cork have started a lot better in this replay. Bill Cooper fires over another point.
Patrick Horgan has been excellent for Cork so far, heavily involved in their attacking moves and scores.
Cork 0-7 Waterford 0-3: 18 mins – Beautiful point by Harnedy, showing signs of last year's Allstar winning form.
Cork 0-8 Waterford 0-3: 19 mins – Conor Lehane in on the scoring act for Cork now, racing down the left wing and finishing after being found by Damien Cahalane's cross field ball.
Cork 0-8 Waterford 0-4: 20 mins – Waterford try to stem the tide as Mahony converts a free.
Bad wides on both sides from Brian O'Sullivan and Conor Lehane.
Cork 0-9 Waterford 0-4: 24 mins – Horgan on the mark again with a free for Cork.
Cork 0-10 Waterford 0-4: 25 mins – Seamus Harnedy lofts over his third point of the day for Cork.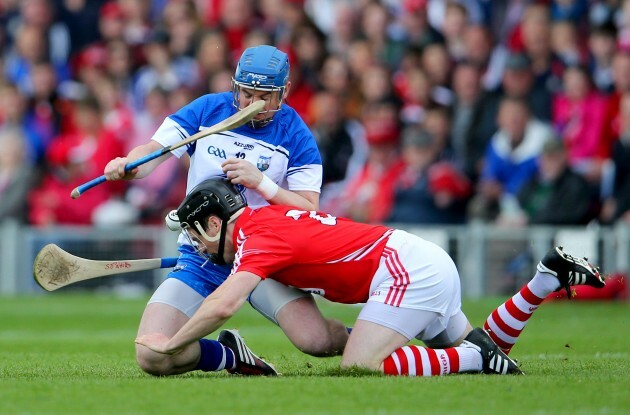 Cathal Noonan / INPHO Cathal Noonan / INPHO / INPHO
Cork 0-11 Waterford 0-5: 27 mins – Horgan from a free and Mahony from play swap points. Cork still have a firm grip on the game approaching half-time.
Cork 0-12 Waterford 0-5: 28 mins – First score of the day for Cadogan and it comes after a superb turn following Christopher Joyce's raking long pass from defence.
Wides starting to pile up for Waterford. Dunford and Shane O'Sullivan both off target.
Cork 0-13 Waterford 0-5: 33 mins – Cork really dictating this game as Joyce snuffs out a Waterford attack, finds Daniel Kearney all alone around midfield and the Sarsfields club man splits the posts from distance.
Nash's penalty is saved but surely Stephen O'Keeffe was too far off his line there?!
Matters really heating up here.
Cork 0-14 Waterford 0-5: 36 mins – Cork did get a point after that scramble from Bill Cooper.
Half-Time: Cork 0-14 Waterford 0-5
Cork in control at the break, we'll be back shortly with the second-half action.
Back underway here for the second-half.
Back underway here for the second-half.
Cork 0-15 Waterford 0-5: 37 mins – Lehane points to give Cork a perfect start to the second-half.
Cork 0-15 Waterford 0-6: 38 mins – Shane O'Sullivan hits back with a point for Waterford.
Cork 0-17 Waterford 0-6: 40 mins – Cork impressing now with Horgan landing a brace of points.
Cork 0-17 Waterford 0-7: 41 mins – Dunford hits back for Waterford.
Sub: Richie Foley on for Waterford as Jamie Nagle makes way.
Cork 0-18 Waterford 0-7: 44 mins – Quality score from Lehane off his left after a great cross field delivery from Nash.
Sub: Maurice Shanahan comes on for Waterford for Dunford.
Sub: Stephen Molumphy now on for Waterford as Brian O'Sullivan makes way.
Cork 0-19 Waterford 0-8: 47 mins – Mahony clips over a free for Waterford but it's immediately cancelled out by a score from Daniel Kearney.
Yellow card for Michael 'Brick' Walsh after a hard hit on Aidan Walsh. Nothing going right for Waterford.
Cork 0-21 Waterford 0-8: 51 mins – Horgan slots the free and then another from play. Cork in complete control here.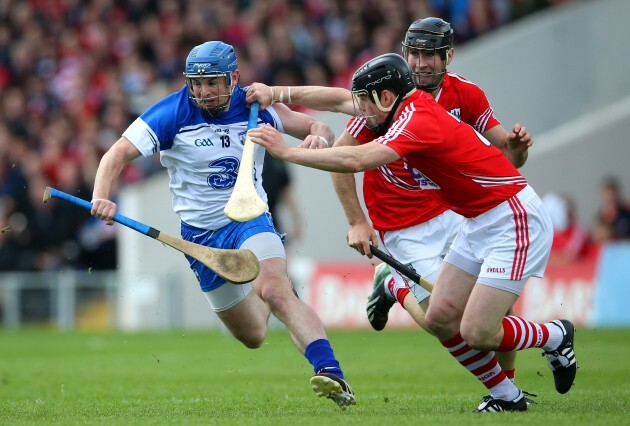 Cathal Noonan / INPHO Cathal Noonan / INPHO / INPHO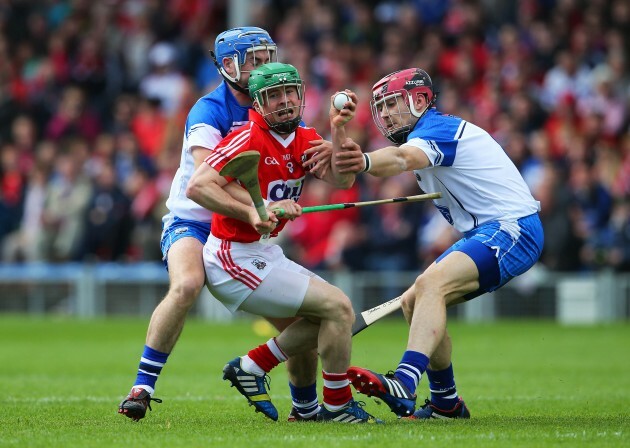 Sub: Seamus Prendergast in for Waterford for Dillon.
Cork 0-21 Waterford 0-9: 53 mins – Shane Walsh pulls a point back for Waterford.
Cork 0-22 Waterford 0-9: 54 mins – Target practice at this stage for Cork. Lehane swings over his fourth point of the game.
Cork 0-23 Waterford 0-9: 56 mins – First point of the day for Christopher Joyce.
Superb save by Stephen O'Keeffe to deny Patrick Cronin from hitting the net for Cork.
Cork 0-24 Waterford 0-9: 58 mins – Cooper points for Cork.
Subs: Stephen Moylan and Brian Lawton in for Cork, Alan Cadogan and Aidan Walsh make way.
Sub: Huge cheer as Cork bring on Paudie O'Sullivan for Daniel Kearney.
Cork 0-25 Waterford 0-9: 60 mins – First touch by O'Sullivan is a point. Great introduction for him after long layoff with injury.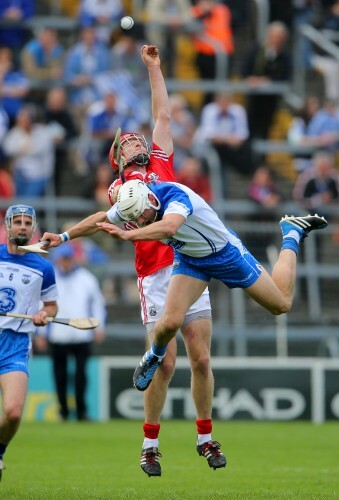 Cathal Noonan / INPHO Cathal Noonan / INPHO / INPHO
Subs: William Egan and Rob O'Shea are brought on for Cork for Bill Cooper and Lorcan McLoughlin.
Cork 0-25 Waterford 0-12: 64 mins – Points for Waterford from Austin Gleeson (2) from play and a Pauric Mahony '65.
Magnificent save as well there from Nash at point-blank range to deny Shane Walsh a goal.
Cork 0-26 Waterford 0-12: 65 mins – Paudie O'Sullivan gets through for another point. His return is a big boost to Cork.
Cork 0-27 Waterford 0-13: 67 mins – Rob O'Shea and Richie Foley swap points.
Cork 0-27 Waterford 0-14: 69 mins – Gleeson nabs his third point from play for Waterford.
Cork 0-28 Waterford 0-14: 70 mins – Late Cork point from Stephen Moylan.
Full-Time: Cork 0-28 Waterford 0-14