WHEN THE HURLING league final ended on 9 May 1993, the Cork and Wexford players were suspended in uncertainty in Thurles.
A draw had not been on anyone's radar, but there the teams were locked together at 2-11 apiece. Instead of shifting their attention to championship, moving into the contrasting states of celebrating and commiserating, the prospect of a replay left the teams unsure of how to react.
"I think Royal Liver were sponsoring the competition at that time and there was actually an after-match reception for both teams at the Anner Hotel that still went ahead," recalls Cork forward Tomas Mulcahy.
"There was some avid Wexford hurling supporters there like Jim Bolger, the horse trainer, and another guy Michael Foley, he was in Murphy's in Cork, another staunch Wexford man. They were all excited because they felt this was Wexford's time to get a trophy, but we were heading to a replay. Still we were inside after the match, you're mixing with Wexford and they're mixing with us, and the craic was mighty.
"At some stage someone from Wexford said they had brought champagne in the boot of the car in case of the celebrations.-The Cork boys were saying there's no point leaving it in the boot for the following week, it would only go off, so we might as well go out and bring it in, which they did and we all had a bit of craic."
The sides refused to be separated then and a week later on 16 May told a similar tale. Cork 0-18 Wexford 3-9 proclaimed the scoreboard at the final whistle.
A third instalment was required on a Saturday afternoon, 22 May, and at last there was a resolution. Cork triumphed 3-11 to 1-12.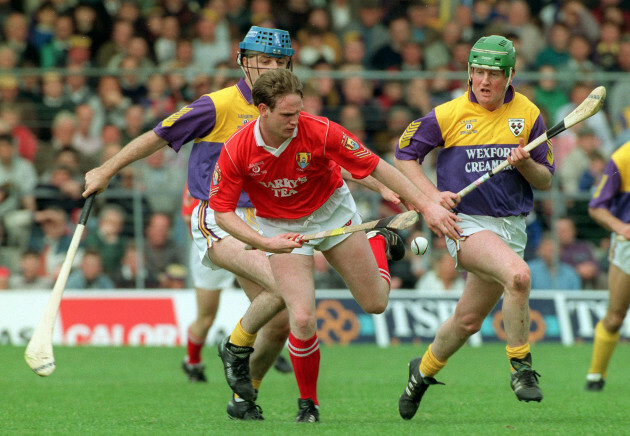 INPHO Cork's Cathal Casey in action against Wexford. INPHO
"We travelled up I think the first day by bus and got stuck in traffic. The second day we were to travel by train, that would take us direct into Thurles. The train broke down half way up and there was a bus had to come and pick us up to get us there. I think the match was delayed a bit.
"We were lucky to be honest. We probably shouldn't have drawn the first day. Wexford threw it away and probably should have won the second day as well. But as the three matches went on, it was stronger Cork got."
It delivered the sole league medal of Mulcahy's decorated Cork career. Tomorrow the counties square off in a league encounter in Páirc Uí Chaoimh, 30 years after that trilogy unfolded.
"I'd never played in a game that went to two replays. I'd a Harty Cup replay 1980 with the Mon against St Colman's, that was the first big one. A couple of minor county matches with the club went to replays but no trilogy as they call it
"They were incredible hurling matches, the second day out was great from a hurling perspective. It's ranked as one of the top national hurling league finals over so many years because of the quality that was there. The Wexford boys would say they felt they should have beaten us over the first two days."
INPHO Wexford's John O'Connor is challenged by Cork opponents. INPHO
The replays interrupted the rhythm of the campaign. The first draw meant plans had to be shelved for the official reopening of Flower Lodge following week, a stadium that was destined to be named after Christy Ring, an icon of the game, the county and Mulcahy's own club.
"It would have been a big thing. The history of Christy Ring and his contribution to Cork hurling and Glen Rovers club wise. With a stadium in Cork being named after him, everybody would have a focus on that as well. But look maybe we didn't think we were going to get to a league final and the date was set in a good bit in advance. It did happen afterwards anyway."
There was an array of standout moments from the series of games. Ger Manley fired 2-1 for Cork in the first game, Larry Murphy made his mark for Wexford with 1-3. Wexford rattled home three goals in the first replay, Barry Egan and Cathal Casey reeled off the points for Cork.
John O'Connor had the chance to nail a winner from a placed ball late on two weeks in a row but the accuracy eluded the Wexford man. Mulcahy bagged a goal of his own when Cork finally won the day on 22 May.
But it is a catch from the second game that stands out, Teddy McCarthy soaring highest during one passage of play.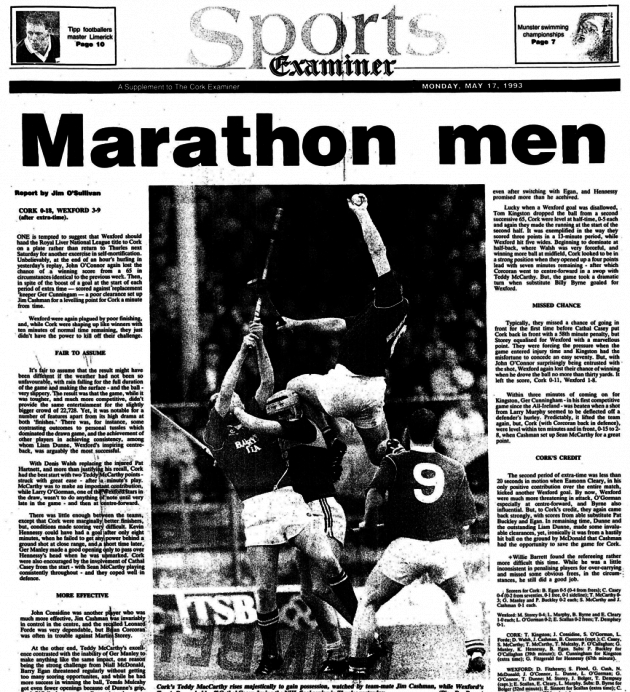 Irish News Archives Irish News Archives
"I've seen that picture around and that's one abiding memory," recalls Mulcahy.
"People have always asked Teddy how he'd do that. He would say it's all about the timing and then getting the leap to take him up that high. He was a strong powerful man and he did that so many times in football. From a hurling perspective that was incredible. So many places I go, I see that photograph and it reminds me of that day in Thurles. It's a picture in a lot of bars and clubhouses, it's a big memory from it."
In Cork the league success of the hurlers coincided with the city's soccer team capturing the LOI Premier Division title the same afternoon.
The day after there was a reminder of another hurling event to focus on, the Munster championship exploding to life as Kerry shocked Waterford.
It would serve as a reminder to Cork of the vagaries of sporting form. On 13 June, Cork ran out of road for the year. Clare took them down by three points in a Munster semi-final in Limerick.
"There was great leaders in that team and great spirit. It wasn't that you were trying to build a new team. Winning the '93 league was a massive, massive boost. Unfortunately going into championship you maybe take these things for granted that you're better than what you were. There's no backdoor in '93 in a championship match and suddenly that's it, your season is over. We'll remember the league but I think a lot of us will remember losing the championship match more. Look we've no excuses, but that was a massive disappointment in the Munster championship."
Championship dejection preceded by a league highlight.
Get instant updates on the Allianz Football and Hurling Leagues on The42 app. Brought to you by Allianz Insurance, proud sponsors of the Allianz Leagues for over 30 years.