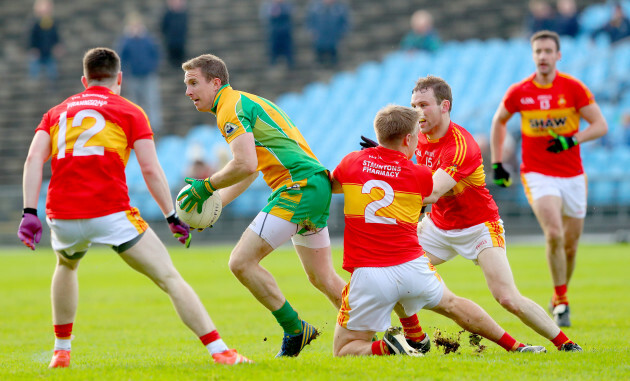 James Crombie / INPHO Corofin's Gary Sice is tackled by the Castlebar defence James Crombie / INPHO / INPHO

YESTERDAY SAW A heavyweight collision in the club football championship, the Connacht battle between Castlebar Mitchels – the 2014 and 2016 All-Ireland finalists – and Corofin – the 2015 All-Ireland champions.
Analyst Rob Carroll breaks down the match at Elverys MacHale Park.
*************************
IN MANY WAYS this game was a contrast in styles.
Although Castlebar have some big men, the nucleus of the team is made up of pacy half backs and forwards who like to run with the ball in hand.
Corofin on the other hand are constantly looking to move the ball with the foot. When possible it looks like Corofin try to avoid carrying the ball through the middle third.
For the opening twenty or so minutes Corofin played exactly this way and managed to eke out a comfortable four point lead.
Corofin's opening two scores are the template of how they like to play. Looking at Corofin's second score we can see the plan in action.
After winning the ball back through an excellent tackle on their own '21, they work the ball to outside their '45.
There is no sense of just looking to keep the ball, Michael Lundy has is head up and is looking for those runs so he can hit the half-forward line.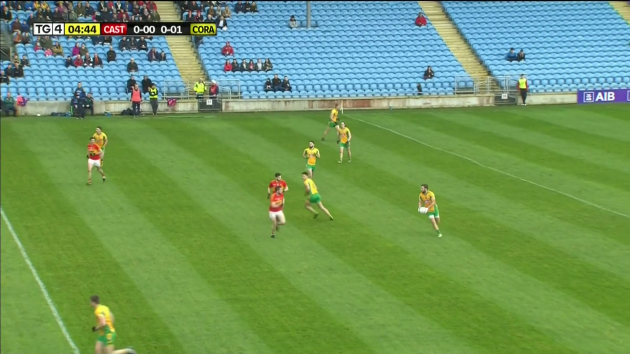 GAA BEO TG4 GAA BEO TG4
He plays a nice ball that gives the defenders very little chance of winning it in front. As we can see in the next shot there are two Corofin players breaking at pace to get off the shoulder. The two Castlebar players have switched off for a second and it is costly.
The two Castlebar markers make it easier than necessary for Corofin. Once they don't contest that ball on the '50, at least one of them has to become aware of the space they have left behind them and the options Corofin will have.
In this case both defenders stay preoccupied with the man on the ball.
GAA BEO TG4 GAA BEO TG4
It's a very quick move and expertly done by Corofin but it's too big a gap to leave at the top of the D.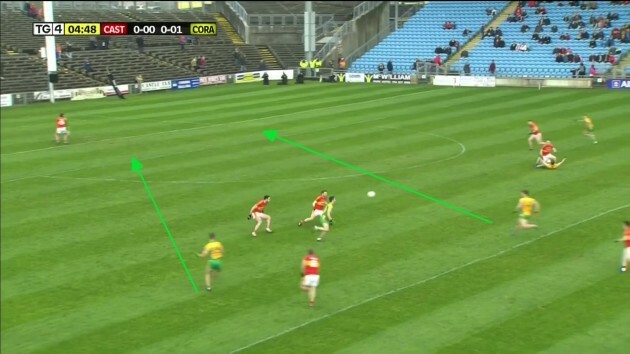 GAA BEO TG4 GAA BEO TG4
One thing that was very noticeable about the Corofin forwards is that their first thought is to always play the ball to runners on the shoulder. They rarely looked to turn and take on their man.
Instead playing the ball back from where it came, knowing that is a much more difficult proposition to defend against.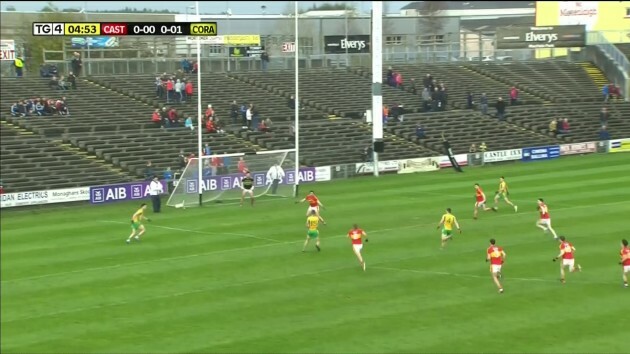 GAA BEO TG4 GAA BEO TG4
A note on the Castlebar full back here. He does an excellent job to prevent this being an obvious goal chance.
Throughout the summer we saw countless examples of full-backs getting this situation horribly wrong but not here.
He holds his ground and manages to split the Corofin options forcing them to settle for a point.
Goal Chance
Corofin struggled much more in the second half and managed to go 20 minutes without scoring at one stage. We will take a look at what Castlebar did to counteract the Corofin attack but during that 20 minute spell Corofin did create a great goal chance, that if it had gone in might have sealed the game there and then.
Although this comes from a free it again highlights Corofin's style. Deliver the ball early and preferable with the foot to the forward line and have runners on the shoulder.
The moves starts with a free kick and Castlebar won't be happy with how they switch off.
Corofin keep plenty of space between the free taker and '21.
This allows Gary Sice room to make a run out in front of his man.
GAA BEO TG4 GAA BEO TG4
The camera angle makes it hard to see exactly where the runner starts but needless to say when he arrives his marker is not the be seen.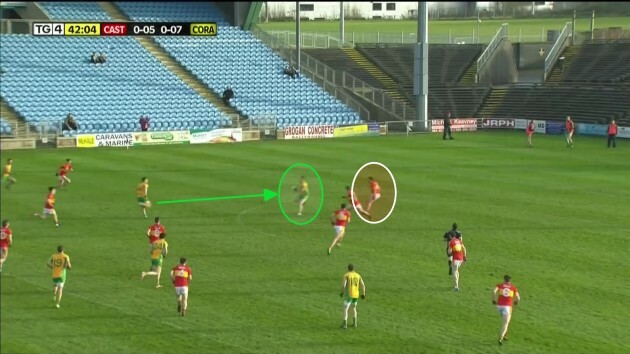 GAA BEO TG4 GAA BEO TG4
Although the Castlebar number 5, Ray O'Malley, spots the runner, the pace is too much and he can't halt his progress.
It's Liam Silke from the full back line that gets this chance and perhaps if it had fallen to a forward Corofin would have between in a commanding lead.
Corofin tackling drops off and Castlebar changes
Corofin managed to go from the 20th minute of the first half to the 20th minute of the second half and only tagged on two scores, one either side of half time.
This is an enormous section of the game to go with so little scoring and it's no wonder they found themselves in a contest.
There were two factors at play here. Firstly the Corofin tackling dropped off from a really excellent start. This example in the 14th minute highlights both the ferocity and the technique of a great tackle.
Conor Cunningham for Corofin has a 2 v 1 in front of him with little or no support in the middle of the field. Castlebar have turned the ball over so the counter is on.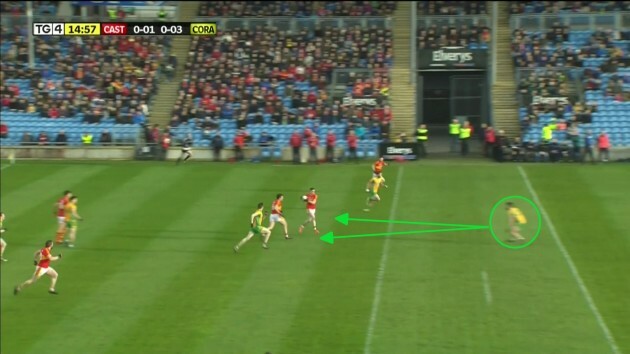 GAA BEO TG4 GAA BEO TG4
It would be easy to get this wrong and either commit a foul or worse get beaten with a simple ball over your head.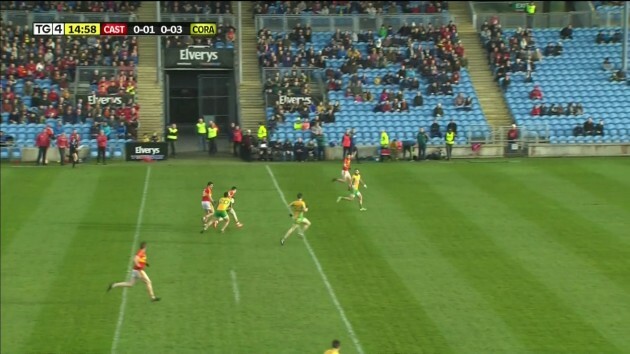 GAA BEO TG4 GAA BEO TG4
He firstly gets good pressure on the ball carrier, he's aggressive but in no danger of giving away a free here. As the ball is laid off there is no hesitation in going to close the ball down.
Exclusive Six
Nations Analysis
Get Murray Kinsella's exclusive analysis of Ireland's Six Nations campaign this spring
Become a Member
He's now got the attacker heading towards the touchline and away from his support.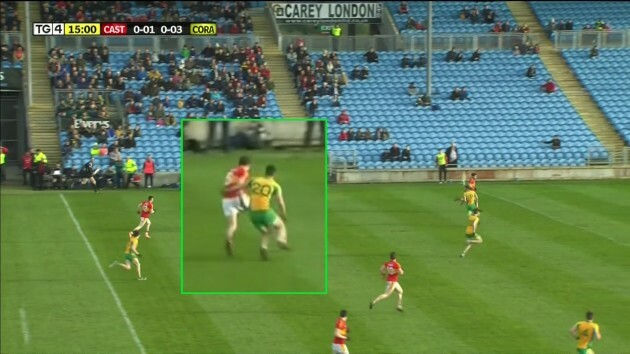 GAA BEO TG4 GAA BEO TG4
But there is no let up, no easy pass backwards to recycle the ball. He harasses and harangues the man on the ball until he eventually coughs up possession.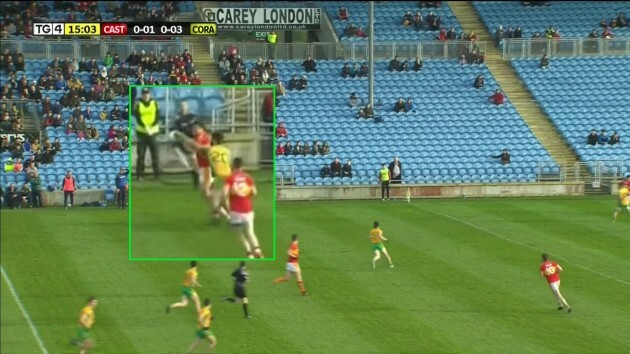 GAA BEO TG4 GAA BEO TG4
When the Castlebar player attempts the hand pass ,he is in his face to block it down and force the turnover.
Castlebar had five of these turnovers in the first 24 minutes, such was the pressure Corofin were applying. However it was extra time before you saw the same sort of tenacity in the tackle from Corofin.
As they like to move the ball fast, they rely on those turnovers and quick transitions. That ferocity dropped a little and as a result the chance to move the ball as fast as they had been dried up.
Castlebar also made some tactical changes. They seemed to identify that the spaces between the midfield and half-back line was allowing Corofin easy ball.
It was noticeable that after about 20 minutes, Corofin simply didn't have the opportunity to move the ball as they would have liked.
After winning their own kickout you can see the instinct is to get the head up and look for a ball to the '50. Although the camera angle doesn't allow us see what sort of options are available, it is clear the option just isn't on for Kieran Molloy.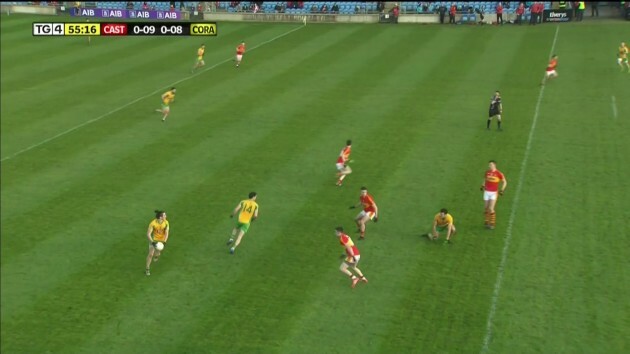 GAA BEO TG4 GAA BEO TG4
As a result they are forced back inside. Corofin are clever enough to win a free on the '50 from this move, but it was slow build up and not how they would have liked to play.
It was hard just from TV to see exactly what was plugging this hole but there was certainly a conscious effort to stop the balls to the '50 that were so damaging early in the game.
Shooting Percentages
Both teams kicked some wonderful scores throughout this game. Castlebar will feel they had the chances to win this game, they had 35 shots to Corofin's 28.
Although free taking was a bit of an issue for Castlebar it really was there accuracy from play that cost them.
Shooting just five points from 21 shot is going to make it difficult to win any game. Credit must go to Corofin and the angles and pressure they put on.
Even accounting for that in a drawn game with the margins so tight, shooting 24% from play is going to cost you.
The42 is on Instagram! Tap the button below on your phone to follow us!