FOR THE FIRST time in their history, Costa Rica sealed their place in the quarter-finals of the World Cup yesterday. And, as you can imagine, the nation went Tico-crazy.
To give you a sense of the pandemonium sweeping San Jose and the nation, here's a selection of the reaction from Costa Rican news outlets.
They doubled up on the praise in Al Dia, to give us the headline: 'Bravery, Pride and Courage'.
That pretty much summed up Los Ticos, but underneath they seem to be making room for all sorts of colour and poety, with the opening line reading: 'One day I had to dust off the hand of suffering…'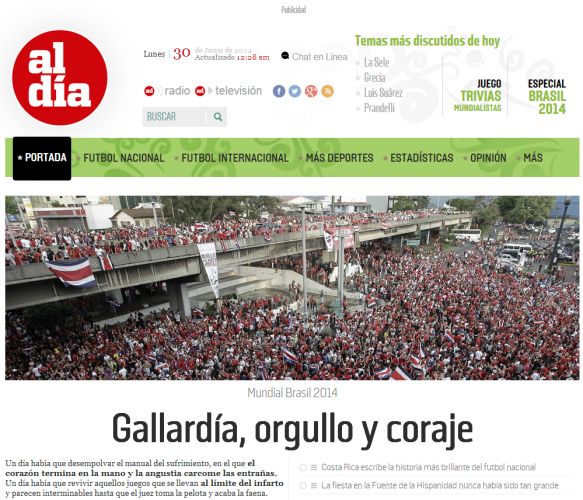 Diario Extra seemed to point to Costa Rica's move to practice penalties with  a headline of 'What a great teacher!" While the below headline reads 'We all win'.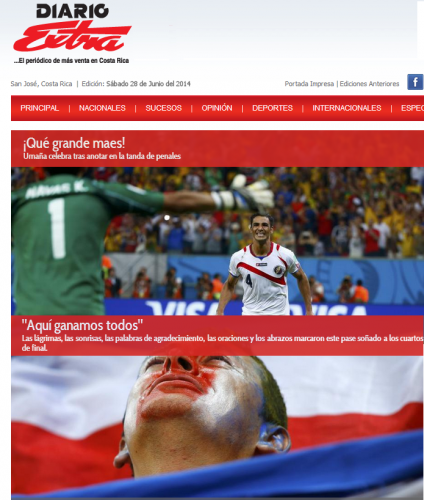 CRhoy.com let it all hang out. With a bad word following a headline that awakened ancient civilisations and a war that never was.
There are English publications in CR too. This from TicoTimes.net.
But everything sounds better in Spanish. Even if La Nacion played it a little conservative with 'Costa Rica are among the world's top eight'.
Though below that they call the 12o-minute (plus penalties) epic ' the most emotional game of the tournament', so we'll forgive them being a little overwhelmed.
AM Costa Rica isn't the prettiest website, but hell, just look at those celebrations… with the ominous sub-heading 'The Celebrations went on well into the night'.
We bet they did.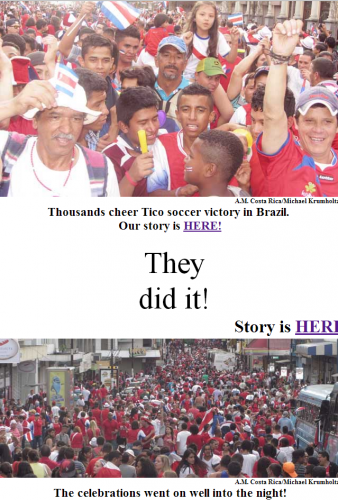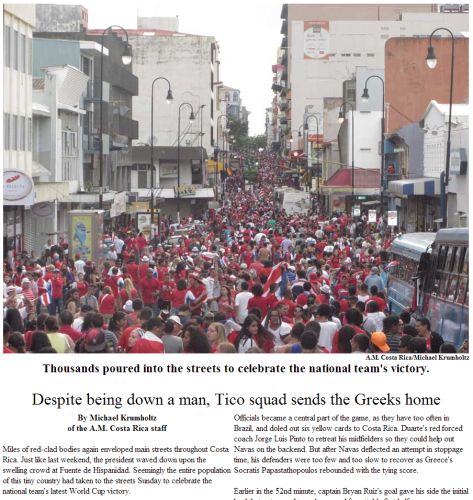 It's enough to make you want to watch that 'Time of my life' Italia '90 montage again.
Do let us know if we've missed any out. They may be our brothers across the foam, but Costa Rican papers aren't often in circulation round TheScore.ie office.