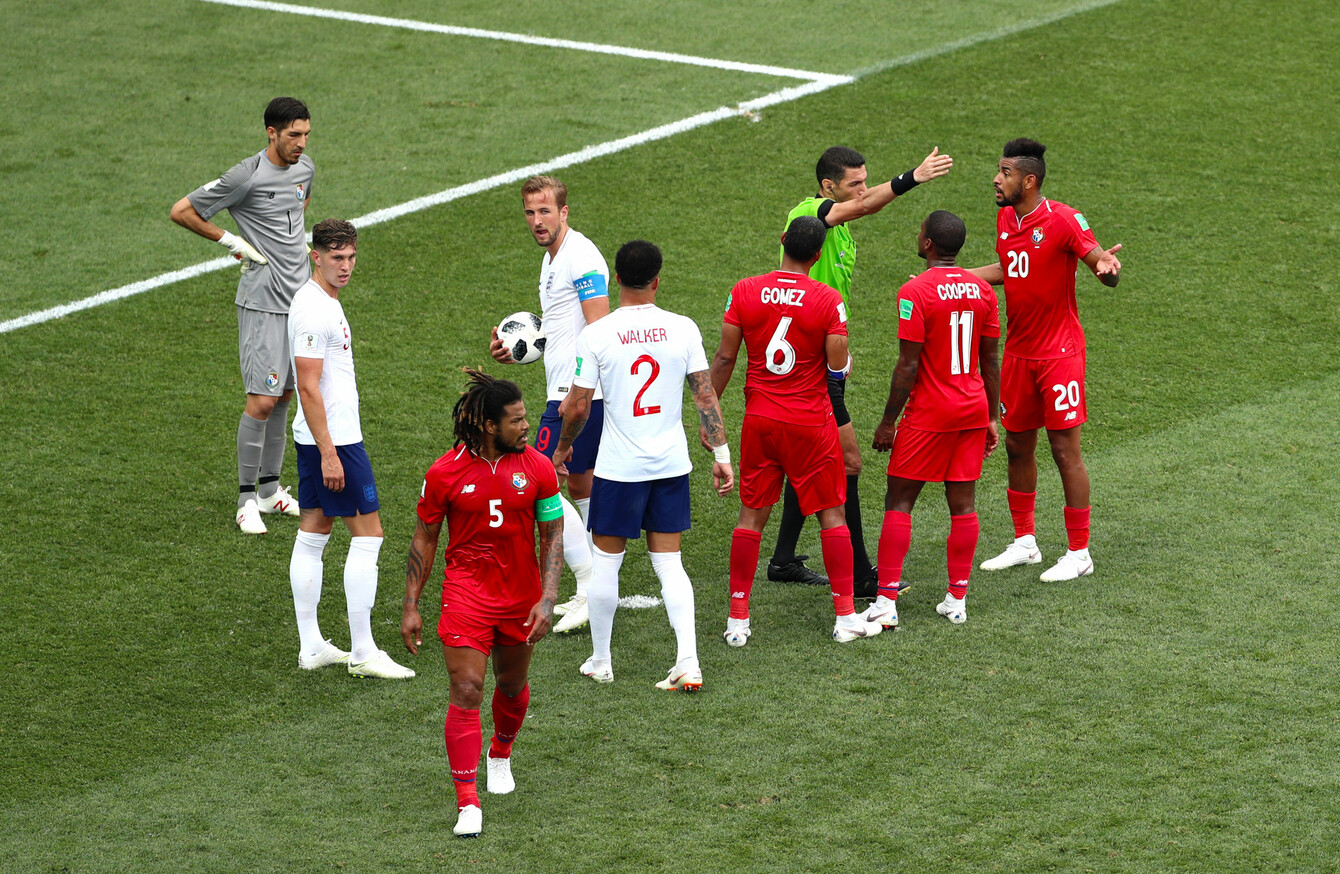 England's Harry Kane steps up to take his second penalty as Panama players speak with referee Gehad Grisha.
Image: Tim Goode
England's Harry Kane steps up to take his second penalty as Panama players speak with referee Gehad Grisha.
Image: Tim Goode
ENGLAND EARNED AN emphatic 6-1 victory over Panama today in what was probably the most one-sided game of the World Cup so far.
It was perhaps not a hugely surprising result given the obvious gulf in class between the sides.
This was the same Panama who lost 4-0 to the USA in World Cup qualifiers and 6-0 against Switzerland in a pre-tournament friendly.
They were somewhat fortunate in qualifying in that they progressed by virtue of a win over a Costa Rica team that had already booked their place in Russia, while the US simultaneously suffered a shock loss to Trinidad and Tobago.
Coached by Colombian manager Hernán Darío Gómez, their squad features individuals who play with clubs in the US, Romania, Belgium, Guatemala, Costa Rica and the second division in Spain among others.
Up against stars accustomed to playing in the Champions League and competing with the top teams in England, Panama understandably looked out of their depth today.
Nothing, of course, should be taken away from Gareth Southgate's side, who were ruthlessly efficient in front of goal, in stark contrast with the panicky finishing they sometimes displayed in their opening game against Tunisia.
There was a freedom about the Three Lions' play they haven't shown in previous World Cups. They have struggled against inferior opposition before. Notably, the English team laboured against another CONCACAF side, Trinidad and Tobago, in the 2006 World Cup, before two late goals saw them prevail.
But this afternoon, hat-trick hero Harry Kane and co came up against a team that were plainly out of their depth. They were outclassed in their first game too, losing 3-0 to Belgium.
So along with Saudi Arabia, Panama would likely be most people's choice as the worst team in the competition.
While there are inevitably going to be some mismatches at any major tournament, from a neutral's perspective, there is the hope that they will be kept to a minimum.
And in that sense, this World Cup has been positive. Of the 30 matches so far, only nine have been won by more than a single goal.
There have also been some impressive performances from countries beyond the European and South American teams that have dominated major tournaments, with Iran, Nigeria, Mexico and Senegal among the sides to impress.
On the other hand, there are still some teams lagging behind, with Egypt, Saudi Arabia, Morocco, Peru, Costa Rica, Tunisia and Panama all eliminated after two games.
But while this World Cup has been relatively competitive by the standards of recent tournaments, that could all change very soon.
Fifa plan on creating a 48-team World Cup for 2026, with the following breakdown of teams – Europe 16 teams (13 currently); Africa 9 (5); Asia 8.5 (4.5), South America 6 (4.5), CONCACAF 6.5 (3.5), Oceania 1 (0.5), Host nation 1 (1).
So in addition to Panama, CONCACAF would have at least three extra teams. Asia and Africa would more or less double their representatives, which mean the equivalent of Saudi Arabia in eight years' time would be one of the best sides representing its confederation.
While there is the argument that giving these countries a better chance of playing on the big stage will help to grow the game in these regions, is it likely that many kids from Panama will be inspired to pick up a ball after what they witnessed today?
Perhaps there should be a greater incentive for the supposed weaker teams to do well. A Champions League-esque format, whereby a confederation's performance to some extent influences the number of teams they have in the next competition, might be the way forward.
Otherwise, future World Cups are in danger of losing some of their allure, with too many one-sided games that resemble friendlies after half-time, as today's match at the Nizhny Novgorod Stadium did.
The42 is on Instagram! Tap the button below on your phone to follow us!