THREE ROADS DIVERGED in a yellow wood, and Jay Bulger took all of them.
That decision made all the difference for his new Netflix documentary CounterPunch, which portrays the peaks and troughs during a two-year spell in the careers of three extremely different American boxers.
First we're introduced to The Prospect, Christopher 'Lil B-Hop' Colbert – an 18-year-old former amateur sensation who decides to pursue a professional career as opposed to chasing an Olympic dream he never had.
We then meet his walking antithesis, The Amateur, Cam F. Awesome – a four-time American Senior national champion at super-heavyweight, whose sole focus is to qualify for Rio 2016 and medal for his country, this in spite of earning pittance for his efforts.
Last, but not least, we're introduced to The Champion, thunder-fisted Peter 'Kid Chocolate' Quillin – the former undefeated WBO World middleweight champion whose dabbling in pugilistic politics alienates him from fans, and culminates in a war with Limerick's Andy Lee.
Director Bulger is himself a former boxer. The 34-year-old Washington native dreamed of becoming World middleweight champion as a youngster, and fought in several Golden Gloves tournaments at the turn of the Millennium. In 2002, photographs of a bloody-nosed Bulger surfaced in the New York Daily News, drawing the attention of Manhattan-based international model scout Gail Simon Chafik. Within the space of two years, the young Georgetown amateur boxer featured on the cover of Vogue, and found himself on catwalks in Paris and elsewhere, modeling for global brands such as Armani, Calvin Klein, and Dolce & Gabbana.
Though long since removed from the ring, his greatest fight was yet to come: In October 2007, a makeup artist pointed out a small scab between the model's nose and left eye. Bulger, who was aware of the melanoma, visited a dermatologist. Skin cancer.
During the first of 10 surgical procedures, a coin-sized hole was carved into his face. Nine rounds later, cancer was no longer in a position to continue. Despite a 150-stitch facial restoration, however, Bulger was keen to leave modeling in his rear-view, and shy on cash due to his considerable medical expenses, went off-grid as a construction worker.
He resurfaced four years later as director of Beware of Mr. Baker, a docu-film about iconic rock music renegade Ginger Baker, which garnered widespread critical acclaim. Incidentally, in order to spend time with the tempestuous drummer – who walloped Bulger in the face with a cane during their first impromptu encounter – the young filmmaker convinced Baker he was a Rolling Stone journalist. Suspicious, the Cream percussionist demanded he see an article before continuing with filming. Bulger's article, 'The Devil and Ginger Baker', later featured on the cover of the famed magazine, for whom he continues to write.
CounterPunch, then, saw Bulger's extraordinary story come full squared circle; having all but hung up his gloves a decade previous, he was commissioned to approach his childhood passion from the safer side of the ropes.
A month after the film's release on Netflix, he picks up his phone somewhere between The Bronx and Brooklyn and, as luck would have it, he's sat next to its most fascinating protagonist.
"I'm with Lil' B-Hop right now! He got his driver's licence so we're just driving to the gym, and I'm getting some b-roll of him driving. Hey, man, say hello…."
The latter was demanded not of the caller on this side of the Atlantic, but of Chris 'Lil B-Hop' Colbert, the now-20-year-old featherweight prodigy whose unfinished story was depicted to the masses in Bulger's most recent project.
His moniker is a less-than-oblique reference to all-time boxing great Bernard Hopkins, who smilingly alludes to his 'non-biological son' in Bulger's film.
"Hello!" is Lil' B-Hop's response from behind the wheel.
Bulger continues: "You know, I saw him win the national championship in- where was it?"
"Spokane," comes the reply from the driver's seat.
"-in Spokane, Washington. I was actually there shooting someone else, and I don't know how you'd say it…I guess I fired the person I was shooting, because I thought to myself, 'This guy is more interesting'.
"So then I ran into [Lil] B-Hop serendipitously – he was in Peter 'Kid Chocolate' Quillin's training camp for the fight with Andy Lee. We reconnected there, but also he lives in The Bronx, where I used to live, and it just all connected as far as the story I was trying to tell was concerned."
It transpired to be quite the tale indeed, as Lil B-Hop (or simply 'B-Hop', as he's now known colloquially), Cam F. Awesome, and Peter Quillin bore their souls for Bulger's cameras while suffering the slings and arrows of an oftentimes outrageous sport, all the while treading disparate paths towards their personal concept of fulfillment.
The concept of the film, meanwhile, took the man in the director's chair some time to nail down, but Bulger – a straight-shooter, particularly when assessing his own work – admits that for him personally, the filming process itself ticked a couple of similar boxes.
"To be truthful, I didn't even know what it was about until a year into filming," he says. "I had followed two other characters, actually, who unfortunately didn't make the final product.
"To be honest I think it would have made a better series, but that's not what Netflix commissioned.
"I mean, selfishly, I've made a couple of movies now, but this one was different in that I genuinely just wanted to hang out with and watch boxers, and at the same time I wanted to document boxers in different iterations of their careers. It was almost as if I was trying to live vicariously through their different journeys, in a sense.
I wanted to go to the Olympics with Cam, and with B-Hop I wanted to see him win as many professional fights as he could. With Peter I was hoping to film him regaining the middleweight championship of the world. Some things work out, some things don't. But through those three characters, I was really hoping to make a movie that someone like my mom, or just your average non-boxing fan, could watch and leave the film knowing more about boxing, and understanding what it takes to be a champion in that sport.
"Obviously it's a complicated industry, and extremely hard to explain to people who don't follow it, but I think – or at least I hope – that I accomplished that."
Without intending to spoil anything for prospective viewers perhaps unaware of the three fighters' careers, suffice to say not all went to script.
Mind you, with a film of CounterPunch's ilk, that was the entire point: boxing, even with its predilection for producing true sporting romance, refuses to bend to narratives.
"I expected that there would be ups and downs." reflects Bulger. "Maybe even particularly with B-Hop: the struggles in his life, even the two-hour journey to get to the fucking gym, which we're on right now.
"But for any of the three fighters, I wouldn't change anything. Afterwards, I was actually quite satisfied knowing that everything happens for a reason or whatever, but also, nobody wants to watch a movie about people winning all the time. Our best boxing movies are about losers. I mean, the most popular is Rocky.
One thing I noticed about boxing while making this film was, you know, these athletes are gladiators of the highest order, and they're people who many of us might aspire to be like, but people can't really relate to them until they lose.
It was an Irishman, Andy Lee, who threw one spanner in the works by refusing to be beaten by one of CounterPunch's leads, Peter 'Kid Chocolate' Quillin, when the pair threw down at Barclays Centre back in April 2015.
Quillin's arc was altered by his own failure to make weight for what should have been a WBO World middleweight title fight, but also by Lee, who despite being decked twice by the adopted Brooklynite in the opening stanza, inflicted a career-first knockdown upon Quillin six rounds later, eventually fighting the former champion to a draw.
Bulger, a proud Irish-American of Corkonian heritage – Kinsale to be precise – was understandably rooting for his film subject on that occasion, but can't help but laugh when recalling Lee's typical unwillingness to relent.
"I love Andy Lee. It was a total honour to show him to that audience.
"Andy Lee… Man, he's like a character created by George A. Romero – the guy can't be killed! That's why you've got to respect him. Once he's dead, he just gets up and throws that right hook. I thought 'Kid Chocolate' won, I've got to say, but still, Andy Lee is pretty damn scary. He doesn't quit, he doesn't…you just can't stop him. Andy Lee can't be killed. It's awesome.
Exclusive Six
Nations Analysis
Get Murray Kinsella's exclusive analysis of Ireland's Six Nations campaign this spring
Become a Member
Ed Mulholland / INPHO The referee counts down Andy Lee after he was knocked down in the first round of his 2015 scrap with 'Kid Chocolate'. Ed Mulholland / INPHO / INPHO
While Quillin's journey continued beyond his stalemate with 'Irish Andy', it was 'Lil B-Hop' Colbert whose career most fascinated the writer-slash-director. It was a fascination which, for Bulger, wasn't born merely of the youngster's outspoken nature nor unrefined talent, but rather the environment within which such a potent concoction had been cultivated.
Having embarked upon a wide-scaling tour of foster homes as a child, Colbert – a fiend for scrapping on the pavements of his native borough – found his calling over half a city away, in Flatbush, Brooklyn.
There, he continues to train in New York City's last remaining free boxing gym, Atlas Cops and Kids, an elite-level facility run by the NYPD in conjunction with famed boxing trainer and analyst Teddy Atlas.
As retired sergeant and current NYPD boxing director Pat Russo relays in Bulger's film, "It costs us about $50,000 to run one gym. What's $50,000? It'll cost $67,000 to put one kid in jail for a year in this city…which is insanity."
More poignant still are some of the intimate moments shared by Lil B-Hop under the roof of his newfound home; he spends the majority of the documentary exuding brazeness, rendering it all the more jarring when he refers to beloved trainer Aureliano Sosa as "my dad" during a casual conversation with Bulger. He's later filmed at Atlas Cops and Kids pleading with Sergeant Russo for $200 so that he can buy ID and sneakers, the latter of which he claims are not for him, before vowing to live on $50 for the rest of the week – all of this after ditching the amateur scene for boxing's 'paid' ranks.
"It's the best gym in America, by far," says Bulger. "Maybe in a couple of years, people will know it as a sort of home of champions.
"How many pros in there are undefeated?" he asks of Lil B-Hop, who's still driving.
"Every one of 'em," is Colbert's response.
"Yeah, every one of them is undefeated, professionally," Bulger continues. "There are like 10 undefeated professionals. They're all up-and-coming."
Indeed they are: Atlas Cops and Kids opened its doors eight years ago, and as of the time of CounterPunch's filming, had played host to eight national amateur champions, as well as eight Golden Gloves champions. As well as Colbert, its professional prospects include Julian Sosa [7-0-1, 2KOs], whose rap song lowers the curtain on Bulger's film, as well as cruiserweight standout Earl Newman Jr [10-0, 7KOs] and light-welterweight Richardson Hitchins [2-0, 1KO] – the latter of whom represented Haiti at Rio 2016, and inked with Mayweather Promotions last January.
"No offence to Freddie Roach," says Bulger, "but he, for instance, is a trainer who is famous for training fighters who are already at the top, you know? He didn't get Manny Pacquiao until he was what, 25-0, or 25-1? Whereas B-Hop's coach, [Aureliano] Sosa, he's bringing all these kids up since they were like 15 years old.
"It's a heck of a story, and it's a gym which is genuinely not only the future of boxing in New York, but in the world. I just hope that the film shows, through this gym, that there is hope for American boxing, in spite of all the problems for gyms and the shitty situations which many of them find themselves in."
Indeed, such is his admiration for the gym itself, as well as his evident investment in Colbert's burgeoning professional career, Bulger reveals that he has already begun work on a follow-up of mammoth proportions. His next boxing undertaking will once more star his 6-0 featherweight friend, but conceptually might closer resemble Richard Linklater's Boyhood than his own usual fare.
"You know, I was just talking to B-Hop about it while driving. We have so much footage of him, and there wasn't quite a conclusive ending for him because he hasn't become champion of the world yet. I just have hundreds of hours of footage from his life, and I think it turned out to be a bit of a shame that the movie could only feature about half an hour of that, if that makes sense.
So I'm eventually going to release a feature film that I think will be better for me or you as a viewer, because it'll be less about the politics, and the facts, and the kind of macro speak in the boxing industry. B-Hop is going to become champion of the world, God willing. It'll be a six-year film about him turning pro all the way to him becoming champion.
"I've never seen that done before, so I look forward to putting it out there and documenting that journey. It's like a 'day-in-the-life-of', but more a 'six-years-in-the-life-of'. And I find that extremely exciting, mostly just to be able to hang out with my friend and watch him continue to succeed as he grows up. Hey, do you want to talk to him? He's right here."
"Hello?"
After some fleeting pleasantries, it becomes apparent that Lil' B-Hop has parked the car.
"I'm a superstar now! I'm a superstar now, man."
Life, it's still the same, but more people notice me, more people know me, and now everywhere I go, every person that comes up to me is like, 'Oh, you that kid from Netflix?'
"All I can really say is, 'Yeah, I am. Thank you.' They tell me I'm their favourite character by far, and I don't know if they telling me the truth or not every time they say it, but too many people say it for it not to be true!
"People don't even get that opportunity when they've got 30 fights, 40 fights. I literally know fighters that are 20-0, 30-0, and they don't even get exposure like I've gotten. I'm just blessed that I'm getting that kind of exposure, especially considering I'm just out of the amateurs."
As for his pal's six-year plan, of which he'll be the centrepiece, Colbert makes no bones about his intentions to expedite the process.
"It won't take too long!
"Two years, two-and-a-half years more. I've set forward the documentary! Maybe two more, but I've given myself a four-year limit [to become world champ since turning pro], so I guarantee it'll be within two-and-a-half years."
With that, and with an extremely polite 'thank you' sans-shtick, Lil B-Hop departs to shave a few more days off B-Hood, but not before handing the phone back to Bulger, who has a parting message:
Hey, before you go: I'm trying to write an article for Rolling Stone about me beating the shit out of Conor McGregor.
Granted, it's tangential.
"In spite of being out of shape a little bit," he says, "I really think I could beat him in a straight boxing match. I really just don't think he looks to be very talented in the ring. It's a totally different sport, and while I love my Irish people – I have an Irish passport – I just can't abide by that guy. I've reached out to his people, to his publicist, to try and spar him and ruin Mayweather's chances of making his money by ruling Conor out through injury.
"You mark my words: this guy would lose to a Rolling Stone journalist in a sparring match, so get the word out over there. No respect here, from the Irish-Americans. None whatsoever."
It's one of those moments during a phone conversation where, in the distinct absence of laughter, a smile becomes almost audible.
Mind you, where Bulger's career is concerned, you can't help but envisage that Rolling Stone cover.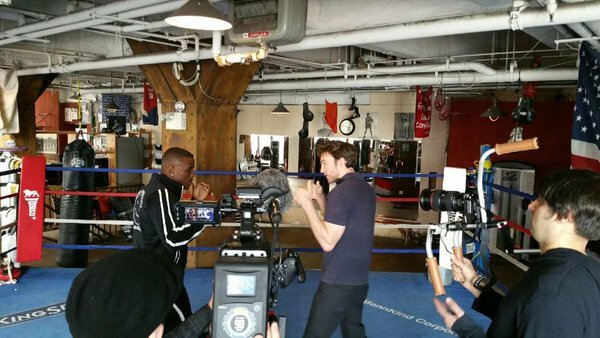 Bulger with Peter 'Kid Chocolate' Quillin
CounterPunch is available to watch on Netflix.
The42 is on Instagram! Tap the button below on your phone to follow us!
Paulie Malignaggi happy to offer up some 'technical tidbits' in sparring with McGregor