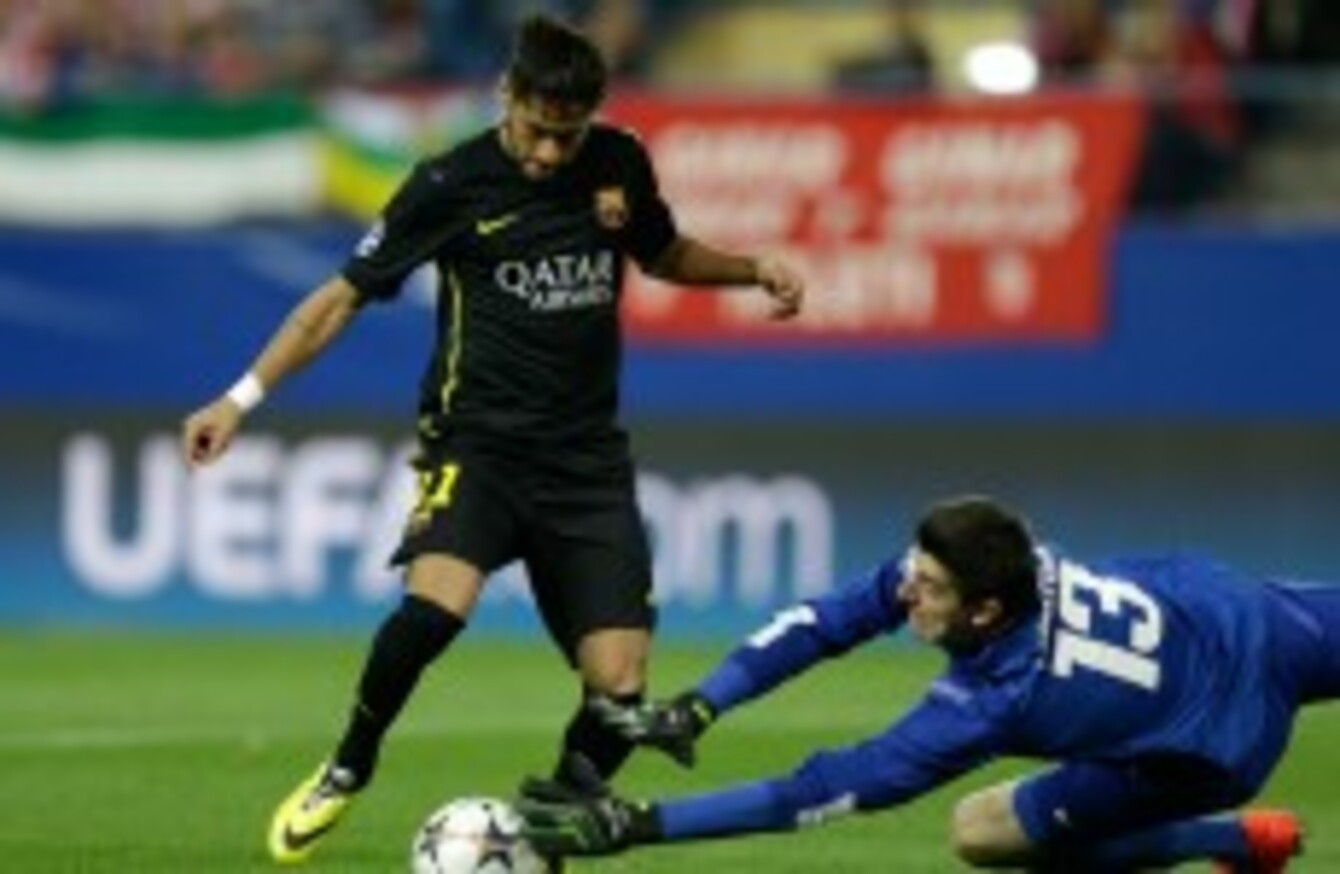 Courtois in action against Barcelona on Wednesday night.
Image: Paul White
Courtois in action against Barcelona on Wednesday night.
Image: Paul White
ATLETICO MADRID GOALKEEPER Thibaut Courtois is free to face parent club Chelsea in the Champions League semi-finals.
The teams will meet on 22 April in Madrid and again in London eight days later, with the winners playing either Real Madrid or Bayern Munich in the final.
Before this morning's draw, a UEFA statement warned that any non-play clauses in the Belgian's loan deal are "null, void and unenforceable" in their eyes.
Courtois, 21, has been on loan in Madrid for the past three seasons but his contract reportedly states that Atletico owe £2.5 million for each game he plays against Chelsea.
Club president Enrique Cerezo said they could not afford the cost of freeing up Courtois for the two legs later this month but UEFA have now warned that the Londoners face punishment if they attempt to enforce the provision.
"The integrity of sporting competition is a fundamental principle for UEFA," they said in a statement.
"Both the UEFA Champions League and the UEFA Disciplinary Regulations contain clear provisions which strictly forbid any club to exert, or attempt to exert, any influence whatsoever over the players that another club may (or may not) field in a match.
It follows that any provision in a private contract between clubs which might function in such a way as to influence who a club fields in a match is null, void and unenforceable so far as UEFA is concerned.
"Furthermore, any attempt to enforce such a provision would be a clear violation of both the UEFA Champions League and the UEFA Disciplinary Regulations and would therefore be sanctioned accordingly."