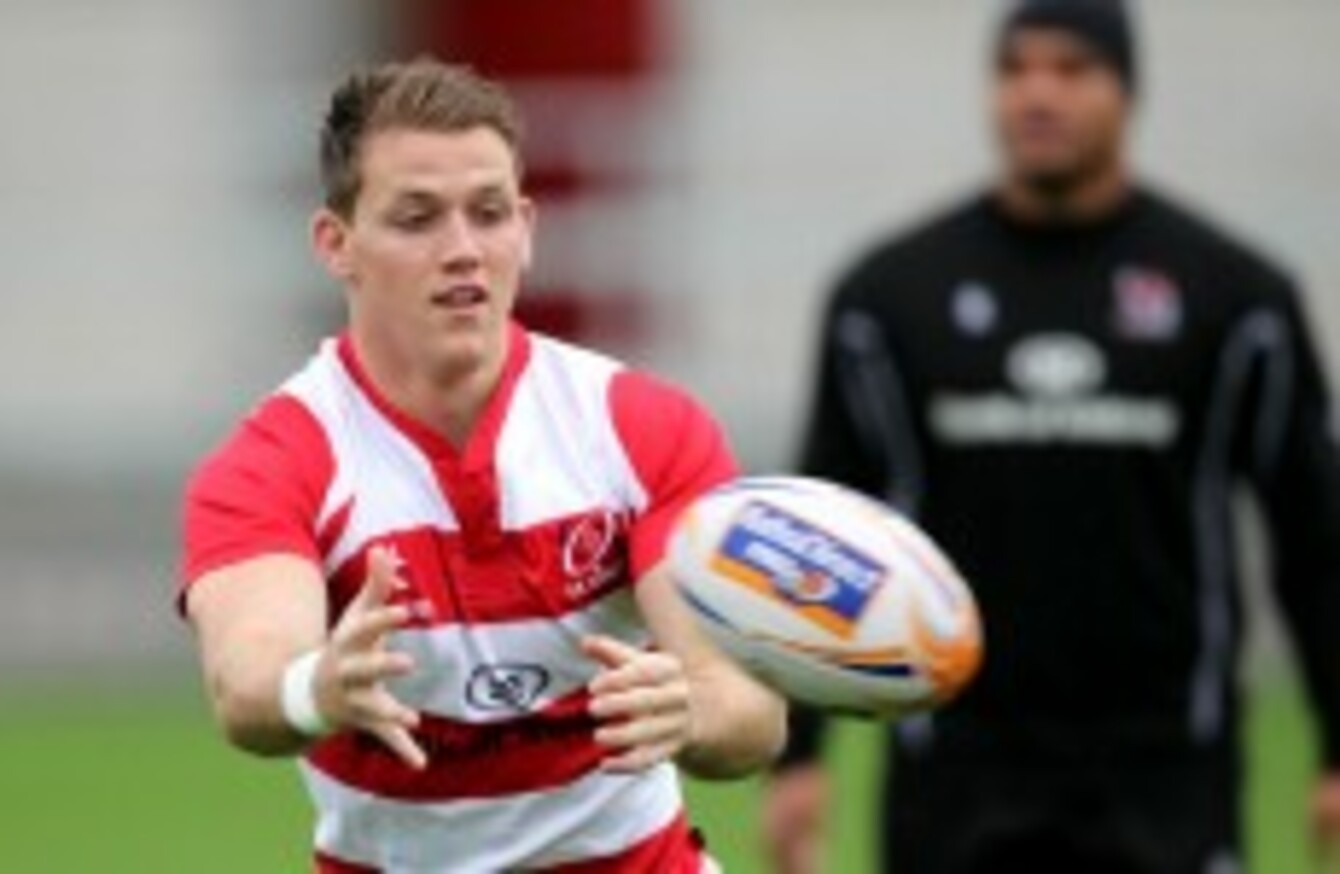 Gilroy is never standing still.
Image: ©INPHO/Presseye/Brian Little
Gilroy is never standing still.
Image: ©INPHO/Presseye/Brian Little
IF YOU'RE STANDING still, you're moving backwards.
There may not be literal sense in the motivational saying, but it sums up Craig Gilroy's enthusiastic approach to rugby. The Ulster wing is constantly in motion during games and is equally restless in his pursuit of improvements away from match days.
Three of his four starts for the province this season have been at fullback, where he had no previous senior experience. Despite affirming his preference for lining out on the wing, Gilroy is mature enough to see that playing 15 will only improve his all-round ability.
"Definitely. It's so important that the back three all work together and having played at fullback, having a wing on either side, it sort of puts into perspective how it feels for them. It gives me a few pointers of what I should do for the fullback when I go back on the wing."
The 22-year-old is aware that he is still on a learning curve in professional rugby, regardless of five international caps and over three years of experience with Ulster. Gilroy is a firm believer in getting his 'extras' done during the week, away from the planned squad training.
His current priorities within those additional slots have been hugely beneficial to filling in at fullback.
You would do your extras after every pitch session, so nearly every day. On a Monday, I would do kicking, positional kicking. Tuesdays I would do some high ball [catching] after training. Wednesday would be all gym and massage. Thursday, I'll do a bit of both and then Friday at the captain's run, I'll do just a few kicks and a few catches."
One skill that has always stood out in Gilroy's armoury, even at underage levels, has been his spin in and around contact. Countless times, the Belfast man looks like he will be shackled by the defender only to rotate his body powerfully to get himself out of arm's reach.
It's a truly difficult skill [Ian Dowling of Munster was a specialist] and one which requires great amounts of balance and footwork. However, Gilroy claims that the pirouette is not something that he has included amongst his extras.
"I haven't worked on it at all. It's just something that happens, it comes naturally. I don't think I've ever been on the training paddock and said, 'Right, I'm gonna do a few spins here.' It just seems to happen. I played a lot of soccer and GAA when I was younger, and just those sort of different movements help.
Be part
of the team
Access exclusive podcasts, interviews and analysis with a monthly or annual membership.
Become a Member
Gilroy scores for Ulster against Edinburgh this season. ©INPHO/Presseye/Darren Kidd.
"I don't really know how it came about. Just because I had such a sport upbringing, you know? Different movements and different games, especially the mixture of the GAA and the rugby. I suppose it's just something that happens."
That ability to rotate his body rapidly and in tight spaces appears to be something of a natural gift for Gilroy, and so too is his searing pace. However, the Ireland international says he has made conscious efforts to improve the efficiency of his running technique in recent seasons.
The fact that most professional rugby players have GPS systems monitoring their every movement in each training session means that Gilroy has the cold, hard data to evaluate whether or not his technique work is paying off.
My running technique since I started to now has changed so much. I saw videos of myself when I was first coming in – at 18, 19 – and all the technicalities are so different. Now we have the GPS units, so everything is monitored and my metres per second have just gone up and up and up every season."
Some players remain dubious of the GPS data, but Gilroy is amongst its biggest fans.
"I would sort of target sections, saying 'Right, I want to hit this figure.' There's a guy Chris Hagan, with STATSports, he does all the GPS for us. He would send an email out after every session with all the stats. I'm not sure if everyone looks at it, but it's certainly something that I look at.
"I would see just the distance I've run and how hard I've worked, metres per minute and then metres per second. It's good to know. Sometimes you can go into a training session and say 'I feel really good today' and then you look at your stats and they're not what you think they'd be.
"Other days, you think 'I'm stiff and struggling' but you're flying when you get the email through. It's really good to have, I find it really useful."
Ulster host Treviso at Ravenhill in Pool 5 of the Heineken Cup at 6pm this Saturday.
Like rugby? Follow TheScore.ie's dedicated Twitter account @rugby_ie >