CRAIG AND KEVIN Stadler will become the first father and son to play in the same Masters this week, but relations remain complicated between the two following a divorce.
Craig Stadler, the 60-year-old winner of the 1982 Masters, divorced Sue, Kevin's mother, in 2006.
And much of Kevin's success has involved being known as the son of the PGA veteran known as "Walrus", who is making his 38th and possibly final Masters start as his son is making his first.
"This is a very cool thing," Craig Stadler said. "It's emotional in a very good way. I was hoping it would happen some day. It's going to be just a wonderful week. I hope he plays really well and I hope I don't embarrass myself."
The younger Stadler said he had no qualms about appearing side-by-side with his father despite past issues.
"It's going to be good," Kevin Stadler said. "It's my dad. It is what it is.
"He's had his part done for 35 years. Not the easiest golf tournament to make your way into unfortunately."
The elder Stadler expects this long-awaited father-son major, which could even see them paired together for the first two rounds, will be his competitive Masters swan song.
When I do bow out, which probably will be this year, I can't think of a better way to do it than playing with your son in the same tournament. It's awesome," Craig Stadler said.
Kevin Stadler, 34, won his way to Augusta National this week by taking the Phoenix Open title in February.
"He has become just a wonderfully consistent player and has his own identity and everything else, which he should," the elder Stadler said. "He's worked hard for it and he's earned it. Good for him. I'm just going to stand on the sidelines and watch."
While there have been 11 fathers who have had sons compete in the Masters as well, none of them ever played in the same year until now.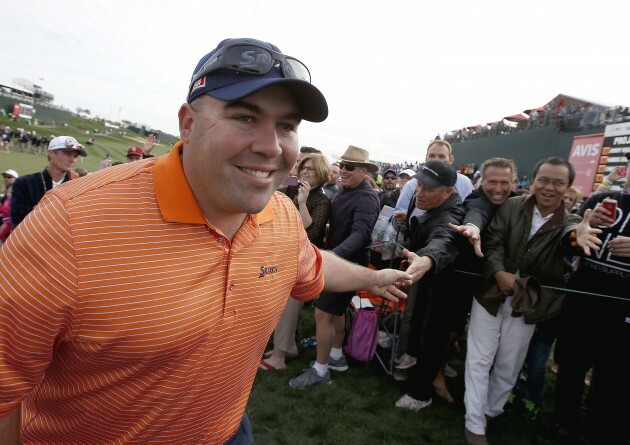 AP / Press Association Images Son Kevin won the Phoenix Open in February. AP / Press Association Images / Press Association Images
When Craig won his green jacket, Kevin was only two years old. But because Augusta National became an annual family trip, he grew up running around the famous course as if it were a vacation playground.
"It was great to be able to tag along and walk around here," Kevin Stadler said. "I couldn't wait for April every year, when I was a kid, to come out here and just run rampant around the golf course. I used to love tagging around at tournaments, just watching the golf. It was what I got the most enjoyment out of when I was a kid."
Exclusive Six
Nations Analysis
Get Murray Kinsella's exclusive analysis of Ireland's Six Nations campaign this spring
Become a Member
Stadler pondered if he might not have become a professional golfer if his dad had not won the Masters.
I have no idea. I would hope so. I've never really thought of doing anything else," Kevin Stadler said. "But it's also been all I've done since I was about five. There's no way to know."
Kevin Stadler says he gives no thought to whether being somewhat in his father's shadow for his career was better or worse than having been the son of a non-pro player, but he knows that he will not mind if he and his dad are paired together for the first two rounds.
"I wouldn't have any issues with that," he said. "However it pans out is going to be good."
Added his dad: "He'd be the first one, and the last one, to want to go out and kick my butt."