Latest: England 327-8 Ireland 329-7 (49.1 overs)
Check out a full scoreboard here
Get in touch with your comments as the morning's action unfolds. Leave a comment below, send your e-mails to sport@thescore.ie, tweet us @thescore_ie or find us on Facebook.
18.11 That's all we've got time for on what has turned out to be an absolutely incredible day for Irish cricket. We've got some reaction and analysis here, here and here – and we're not done yet so keep your eyes on the site.
To those of you who joined us for any part of the last nine-and-a-half hours, thanks for stopping by.
Next up for Ireland? Well, it's only India. Ireland return to the Chinnaswamy Stadium in Bangalore, scene of today's memorable victory, on Sunday morning at 9am to face the pre-tournament favourites.
India and England drew their game last week. Ireland beat England today. Does that mean that Ireland are now better than India? We'll find out on Sunday. See you then.
17.29 Well, well, well … what do you make of that? I'm asking partly because I'm interested in your opinions, and partly because I'm too stunned / giddy to come up with any of my own and want to steal someone else's. Send 'em in – we'll have a prize for the best analysis.
17.20 Well, have we all settled down a bit yet? I hope not.
We've been watching Twitter for the last half-hour or so to see what people are saying. There's a little bit of excitement.
17.16 Man of the Match Kevin O'Brien: "It was our day"
"I just kept chancing my arm and things came off for me. It's the best innings of my life."
"I just decided to be as positive as I could. The wicket was flat and the ground was small. We attacked and it came off."
"It truly was a team effort."
"I don't think there'll be any legendary Irish celebrations. The bars close at 11, so we'll have to settle for a few quiet beers in our room"
17.13
William Porterfield: "It's the greatest performance in Irish cricketing history. We believed in ourselves."
"We knew that we could do it and, when Kev went in, we knew that he could do it"
"The performances of Cusack and "John Boy" Mooney show that we have strength in depth"
"It's still only one game. We'll be hoping to put in another performance like that over the next four games"
17.08
Andrew Strauss: "Obviously we thought we had done a reasonable job at the bat. We weren't reckoning on an outstanding innings from O'Brien"
"It's a bitterly disappointing defeat for us, but our World Cup dream is not over"
"I don't think there was any complacency on our part. Kevin just came in and chanced his arm and he played brilliantly. Take nothing away from Ireland."
"We put down three or four catches today and, in the end, that's cost us the game."
"We're just gonna have to bounce back"
17.07 Now is probably the perfect opportunity to remind you that after just one ball of their innings, Ireland lost their captain William Porterfield. A diamond duck. 0-1. Who could have foreseen what happened next?
17.03 Alex Cusack: "Words can't describe how I'm feeling. I'm just on top of the world"
"I just decided to knock it around and let Kevin get on strike. He's got the big shots."
"What are we doing tonight? I think we'll just have a few quiet pints."
17.02 Absolutely incredible stuff here. As soon as my hands stop shaking, I'll bring you some appropriate reaction.
IRELAND WIN BY THREE WICKETS!
Anderson to Mooney ….. FOUR! MOONEY HITS A FOUR! IRELAND WIN!
Final over here folks. Don't touch anything.
One. Ireland need 3 from 6.
One. Ireland need 4 from 7.
Two. Ireland need 5 from 8.
Dot. Ireland need 7 from 9.
16.53 FOUR FROM JOHNSTON. Ireland need 7 from 10 balls.
16.51 WICKET! That's huge. O'Brien run out 113. Without him, Ireland need 11 from 11.
16.50 A crocked Broad is on to bowl the 49th over. O'Brien on strike.
16.49 I can't watch. For your sake, I'm forcing myself to.
16.44 One. One. Dot. One. One. FOUR. Ireland need 12 off 12 balls.
16.39 Right, I'm going ball by ball here:
Dot. Dot. FOUR (23 needed). Dot. One. Two. Ireland need 20 off 18 balls
16.37 Great drive to the slot from Mooney and that's a four. Ireland 301-6, needing 27 off 24 balls.
16.36 I don't know about you, but I no longer have any fingernails. Every single is precious now.
16.32 I thought John Mooney was gone there, but it came off his shoulder. Mooney has the last shot of the innings, and sends it for four. Great shot. Need 35 off 30. O'Brien on strike.
16.31 At this stage, England were 288-3. Ireland are 289-6. It's that close.
Every English dot ball is vital.
16.29 Ireland need 40 from 36. Even the most skeptical man in the office (i.e. me) is starting to believe. There's a huge amount of cricket to be played though.
16.27 Ireland are taking a few risks here as they try to keep O'Brien in strike. Every run is filled with the potential for disaster. As I type, O'Brien gets back for a very risky double.
16.25 Ireland need 49 from 42. The Sky man has just assured me that if Ireland bat the 42 deliveries, they will win. Despite the fact this is what I said about five minutes ago, I don't believe him.
16.22 Mooney is finding it incredibly hard to pick up a single. He gets one and now O'Brien is on strike. Need 53 from 46 balls.
16.19 John Mooney is at bat. His average is about 30 runs. We don't need a hero here though – we already have one. Mooney just needs to keep picking up singles, handing the strike back to O'Brien, and sacrificing himself a-la-Cusack if the need arises.
16.16 REVIEW! Cusack is going to be given out here. And he is. Cusack run out 47
Alex Cusack has just sacrificed himself to save Kevin O'Brien and the 162-run partnership falls. Ireland need 55 from 51 balls to win.
16.15 If – and it's a huge if – Ireland can bat for the full fifty innings, they might just pull this one off.
16.12 Kevin O'Brien has just made the fastest hundred in World Cup history. Read that again. The fastest hundred in World Cup history.
It only took 50 balls for him to do it, shattering Matthew Hayden's record by 16 balls. Magic.
16.11 Four from Cusack. Ireland need 58 from 56 balls.
16.09 Four for Kevin O'Brien. Takes him to 97 and the partnership to 150. I'm trying so, so hard not to get excited here.
16.07 "The moment you think you can win a game, that's when the pressure really starts." This is becoming close to unwatchable – but in a good way.
16.06 SIX! Another one. This time, it's from Cusack. Ireland now need 70 from 65 balls.
16.01 DROP! An absolutely huge drop. O'Brien skies it and every Irish person watching puts their head in their hands. Strauss is underneath it but somehow, as the ball drops over his head, he loses sight of it, fumbling the ball to the turf. O'Brien stays. Somehow. Don't ask me how. Ireland bring up 250-5 (38.3 overs)
15.59 O'Brien is on 91 after 43 balls. I'm pretty sure the Sky commentators just said that the fastest ever World Cup century was Matthew Hayden in 66 balls. If that is the case, O'Brien might just be about to make a little bit of history, regardless of the final result.
15.57 The consensus is that Ireland have a chance for as long as O'Brien can stay at the crease. For anyone who was wondering how Ireland would fare in the post-Powerplay overs, they scored 14 in the last one. Great stuff.
15.56 SIX! Kevin O'Brien is a god. He's just hit the biggest six I've seen in a long time. The ball before that was a four. Cracking innings from O'Brien over the last hour.
15.54 I'm nervous. I didn't want to get involved for fear that I'd jinx Ireland. Adrian has insisted though.
15.49 Reluctantly, I have to go. I'll try not to take the momentum with me – the big-hitting, seam-fiddling Niall Kelly's back to the crease momentarily.
15.47 SIX! O'Brien hits the biggest maximum of the tournament. It's a massive 102 metres.
15.46 O'Brien drills another to the cover boundary and cheekily holds his pose for the camera afterwards. He's enjoying this.
15.43 From the Twitter machine: elskidblog writes: 'Ed Joyce was my landlord a couple of years ago. Lovely flat, lovely man. Left me two crates of out of date Middx bitter.'
15.40 Game on, Ger? Another six from O'Brien which is described as the stroke of the day and a gloriously shot by the commentators. He's absolutely flying it.
It's all set up for a glorious defeat. 123 would win it.
15.36 O'Brien reaches the 50-mark with his third maximum.
15.30 Ireland showing plenty of spirit as the Sky Sports commentators keep patronis… kindly reminding us. Another beautifully-timed, bullish sweep from O'Brien takes another four.
Strauss offers Anderson an extended lecture. It's take-care-of-business time you suspect as the English don't want to drag this out, naturally.
15.26 This is the BBC's take on England's performance: "I hope Strauss reads the riot act to his team after this shambles of a performance. Anderson is back on at this end (Broad's first five overs have cost 44 runs by the way!) and he sends down three dot balls before Cusack gets key man O'Brien back on strike with a single."
15.21 James Anderson is back in the fray. Kevin O'Brien – partnered by Alex Cusack – has decided to get a helmet on. Here's a handy summary of the standings: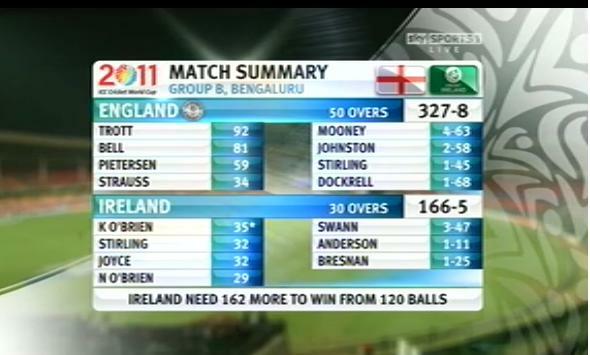 15.17 O'Brien flicks Swann wide of short fine leg for four more. He has 34 from 21 balls, and Swann ends with 10-0-47-3.
15.11 For those with bingo cards, we've had another Guinness reference. O'Brien is playing beautifully – even 'Athers' agrees. Ireland need 179 more runs to win, for those optimistic Irish fans and Malaysian betting syndicates still reading/watching.
15.08 SIX! And it's another from O'Brien with a carbon copy of the previous clean, simple shot of Swann. That's a handy 15 from the over.
15.06 SIX! This is better from Ireland; O'Brien hits a a big six to become Ireland's highest ODI scorer.
15.03 This is a very good over from O'Brien who's taken 10 from it. More please.
14.58 Alex Cusack comes in at No 7 to face the superb Swann.
Lawrence booth writes: "Swann's third wicket in three overs has pretty well sealed Ireland's fate. A thrashing here could help England's net run-rate too.."
14.56 REVIEW Wilson looks to be out but we've gone to the video… And he is out for three.
14.52 Wilson and Kevin O'Brien are in while Yardy is introduced for the English.
O'Brien's wearing a cap rather than a helmet. Does he come from hurling stock?
14.48 Joyce walks for 32. This isn't good is it.
I missed it first time around because an ad for the next episode of Boardwalk Empire. I find they give away too much (don't you?) so I took off my headphones.
From the Guardian: "This is a jaffa from Graeme Swann. Joyce walks down the track and tries to play defensively, but he's beaten by a beauty that drifts in and then turns past the outside edge. Matt Prior does the rest and Joyce just keeps on walking."
14.42 I'm off for a spot of afternoon tea. Adrian will look after you while I'm gone. When I come back, Ed Joyce will be on 117*. Fact.
14.39 WICKET! N O'Brien b Swann 29 Every time it looks like Ireland are starting to string together a score, disaster strikes. Niall O'Brien gone now after taking a pretty unnecessary risk off Swann's straight delivery. 103-3 is the score, but I can't see Ireland upping their run-rate to the required 7.5.
14.38 Swann and Collingwood are bowling quite well at present which means that it really is slim pickings at the moment. After 20 overs, Ireland are 102-2. England were 122-2. Make of that what you will.
14.25 Ireland's run rate is currently around 5.3. They really need it to be closer to 7.0 at this stage in proceedings. Still the O'Brien-Joyce partnership is ticking over nicely – they're on 28 together so far, which isn't terrible. Ireland 90-2 (17.0 overs).
14.19 ANOTHER DROP! This time it's Niall O'Brien who gets away lightly. He drilled one to long-off, but Jimmy Anderson was right there. Rather than catch it though, he let the ball slip through his hands and go for a six. Nightmare. That brings Ireland to 76-2 (15 overs).
14.09 DROP! Ed Joyce is a lucky, lucky man. Matt Prior had the opportunity for what looked like a relatively straightforward catch but let it fall to the deck. Still, Ireland have only managed one run in each of the last two overs to bring them up to 64-4 (12 overs).
14.00 WICKET! Stirling c Pietersen b Bresnan 32 The commentators' curse strikes again. Stirling really got under that one and, when it dropped at deep leg, Pietersen was standing gratefully underneath it. Ireland 62-2 (10 overs)
13.59 This is actually quite a nice little knock from Paul Stirling at bat. He's picked up 32 off 27 balls, including six boundaries.
13.48 That's not a bad innings though with Ireland picking up ten more runs. After seven overs, they're only 4 runs behind England's score at the same point. The difference is that Ireland need to keep their early wickets at all costs. Paul Stirling is key here. Ireland 42-1 (7 overs)
13.46 Ed Joyce has just notched his 500th career ODI run. Good slugging big man.
It's really very hard to get excited about this though. No matter how well Ireland score, they're unlikely to catch England's total of 327.
13.25 A huge appeal for an lbw against Ed Joyce. The umpire waves it away but Broad is convinced and so the TV umpire is brought in. A single look at the review shows that the ball pitched outside leg and Joyce is safe. For the moment.
13.18pm Following Porterfield's untimely dismissal, Ed Joyce is in to bat. Slightly earlier than he expected I'd say.
13.16 WICKET! Porterfield b Anderson 0 I give up. That is an absolutely shocking start for Ireland. William Porterfield drags the first ball of the new innings on to his stumps and he's gone for a duck. I should have let Adrian stay here.
13.15 Alright, here we go. Porterfield and Stirling are the Irish openers.
12.41 English finish up. It's a 'formidable' total as Mike Atherton tells us. But ireland have done well to come back into it.
David Elkin emails to say: "Very good last five overs from the bowlers. But I still think that total will be too much. Looks like the run rate will be above six an over, and that's too high.
Sure, it was four an over against Bangladesh, and the inevitable capitulation still came. We need to keep our wickets early though. It is a good pitch and England's bowlers haven't fired yet this tournament, but it's still a massive uphill struggle. Expect a comfortable England victory here.
Niall will be back after the break, when hopefully, the Irish will really tear into it.
12.38 Our colleague Gavan Reilly tweets: "Wow. The cheapest tickets for the Ireland v England #cricket today cost €1.62, but nobody showed. http://bit.ly/eCKbTN (h/t @markhamnolan"
12.36 While we debate the appeal or otherwise of the game on this island in the comments below, spare a thought for this lad on the Guardian's minute-by-minute:
I was brought up in England to Irish parents with a Jamaican uncle (by marriage) who taught me cricket. I am married to a Brazilian and living in Brazil. I support England for everything just because it makes my brain hurt to think about it all.
12.23 WICKET! Collingwood is gone for 16 after Kevin O'Brien catches deep. It's a big relief to get the big hitter out before he does any real damage.
Michael Yardy next in.
12.22 By the way, if a lot of this is lingo and jargon makes little sense to you, these pieces might help:  A beginner's guide to the game and a bluffer's guide to the tournament.
12.17 WICKET! Now Prior's gone. He  makes room and misses; Johnston hits.
12.09pm WICKET! Mooney gets his man again as Trott is out for 92. No hundred for the English today it seems.
12.07 David Gower is forced to apologise after 'Indian sound engineers failed to prevent an audible obscenity creeping in'.
I think it was Trott who urged the ball to 'f*** off' a few moments ago.
12.03 Collingwood comes out to the middle. The Daily Mail's Laurence Booth writes:
Cracking stand of 167 in 156 balls between Trott and Bell (who also added 170 with Strauss v India, don't forget)..
12.02 WICKET! Bell is gone for 81. Mooney gets his man as the batter's clip is 'middled' and Stirling at midwicket pucks it out of the air low to his right. That's good stuff.
11.56am John Mooney is taking his time with eight overs left. From the BBC: "The penultimate over of the powerplay is entrusted to Johnston. Fireworks time? Nope – Bell drives straight to cover, no run. Now he lofts over cover, single. Bell has batted patchily today. There should be sixes and fours, instead Trott defends to point, now he gets a single to long-off. Better from Bell, another Dilscoop for four."
The Dilscoop is " a cricket batting stroke developed by Sri Lankan right-handed batsman Tillakaratne Dilshan during the ICC World Twenty20 held during June 2009 in England." But that's according to Wikipedia.
11.46am "250 arrives for England" as Strauss grins in the pavilion. Here's Bell's scoring areas, before that latest sortie:
11.43am The crowd are shown an English woman kitting in the stands. It's possibly a cardy as the evening cools in Banglaore. I can't confirm at this point.
The Sky Sports viewers are shown England's scoring rate nevertheless. It's not unlike a knitting pattern:
11.34am The English are in complete control here aren't they?  Bell hits another four off Johnston as I type with a lovely stroke.
In the meantime, what do people reckon of the debate that's bubbling in the comments section? Do Irish people actually care about this game?
11.30am Russell walks to the crease… Okay, what did I miss?
This could get very boring, very quickly so who's up for playing the Bumble Drinking Game? Every time David Lloyd mentions 'the black stuff' we all take a sup of green tea.
11.24 am I'm becoming a little bit disillusioned with how the last seven or eight overs have unfolded, so I think I should switch off for the next while in the hope that the English wickets start to tumble. I'll be back later though, don't worry.
In the meantime, be nice to Adrian. It's not his fault Ireland lost against Bangladesh last week. Honestly.
11.21 am And there's Bell's half-century off 61 balls, bringing England to 211-2 with 15 overs remaining.
11.18 am England have really pushed on in the last few overs. If they keep this going, they'll probably set Ireland a target of around 300. England 205-2 (34 overs).
11.10 am Trott's half-century is up, bringing an 11-run over to a close for England. 189-2 (32 overs)
11.07 am Bell and Trott are putting in a decent shift here. Their partnership has just passed 70 runs. Another Irish wicket would shake England up a little bit, which they'll need to do if they're going to keep the target at a manageable level.
11.02 am Some clever fielding from Ireland in this middle period. They're deploying different formations against Trott and Bell in an attempt to keep Trott on strike for a little longer.
When Bell comes in, you can see why. He hits a beautiful six to long-off. 175-2  (30 overs).
11.00 am Dockrell's back in, and himself and Stirling aren't giving up without a fight. England's run rate has dropped to just 4.00 over the last three overs. They're on 164-2 after 29 overs.
10.51 am David Elkin has been back in touch. He doesn't agree with Barry's earlier comment that few people in Ireland care about cricket.
"The fact is that cricket is one of the most popular sports in the world. In India, there are about a billion people for which it is a religion, and in countries such as Bangladesh and Pakistan it dominates. Ireland are actually good enough to compete and do well at the World Cup, against the big countries, which is more than can be said for many other sports.
As for interest amongst Irish people, of course it is relatively low. It is somewhat of a niche sport, but one with a dedicated following (as the crowd of Irish in the stadium today will show). If the sport didn't have such colonial connotations then this wouldn't be an issue, and would not be brought up by Barry and his ilk.
I mean, seriously, when Ireland do well at obscure Olympic sports like walking and archery, there is deserved and widespread support for our competitors. When Ireland compete, and in 2007 actually beat a world superpower, in Cricket, there are always people asking "Who cares?" with a tone that suggests it is somewhat of a lesser achievement because it is not a massive sport in this country. These are Irish sports people competing at the highest level in their profession."
10.46 am Paul Stirling is bowling very well for Ireland. He gives up another single-run over. That's just 18 runs off the 5 overs he's bowled so far. England are 144-2 at the half-way point.
10.42 am Trott and Bell taking some unnecessary risks with their running, but they get away with it. 143-2 after 24 overs.
10.39 am These overs aren't coming quite as cheaply as the Irish would like. Stirling gives up eight there as England move to 138-2 (23 overs). They've only scored 24 runs in the last five overs though, which is pretty good going by the Irish bowlers.
10.38 am Over on The Guardian's site, Rob Smyth is asking an interesting question:
"Should we criticise Strauss and Pietersen for the manner of their dismissals? I think it's a wee bit harsh to celebrate the unorthodoxy and then moan when it occasionally goes wrong."
10.36 am Let's have a quick look to see what some of the experts are saying (I was going to write "some of the other experts", but even I'm not that delusional)
This is from the BBC's Alan Lewis:
"This is an interesting phase of the game with two new batsmen at the crease. From an Irish perspective if we can break this partnership, we have Collingwood coming in who isn't in a bundle of form. The one thing this Irish team don't lack is energy in the field. Both of these bowlers can keep the run rate down so Ireland can get back into this now."
10.33 am England's run rate has been gradually dropping over the last few innings. They're down from 7+ to about six runs per innings now. Good work by the Irish bowlers. 124-2 (21 overs).
10.27 am 1855. That's the answer. Ireland defeated the Gentlemen of England by 107 runs in their first ever game. They've played somewhere in the region of 800 games since then, though I'm not sure of the exact figure.
The Irish Cricket Union wasn't founded until 1923  and Ireland only became an associate member of the ICC in 1993. Their appearance at the 2007 World Cup was their first.
There endeth the history lesson – unless anybody else has questions?
10.24 am The debate continues about whether or not Irish people like cricket. Anthony Power has chipped in:
"I know lots if people love cricket. What puts people off is actually taking the time to learn the rules properly. It's got nothing to do with Sky Sports."
Stephen Quinn wants to know when Ireland started to play cricket – I think I have the answer, but I'm off to verify the facts. Back in a sec.
10.22 am Bell is in for Pietersen. Another good over from Dockrell restricts England to just three runs. England 114-2 (18.0 overs)
10.17 am WICKET! Pietersen c N O'Brien b Stirling 59 I was just in the process of writing a glowing review of Paul Stirling's opening over when he goes ahead a takes a BIG wicket. Thankfully, it's KP who falls and he's gone for 59. He went for a big reverse sweep but skied a top edge which Niall O'Brien was more than happy to take just behind the stumps. England 111-2 (17.0 overs)
10.15 am Another very good over from Dockrell, giving up just three runs to Trott. England 110-1 (16.0 overs)
10.11 am Today's burning question – do Irish people actually care about cricket? Barry was in touch earlier with his thoughts. I'd be interested to hear what some of the rest of you have to say on the matter.
"Personally, I would prefer to watch re-runs of Mike Murphy on Winning Streak! How many people are interested in cricket in Ireland ? I would have thought it was very low, maybe I am wrong. It seems to be punching well above its weight in terms of exposure – is Sky TV the reason?"
10.08 am Another six from KP off John Mooney's delivery. That's three boundaries which he has conceded in two overs. Not the best start.
10.07 am Trott looks like he means business. He hits two early boundaries, picking up ten runs off his opening six balls. England 101-1 (14.3 overs)
10.05 am Jonathan Trott is in to replace Strauss. It may be painfully obvious to say it, but a few more wickets really wouldn't hurt the Irish cause. Dockrell is 1-11 after his first two overs with the ball.
10.01 am WICKET! Strauss b Dockrell 34 Ireland's teenage magician strikes again. It was really very sloppy from Strauss who played it on to the stumps. He's out for 34 on his 34th birthday – what a lovely coincidence. England are 91-1 after 13.3 overs.
9.58 am A direct hit there from Ireland as Strauss dashed through to steal a single. There's a half-hearted appeal, but he was a yard or two safe by the time the stumps came off. 89-0 after 13 overs.
9.56 am Apparently, it's two years and 25 ODIs since Kevin Pietersen scored a century. I would really rather if he didn't end that streak today.
9.54 am That's a half-century for KP off 41 balls. This is not looking great for Ireland as England's current run-rate leaves them heading for a target of 350+. I think I can be fairly confident in saying that Ireland won't be reaching that target.
9.42 am That's not a great opening over with the ball from Alex Cusack. He gives up ten runs as England move to 60-0 after nine overs.
9.32 am David Elkin has been in touch via e-mail, and he has this to say:
"As this pitch showed during the England vs India game, this is a scandalously good batting track. England are going to post a massive score, I can't see it going any other way. Which means we'll be chasing a huge target, and will inevitably crumble under the pressure. But maybe I'm just being optimistic."
Get in touch to let us know what you think.
9.30 am Kevin O'Brien could be in trouble here. He's gone down clutching his knee after a Strauss single and the medics are on to take a look.
His leg just went from under him as he chased the ball down and it looked pretty sore. He's alright though and he'll soldier on for the moment anyway. What a trooper.
9.27 am You get the sense that England are going to punish every single mistake which the Irish fielders make. Pietersen sends a poor delivery from Johnston for a boundary, bringing up a score of 40-0 after six overs.
9.24 am England's opening run rate is still considerably less than Bangladesh's. They were on 49-0 after their first five overs. However, it was right about now that they disintegrated, scoring only 48-5 over the next 15 overs.
9.21 am That was nearly a lovely over of bowling for Boyd Rankin, conceding just one run off the first five balls. Then, Strauss flukes a top edge away for six and all of Rankin's hard work is undone. Dockerell was watching it all the way and, had that dropped a yard shorter, that would have been Ireland's opening wicket. England 35-0 (5.0 overs)
9.18 am After four overs, England have moved on to 27-0. Gav has just popped over to let me know that after four overs of the last game, Bangladesh had racked up 39 runs. I'm not sure if the English tail will crumble in the same way that Bangladesh's did, but still, every cloud …
9.15 am Let's talk about targets here for a minute. In order to have any chance at pulling off an upset, what do Ireland need to hold England to?
It probably depends on which English fielding team shows up this afternoon. They conceded 292 against the Netherlands and 338 against India, so if the Irish bowlers can keep this around the 250 mark, I reckon anything is possible.
What do you think?
9.13 am Rankin has started bowling well, but Pietersen is pulling off some great shots to allow England to settle in. A lovely inside edge and a nice straight drive go for consecutive boundaries as England move to 22-0.
9.07 am If you're wondering why the Irish team are sporting some rather unusual hairstyles, this article which we published yesterday should answer some of your questions.
9.04 am A solid opening over for the English batsman. Pietersen picks up his first boundary as England mosy to 7-0 after the opening six balls.
9.00 am We're off. Boyd Rankin has the ball for Ireland.
8.58 am Strauss and KP are on their way to the crease. We're just about ready to go here.
If the Irish team are in need of any motivation, here are a few words of encouragement from a gentleman who knows a little bit about beating the English. "It's not that difficult," he assures them.
Sure.
8.55am As I've never actually seen the beginning of an Irish cricket match before, I have to say I'm a little bit surprised to hear that Ireland's Call is our "national anthem" for cricketing purposes. Though I suppose that makes sense.
8.53am In honour of Stuart Broad's return, here's his theme tune. At least, that's what the Aussies told me.
8.50 am: Here's the team news in full. English fans will be delighted to see that Stuart Broad has recovered from illness in time to be included. For Ireland, there's only one change from the side which was narrowly beaten by Bangladesh on Friday – Gary Wilson comes in to replace Andre Botha.
England: Strauss*, Pietersen, Trott, Bell, Collingwood, Prior†, Yardy, Bresnan, Swann, Broad, Anderson.
Ireland: Porterfield*, Stirling, Joyce, N O'Brien†, Cusack, K O'Brien, Wilson,  Mooney, Johnston, Dockrell, Rankin.
8.45 am: A very good morning to you all from sunny Bangalore, India. I wish.
Sadly, I'm stuck here in the slightly colder surroundings of Score Towers, but between myself and Adrian, we'll be keeping an eye on Ireland's battle against the auld enemy for the next six hours or so. The teams are due at the crease in 15 minutes time, so there's not long to go now.
The first little bit of news that you should be aware of is that England have won the toss and chosen to bat. For the first time this tournament, England will be setting the target rather than chasing it. Strauss has had a good chance to look at the surface and reckons it's a "good pitch" so he'll be hopeful that England can rack up another 300+ innings today.
Strauss and Pietersen are the English openers. A couple of early wickets would help the Irish cause nicely.