ANY WORRIES THAT a trip to the Fiesta Bowl to watch the University of Central Florida (UCF) beat Baylor last January would have a negative impact on the numbers travelling over for the Croke Park Classic this August have been put to bed by George O'Leary.
Indeed, the UCF head coach is confident his team will easily bring 20,000 fans to Dublin for the game on August 30.
"We'll have a good number over, I'm thinking 20,000, somewhere in that range, maybe more. [Our fans] are late buyers, they look for the best buys so maybe we'll have more.
"There will be a bunch there over here and will mostly use it as a vacation coming over early and starting late.
"A lot are landing in Shannon and playing golf all the way up to Dublin, it will be great for them, they're looking forward to it."
O'Leary, who has been head coach with UCF since 2004, has taken a hands on role in the planning for the event, especially when it comes to his players.
"We will leave Florida on Tuesday night and get to Dublin Wednesday morning.
"We are going to fly through the night so the kids will hopefully sleep.
"We're staying at Carton House, we'll practice, give them couple of hours rest and then show them the sights of Dublin, get them some culture.
"I went to all the hotels and Carton House has the best mix for me in terms of practice facilities, the pitches are right there, the fields are right there.
"They are very accommodating for what we have to get done. The fields are in great shape, we're only doing a couple of days on them.
"We'll really still be in pre-season that time. Thursday morning we work out and the afternoon see the City of Dublin, stop at some sights that the kids can get a look at and Friday bring them over here (Croke Park), get on the field, go to bed, play Saturday and we leave Sunday."
Of course, dealing with a bunch of college kids isn't the easiest task in the world.
"They all have to get their passports. You take 120 athletes and there are always three or four you have to walk around and do everything for them.
Exclusive Six
Nations Analysis
Get Murray Kinsella's exclusive analysis of Ireland's Six Nations campaign this spring
Become a Member
"I said 'you don't get it done, you're not on the trip. It's not like you can fake it. You have to have a passport to get over.'" he laughs.
"They are looking forward to it though and especially with it being against Penn State – it should be a great game."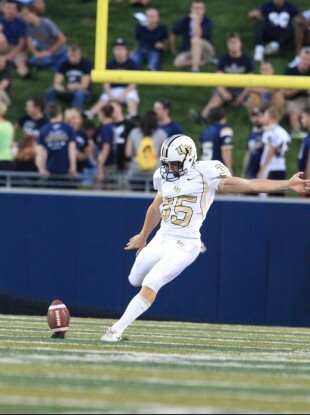 UCF Cork's Sean Galvin will be kicking off for UCF when they visit Croke Park. UCF
One player who is really looking forward to the game is Sean Galvin, who is originally from Bandon in Cork and who appears to be bringing all his relations to the game.
"Sean's still here, still kicking for us. He told me; 'Coach I have about 6 or 7 buses coming up from Cork for the game'.
"Sadly though, he came in to me the other day and said; 'my grandfather couldn't wait for the game but he passed away about two weeks ago. He was so happy that I was coming over.'
"I'll tell you a funny story about Sean. I put him in a game – the first American football game he played in. We were winning 41-0 and he's a kicker so I put him out there. So he gets out there to kick off and he's (waving his arms) and I'm thinking 'what's he doing?'
"He was telling returner on the other team to move because he was in the way. So he proceeds to drill the ball about 100 miles per hour and hits the kid in the chest with it.
"The kid is staggering drunk and he falls on the ground. Everyone starts booing because they think we're trying to run up the score. That was my first exposure to him.
"He still has the Cork accent and it gets deeper as he gets in more trouble."
The 67-year old also believes this year's Croke Park Classic will be the first of many with a number of other coaches getting in touch to ask about the logistics of the trip to Ireland.
"I've had calls form a lot of programmes asking about playing overseas. Stuff like 'coach how does this work out, how do you get that done?'
"It is great exposure for teams – recruiting wise, national exposure – not just in your own country but in Europe. It's something you can't buy as far as the exposure you'll get for the game."