BOTH MOSSY QUINN and Colin Walshe are big fans of American football, but that doesn't mean either would fancy their chances on the field when the University of Central Florida (UCF) take on Penn State in their 2014 college season opener – the Croke Park Classic – on August 30.
Former Dublin star Quinn has harboured ambitions of playing the sport since he first took an interest in it while playing Gaelic football in the US, however, he's happy to admit his chances of actually playing have probably passed.
"I would have loved to play the game, I love the mental aspect of the game in that you stand directly across from each other and it's a new play every time and you've to work out exactly what it is the opposition is going to try.
"You're looking across the line not knowing what the other guy is going to do so you've to have both the physical and mental tools to stop him.
"It's one of those things where you'd love to think you could do it but then you see the size of those guys, the speed they move at and you actually sit down to work out what position you could play, you inevitably wind up as the kicker or punter and that's about it."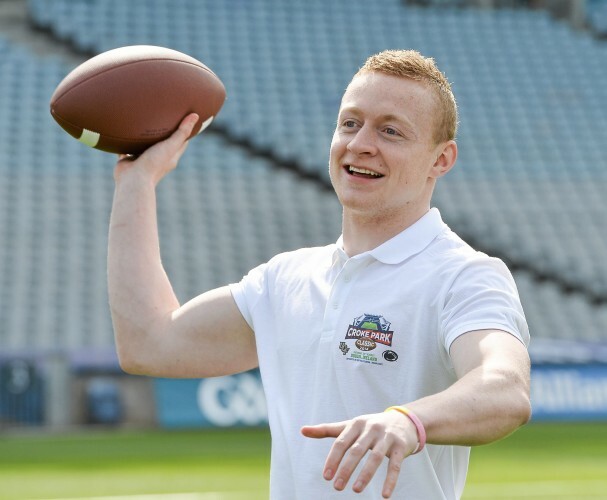 David Maher / SPORTSFILE Colin Walshe trying his American football skills in Croke Park. David Maher / SPORTSFILE / SPORTSFILE
It's an sentiment Walshe – winner of an All-Star in 2013 for his role in helping Monaghan to their first Ulster title in 25 years – agrees with.
"The kicking aspect probably suits a lot of GAA players but, when you see the size of some of the American football lads, I'm not sure I'd be physically big enough to play."
However, while the Monaghan defender originally became interested in the sport through ESPN documentaries, it's something he now follows much more closely.
"I suppose when you're off on a Sunday evening after a game, it'd be on in the house. I don't particularly follow a team in the NFL but I do enjoy the spectacle, the event.
"I also love college football. When you see some of the crowds they get at games in the likes of UCF and Penn State, it's a great atmosphere."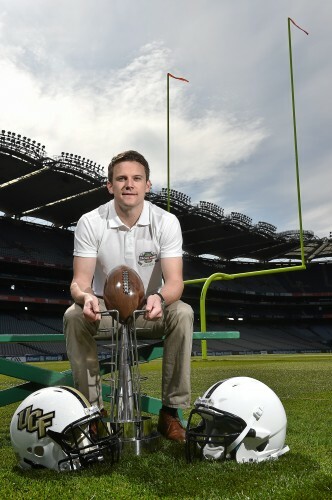 David Maher / SPORTSFILE Tomás Quinn with the Dan Rooney Trophy. David Maher / SPORTSFILE / SPORTSFILE
Quinn, on the other hand, has had a love affair with the sport for over a decade, even if his chosen team are, well, let's just say they're not perennial Super Bowl contenders.
"I was in the States for about four months ten years ago and I just started watching the NFL because the season was starting as I was getting ready to come home.
"I've followed it ever since and, with TV and internet now, it's a lot more accessible to see live games and get information on the sport so that's great.
"Unfortunately I'm a Tennessee Titans fan and they're not particularly good at the moment, actually, they haven't been particularly good since I started supporting them either, but one of the reasons I really got into the sport is because they always seemed to be on the TV and their quarterback was Steve McNair who was really exciting so I loved watching him play.
Exclusive Six
Nations Analysis
Get Murray Kinsella's exclusive analysis of Ireland's Six Nations campaign this spring
Become a Member
"I suppose the obvious thing is to support good teams like the Patriots, Giants or someone but I just thought I'd go a little bit different and support the Titans."
David Maher / SPORTSFILE The Dan Rooney Trophy, made from a 4,200-year old piece of bog yew, is the prize for the winners of the Croke Park Classic. David Maher / SPORTSFILE / SPORTSFILE
Like Walshe, the St. Vincent's Club All-Ireland winner is a fan of the college game and believes the Croke Park Classic is a great chance for people to fall in love with the sport of American football, even if they haven't been too impressed by what they've seen on TV.
"There's always something going on in and around the stadium – like the tail-gate party and fan rally that there will be with the Croke Park Classic – and when you're in the stadium you can enjoy it more because you can have a few drinks and food and so you don't notice the breaks whereas, if you're sitting at home and you see a break every few minutes, you might give up on it.
"When you're here, the play just seems to keep rolling."
While Quinn will definitely be in attendance on August 30, Walshe might have other concerns that weekend.
"Hopefully I'll be here for the All-Ireland semi-final the day after but if we make it that far the manager might bring us up a day early so we can watch the game."